EXTENDED! September 3rd thru October 7th, 2012


WOOLLY MAMMOTH IN WASHINGTON DC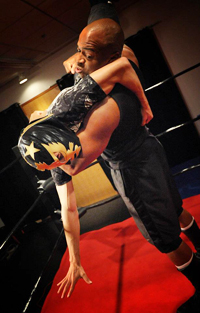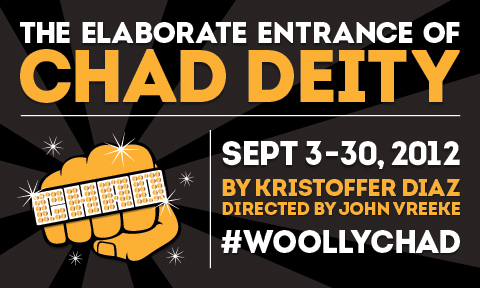 ---
REVIEWS and PHOTOS

---

Woolly Mammoth goes to the mat with "Chad Deity"
By Peter Marks, Published: September 12
Those gleaming behemoths who execute front bumps and pile drives and elbow drops aren't merely pumped-up slabs of meat on a tape loop of fixed matches. As playwright Kristoffer Diaz avers in the often invigorating "The Elaborate Entrance of Chad Deity," the most dedicated of pro wrestling's players are akin to artist-athletes, faithful to the rigorous code of their calling and wholly satisfied, like workers of any trade, after a particularly good day at the office.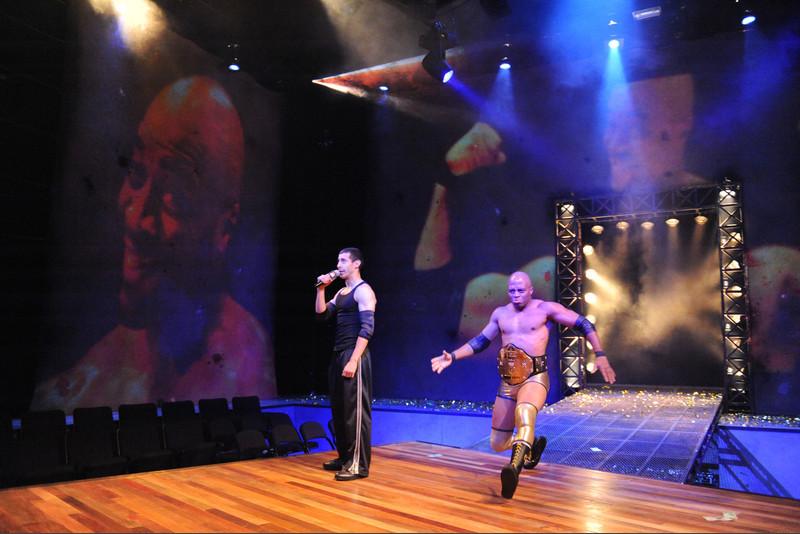 Diaz's spirited sports satire — which at times goes too far out of its way to explain its themes and point of view — receives a thoroughly rousing staging by director John Vreeke, an incredibly well-cast five-guy ensemble and a design team that transforms Woolly Mammoth Theatre into an infectiously boisterous venue on the professional circuit. It is, in fact, when the architecture of the wrestling ring itself descends from the Woolly stratosphere that the drama's most elaborate and exciting entrance is achieved.
And in the few short, electric bouts that follow, a new appreciation emerges, not for the explosion of violence, but for the discipline of ring performance and the expertise it requires to make it appear one's moves have lethal potential — or one's skull is cracking.
"The Elaborate Entrance of Chad Deity" was a finalist for the Pulitzer Prize for drama in 2010. You can see via Vreeke's earthy embrace of the work why such a hearty helping of poetry and perspiration would be an impressive contest entry. You could desire, however, that the dramatist invested more trust in his audience to find its own way through the narrative, and not have to rely on a virtual nonstop narration — and superfluous summation at evening's end — to ensure he's adequately spelled everything out.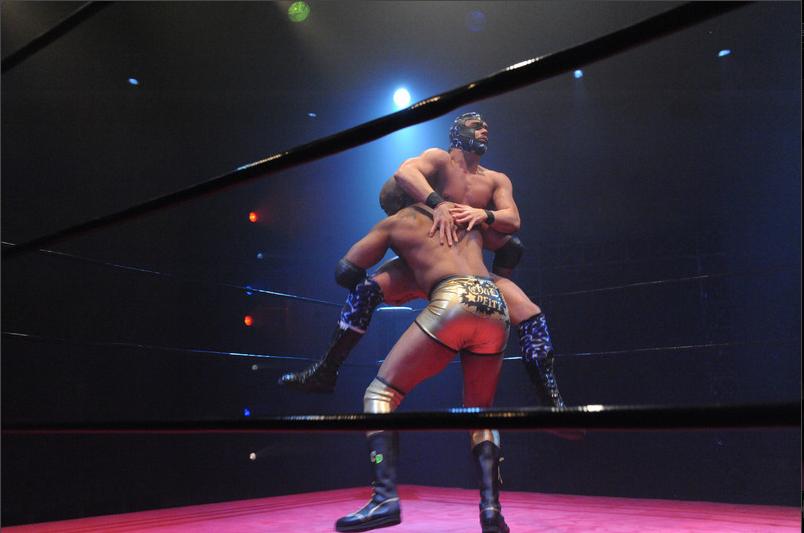 Maybe Diaz worried that while wrestling IS theater, the matches, with their hulking combatants, sometimes in the guise of costumed characters of borderline ethnic offensiveness, weren't all that relatable for a theater audience. He needn't have, because "Chad Deity" is not a wrestling play per se; it is a morality play, and a work of more lyrical and ironic dimensions than the reductive good-vs.-evil stories that play out in the rings of the WWE.
The moral center of "Chad Deity" is one of the business's professional fall guys, a scrappy wrestler who goes by the stage name of Mace and is played most persuasively by Jose Joaquin Perez. Mace's job is to lose. Night after night, on a circuit here known as The Wrestling, Mace's orders are to be vanquished by star wrestlers such as the universally adored Chad Deity (a suitably imposing and self-mocking Shawn T. Andrew), who throws American dollars emblazoned with his likeness at us —and whose uber-cockiness would make a piker out of Rowdy Roddy Piper.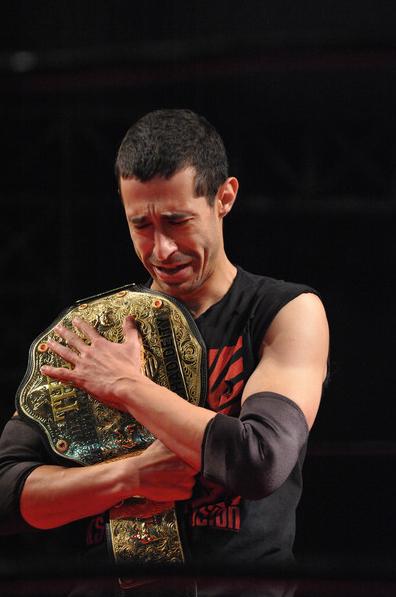 The poignant underpinning is that Mace is the true expert and aficionado. And Chad is a poseur and money-grubbing cynic, in the thrall of a promoter portrayed with all the requisite bluster by superbly crude-and-slick Michael Russotto. In goatee and expensive three-piece suits, Russotto's Everett K. Olson forever seeks new depths of American resentment and knee-jerk hostility to exploit, courtesy of ring villains like his newest find, an Indian-American hip-hop kid from the streets of New York (the splendid Adi Hanash). The bottom-feeding Olson christens him The Fundamentalist, a kafiyah-wearing wrestler who straps on a belt of dynamite sticks and, of course, trades on the worst Middle Eastern stereotypes.
Never mind that Hanash's Vigneshwar Paduar is South Asian in descent: to Olson, they're all the dangerous other. And one of the questions Diaz is asking is to what degree members of ethnic minorities buy into, or at least tolerate, cultural prejudices in order to succeed. The saddest case is Perez's Macedonio Guerra, a.k.a. Mace, who in Pancho Villa getup becomes The Fundamentalist's sidekick, with the hilarious new name of Che Chavez Castro. The idea of merging the identities of Che Guevara, Hugo Chavez and Fidel Castro into a character American "heroes" can crush is as delightfully absurd as was the impulse once upon a time to change the name of French fries to freedom fries.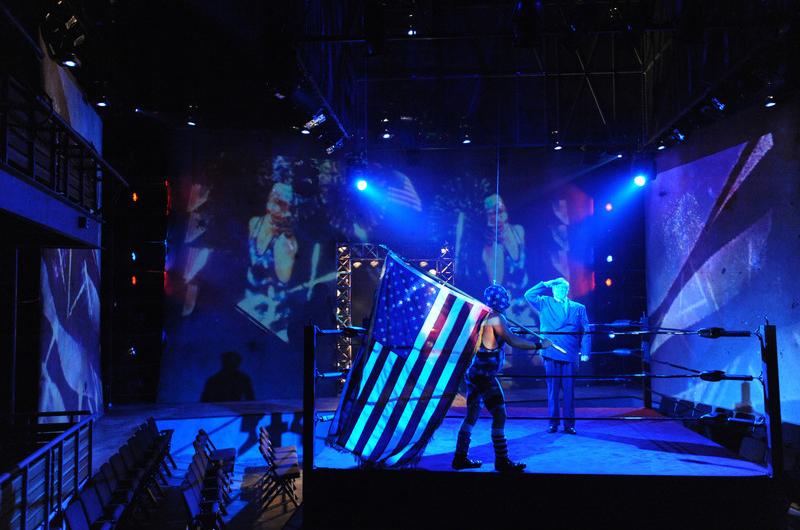 The designers — Misha Kachman on sets, Jared Mezzocchi on projections, Ivania Stack on costumes, Christopher Baine on sound and Colin K. Bills on lighting — have been let loose on Woolly's main stage, and the results are an adrenaline rush. The multi-sensory overload approximates the feel of an actual arena. And when at last the wrestlers go at it in a ring lowered in front of us with an almost spiritual reverence, the transporting effect is complete. In bouts credited to fight choreographer Joe Isenberg, the terrific James Long, a professional wrestler with a degree in the arts (!), portrays several of the opponents of Chad Deity and The Fundamentalist. Watching Long create the illusion of combat and, yes, even injury, helps you to understand how much performance art there is in all this brutality.
My one wish would be that so much of the story were not related in what's known in the theater as "direct address," a device used all too liberally in modern drama. It is chiefly Perez's burden to narrate, to turn the eavesdroppers of the audience into pupils in a lecture hall. The tedium of the approach is an injustice to the delightful physicality and freewheeling theatricality of the playwright's other inventions.
---
Check out the trailer for "The Elaborate Entrance Of Chad Deity":
---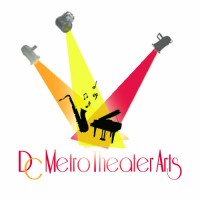 ...run and get a ring side seat, because Woolly Mammoth's Chad Deity is definitely a knockout!
Posted on September 11, 2012 by Amanda Gunther

A culturally explosive knockout is in the ring as Woolly Mammoth Theatre Company launches its 33rd seasion: My Root, My Revolution with the Pulitzer Prize Finalist play The Elaborate Entrance of Chad Deity. Written by Kristoffer Diaz and directed by John Vreeke, this power-balling, drop-kicking main event show takes place against the lights and sounds of the show-stopping arena that is professional wrestling. Following the story of Mace, the underdog fighter fall-guy for the charismatic figure head Chad Deity, a world of cultural revolutions is revealed as the protagonist explores his history, his heritage and how it has all culminated to his life and profession in the present. It's a heart-stopping, action packed, raw and gritty story that will take you through a world of change by the time it's finished.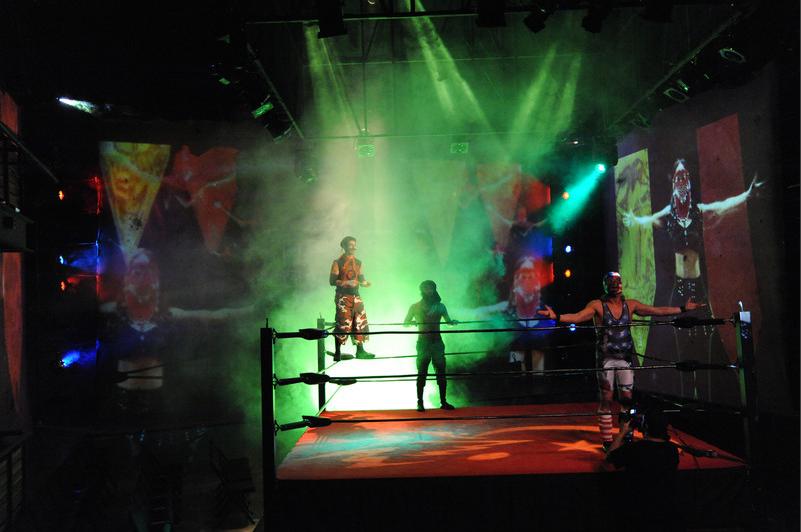 The perfect trio of designers come together to make this elaborate sensation possible. Lighting Designer Colin K. Bills teams up with Sound Designer Christopher Baine to explore the grandiose entrances of the wrestlers as well as recreating the ring-side atmosphere of a pro-wrestling match. Bills and Baine are able to make a reality of this tension wound atmosphere, laced with excitement and the thrill of a live cage match; blaring sounds with a thumping base and blinding lights with so many colors that you can't pick them all out. Add to these spectacular spectacles the images of Projection Designer Jared Mezzocchi and the audience finds themselves submersed in the reality that is wrestling, forgetting for a moment that they're seeing a play about wrestling and not the actual thing. Bills, Baine, and Mezzocchi bring a riveting reality to their designs, taking every audience member from the edge of their seats to the edge of the ring, standing there with Mace and Chad Deity as it all goes down.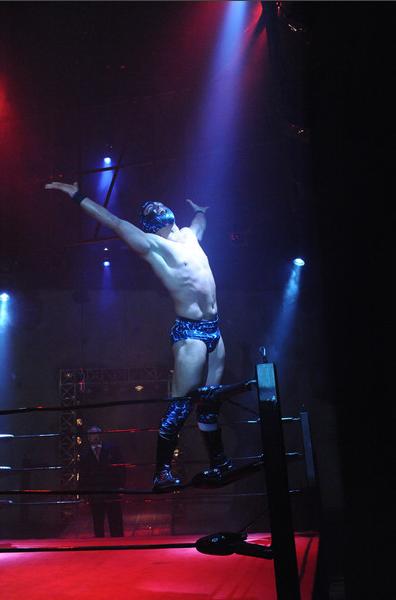 Playwright Kristoffer Diaz uses the venue of Professional Wrestling to convey a familiar concept of self discovery. Diaz's work is a revolutionary idea – taking a coming of age type lesson and applying it to a fully grown adult who is then able to actualize the identities of his cultural backgrounds through the societal breakdown of culture that is happening around him in his profession. Diaz completely changes the way Professional Wrestling is viewed with a poignant breakdown of what it is, and how it is a uniquely profound artistic expression of passion for the craft. In a sense it becomes no different than the play that you're seeing.
Diaz utilizes strong cultural stereotypes throughout the work, imploring the use of dark and offensive humor in regards to these stereotypes that invite you to laugh if you dare. Bad taste humor fuels a good deal of the second half but not without just cause and proper placement. Diaz's characters are crafted to be like the action figures he describes, not just molded hunks of plastic, but real moving dolls with many points of articulation. His story is an awestruck epic that pushes the envelope by way of cultural identification and being true to one's self.
Real life Professional Wrestler James Long makes his theatrical debut in this production and adds an element of both comedy and physical exertion that keep the play on its toes. Stepping in as the multi-purpose wrestling opponent in various ridiculous costumes, Long gives the other characters a chance to flex their moves in the ring, showing the key importance of having a fall guy in a pre-composed match.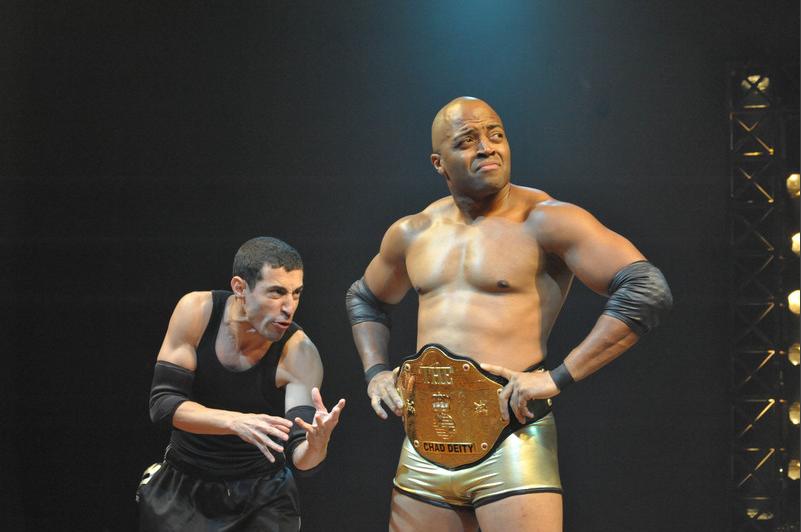 The other characters, each representing a cultural background in this pivotal comedy, are carved into their stereotype with perfection. EKO (Michael Russotto) is the pompous arrogant successful white man who created "The Wrestling" – the syndicate with the most popular matches on television. Russotto adapts the personality of the wealthy CEO figure calling the shots with an intimidating sense of know-how and a crass edge that makes him appear racist. His booming voice does the job of ring announcer and it quiets to a sharp grating whisper when addressing his actors out of the ring, a villainous trait if ever there was one.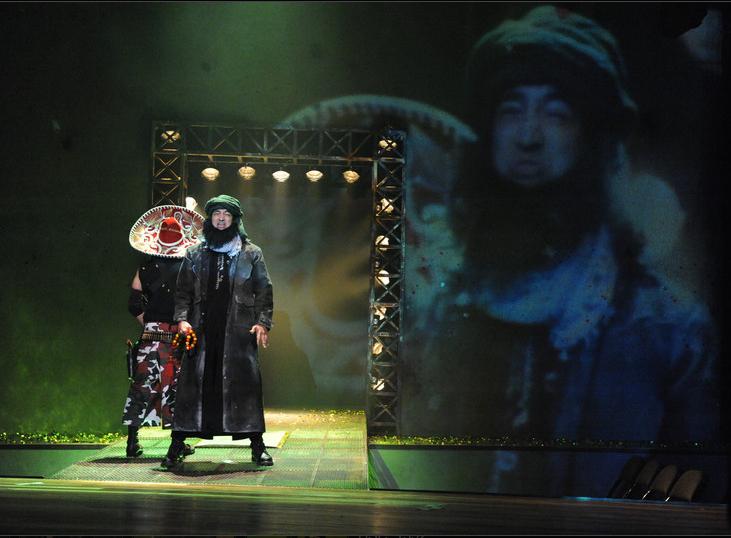 VP (Adi Hanash) is presented as an Indian character, referred to among other things as the brown guy. First portrayed by Hanash as the smooth-talking, city-slick, girl-getting street rapper, he then appears to the pro-wrestling circuit as The Fundamentalist, a racist stereotype caricature of everything EKO thinks America believes about the middle east. Hanash's presence on stage is masterful and engaging, especially when in the ring. And when his character experiences that turning point, his presentation of the character's growth is stunning.
America's wrestling super-hero is embodied in the glorious Chad Deity (Shawn T. Andrew). Ripped flexible muscles with self-playing bongo pecks – he is the epitome of egotistical beauty wrapped up in the body of a wrestler. Andrew hams it up in front of the camera, holding his arms like machine guns in his elaborate entrance and other high-class shenanigans that make the ladies swoon and the men go ape when he steps into the ring. Andrew pulls poses of a wrestling god with his winning smile and charismatic nature. His challenge is well met as he goes from this adored public figure to the basically mellow and somewhat clueless man backstage, until his own personal rages are sparked. Andrew is a phenomenal figurehead for the play; looking great, saying little, and overall leaving you with a sense of star-struck when you look at him.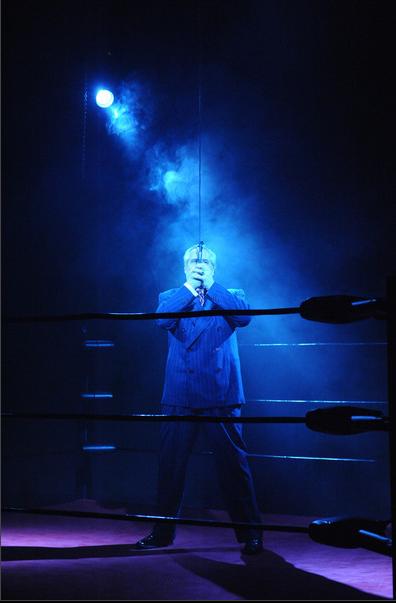 Like Julius Caesar, the play isn't really about Chad Deity, but rather about the scrappy little underdog Macedonia Guerra, better known as Mace (Josè Joaquin Pèrez). While he's the fall-guy, Pèrez is also the narrator of the story, and not just in the sense that it's his story to tell, but he literally pauses the action on stage like a DVD with director's commentary and starts reflecting on what's happening, addressing the audience directly at times, even going so far as to get them involved. Pèrez's narrations are ingenious and he works the script that Diaz has provided giving it every justice and truth that it deserves. He's funny, uproarious with his commentary and lives raw and real in each moment that he rejoins the scene. His character explodes from within the preconceived notion he's been painted into and erupts with self-discovery the way that makes this a truly satisfying production to watch. Pèrez's performance is brilliance beyond a shadow of a doubt and every emotion radiates forth from within the depths of his very soul.
So run and get a ring side seat, because Woolly Mammoth's Chad Deity is definitely a knockout!
---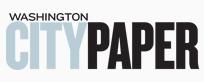 Elbow meets chest. Forehead slams face.
Wrestling meets the human condition.
By Chris Klimek • September 14, 2012
Just because it's scripted doesn't mean it doesn't hurt.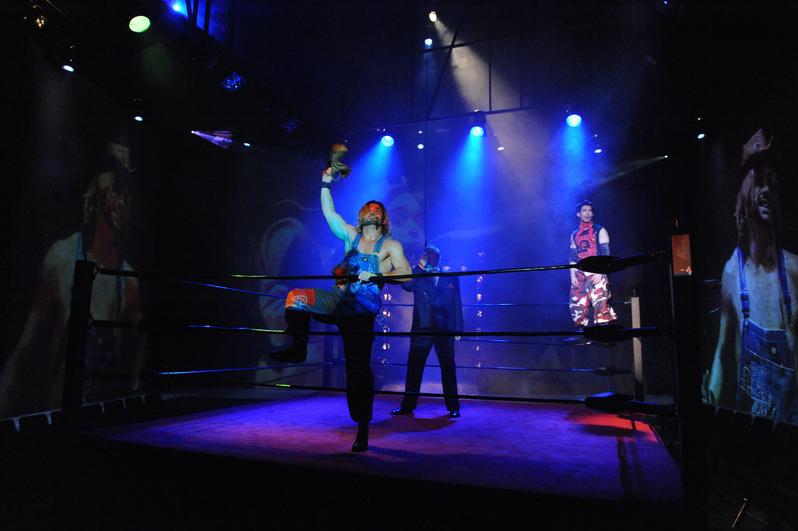 For a show that urges the fine-dining, public radio-listening sophisticates who make up Woolly Mammoth Theatre Company's subscriber base to tap their suppressed bloodlust and chant for a professional wrestler to end one of his opponents with his customary coup de grace—"Pow! Er! Bomb! Pow! Er! Bomb!"—The Elaborate Entrance of Chad Deity is surprisingly philosophical.
"You can't kick a guy's ass without the help of the guy whose ass you're pretending to kick," observes Mace, the likeable, long-suffering wrestling professional at this uproarious and energetic play's center.
A kid who grew up in the '80s playing with "wrestling guys" (don't call them action figures, and don't even think about calling them dolls), Mace has lucked into a dream job getting beat up on TV for a fictional wrestling league. He's a hardworking company man, a better athlete than many of the bigger names he pretends are tearing him apart in the ring, and above all a believer that wrestling has a potential for narrative art that it hasn't yet fully exploited.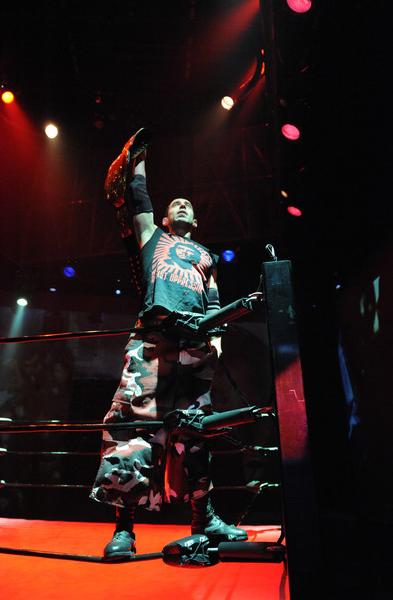 All this we learn via monologues, lots of them, delivered with dimensional brio by José Joaquín Pérez, who shines in the role. It's this belief in wrestling's untapped power that keeps him tramping down whatever pangs of conscience he may feel when EKO, his blowhard of a boss (Michael Russotto, as oily as his slicked-back hair) bets on his audience's xenophobia and racism in pursuit of a quick buck. (The show doesn't seem to allow for the possibility that smart, socially conscious people might take pleasure in wrestling's overheated spectacle, too.) When he's ordered to turn a gifted young multiracial kid from Brooklyn he's recruited into a modern-day minstrel-show figure called The Fundamentalist, Mace's budding social conscience—or is it his resentment at being passed over for the spotlight so many times himself?—becomes too much to take.
"What is he?" EKO asks him. "Afghan? Persian?"
"That's a rug and a rug," Mace shoots back—but to us, never to his boss. Then again, maybe a guy wearing a sombrero and gunbelts calling himself Che Chavez Castro is poorly positioned to be giving lectures on racial sensitivity.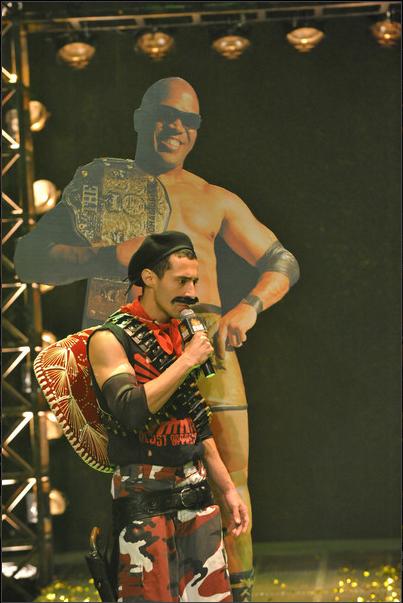 Given the way professional wrestling blends sport and showbiz—even if it's hardly a one-to-one mixture—it's a wonder more satirists haven't chosen to play within this milieu. In Chad Deity, playwright Kristoffer Diaz plows this fertile field for all it's worth, finding gargantuan laughs and genuine pathos in the fixed-price, anything-goes, made-for-TV bastardization of wrestling. No wonder the play has received dozens of productions since 2010, when it was a finalist for the Pulitzer Prize for Drama. I didn't see any of Chad Deity's earlier mountings, but it's tough to imagine something better than the hyperkintetic spectacle John Vreeke has directed for Woolly Mammoth Theatre Company. The show is technically astonishing, making sly use of projected video (by Jared Mezzocchi) to show us the promotional minifilms through which its various wrestlers are promoted to the public. More impressive still is the actual wrestling, choreographed by Joe Isenberg with help from James Long, a real-life pro wrestler who makes an assured acting debut here as a string of palookas brought in to feed the champ. When these hulking slabs of beef body-slam and clothesline one another, it's as over-the-top and noisy as the real thing. Well, you know what I mean.
---


Exaggerated spectacle, an us-versus-them mentality, people living up to rigid ethnic and racial stereotypes: is this life, politics, or professional wrestling? The Elaborate Entrance of Chad Deity, now at Washington's Woolly Mammoth Theatre Company, puts together the pieces of the puzzle without being overly preachy or heavy handed.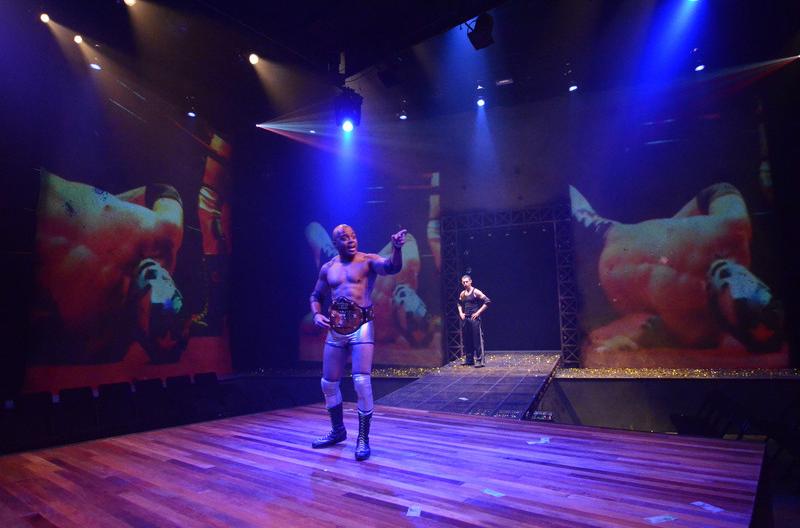 Kristoffer Diaz's play, a finalist for the 2010 Pulitzer Prize, manages to ground the excesses of pro wrestling in reality while also viewing life through that wildly theatrical prism. Misha Kachman's scenic design and Jared Mezzocchi's larger-than-life projections bring the audience into the arena.
The audience's guide to the terrain is Macedonio "Mace" Guerra (José Joaquin Pérez), a New Yorker of Puerto Rican descent and a lover of pro wrestling since childhood. He has made his dream come true as a cast member of THE Wrestling, an entertainment empire run by a blowhard known as E.K.O. (Michael Russotto). However, Mace isn't the "good guy" in the ring; he's the heavy "who loses to make the winners look good," an athlete skilled enough to make an unskilled opponent look like he's doing the work.
The THE Wrestling champion is grinning, charming Chad Deity (Shawn T. Andrew), a muscular African American who enters the ring in character as a stereotyped hip-hop mogul (white suit, shades, tossing dollar bills to the crowd). Mace, in contrast, wears a mask in the manner of Latin American wrestlers, but he's viewed as a joke.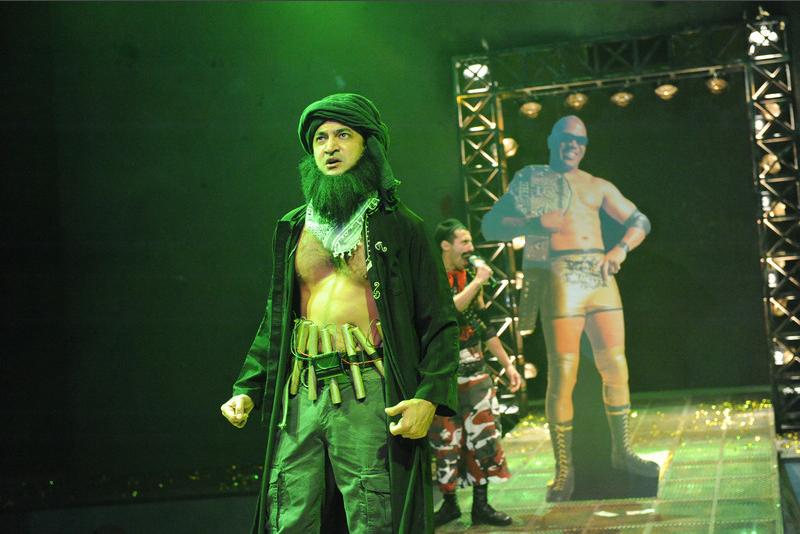 The action moves forward when Mace meets VP (Adi Hanash), a charismatic Indian American who doesn't know much about wrestling, but is willing to learn. He offers E.K.O. a few possible twists on his own ethnic stereotype for public consumption (corporate outsourcer, Slumdog Millionaire), but the boss would rather put VP in a fake beard and turban and sell him as a generic Middle Eastern terrorist.
Director John Vreeke orchestrates his five actors (the fifth is James Long, a professional wrestler himself, who plays several of VP's antagonists) with skill and balance, never letting the situation become too absurd and making sure the human beings stay visible behind the outrageous posturing. While the entire cast is solid, Russotto, the only Woolly Mammoth regular, surprises with his slicked white hair, his raspy voice, and the joy he takes in his own vulgarity.
---

'
Chad Deity' Reflects Perfectly on Our Own Phoniness
Review by Gary Tischler -
September 13th, 2012
"The Elaborate Entrance of Chad Deity" by Kristoffer Diaz is quite a package. It carries a lot of stuff, themes, metaphors and even some poetry, plus a pyro-technic presentation that will wow you.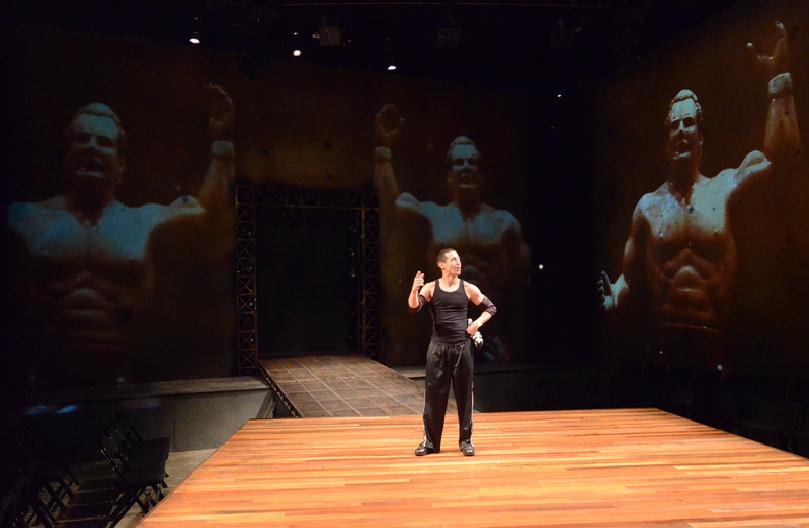 Down at the Woolly Mammoth Theatre, with director John Vreeke almost convincing theater folks to cheer, hiss and boo for the villains and heroes of this Pulitzer-Prize finalist play by a really gifted new writer, audiences become two audiences. Right there, that's a very cool thing to happen: people actually get directed, they respond to the demands of the character and the play's setting. For Woolly audiences, this is not your everyday happening: they're comprise a tricky grab-bag of tastes, they want their crude moments wrapped in sophistication and their meaningful moments to have some edge, intellectual heft.
"Deity" has all of that, plus a staging that will knock your socks off, accompanied by loud music and noise, videos and punch and spark. It has Diaz's gift for nailing the pow-pow and tech-tech, multi-culturalization of our more urban spaces in terms of language, its new, fractured phrases and words, its speed and rhythm.
But it's about . . . wrestling.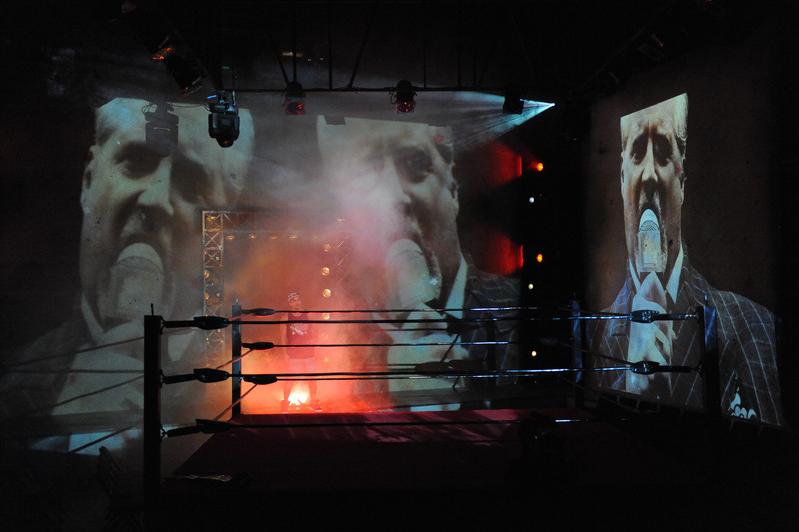 So-called professional wrestling at that, that loud, booming, self-marketing sport of raw wrestling, quasi-street fighting, megaphone combination of star-power pull and bull, fake violence made to maybe turn graphic, its carny writ large, and there's still one born every minute.
There's precious little not to like here, except maybe the not surprising premise, which is that it's really sad that wrestling is so duh-damn phony, false and inauthentic. This situation is a tragic one for at least one of the four protagonists in this play. The underlying theme, it struck me, was that wrestling is phony and false, as reflected by American culture (see reality shows, or don't see). Might as well complain that the dust bowl has too much dust.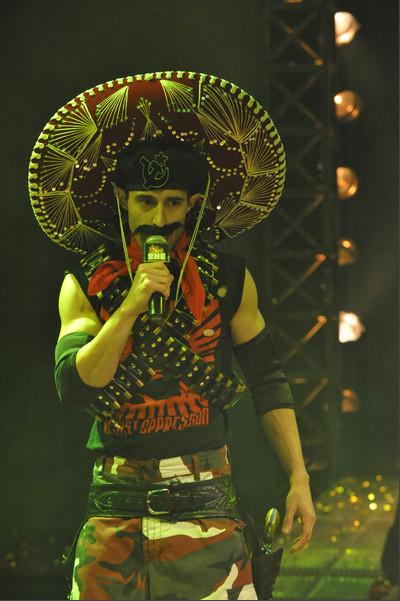 The tragic anti-semi-hero in this play is one Mace, a thin, wiry-muscled athletic small guy and fall guy, who understands the sheer beauty of wrestling, and furthermore, knows how to wrestle. But he's been slated and fated to act the clown, the villain, the loser in wrestling's every match, but he takes pride even in that, in doing that well. He hates his status but loves the world he lives in. "In wrestling, I make the other guy look good, that's my job," he says. "And there's an art to that." Mace, played with alarming, sometimes dangerous energy by the gifted Jose Joaquin Perez, understands his role—keep your mouth shut do your job. "I do the heavy lifting," he says. That's also what Mace does in this play—he's the one that is the narrator, the story teller, like Sister Mary Ignatius, he explains it all to you, perhaps a little too much, and in fits and starts. "That's not really what the story is" is not a phrase you want to hear too often in a play.
Mace is the fall guy for Chad Deity, a muscled, buffed, gleaming, grinning body of charisma. He's a wrestling, celebrity deity, who can't wrestle worth a spit, but he has the one thing that's required: he's a super-star. Both of them, each in their own way, work for EKO, the pitchman, marketer, owner, promoter and everything for something called THE WRESTLING, an accredited organization that holds power over all.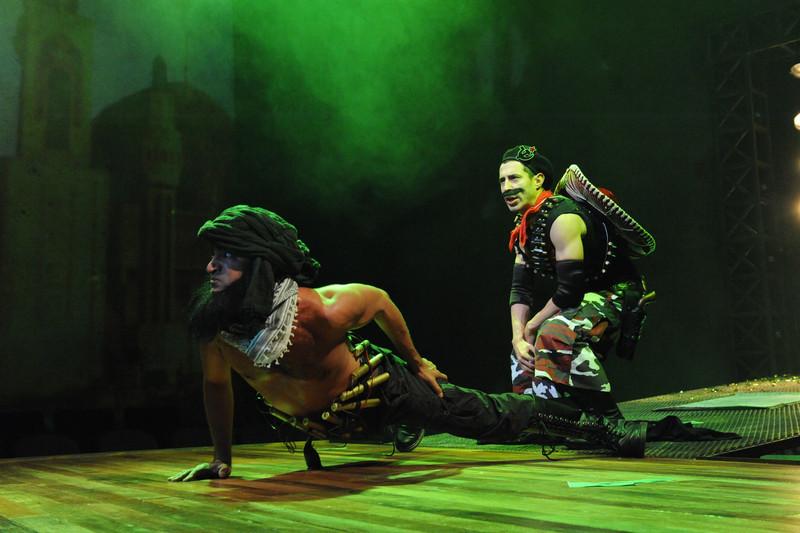 Enter one VP, a young magic man from the ghett-o, of Indian (as in India) origin who picks up hoops like its no big thing, speaks all the languages of the world, including street, hood and urban of everywhere, who cares not a fig for wrestling or its code, rules and, beauty and grace, its plots of bad guys and good guys and fake aches and hurts. But Mace thinks he's his way up—and convinces EKO of it, too. Suddenly VP becomes the Fundamentalist, with his sidekick, the former Mace becoming a walking Mexican cliché called Che Chavez Castro, complete with sombrero. The play suddenly turns into a kind of serious farce about us and them, and given this week's news, probably even a little more disorienting than it already is.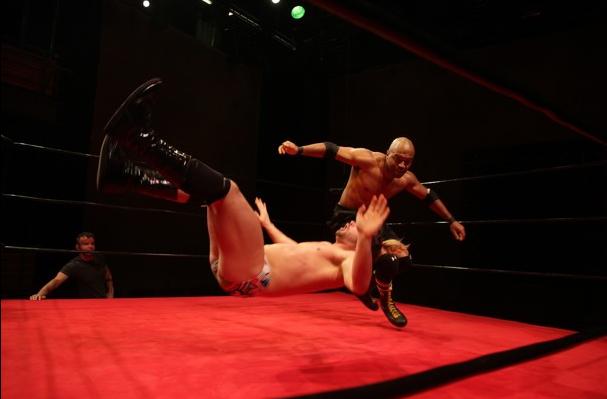 Nothing good can come of this—Deity remains a star, VP wants to undermine wrestling, and EKO can make dirty money and glory out of anything. But there are times in this production that you don't even notice any of the deeper things going on—you're too wrapped up in the ring that's settled on stage from above, in the crashing fake noises as bodies fly around like missiles. It's true that it is a smaller, more intimate ring. (Imagine all this in the Verizon Center, accompanied by thousands as opposed to a hundred or soin the theater.)
It's, all said and done, exciting, dramatic, you discover again that wrestling, like reality shows, like politics, are amazingly theatrical. And Perez as Mace, the fast-talking Adi Hanash as VP, the amazing Shawn T. Andrew as Deity and veteran Michael Russotto as EKO are like foils and co-conspirators in a story about battles whose scripts have already been written. They make it worth your while.
---

The Elaborate Entrance of Chad Deity.
Long title, great show. Go see it. Seriously.
Review by The Theatre Gay
In this corner, hailing from Northern Arlington, weighing in at an amount that he won't admit, and writing for Brightest Young Things online magazine is THE THEATRE GAY. And in the other corner, from Woolly Mammoth Theatre, weighing in at what must be 400+ pounds of pure muscle, kicking ass and taking names it's THE ELABORATE ENTRANCE OF CHAD DEITY. Cue thunderous applause, roars, and obscenities. Exciting, no? This is the kind of mood you get in when you sit down to watch The Elaborate Entrance of Chad Deity, a tale of identity, race, and consumerism wrapped in sparkly Lycra muscle grip. An amazing way to start their 33rd Season, Woolly's smart, and I was entertained by a story about wrestling. That's surprising in itself. So, let's get REAADDDYY TO RUMMMBLLEEEEEEEE!!!!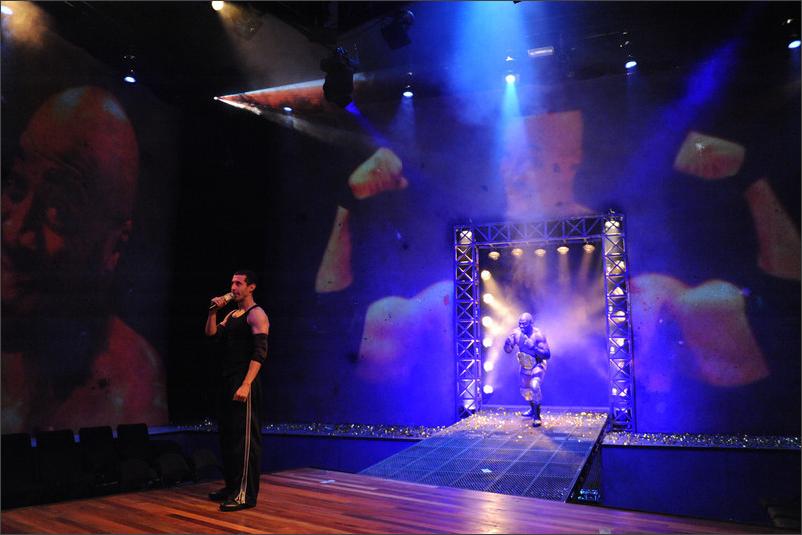 The play starts out with Mace (Jose Joaquin Perez), a wrestler in T.H.E. Federation Wrestling walking us through how he prepares for each match in the ring. You see, Mace is good at what he does, but in the world of pro-wrestling that gets you no where. Actually, it makes you the guy who makes the other guys look good. Mace spends his matches being pile-drived, clothes-lined, and power-bombed into submission every time. But he doesn't mind that, or the racial insensitivity of his boss EKO (Michael Russotto), Mace loves wrestling more than any other thing. Until Mace meets VP (Adi Hanash), an Indian amateur basket-ball player with a penchant for languages, and ladies. This guy is a superstar in his block of Brooklyn, and Mace is entranced. He brings VP to EKO, and tries to convince him that this kid is the new face of wrestling. EkO isn't buying it though. Desperately searching for a gimmick, EKO decides to market VP as the extremist Islamic terrorist "The Fundamentalist." Never mind that VP isn't Muslim, or even from any country where there has been Islamic terror cells, EKO is just trying to make a buck. He teams Mace up with "The Fundamentalist" as the anti-American "Che Chavez Castro." Through these new woefully incorrect, and inappropriate characters, Mace and VP begin to form a deep friendship. But when they're appeal is running out, they have little else to do, but to challenge the current THE Wrestling Champion: Chad Deity (Shawn T. Andrew). The rest, well, is up for you to see.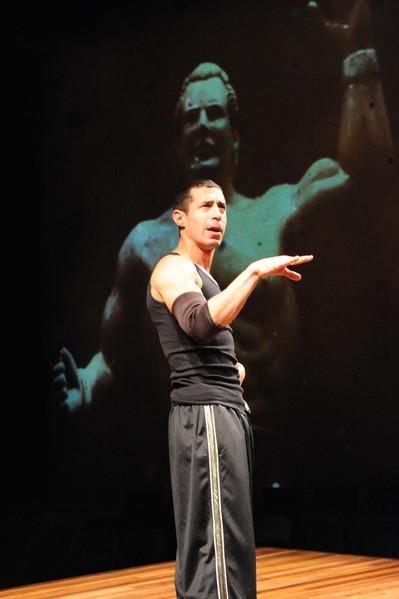 The cast is just amazing. There's little else to say here. Jose Joaquin Perez weaves a tale for us that is both fantastical, and moving. The comic timing of Shawn T. Andrew as Chad Deityis on point. I don't really have much more to say than that. These 5 actors really work well together, and it's always enjoyable to see a cast that's having fun on stage. The set is well-designed by Woolly Company Member Misha Kachman, and the projections were just amazing. Right now, Woolly is doing some of the most innovative, interesting, and audience-grabbing feats with their technology. More people need to see this.
The Elaborate Entrance of Chad Deity. Long title, great show. Go see it. Seriously. There's a lot of heart, and a lot of fight in this play. It's one of the few times where every part of a show really comes together. DC should be proud to call Woolly Mammoth Theatre one of it's regional theatres. I'm so excited to see the rest of Season 33!
---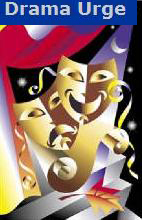 The shot that knocks you out is the one you never see coming.
Review © John F. Glass, September 12, 2012

Pro wrestling, the most transparent of sports, seems to offer a red-carpet path to our psyche. Equal parts entertainment, politics, and economics this hand-to-hand struggle amounts almost to folie à deux (or more) before a paid audience, hungry for catharsis.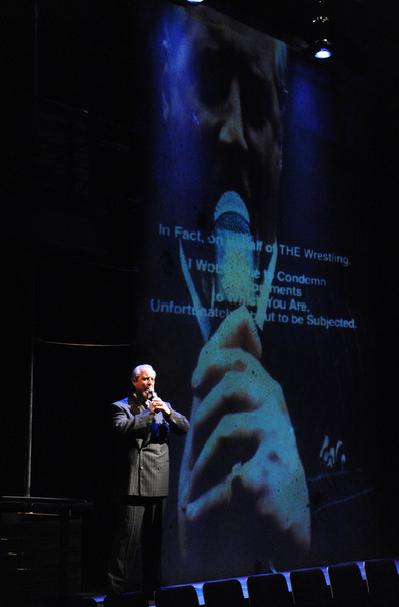 I come from the "nod-nod-wink-wink" era of Bruno Sammartino and Killer Kowalski, but as Woolly Mammoth's season opener (to 9/30) The Elaborate Entrance of Chad Deity shows, in keeping with the times, this fraudulent spectacle has evolved to a whole new level. Kristoffer Diaz's street-smart script is peopled by good guys and bad guys and fall guys so stereotypical they might have been pulled from a reality show or graphic novel.
Motor mouth everyman Mace (José Joaquín Pérez) is the narrative voice and glue of the play. A believer (on some level) of the sport as an art form, he expounds on his childhood initiation, by way of breakfast cereal, and introduces the principals: the eponymous champion, Chad Deity (Shawn T. Andrew); promoter/announcer EKO - for Everett K. Olson - (Michael Russotto); and a walk-on talent from the neighborhood, an Indian-American known as VP (Adi Hanash).
While Mace explains the system to us, EKO and the Champ highlight the finer points of the business (or The Wrestling) in a series of tutorials on image making and public gratification. When trash talking VP, a polyglot local, is recruited by our narrator, the team further defines and tweaks its model for success; and VP is one quick study, with Mace in a new role as his manager. A plan for a rapid rise and even quicker money is improvised for the new talent. The slipshod assignment of ethnicity and roles makes for some very funny logic: VP morphs into The Fundamentalist while The Mace assumes the anti-capitalist role of Che Chavez Castro. Yes, our inner demons are made manifest and ready for vanquishing.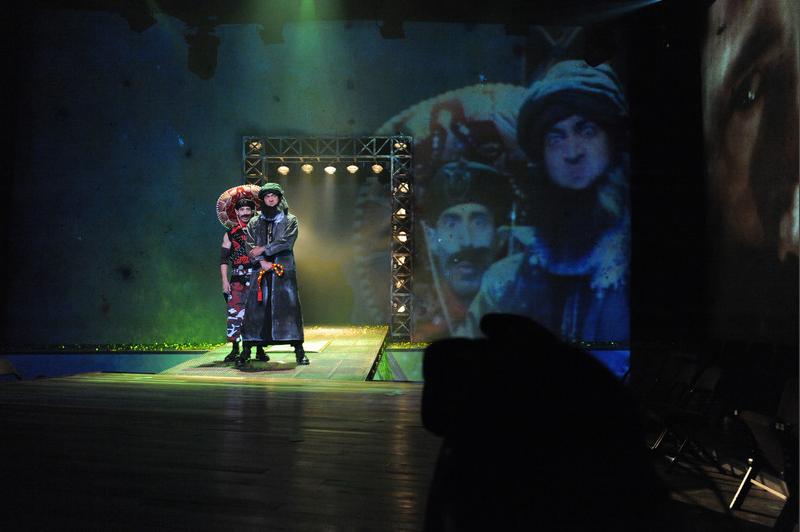 Director John Vreeke's arch staging gives the play all its comedic brio while his meticulous attention to detail maintains the verisimilitude of a live event. Misha Kachman's set, on a mini-thrust stage, allows for ringside seats for some, with a vanishing point horizon look for others to pull them in from a distance. And a memorable descending set change in Act II is as transformative as they come. The extraordinary projection design of Jared Mezzocchi gives the play momentum and urgency while Christopher Baine's pulsating surround sound gets you rocking in unison. Colin K. Bills' event lighting stokes the emotions.
Mr. Pérez as the woebegone Mace is an engaging straight man using his rapier delivery and overabundant verbiage to do some really "heavy lifting" consistent with his character. Mr. Andrew is the personification of the celebrity sportsman, full of telling poses, and homespun logic needed to keep the cash registers ringing. Speaking in the third person, with a fine sense of comic timing, the actor pins down the opportunistic aspects of his character before body slamming them.
The market savvy EKO played by Mr. Russotto is larger than life, striding this confined world like a Colossus and working every angle to his advantage. Words are weapons in this community and everybody's talking, including the challengers.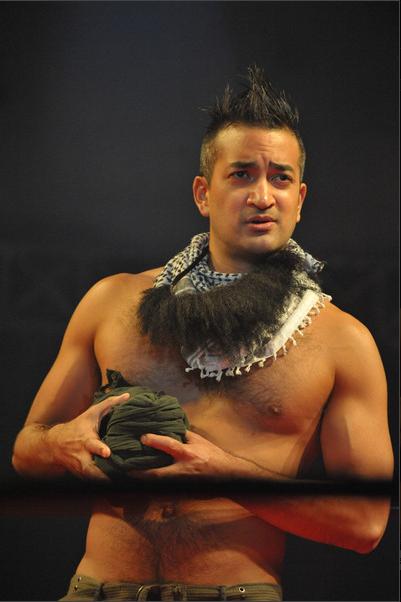 Mr. Hanash's spiky Mohican haircut is in tune with VP's rapper persona; he is 100 percent entertainer and his get-up, along with the rest of the wrestlers - decked out by a tag team of costumers (Mr. Kachman and Ivania Stack) - is something to behold. Ditto for James Long, who gets a topical laugh line and hits the canvas, as various set-up guys, with pizzazz.
The dynamics of the performance - almost a case study of role playing - are so recognizable that I immediately thought of the dramaturgical approaches to everyday life articulated by sociologist Erving Goffman. Every organization has parts that individuals are assigned, which they portray to the public. In Chad Deity we are given a backstage look into these rules of engagement (usually hidden from view). Substitute your profession, political party, gender, race or national origin, or whatever - we all have elaborate ways of presenting ourselves to initiates while maintaining distance to outsiders. With Chad Deity's incongruous look behind the curtains, we in our seats are all enlightened, and laughing.
Also humorous and somewhat grim, is the buy-in by the uninformed. There are all kinds of ways of manipulating the public by the entertainment media (to which I would add anything that goes public, including politics and religion). Call it propaganda, proselytizing, or advertising but offer it as a performance with a business model and send it out to the world: you've got a powerful message for moving the masses.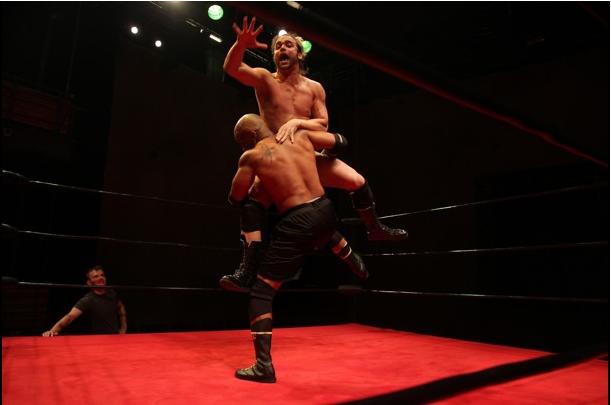 The physicality of the play, with its canvas-snapping impacts and bounces off the ropes, feels authentic. These guys (Messrs. Pérez and Long) take some hits, regardless of the excellent work by fight choreographer Joe Isenberg. Let's hope they aren't shut down during the regular run like Steve Strasburg!
Befitting its public lowest common denominator setting, the play is pitched to the audience by the narrator and VP almost as a Jacobean comedy. These extended monologues tend to drag the play down at times; and you'll miss some of the wittier dialogue in the rapid-fire delivery. Also, a rather conventional ending steals some of the promise of Chad Deity's big-picture goals. Still this production captures humor, irony, and foibles of people thrown into a spectacle that's greater than any of them bargained for. "The shot that knocks you out is the one you never see coming."
---

Woolly Mammoth's first show of the season takes on the theatrical,
often gruesome world of professional wrestling.
Review by Gwendolyn Purdom
For years, boxing has provided raw symbolism, heart-pumping action, and emotional underdog stories for stage and screen writers alike. The brassy, teenage-boy-approved, choreographed spectacle of professional televised wrestling, on the other hand, is rarely deemed worthy of serving as dramatic fodder. So playwright Kristoffer Diaz and director John Vreeke are breaking new body-slamming, power-bombing ground with 2010 Pulitzer finalist The Elaborate Entrance of Chad Deity, playing at Woolly Mammoth through September 30. Like its colorful subject matter, this satirical production is plenty entertaining, but you can't help but feel that the onstage action isn't quite the real thing.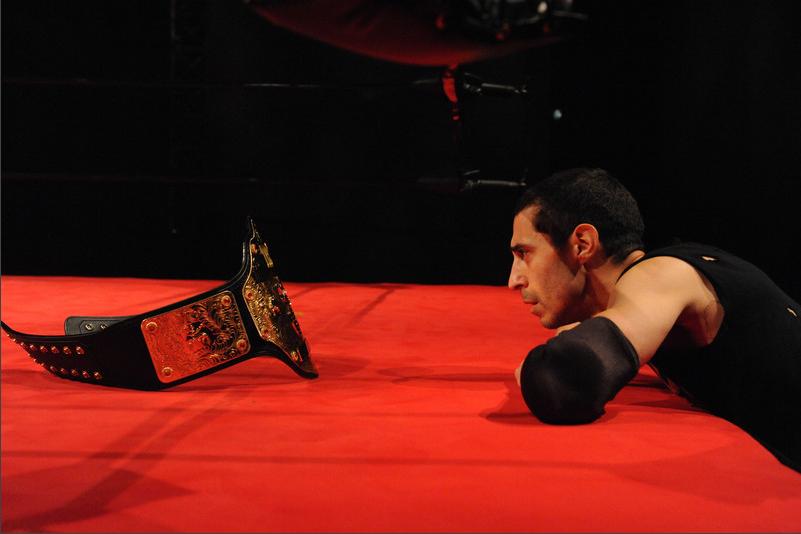 At the center of the script is Mace (Jose Joaquin Perez), the endearing narrator and go-to loser in THE Wrestling League's theatrical matchups. Fueled by his love of the "art" of pro wrestling, Mace is willing to overlook his profession's glaring injustices. Perez's performance is funny and perhaps the most layered of the cast, with a breezy but tough affect, and he often interacts directly with the audience. Similarly notable are the gravelly-voiced Michael Russotto as the league's greedy head honcho and announcer, and Chad Deity himself, an imposing Shawn T. Andrew, who has the cocky, all-talk-and-no-talent showmanship of the league's biggest name in a firm headlock. When Mace discovers a neighborhood kid (Adi Hanash) whose charisma rivals Deity's, the two join forces in the ring, but they soon learn that buying into the league's flashy professional ladder comes at sometimes bruising costs.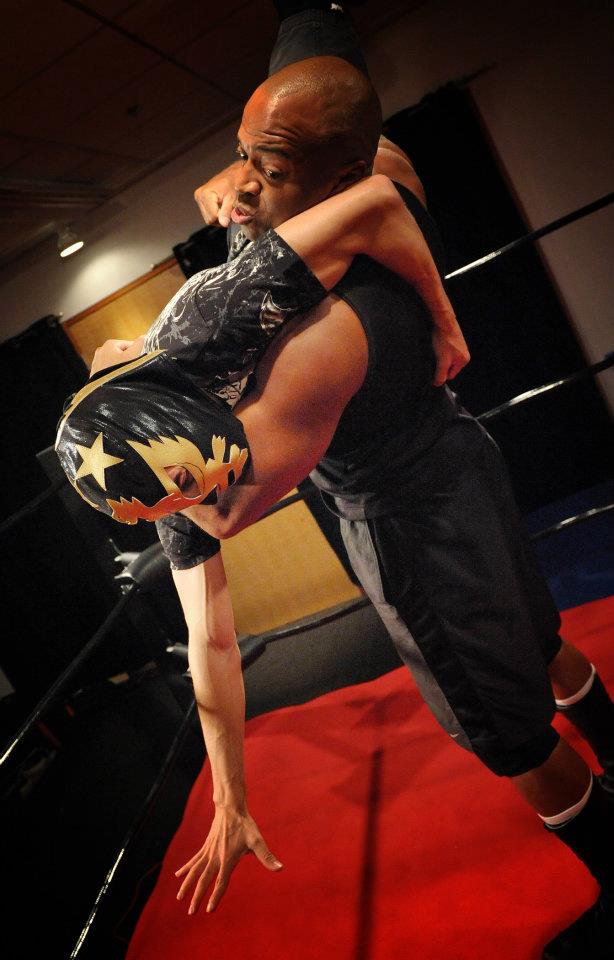 The "real" drop-kicking, chair-swinging action you'd recognize from the WWE doesn't appear here until the second act, and consequently, earlier scenes feel a little dull by comparison. Expository monologues and dialogues could do more to flesh out characters and set up the jarringly raucous later parts. But the overarching uneven quality aside, the show delivers in tapping into that same draw that glues violence-happy prepubescents to Pay-Per-View Wrestlemania offstage: over-the-top personalities and bone-crunching moves. It's a shame real-life pro wrestler James Long (playing multiple roles and serving as assistant fight choreographer) doesn't enter the ring until after intermission. His scene-stealing theatrics elevate the testosterone-laden smackdowns and often-believable moves to a whole new level. In fact, the fight scenes in general are impressively gymnastic, with nearly each member of the five-man cast having his turn at laying out an opponent with a sickeningly loud thud.
Pulse-pounding maneuvers, a hip-hop soundtrack, and live and stock wrestling footage projected across the stark set create a distinctive mood; less concrete is the message and tone the show is going for. Strong performances help to distract from muddled commentary on consumerism, racial stereotypes, and cutthroat American values, though they can't cancel out the blurriness completely. In scenes that could pack a powerful punch as satire, characters play it straight, and within the often ridiculous world of professional wrestling, the effect is significantly dulled. The Hulk Hogans and Dwayne "the Rock" Johnsons have an unspoken agreement with their fans: You accept what we're doing is totally bogus, and we'll give you an over-the-top clash of scripted good versus evil. Exploring and lampooning what that says about our society is what makes Chad Deity such a promising premise, and this a largely enjoyable show. It's the terms of the production's own bargain with its viewers that aren't nearly as obvious.
---

Pulitzer-nominated wrestling play is a major knockout
Review by Julia Lloyd-George -September 13, 2012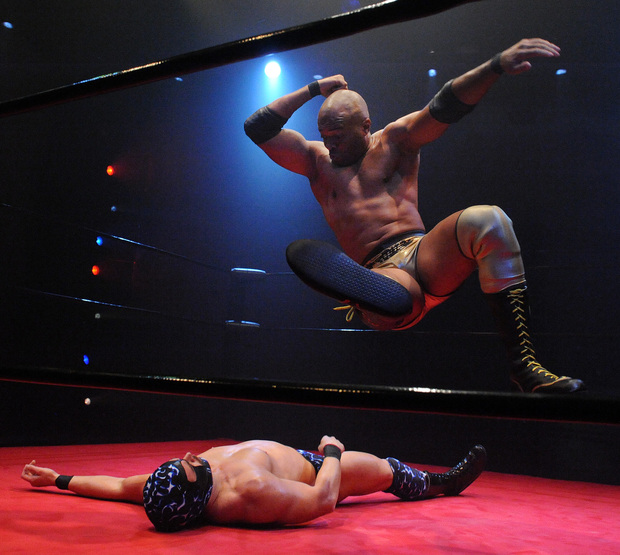 We've known it all along, though we still revel in every outrageous, distorted reflection of true life that is thrown at us—in television, "reality" is a term that should be taken with a sizeable grain of salt. The world of televised wrestling, powered by the sheer volume of entertainment that raw human conflict can provide, is surprisingly no different from the carefully engineered documentations of beauty pageants or Kardashian daily living pervading programs which ought to be inviting skepticism.
In The Elaborate Entrance of Chad Deity, 2010 Pulitzer Prize finalist for Drama which is now playing at Woolly Mammoth Theatre, every fight is exposed as a performance with all the theatricality and preparation of a full-fledged Broadway musical. A scathing satire with dialogue as sharp and hard-hitting as its characters' toughest punches, this fresh piece of comic theater thrusts the gaudy world of TV wrestling under the spotlight while tackling serious American hypocrisies about race and social mobility in the process.
The story begins with a brief glimmer of optimism, a vignette espousing the American Dream as central character Mace's grandfather encourages his younger self to act on a love of wrestling. In this fleeting moment, the sport represents classic American values of sportsmanship and hard work that will surely lead to a promising future for Guerra. A Bronx native of Puerto Rican origins, "Mace," played with undeniable candor by José Joaquín Pérez, exemplifies the underdog of society who dreams only of rising to glory in the sport he purely loves.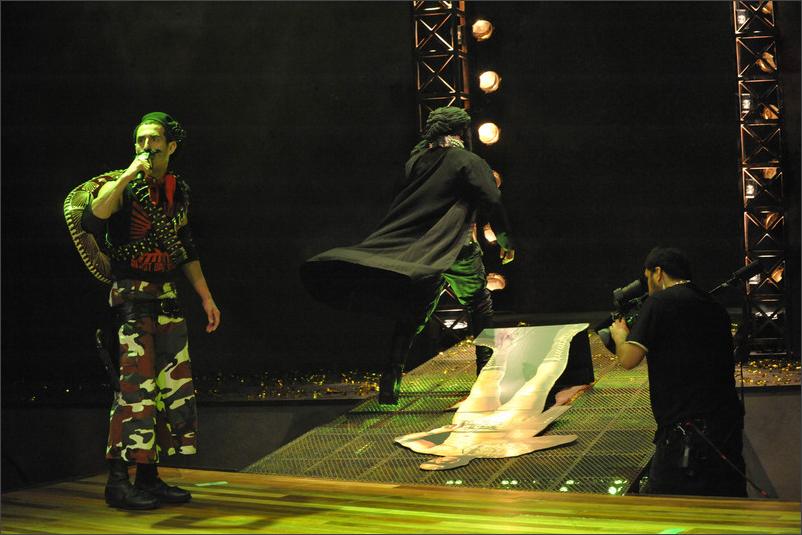 Fast forward to the present day. Mace is working as a professional "fall guy" in a place with fewer principles than Walt White on steroids—THE Wrestling, a television network which represents the closest he can get to being a star wrestler. Addressing the audience with razor-sharp commentary, Perez skilfully illustrates the hypocrisies of the wrestling world and simultaneously builds an atmosphere of complicity with frequent asides, almost all of which begin with, "I can't tell my boss this, but…" The boss in question, a grease monkey caricature of every sleazy employer there ever was, embodies capitalism at its worst; willing to do anything and everything to bolster his business, "EKO" has achieved success by making a star of a hollow, showy wrestler named Chad Deity. In a wacky wonderland where image is everything, this cartoonish showman represents the ultimate triumph of charisma over talent and virtue.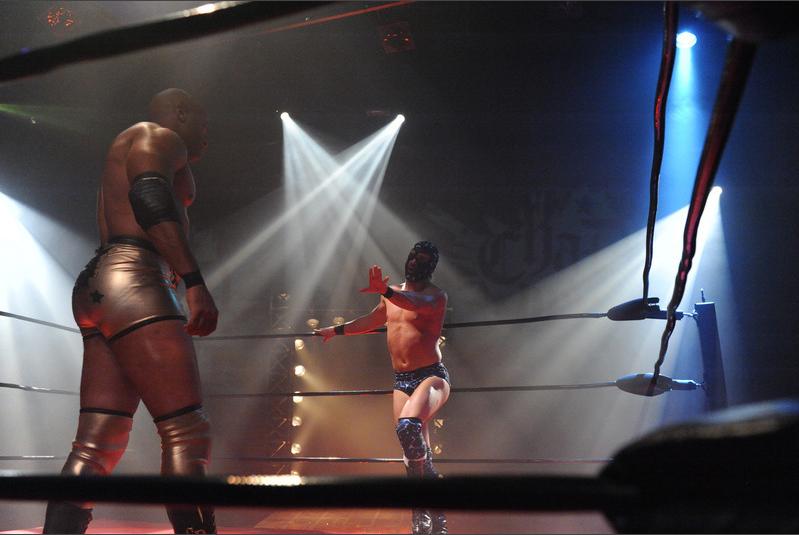 The laughable dynamics between this trio—the greedy boss, the spoiled star, and the humble narrator who is there only to make the other two look good—become all the more exaggerated when Mace recruits Vigneshwar Paduar, a smooth-talking Brooklynite of Indian descent, to the business. Marketed to viewers as the Muslim "fundamentalist," he becomes a target of anti-Islamic hatred and a parody of American racial tolerance. The stark contrast between the metaphorical backstage, where wrestlers like Paduar and Mace are supplied with these false identities designed to stir an audience, and the stage of the wrestling ring, anchors the story and renders its satire all the more biting. In every match, the blinding lights and screen projections of an impressive set magnify the effect of television. Rather than being kept in the dark, though, the audience is in on the joke that this entertainment world is not as dazzling as it seems.
Playwright Kristoffer Diaz, who won the 2011 New York Times Outstanding Playwright Award for Chad Deity, has artfully devised a work pulsating with energy driven by scathing irony. Speaking in the blunt language of the New York streets, his characters are drawn with all the grandiosity of an expert cartoonist and the actors make sure every line drops with all the impact of a roundhouse kick. Everything about this play is blown out of proportion, but the nature of its caricatures effectively parodies real-life fakery.
---

Chad Deity Has Everything That a Theatre-goer Might Want
By Robert Michael Oliver - September 11, 2012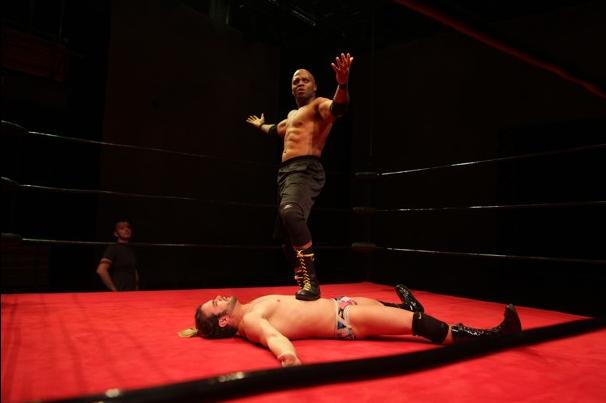 The theme of Woolly Mammoth's 2012 – 13 season couldn't be more bold: "My Roots, My Revolution" – a proud proclamation of America's diverse ethnic tapestry and of each person's individual need to express and fulfill his or her individual cultural identity. Their season's first show, The Elaborate Entrance of CHAD DEITY by Kristoffer Diaz and its tale of Mace, a Puerto Rican pro wrestler struggling to fulfill his life's destiny, couldn't fulfill that thematic pledge more fully. When the roots of Mace's frustrations become clear, he launches his own personal narrative revolution. Such a hope can't but be yearned for by all theatre-goers. Unfortunately, however — being the old-schooler that I am — no matter how much I loved the play's thematic revelry and many of its motifs, the evening's narrative and the production's presentation of that narrative left me hoping for more.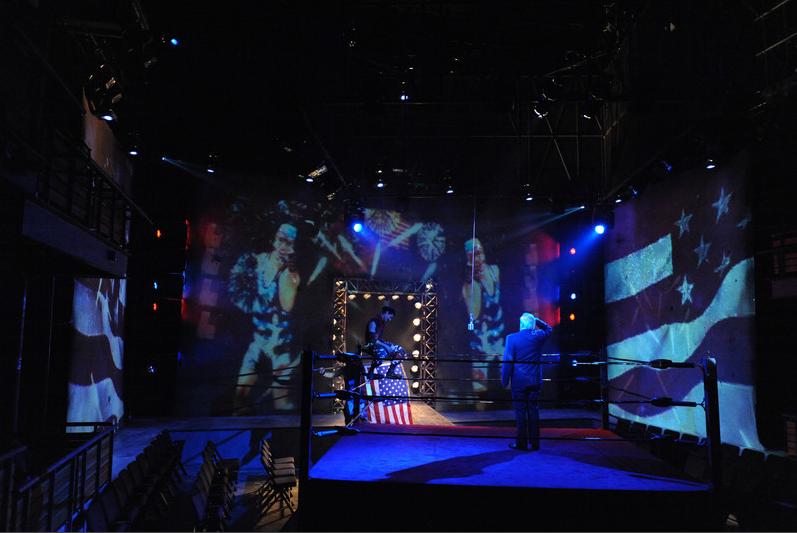 This production of The Elaborate Entrance of CHAD DEITY has everything that a theatre-goer might want. Even if the world of professional wrestling is not your cup of tea — or should I say "can of beer" — or as the girlfriend of the Mace's best friend, VP, tells us: "Can't we watch something more real" — you'll find yourself engaged by this 4th wall busting production. For Diaz cracks open that world of mythic gladiators and melodramatic plotlines — if ever so slightly (and, for this viewer, not nearly wide enough) — to reveal a glimpse of the humanity festering beneath it.
Mixing monologue — a lot of monologue — with live and recorded video — fantastically huge video faces with glaring eyes — with masked flamboyant wrestling characters — funny comment-on-my-character characters — CHAD DEITY takes its audience into the heart of anyone who has felt like the iconography of American culture seems for someone else. When the show works, we identify with that sense that the majority of American popular culture is alienating; at best, having nothing to do with our lives or the lives of the people we know; at worst, exploiting our fears and stereotypes for economic and political gain. In this sense the play and its thematic structure couldn't be more appropo to Fall 2012, as our TVs are inundated with exploitive and dehumanizing political advertisements equally melodramatic in tone.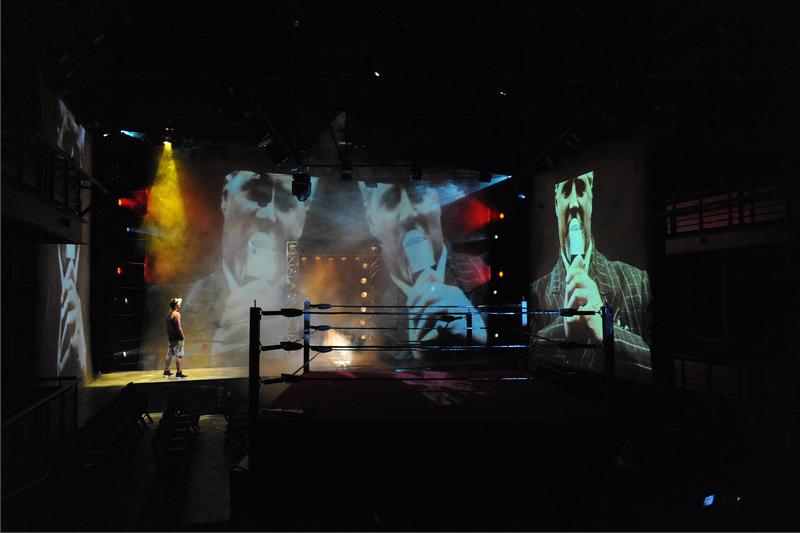 The show gives us Macedonio Guerra (Mace) –performed by José Joaquin Pérez–a man who is truly in love with the art of professional wrestling. He wants to tell us his story, a story about how he must endure a profession that, as it turns increasingly toward profit and popular appeal, is losing touch with its aesthetic roots. Mr. Pérez does an admirable job capturing Mace's yoman-like commitment to his craft as well as his search for biography, an almost stuttering search for an authentic self within a world swallowed whole by the machinery of commerce. The long monologues that Diaz gives the character in the first act would present a unique challenge to any actor, and Pérez reaches to find enough levels in the lengthy descriptive passages and enough angst to fill those isolated moments of personal revelation.
Chad Deity, portrayed by Shawn T. Andrew, is Mace's antagonist. Chad is all pizazz and muscly brawn, and Mace has spent most of his professional career building up his all American celebrity. For it is Mace's art, the art of stage-combat and "heavy lifting," that has so successfully cloaked the relatively skill-less Chad in the aura of invincibility. Mr. Andrew plays Chad with simple comic effectiveness, taking full advantage of his larger than life cartoon-self, but also giving full life to those rare moments when the real "Darnell" steps to the fore.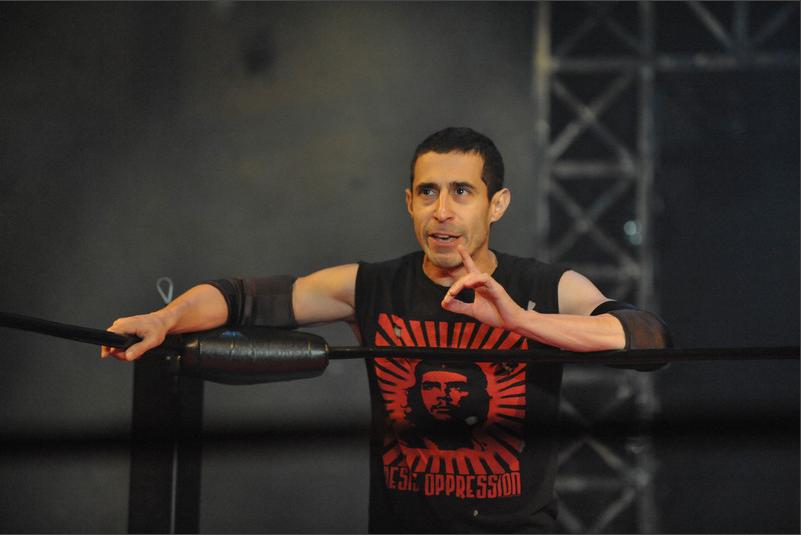 Mace's personal journey begins when he introduces his professional world, THE Wrestle, to his unemployed basketball playing friend, Vigneshwar Paduar (VP), played by Adi Hanash. In their wild fantasy, the India-born VP, who doesn't know anything about the world of professional wrestling, will get a job as a wrestler portraying his native India, a rising competitor to American capitalism, using his own unique brand of hip-hop flash. If this dream sounds a bit far-fetched, it's supposed to be, as the whole script has a tongue-in-cheek, "I know this script is as ludicrous as the scripts used in professional wrestling" style. When THE Wrestle's owner E.K.O. — played with delightful impresario fun by Michael Russotto — gives VP the wrestling job, Chad Deity roars full throttle, for now we have the problem of the tale. E.K.O will not make VP a hip-hopping Indian on the rise but The Fundamentalist, an Islamic terrorist who, with his manager, Che Chavez Castro (Mace), is bent on destroying America — I mean, Chad Deity.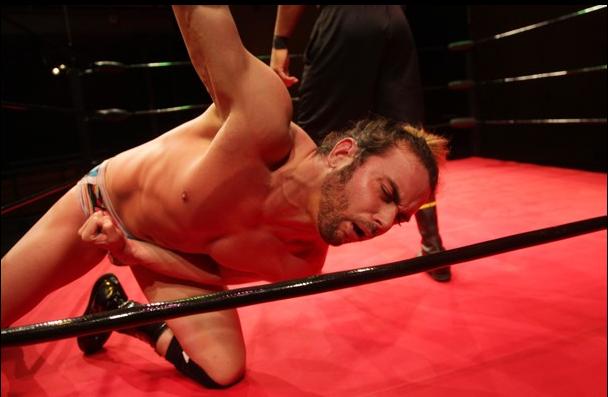 VP is the play's most intriguing character, probably because he is a true outsider to this world of wrestlemania. Mr. Hanash plays VP with an authentic hip-hopper's naivete — not that there really might be such a person, but again one needs to remember that this script is not rooted in the reality of the street but in the reality of how we construct narratives. Mr. Diaz has constructed his story around an idea: the world of wrestling, like the world of theatre, is 99 percent hoax and only 1 percent authentic. If you love wrestling, like if you love theatre, you had better love the hoax because the authentic just won't sell the tickets. In fact, even in a play that is about a revolutionarily authentic moment in the theatrical — I mean wrestling world, the producers had better not put that authenticity on the stage for fear of losing the audience.
Thankfully, the play's second act is tighter than the first, with fewer overlong monologues and crisper dialogue. The action also increases as The Fundamentalist begins his journey to fame and fortune, encountering such old time heroes as Billy Heartland and Old Glory, using his infamous "Sleeper Cell" — you'll never guess what that is. Both of these solidly American icons were performed with great aplomb by James Long, who even overcame a ridiculous pregnant-looking pair of Old Glory tights.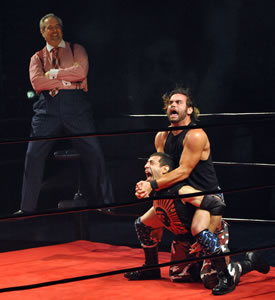 The sceneography for Chad Deity was in many ways the performance's best man. Part theatre, part wrestling match, part cinema extravaganza the production kept the audience's attention more through pure spectacle than through plot. Directer John Vreeke and designers Misha Kachman (set and costumes), Ivania Stack (costume), Colin K Bills (lighting), Christopher Baine (sound), Jared Mezzocchi (projections), and Joe Isenberg (fights) capture the script's hyperbolic reality through a dynamic blend of authentic attire, dazzling effects, roaring noises and soaring interludes, a real-world wrestling ring, real time video, and 20-foot television faces of live action on stage moments. Ironically, as I watched wide-eyed this spectacular farce projected before me, the simplicity of a video image shot on a basketball court became more real and more human than the live characters acting before me.
To be sure, The Elaborate Entrance of CHAD DEITY is a show worth seeing. It is not only theatrically unique but also a necessary critique of American popular culture. Does it have its flaws? To be sure, but only if, like me, you keep clinging to some desire for a dramatic story to be rooted in reality. On the other hand — to paraphrase and rift on remarks made by Samuel Coleridge almost two centuries ago — if you have an unlimited willingness to suspend disbelief, then imagining what is absent from this tale becomes possible, if only for a moment. Even now, I find myself wanting to suspend my disbelief so as to make this tale possible, to make it whole, to make it true even to itself; but in the end, in the fierce contest between the individual's out-of-the-mainstream narrative and the forces of global commodification and power, the little guy doesn't stand a chance. If he wants to live, he has to make a choice. In lieu of that lack of choice, I'm left wanting that little guy with his simple love for a simple art that I never got a chance to see.
---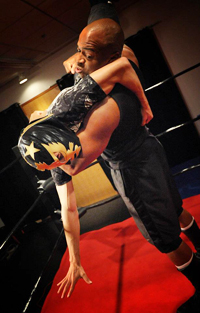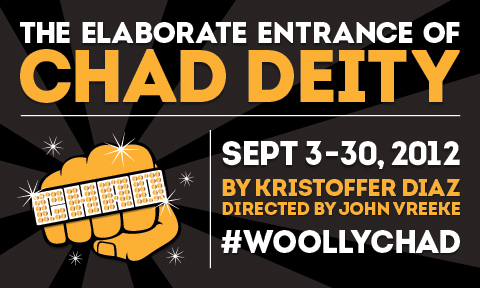 ---
Check out the trailer for "The Elaborate Entrance Of Chad Deity":
---
Other Articles:

---

'Elaborate Entrance of Chad Deity'
climbs into the ring at Woolly Mammoth
By Nelson Pressley, Published: August 31
Clues that James Long, making his theatrical debut as a wrestler in the Pulitzer-nominated drama"The Elaborate Entrance of Chad Deity," is in fact a real-life wrestler:
His hair is tied in a Samurai topknot.
The Speedo he's wearing (in combination with tall black boots) has less fabric than a handkerchief.
His promotional skills are highly honed: The banter and preening quickly hit a comic overdrive.
"I'm embarrassed," Long deadpans, striking macho poses for a photographer as the show's cast and crew, scattered around the otherwise empty Woolly Mammoth theater (where performances begin Monday), guffaw and crack jokes.
"Looks like Jimmy's done this before," "Deity" director John Vreeke jabs from the side of the room.
But the proof positive comes in the ring that is a key feature of designer Misha Kachman's set. In a demonstration of the show's wrestling scenes, Long and Shawn T. Andrew — playing the play's idolized black champion Chad Deity (and yes, race and ethnicity become themes in Kristoffer Diaz's pointed satire of the stereotype-heavy wrestling and post-9/11 American life) strut inside the ropes and bash each other.
It's the standard fakery: a forearm to the shoulder blades induces an earthquake tremor through the whole body. A fall to the canvas comes with an agonized fist slamming the floor, which echoes like thunder to make the hit seem harder.
But when Andrew flings Long against the ropes, Long rebounds like a handball and gets clotheslined. He's airborne; he lands on his back. Then the burly Andrew hoists the trim Long over his head — yes, he does — and drops Long to the canvas in the move known as the Power Bomb.
Can't fake that. And that's the goal of Long and fight choreographer Joe Isenberg: to make the ring encounters in "Chad Deity" as authentic as possible.
"When you're doing the Power Bomb," Isenberg says, "you need to allow gravity and the fall to just do their thing."
"Everything's so physical," says Long, who plays a string of palookas in the show and is helping Isenberg with the holds and slams. "That's why this play is going to be so exciting. My goal coming in was to have the most physical version of this play that's been done. Joe was down, and the guys were so open. I'm so thankful for that."
Bringing a SmackDown ethos into the theater isn't all about excitement, though. Apparently, it's also about safety. The wrestling demo was introduced with the announcement that if anything went wrong, the "stop" signal would be both arms held up in an "X" position. But generally, the cautious Step, Step, Grip, Turn, Grapple, Release minuet of so much stage combat — geared, of course, to prevent actors from being injured — is being brushed aside for the gruff body lingo of the pro ring.
Isenberg, an actor and fight choreographer who had funding through a Kennedy Center program to observe the Louisville "Chad Deity" production, says, "To do professional wrestling with stage combat kind of sprinkled in to make it more safe makes it so much more dangerous."
Long likens it to slowing down in fast traffic. "You've got these 200-pound guys running at each other full speed, stop-and-dropping people," he says. "You can't pump your brakes on the highway."
Long, 30, was part of an underground wrestling group at Virginia Commonwealth University, where he graduated with a fine arts degree. In Richmond, the wrestlers — ranging in age from 18 to 35, with almost two-thirds of the participants women — would fight before as many as 900 people a night.
These days Long works for Ohio Valley Wrestling, a Louisville-based operation that Long says is a feeder system for the TNA (Total Nonstop Action) circuit, which broadcasts fights on Spike TV. Louisville is where Long first saw the play and met Isenberg; when Woolly committed to the play, Isenberg suggested hiring Long.
Long fights in convention centers, high schools and in the OVW TV studios, and he's in the ring five or six times a week. He'll return to OVW when "Chad Deity" wraps up; this acting stint is a brief side gig of roles that require more wrestling than talking.
Long currently fights as Paredyse, "the Femmeboy Phenom of Wrestling," according to his Web site, Paredyse.com. Previously he was the Kamikaze Kid. Changing identities is part of the showy melodrama of wrestling, which Long feels playwright Diaz understands well.
"Everybody at some point was playing with the toy," Long explains. He means the action figure that captures the fancy of kids who want to be wrestlers — lively, muscled athletes with larger-than-life identities.
Those identities are the thrust of this widely produced breakthrough play by Diaz, a New York-born dramatist with Puerto Rican roots. The plot hinges on the emergence of a new star marketed as a Middle Eastern terrorist, which Diaz has said is based on the actual controversy a few years ago surrounding a blatantly offensive "character" named Muhammad Hassan wrestling for WWE.
For most wrestlers, playing the good guy or the bad guy can be beside the point. As a pro, the goal is to "get over." The example Long uses is The Rock:
"He came in as a vanilla, baby-faced kind of a good guy. A nothing. And people hated it. It was so fake and so vanilla. . . . And then they turned him into a bad guy."
With the transformation, The Rock was "over" — he had won over a core of fans.
"Once you're over, you can do anything you want, basically," Long says. "The Rock does things people wouldn't necessarily approve of. But because it's him — and they love him — he's allowed to do it."
At this moment, Andrew, still perspiring from his ring tussle with Long, appears on the far side of the Woolly lobby. He pauses, then scowls the scowl of a heavyweight champ. He waves Long off, dismissing his rival. Swatting a fly.
It would appear that the cast has gotten into the wrestling thing.
The first week of rehearsals, Long and Isenberg ran a mini-boot camp for the cast. "They go, 'Holy cr--, this isn't fake. This hurts all the time,' " Long says. "I go, 'Well it hurts, but you're not hurt. There's a difference.' "
"That's a real ring," Isenberg points out. According to Isenberg, Kachman's set is canvas over an inch of foam, 1-by-12 pine strips, and steel girders. Long says some cynical fans suspect wrestlers of bouncing around on trampolines; he wishes it were true.
"The ropes hurt, too," Long says. "You bruise. You have to build calluses on your lats to hit these ropes like this, even if you're trying to hit it at low speed."
Still, "Chad Deity" is a play, not the rigged sport-as-theater we see on TV. Not that Long is nervous about making his debut on the legitimate stage.
"Anything that the theater brings, except for how nice they are and how well they treat you, I'm over-prepared for," says Long. "September 3, we're going to let 'em fly." He begins to bellow, grinning and hyping the show in the overbearing rassler's classic 'roid rage voice:
"SEPTEMBER THIRD, THE WOOLLY MAMMOTH THEATRE, BROTHER, EIGHT O'CLOCK, MAKE SURE TO GET THERE EARLY, SPECIAL ON THE CONCESSIONS. TRUST ME!"
---