by CHARLOTTE JONES
Directed by John Vreeke
AMERICAN PREMIERE

Featuring Woolly company members Kimberly Gilbert & Sarah Marshall with Tiffany Fillmore, Beth Hylton, David Bryan Jackson & Tony Nam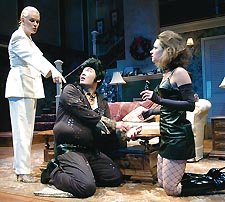 "Vreeke's ANTIC staging brings out the weirdness [in] the CRACKPOT characters…a FIRST-RATE CAST" - City Paper

"RELENTLESSLY FUNNY…brisk, convincingly performed & wholly absorbing"- Express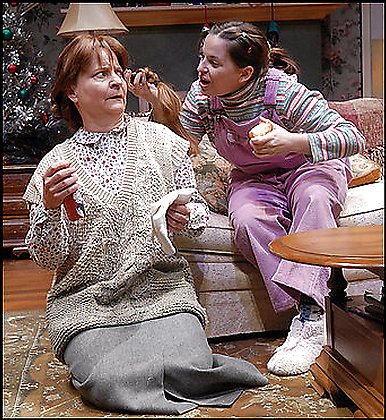 <>

"A comedy with equal parts absurdity and tenderness. JUICY CHARACTERS PULLED STRAIGHT FROM A JERRY SPRINGER SCRIPT…hearty laughs …honest emotions, honest wisdom" - Washingtonian

"Woolly Mammoth remains the most cutting edge theatre in town" - OnTap

"A LIVELY COMEDY. Outlandish" - Washington Post

"The best damn Christmas show ever! The cast is SUPERB" - DC Theatre Reviews

"STRANGE AND BRILLIANT…SPECTACULAR. The cast is wonderful. Sarah Marshall [is] a sheer delight to watch" - MetroWeekly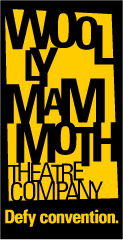 ABOUT THE SHOW:
From the internationally acclaimed author of
Humble Boy
comes an eccentric and hilarious collection of Bolton, England misfits. Josie, a dominatrix who feels ready to hang it all up, is dreading her 40th birthday - so her favorite client Lionel throws a party with a special musical guest! But the real surprise comes when a ghost from the past barges in, propelling this outrageous mix of edgy comedy, heart-throbbing humanity, and sheer ridiculousness - about the sort of love that gets you all shook up.
RUNNING TIME: Approx. 2 hours, 20 min.
From Artistic Director, Howard Shalwitz: "What a quirky, original, and endearing play this is! Charlotte Jones has created a memorable collection of eccentric characters -- a dominatrix, an obsessive compulsive, a Chinese Elvis impersonator, and more -- but she has the empathy and sense of detail to make them totally human," said Artistic Director Howard Shalwitz. "The play is hilariously funny, but what comes through, above all, is its sense of compassion for people of all kinds, and its belief in their potential. Woolly Mammoth is thrilled and honored to be launching this unique holiday treat to American audiences."
---

At Woolly, Odd Birds Of a Feather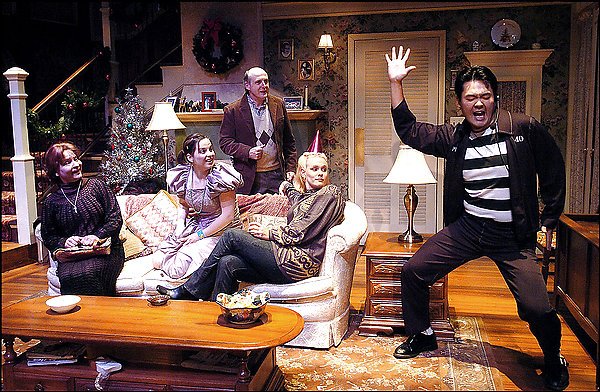 British Playwright Offers a Character Study
By Jane Horwitz
Special to
The Washington Post
Wednesday, November 8, 2006; Page D05
They would make for an unusual guest list, the characters in British playwright Charlotte Jones's 1999 comedy, "Martha, Josie and the Chinese Elvis": Josie, a prostitute-dominatrix; Brenda-Marie, Josie's mentally challenged adult daughter; Timothy Wong, a gay, Vietnamese English Elvis impersonator; and Martha, an obsessive-compulsive housecleaner. The play, now in previews, opens Sunday at Woolly Mammoth Theatre Company and runs through Dec. 10.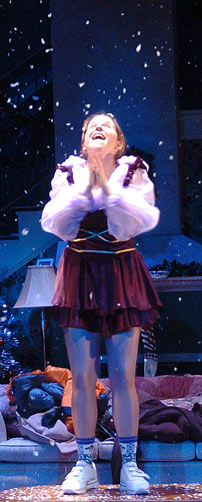 "I knew I wanted to have an Elvis impersonator and a dominatrix," Jones e-mails from London. "But I wanted to see the domestic world of the dominatrix -- so Brenda-Marie was born. I never thought of the characters as dysfunctional -- or at least I was always interested in what lay beneath the dysfunction. I did want to write a comedy, yes, but a comedy with heart."
She mentions that one theatergoer said she "started off thinking, 'Who are these collection of weirdos? I wouldn't want to sit next to them on a train,' but she ended up by thinking, 'I want to invite them all to my house for Christmas dinner.' I have treasured that remark."
Jones, who has been in rehearsals in London for her new show, "The Lightning Play," which opens tomorrow at the Almeida Theatre, says she can't help mining family foibles for dramatic fuel. "Sometimes I think a writer has no control over their subject matter -- you write to scratch an itch, to get something out of your head -- and I think I, for my sins, write about parents and children."
John Vreeke, who is staging "Chinese Elvis," recognizes the pitfalls of a piece wearing its heart on its sleeve -- an unusual choice for Woolly, which leans toward comedies spiked with apocalyptic tragedy. To avoid what he calls the "over-saccharine," Vreeke says, the lines of the play must be plumbed "to find a kind of psychological reality and truthfulness for each of the characters. . . . If you can find that and anchor all of the comedic lines within that, then you'll avoid it being overly cute or sweet or sugary."
Jones, 38, wrote the script for Andrew Lloyd Webber's recent musical "The Woman in White," but is best-known for her much-awarded play "Humble Boy." A London hit in 2001-02, it ran in New York in 2003 and here at Washington Stage Guild in 2005. A modern riff on "Hamlet," "Humble Boy" is about a nerdy physicist, home for his father's funeral, who learns his mother had a longtime lover.
In "Martha, Josie and the Chinese Elvis," the family nearly implodes as unexpected arrivals and revelations salt old wounds. Yet it ends on a redemptive note. "This play is set on the Feast of Epiphany, and I wanted all the characters to have some sort of epiphany," Jones writes. "I think there is hope for them all. This is my most joyful play, I would say."
Woolly is having a come-dressed-like-Elvis performance Saturday at 8 p.m. Those who take the challenge will get discounted tickets.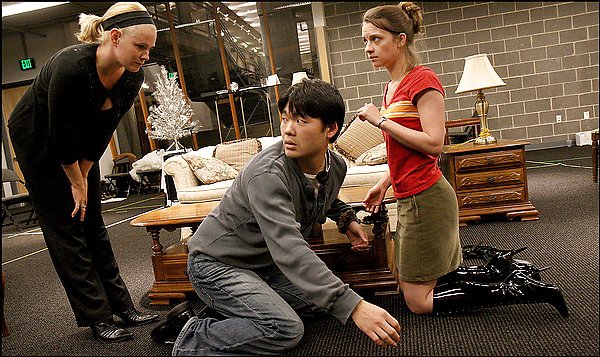 How to Impersonate an Elvis Impersonator
By Lisa Traiger
Special to
The Washington Post
Friday, November 3, 2006; Page WE22
When Tony Nam first read for the role of Chinese Elvis, he was worried. "I was concerned it would be this very stereotypical, not socially acclimated character who was awkward and spoke in broken pidgin English," the Silver Spring-born actor admits. The last thing he wanted was to end up playing broad and loose with Asian stereotypes. Frankly, he had no desire to wind up a poor man's William Hung, the awkward third-season "American Idol" loser who became a household name with his improbably bad rendition of Ricky Martin's "She Bangs" and the equally improbable release of three CDs.

But Nam got the part of Timothy Wong, an Elvis Presley impersonator in working-class England, and currently headlines at Woolly Mammoth Theatre Company in "Martha, Josie and the Chinese Elvis." Odd as it might sound, it's a surprisingly compassionate comedy about an eccentric collection of misfits -- a dominatrix, an obsessive-compulsive and, of course, a slightly bad Chinese Elvis impersonator.

Of Wong, director John Vreeke says, "he's in search of himself and is feeling unaccepted because of who he is. Somehow, by his performance as an Elvis Presley impersonator, he finds something of himself."

As an actor of Korean descent, Nam could never have dreamed he'd find himself in Elvis, and with a British accent to boot. Yet there he was in a basement dressing room refining his takes on such classics as "Heartbreak Hotel" and "Always on My Mind," not to mention that trademark hair flick and the mumbled "thank you very much." In fact, Nam, whose family emigrated from South Korea in 1977 (the year Presley died), admits that his knowledge of the King came almost entirely from watered-down Elvis impersonators he watched on television.

"My vision of him was that he was kind of cheesy," Nam says. That is, until this summer when he put himself through an Elvis immersion program of his own devising, watching most of the classic Presley movies and studying concert footage of the real Elvis, along with videos of those who have made careers impersonating him. "I was just blown away by how charismatic he was," Nam says. "He was an incredible performer. A real artist. What he did onstage was so deep and really came from a soulful place. It was a revelation to see that, and that . . . allowed me to go after something that was a little more respectful of what he did."

As a theater graduate student at the University of Washington in Seattle, Nam was cast in every type of role because the program's director wanted all the students to gain practical experience. "Now being out of school and trying to get work in the professional world," Nam says, "I do find there are limitations." Each season he carefully scans the local audition notices, trying to discern whether there might be parts for an Asian American actor. "In this area I have been called in for parts that aren't necessarily Asian, too," he allows, but says those opportunities are rare.

That's why he has taken such a liking to his role as Chinese Elvis. "From an actor's point of view," he says, "it's nice to play a character that's written Asian but is a second-generation Asian and much more socially aware. [Playwright] Charlotte Jones has taken a lot of care to make this character three-dimensional, really human. That Timothy's Asian is a small part of who he is; he just happens to have been born in a different country."

---


November 17, 2006
Return of the Kink
By Bob Mondello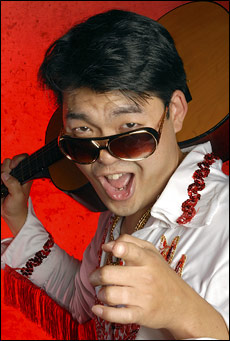 Everything old is new again, and for situational comedy that goes double. When Kaufman and Hart introduced audiences to their xylophone-playing, ballet-dancing, tax-evading, dart-throwing, basement-firework-making Sycamore clan in You Can't Take It With You some 70 years ago, their farcical model was Plautus—by way of Shakespeare.
Today, when Brit playwright Charlotte Jones mines comic eccentricity to animate the Butting family of Martha, Josie and the Chinese Elvis, the influences range from Kaufman and Hart to Michael Frayn, with just a touch of Joe Orton thrown in. The domesticity is still warm, though the character-based laughs are a tad racier: It says something when a dominatrix is the most unremarkable creature on stage.
That would be Josie, a down-to-earth, family-oriented sex worker who sends her learning-challenged but imaginative daughter, Brenda-Marie, out to play in a backyard tent whenever a client requests a bit of discipline with his tea. When she's not cracking a whip, Josie's a sweetly devoted mom, and her home is inviting, warm, and absolutely immaculate, which doesn't stop her obsessive-compulsive housecleaner, Martha, from polishing surfaces constantly.
"Look at this mess," says Martha, gazing around the pristine living room. And once she has knocked five times, turned the doorknob five times, taken five steps, and distributed five towels, she's ready to begin eliminating all manner of imaginary dust.
Today, as it happens, there will be more dust kicked up than usual, because one of Josie's clients, an amiable, cross-dressing dry cleaner named Lionel, is throwing her a 40th birthday party. He's mixed up a big pitcher of Catastrophes (a blue-green libation that looks about as lethal as its name), and to entertain he's hired an Asian Elvis impersonator who's brought his own smoke-machine, as well as a few changes of costume (deft work by Kate Turner-Walker, who also supplies the leather 'n' lace discipline wear) so he can burst upon the scene as a svelte, studly hip-swiveler and morph into a flabby, rhinestone-encrusted King. This Elvis has come prepared, in short, for most eventualities and is flexible enough to continue smiling gamely even when a command performance of "The Wonder of You" requires him to croon while handcuffed to the coffee table.
Also on hand by the time he's cuffed is Brenda-Marie's twin sister Shelley-Louise, who more or less upends the festivities by returning from the dead (or at any rate, from self-imposed exile) as a birthday surprise for her mother. Since mom long ago convinced Brenda-Marie that her twin had died, this creates a domestic disconnect, and a few tears later, with Elvis acting as family counselorÉoh, you get the drift.
Now, apart from the fur-lined handcuffs and the cracking of the occasional whip, most of this would not have been terribly out of place in the sort of family comedy that thrived on Broadway in the '30s. So what, you may ask, is Martha, Josie and the Chinese Elvis doing at Woolly Mammoth, D.C.'s house of the avant-garde? Truth be told, it's not a perfect fit. The play's sweetly insubstantial and hasn't got the edgy eccentricity audiences have come to expect from this adventurous troupe. But if Jones' just-be-yourself message is conventional, the crackpot characters are right up Woolly's alley, and John Vreeke's antic staging brings out the weirdness in the first-rate cast that embodies them.
Start with Sarah Marshall's compulsive Irish housekeeper whose obsession with the number five is so persuasive that you half expect her to take that number of curtain calls at evening's end. Counting softly to herself, she roams the stage scouring tables with her gaze, unnerved by dust, appalled at fingerprints, frantic about dirt-based infelicities of every stripe. Marshall's eyes are among the most expressive instruments on a Washington stage, and when she sets them to vibrating after an unexpected compliment, she's a flat-out riot. Leave this woman on an empty stage with a pitcher of Catastrophes, and you hardly need a playwright.
Kimberly Gilbert, meanwhile, is making Brenda-Marie the brightest dim bulb around. With restless fingers ever in motion and a fiercely engaged way of looking at the world (especially when racing around the room as a figure-skater-in-training), she seems less learning disabled than a gifted literalist. Told that someone has "skullduggery written across his face," she makes puzzlement seem the only reasonable reaction. It's easy to see why Tony Nam's athletically gyrating, deep-voiced, comically Chinese Elvis might describe her as possessing an "ageless wisdom" before joining her in her tent to escape the escalating madness.
David Bryan Jackson, downright fetching in his fishnet stockings and frilly black-velvet French maid outfit, is likewise pretty out there. And if Beth Hylton's whip-cracking dominatrix and Tiffany Fillmore's wounded prodigal daughter seem more conventional, well, the playwright imagined them that way so there'd be some ballast when the going gets sentimental.
The Woollies have given the show's American premiere a solid, two-story Tudor home that grounds the proceedings persuasively in the real world. Dan Conway's chintz-wallpapered setting could do double duty for a Noises Off revival without so much as a shifted sofa. And sturdy as it looks, its walls turn effortlessly transparent at evening's end, when Colin K. Bills looses a few nifty lighting effects to create a starry, Christmas-evoking snowstorm—which seems a fitting conclusion for a cheery little trifle that stands a decent chance of running right through the holidays. CP
---
A CurtainUp DC

Review
Martha, Josie and the Chinese Elvis
by Rich See
Woolly Mammoth has unveiled a humorous Christmas show for everyone who feels the pain of "Home for the Holidays." The company's American premiere of Charlotte Jones' Martha, Josie and the Chinese Elvis is lighthearted fluff that's witty, fun and will entertain even the biggest Scrooge.

Set in Bolton, England on the Feast of the Epiphany (January 6th), Ms. Jones sets her story in the home of Josie, a professional dominatrix and single mother of two grown daughters who is on the cusp of turning forty. While one of her daughters (Shelley-Louise) is presumed dead, the other (Brenda-Marie) is mentally challenged, living at home and dreaming of being an ice dancer. Into their world comes Martha their OCD suffering housekeeper, who refuses to acknowledge the number six. Martha, who is unaware of Josie's occupation, counts to five repeatedly to ward off the Devil's temptations or when she is angry, nervous or confused -- which tend to be most of the time.

When Lionel, a client of Josie's who likes to dress as a French maid and be whipped for being a "naughty girl," discovers that Josie is retiring, he sets out to throw her a birthday party and promises a special surprise guest. Timothy Wong it turns out is an Elvis impersonator who is just starting out and doesn't know all the words to The King's songs. But he has heart and a trunk full of costumes, so Lionel hires him to stay for the duration of the party.

This birthday looks like a train wreck as Lionel pushes high-octane "Catastrophes" on everyone and Timothy does his best to sing in tune, but the collision really happens when the long dead Shelley-Louise arrives with her suitcase in hand and a chip on her shoulder. So ends Act One and Act Two picks up as Shelley-Louise and Josie sort out their differences, Lionel chases Martha, Brenda-Marie sits in her tent hoping for snow and Timothy Wong keeps changing costumes so someone will listen to him sing.

Director John Vreeke handles the subject material well in a screwball comedy that is short on plot and long on wacky characters. The two and a half hours flow by quickly and the only lag in timing is during Act Two, which Ms. Jones could shorten just a bit to tighten the material and keep things focused. Other than that, this production is pure Woolly -- zany characters, a dead corpse (in this case the corpse has come back for more), odd adult themes and a wacky ending to the entire affair. It's what the company does best and this is a great show for its season line up.

Dan Conway's set is a stately two story, English Tudor home with a hidden closet of leather fetish tools and an elaborate backdrop depicting an English townscape. Kate Turner-Walker's costumes -- especially the Elvis attire -- are on the mark and it looks like she had fun in outfitting the cast. Colin K. Bills' lighting has some very nice, holidayesque moments -- especially between the scene changes. And Matt Neilson keeps Elvis in the air with snippets of Presley hits throughout the show.

In the cast, Sarah Marshall is wonderful as the obsessive compulsive Martha. Her counting to five is funny, but in a way that brings sympathy for her and anyone who suffers from OCD. She walks a fine line between making Martha a caricature and a real person and succeeds in bringing out the eccentric humor in the housekeeper while maintaining the character's humanity.

Kimberly Gilbert achieves a similar feat with Brenda-Marie, bringing the young woman's vulnerabilities to the front and becoming the truth speaker in a home where no one is talking. When the ice dancing finally rises up within her you want to shout with glee.

Beth Hylton's Josie is a woman on the verge of middle age who is ready to give up her whips, chains and handcuffs for something else. What that something is, she is unsure, but she knows her days as a successful dominatrix are numbered and she would like to go out while she is still on top, so to speak. Meanwhile, Tiffany Fillmore's Shelley-Louise is a mix of anger and fear, insisting she is a grown woman, but acting at times like a little girl.

David Bryan Jackson brings Lionel into humorous life with a nonchalant attitude that moves well from French maid attire to more conventional clothing. Mr. Jackson pulls out Lionel's inner loneliness so that when the dry cleaner falls for Martha so quickly, the audience can accept the sudden turn of events between such different characters.

And Tony Nam creates an Elvis singing, rhinestone wearing Timothy Wong with whom you empathize. Handcuffed, whipped and heckled by his audience he keeps coming back for more in an attempt to win them over and when they don't respond -- he hides in a tent.

Martha, Josie and the Chinese Elvis is a fun treat which ends on a magical note that pokes gentle fun at itself and makes you laugh at our universal desire to have a Christmas miracle.

---

WASHINGTONIAN
Martha, Josie, and the Chinese Elvis
Restraint can be a talent. When you have a play about an aging dominatrix and her mentally disabled daughter and you add in a cross-dressing client, an obsessive-compulsive Catholic housekeeper, and an Asian Elvis impersonator, a playwright might be tempted to let things careen into chaotic absurdity. Not Charlotte Jones.

In Martha, Josie, and the Chinese Elvis, juicy characters pulled straight from a Jerry Springer script thinly mask a tender family story, rife with clever metaphors and hearty laughs. It's a credit to Jones's writing that it all comes together smartly and evenly.

On her 40th birthday, also the day of Epiphany, Josie has become tired of being a professional madame. Her life in England has become one of domestic comfort—you'd barely know she was in the sex biz. Her twenty -something daughter, Brenda-Marie, is sweet and loving and, by her own admission, "too simple." She lives in an imaginary winter fantasyland where she yearns for snow and gives sports commentary on imagined ice-dancing competitions.

Longtime client Lionel is willing to forgo a spanking and set aside his petticoats for an evening so he can cheer Josie up by throwing her a birthday party. It also gives him a chance to make his move on the high-strung maid, Martha, who in her obsessive-compulsive behavior does everything in sets of five: turning doorknobs, walking up steps, dusting, and making the Sign of the cross.

One surprise of the evening—an Elvis act—turns out to be a ridiculous delight for the party; another, more personal surprise doesn't go over as well, especially for Josie.

The rest of the well-paced play is spent fitting together these oddly shaped puzzle pieces of people into a complete picture. Before long the characters endear themselves to the audience.
All the while, secrets are revealed, metaphors pop, and revelations erupt. The use of Elvis, for instance, is more than a cute gag; there's a surprising larger message about the mythology that lives on after death, and the running soundtrack of the King's songs is particularly apt.

While Jones has penned the smart plot and dialogue that makes the characters work, director John Vreeke and his cast also deserve credit for animating them so well. Kimberly Gilbert skillfully balances the comedy of her role as the mentally challenged Brenda-Marie with a sensitivity that avoids the condescending stereotype; she proves to have the most enlightened perspective at all. Tony Nam plays Elvis impersonator Timothy Wong with charm and has the hip and vocal acrobatics down. The always-funny Sarah Marshall is a hilarious Martha, but her fumbling with an Irish accent distracts from most of her lines.

As Josie, Beth Hylton is the strong, nurturing mother with a hidden vulnerability. She was convincing as such except in the one scene where it counted most: Her attempt to reconcile with her past felt rushed and lacked the tenderness the moment called for.

Where Chinese Elvis succeeds most is in its honesty—honest emotions, honest wisdom, and honest laughs. All three culminate in the play's satisfying ending, a funny, heartwarming scene capped with a little magic. Just right for the holidays.
17. Nov 2006
---

Holiday Trip
Woolly Mammoth takes on the holiday season with a strange and brilliant 'Martha, Josie and the Chinese Elvis'
Ah, the holidays, a time when all the old theatrical chestnuts come out. There's The Nutcracker and A Christmas Carol. And don't forget this other tale as old as time, set on The Feast of the Epiphany:
Dominatrix/mother of a mentally challenged adult daughter turns 40 and begins to doubt her chosen profession. Client of the dominatrix/single mum, a suburban dry cleaner with a fondness for being humiliated while wearing women's clothing, throws a party where the guest list includes the birthday girl's ultra-religious housecleaner and a Chinese Elvis impersonator-in-training. Oh, and the housekeeper suffers from a severe obsessive-compulsive disorder that causes her to count to five when anxious. And the daughter dreams of becoming a world-famous ice dancer. And the Chinese Elvis is actually Vietnamese. And gay.
And there's a tent. And snow. And an aptly named lime green drink called ''A Catastrophe.''
Okay, so it's not actually a well-worn holiday chestnut, but with its production of Charlotte Jones' Martha, Josie and the Chinese Elvis Woolly Mammoth Theatre Company has turned the holiday show on its head to spectacular results. From its jewel box of a set to a cast that shines brighter than the silver tinsel tree in the center of the stage, Woolly has taken full advantage of this strange but brilliant play.
While there is an urge to rush forward and give proper praise and applause to the actors, full ovations must be given to playwright Charlotte Jones. Best known for her award-winning play Humble Boy (2001), Jones also wrote the book for The Woman in White (2004), an Andrew Lloyd Webber musical. A deft writer with the ability to take an audience from flat-out humor to genuinely heartfelt sadness, Jones offers an original and compelling voice. After all, it's not every show that ends a bitter mother-daughter battle with a line like, ''I'm sorry Elvis. This has nothing to do with you.''
Everyone in Director John Vreeke's cast is wonderful to watch on stage, although there is occasionally a desire to feel that some are in better control of their character.
Sarah Marshall plays Martha, the housekeeper, with a dryness and restraint that makes her a sheer delight to watch. Marshall has a keen sense of her audience and knows when to play a gag a bit longer or reel it in short. One is tempted to refer to her as a great comedienne but that would dismiss some of the lovely dramatic turns she takes during the show. In the end, Marshall is simply a great actor.
Martha, Josie and the Chinese Elvis
To Dec. 10
Woolly Mammoth
Theatre Company
641 D St. NW

Beth Hylton, as dominatrix Josie, appears to be having a great deal of fun in her performance, which would seem to be an easy task when one is playing a dominatrix suffering her way through a midlife crisis. Kimberly Gilbert is Josie's daughter Brenda Marie, who dreams of ice dancing for Canada (despite the fact that she lives in England). Here again is an instance where an actor's ability is seriously tested and absolutely proven. It would be easy for Gilbert to play Brenda Marie's disability for quick laughter. But Gilbert takes great care with her performance. The audience most definitely laughs with the young woman and not at her.
Tony Nam's Chinese Elvis is a marvelously written character whose true heart is sometimes lost beneath the sight gags. And David Bryan Jackson's Lionel wobbles a bit between being lonely and sweet, which appears to be Jones's intention, to coming off a bit lecherous and frightening. None, however, should feel anything but pride in their performances.
It is highly unlikely that Martha, Josie and the Chinese Elvis will become an annual holiday fixture. All the more reason to take advantage of this gift D.C. theater audiences have been offered by the people at Woolly Mammoth.
---

The GW Hatchet
George Washington University
Independent Student Newspaper
Christmas Cheer and an Elvis Impersonator
by Rachel Baird
Hatchet Reporter
Issue date: 11/20/06 Section: Arts


I'm still looking at Halloween pictures on Facebook, Thanksgiving hasn't hit, yet Christmas is already everywhere. If "Jingle Bells"-themed Old Navy commercials aren't enough to put you in the holiday spirit, consider seeing Woolly Mammoth Theater's production "Martha, Josie, and the Chinese Elvis" directed by John Vreeke. This show will certainly put you in the mood for the oncoming season of snow and heartwarming.

The play is definitely a comedy, but it also makes time for sentimental and joyous moments that are customary in a traditional Christmas piece. Similar to Scrooge in Dickens' classic "A Christmas Carol," all the characters have a moment of clarity when they realize, with the love of others, they can lead more fulfilled lives.

The program tells us that the play takes place on January 6, but it appears to be Christmas-time because the family has refused to take down their tree and decorations. The play occurs more or less in real-time as the audience observes the dramatic episodes during the mother's birthday party. She begrudgingly tolerates the celebration after she has decided that, at age forty, she is too old to have fun. The guests' personalities collide on stage, which creates a lot of entertaining drama.

Watching the completely eccentric cast is where the comic elements of the play lie. The ensemble includes the matron who is a dominatrix, her daughter who is feeble-minded, the drycleaner man who cross-dresses, a devout Catholic with OCD, and a Vietnamese gay guy who is a struggling Elvis impersonator. Of course, there is one "normal" character, but she is the estranged we-thought-she-was-dead daughter who has commitment issues. Having so many characters compete for who has the most outrageous complex does weigh down the play. The middle of the play tends to drag because each character must experience an epiphany before the finale, so there is a period of tedious lull.

Despite any preachy tones, the actors remain fun to watch because everyone has perfected his or her role. As the actors move through their lines, they successfully portray believable, yet vulnerable, characters. Everyone is on a journey for the enlightened moment, and since the audience moves on that journey with them, we too achieve a profound sense of compassion.

"Martha, Josie, and the Chinese Elvis" is a play that was originally written for a theater in Bolton, England, and this production marks its premiere in the United States. Much of the humor is what one expects from a contemporary British comedy, because there is not a lot of action, but the audience enjoys watching the characters fumble around the stage mocking each other. Some of the jokes, however, do not translate because the references are lost on an American audience. Until one character began to twirl around on stage, I didn't know that "ice dancing" is the British equivalent to "figure skating." Also, I didn't realize the play was set in England until I consulted the program: based on the actors' poor and varied accents, the play could have taken place in Ireland, Scotland, England, or America. The character portrayals were tremendous, but their accents were laughable.

Ignoring the accents, "Martha, Josie, and the Chinese Elvis" is wonderful and memorable because of its wit and dialogue, which will make you want to cheer. The beverage all the characters pour down their throats is aptly called the Catastrophe. We watch the actors consume enough alcohol to understand their crazed reception of the ensuing fiasco of the numerous relationship and identity problems.

Ultimately, the endearing moments win over, and the characters' constant anticipation of snow throughout the play complements the warmth they eventually find in each other's company. I wouldn't want to give too much away, but the play concludes in true Christmas fashion. You will certainly be enchanted when, both metaphorically and literally, the play finishes with a grand, delightful snowfall.
---

by Charlotte Jones
Directed by John Vreeke

with Sarah Marshall, Kimberly Gilbert, David Bryan Jackson, Beth Hylton, Tiffany Fillmore and Tony Nam
Set Design: Dan Conway
Lighting Design: Colin K. Bills
Sound Design: Matt Neilson
Costume Design: Kate Turner-Walker
Properties Master: Jennifer Sheetz
Dialect Coach: Jennifer Mendenhall
Woolly Mammoth Theatre Company, 641 D Street NW