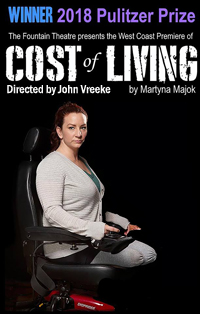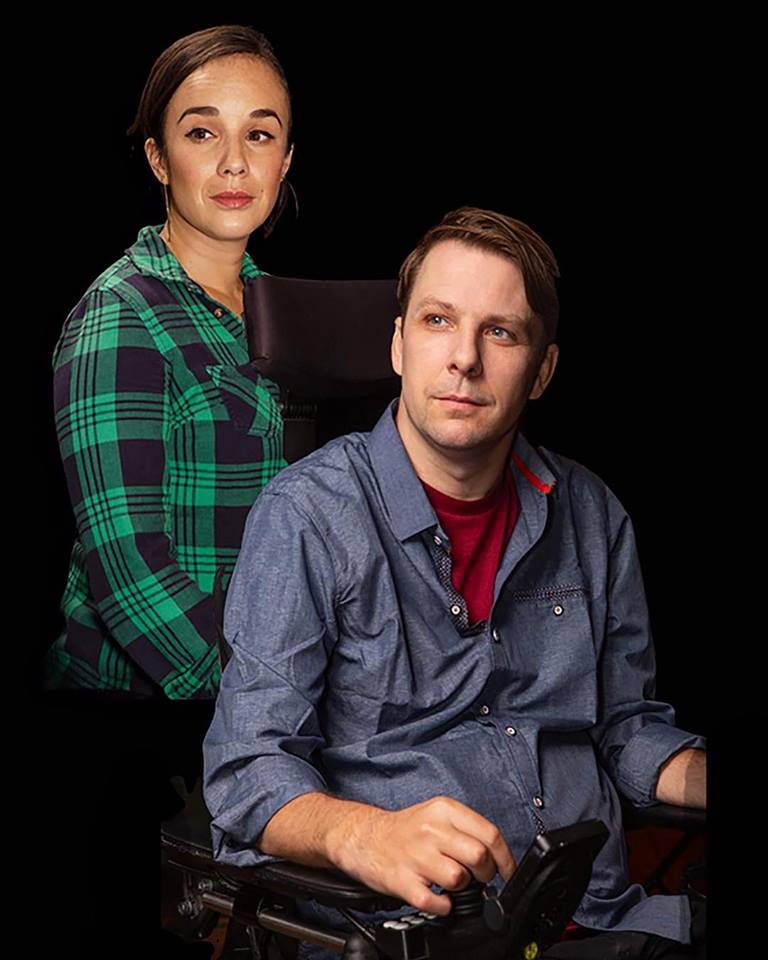 * NINE NOMINATIONS - Including Best Direction *
30th Annual LA Stage Alliance Ovation Awards
LOS ANGELES PREMIERE: Oct 17 - Dec 16
COST OF LIVING
Written by

Martyna Majok

*

Directed by

John Vreeke

Produced by Deborah Culver, James Bennett, Simon Levy, Stephen Sachs
Starring Tobias Forrest, Xochitl Romero, Felix Solas , Katy Sullivan - Understudy: Eileen Grubba


Achingly human and surprisingly funny, Cost of Living is about the forces that bring people together and the realities of facing the world with physical disabilities. It challenges us to re-think the true meaning of abled and disabled, whole and damaged. By shattering stereotypes, it reveals how deeply we all need each other.


---
REVIEWS

:




Martyna Majok's Pulitzer-winning drama 'Cost of Living' has found an ideal home at Fountain Theatre





"The production, scrupulously directed by John Vreeke, balances discretion with daring exposure"



- Review by Charles McNulty

Two of the best productions this fall have happened at intimate theaters that are keeping up with the exciting developments in American playwriting.

Earlier this season, Branden Jacobs-Jenkins' "Gloria" was presented by Echo Theater Company in a top-notch production that brought to Los Angeles a recent effort by one of the freshest voices writing for the stage today. At the Fountain Theatre, "Cost of Living," Martyna Majok's 2018 Pulitzer Prize winner, is now having its West Coast premiere in a production that is on par with the Mark Taper Forum and the Geffen Playhouse at their best.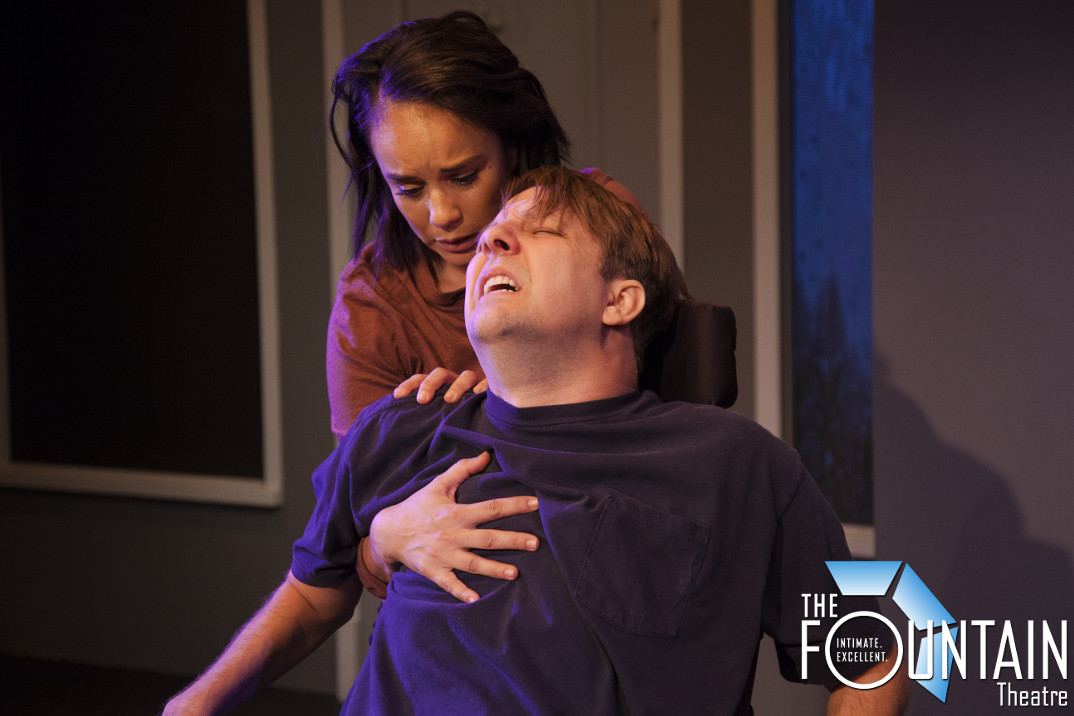 Artistic directors of theaters of all sizes would be wise to follow the leads of the Echo's Chris Fields and the Fountain's Stephen Sachs, who are building audience communities eager for the challenge of path-breaking plays.

Majok ("Ironbound," "Queens") has made it her mission to bring to the stage those characters who historically have played a subordinate role in the theater — the nameless, faceless workers who are hanging on by a thread in an economy that devours the weak, the marginalized and the unlucky. In "Cost of Living," Majok examines the disabled and their caretakers, whose lives can be just as precarious despite not having to cope with the physical limitations of those they're paid to assist.

Eddie (Felix Solis, firing on all cylinders) was separated from his wife, Ani (a quaking Katy Sullivan), before her tragic accident, which shattered her spinal cord and required a series of devastating surgeries. He's living with another woman, but he's turned up at her Jersey City apartment with the proposal of becoming her attendant. He's still her emergency contact, and who better to lift, feed and wash her than the man who already knows her so intimately?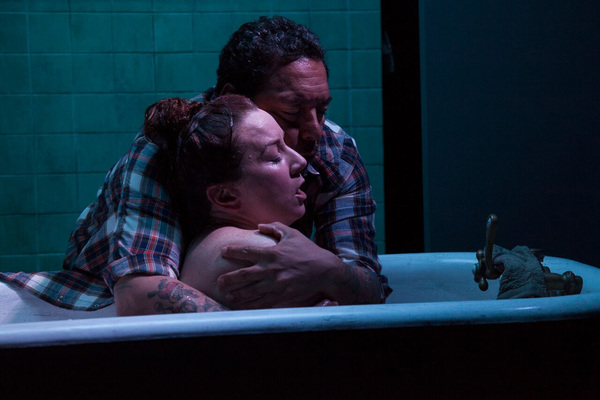 Sober for 12 years, Eddie carries quite a lot of baggage. He knows he's not responsible for what happened to his wife, but he bears the brunt of her acrimony as a kind of penance. Sullivan, a double amputee who performed the play in its world premiere at Williamstown Theatre Festival in 2016 and last year at Manhattan Theatre Club, unleashes Ani's invectives with a potent mix of rage, laughter and grief. Although seemingly aware that he's inevitably going to disappoint, Eddie refuses to accept that love can't make a difference.

In a tonier part of New Jersey, Jess (a somberly ferocious Xochitl Romero) interviews for the job of taking care of John (the dashing Tobias Forrest), a wealthy Princeton graduate student with cerebral palsy. A Princeton graduate herself with a conspicuous chip on her shoulder, Jess isn't the typical person who applies for such a position. But since her foreign-born mother left the country to receive medical care, the tirelessly competent, tough-talking young woman is doing all she can to make ends meet, including working as a cocktail waitress at various dives.

John, entitled to the point of occasional arrogance, has decided to hire outside of an agency because he wants a less structured relationship with the person who will be sponging him down each morning. It's an intimate relationship, and he feels peculiarly vulnerable with this brusque woman, even though he's the one with money, power and prestige.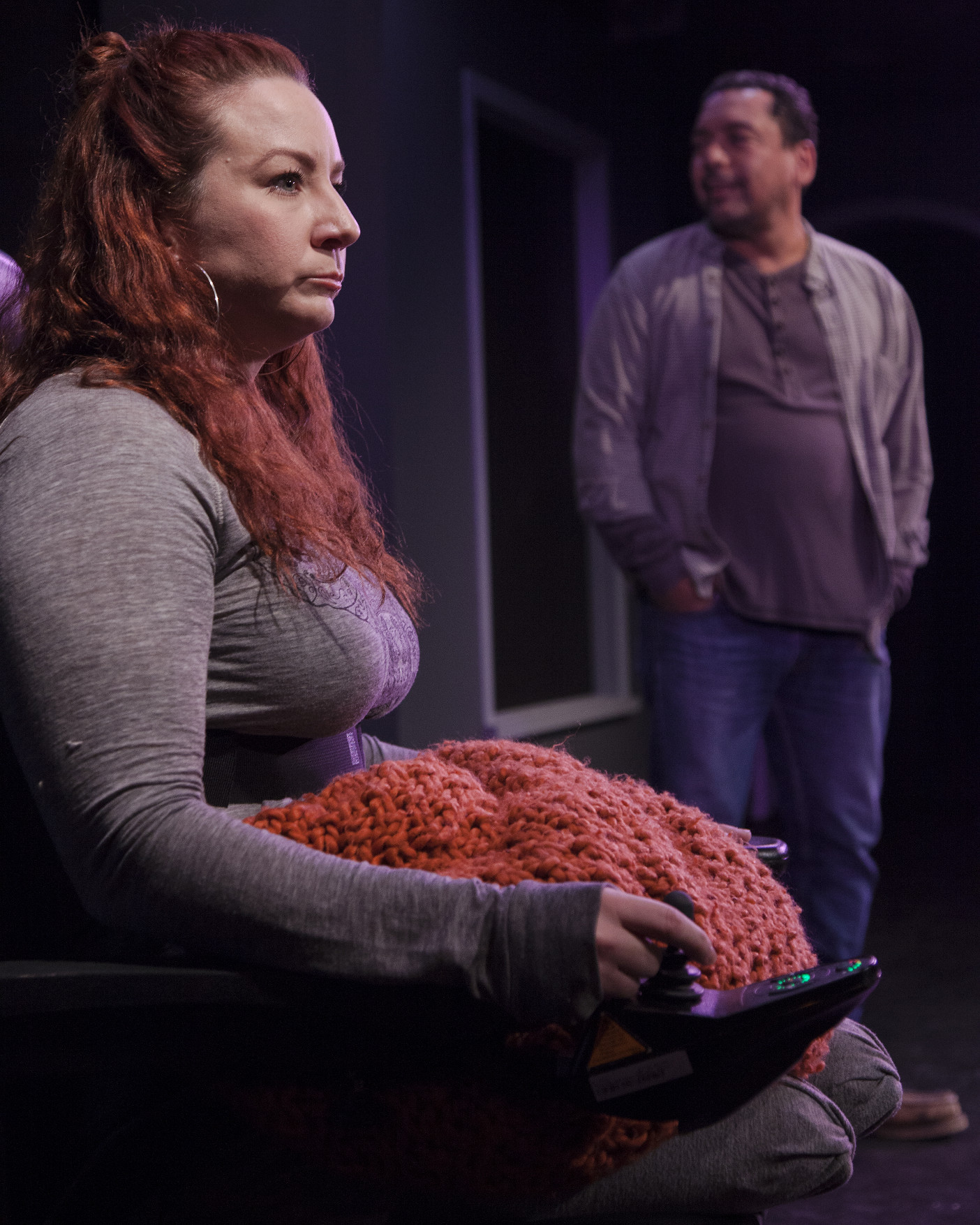 "Cost of Living" alternates between scenes of Eddie, Ani, Jess and John that put front and center the physical realities of daily life for disabled people. Majok doesn't shy away from the most private interactions. She shows us Ani in the bathtub getting soaped up and more by Eddie and John getting shaved and showered (equally perilous operations) by no-nonsense Jess.

The production, scrupulously directed by John Vreeke, balances discretion with daring exposure. Every naked (in all senses of the word) moment is dramatically accounted for — and with enormous care for the dignity of the actors.

Tom Buderwitz's suitably drab scenic design is made more expressive by the modest infusion of Nicholas Santiago's video. All the elements of the staging, including Shon LeBlanc's costumes, infuse the quotidian with a suggestion of poetry.

Majok's title, "Cost of Living," is as resonant existentially as it is economically. Eddie and Jess, grappling quietly with employment woes, are holding on as best they can. But all the emotionally scarred characters are trying to bear the weight of their difficult lives.

The beauty of the play resides in the fleeting tenderness that emerges when guards are momentarily let down. This is a milieu, in which, as the playwright writes in a note in the published script, the F-word "is often used as a comma, or as a vocalized pause, akin to the word 'like.'"

Self-pity is not an asset in the parts of New Jersey that Eddie, Ani and Jess call home. And the actors, all of them admirably dug into their roles, respect the ferocious pride as much as the anguish of their characters. Even the ending, which could in the wrong hands come off as pro forma sentimentality, is treated with appropriate caution.

The caustic anger of Ani and Jess, much of it completely understandable, makes the sudden shifts to sweetness and sorrow all the more affecting. As the extremity of all the characters' situations becomes known, the universality of the story — a tale of need and selfish pride, resentment and resilience — shines through.

- Review by Charles McNulty, LA Times


---

NINE NOMINATIONS for 'Cost of Living'
Best Production
(
Intimate Theatre)
Best Direction
- John Vreeke
Best Acting Ensemble

ALSO:
Lead Actor
(Felix Solis)
;
Lead Actress
(Katy Sullivan)
;
Featured Actor
(Tobias Forrest)
;
Featured Actress
(Xochil Romero)
;
Lighting Design
(John Garofalo)
;
Video/Projection Design
(Nicholas Santiago)
---
MORE REVIEWS

:




"The actors bring Majok's play to life in fearless, bold fashion. The director, John Vreeke, and the Fountain Theater itself, are also to be commended for the way they have supported diversity in theatre with this splendid production."



- Review by Willard Manus

Two of the play's four actors are people with disabilities; the other two are their caretakers. But Cost of Living by Martyna Majok—whose gritty working-class play "Ironbound" was seen at the Geffen last year—is much more than just another disease-of-the-week tale of woe. Its deeper concerns, the struggle to overcome loneliness, the need to connect to another human being, provide the real drama of this young playwright's latest work.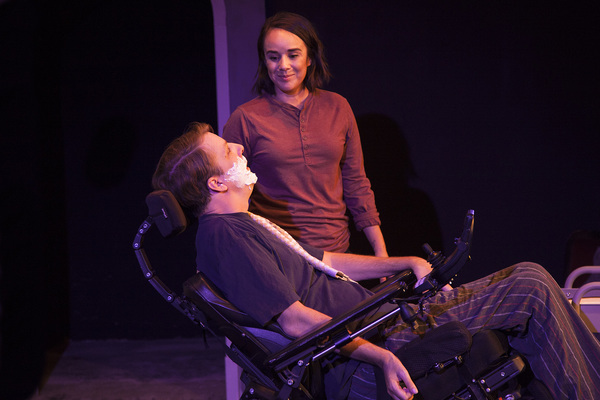 Majok, whose Cost of Living won the 2018 Pulitzer Prize and numerous other awards, starts off her play with a brilliant, lost-soul monologue delivered by truck-driver Eddie (Felix Solis) as he sits by himself in a dreary Brooklyn bar trying, with the help of a beer, to cope with his pain. The cause of it? The wife he is separated from, Ani (Katy Sullivan), has suffered a terrible accident which severed her spinal cord and resulted in her legs being amputated. Though he didn't cause the accident, Eddie, with his macho, blue-collar ethic, feels at fault here: a husband is supposed to protect his wife, see that no harm befalls her.

He then goes to her Jersey City pad and offers to help care for her as best he can, only to be rebuffed by this bitter, angry woman who drops as many F-bombs as he does. Eddie hangs in with her, though, partly out of love, partly out of guilt.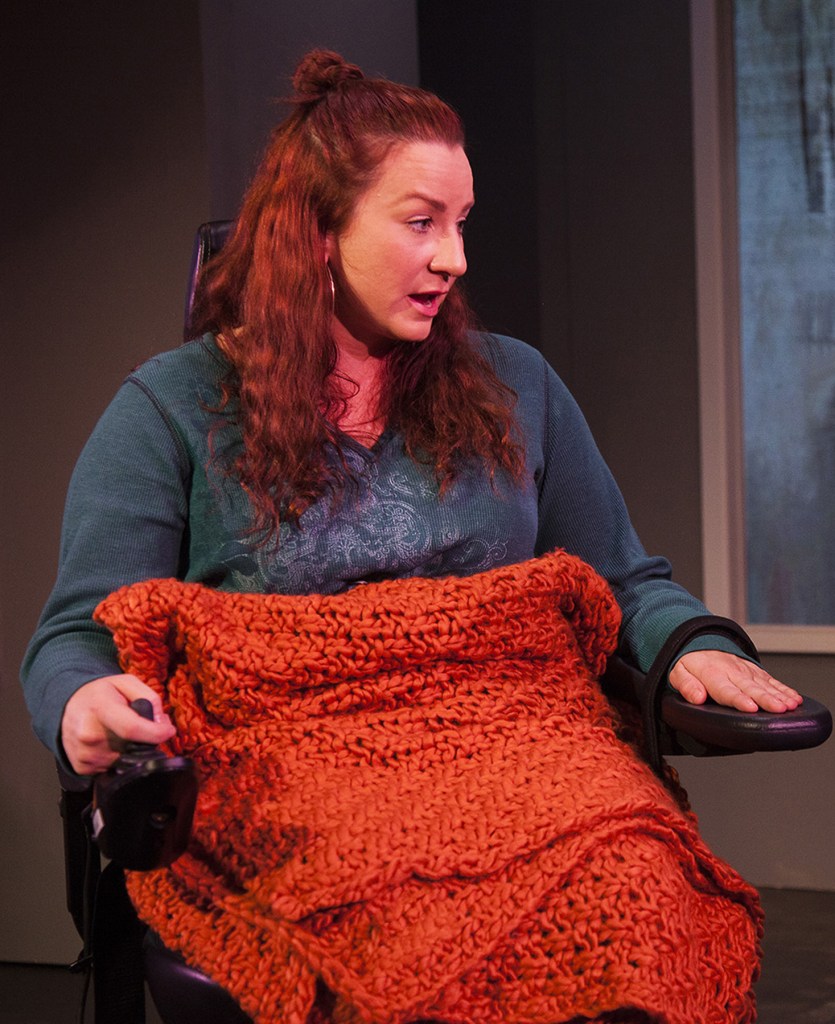 In a parallel story we meet Jess (Xochitl Romero) and John (Tobias Forrest). This is in the latter's apartment in Princeton where, despite his crippling case of cerebral palsy, he is a doctoral student. He's got money and a future, despite being confined to a wheelchair. He still needs care, though, and his want-ad has been answered by Jess. Like Ani, she's a tough little cookie who normally works as a bartender but is trying to earn a few extra bucks by going the home-help route. The somewhat snobby, arrogant John doesn't think she'll be able to cope, but she sets out to prove him wrong.

Cost of Living alternates between scenes in which these wounded, volatile people continually challenge and confront each other. But there are tender, intimate scenes as well, particularly when Jess has to give John a shower (which she does right in front of us). Things like that comprise the reality of daily life for disabled people, but again the main thrust of the play takes John, Jess, Ani and Eddie on a journey toward connection, dignity and hope.

The actors bring Majok's play to life in fearless, bold fashion. The director, John Vreeke, and the Fountain Theater itself, are also to be commended for the way they have supported diversity in theatre with this splendid production.

- Review by Willard Manus, Total Theater


---




Fountain Theatre explores disability in Pulitzer Prize-winning 'Cost of Living'





"John Vreeke's direction is flawless, especially considering that two wheelchairs are involved, as well as a couple of scenes of personal grooming that are handled with humor, discretion, a notable absence of sentimentality, and a splash of eroticism...The acting is among the best I have seen in recent theatre outings."



- Review by Eric A. Gordon

Fast on the heels of its incredibly insightful production of Arrival & Departure, which involved deaf and hard of hearing persons, the courageous Fountain Theatre now presents the West Coast premiere of Martyna Majok's 2018 Pulitzer Prize-winning Cost of Living. The playwright's Ironbound recently enjoyed a heralded staging at the Geffen Playhouse in L.A.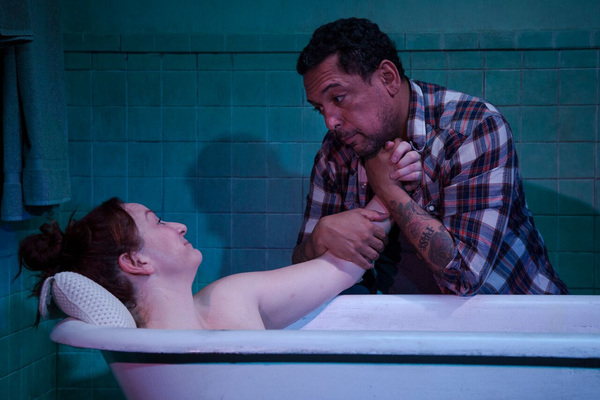 Theatre demands conflict and problems, differences and misunderstanding to work—otherwise there's simply no drama. When the human condition also involves characters with physical or mental disabilities, playwrights are sometimes eager to explore what special responses those conditions elicit among the other people on stage. It turns out that though the specifics of the situation are unique, the playwright is ultimately and more universally interested in the way we deal with obstacles and challenges, what drives us to act the way we do, and the way our personality expresses itself.

More and more, in the arts and even in advertising, we see persons with disabilities not as objects of pity but as active agents in and for their own lives. In the zero-sum Monopoly game that is austerity capitalism today, the system closes off avenues of opportunity and fulfillment as too expensive—those ol' debbil "pre-existing conditions" which were so damaging to Republicans in the recent midterm elections. In any decent society that I might envision—and possibly this was on a lot of voters' minds too—especially one with an infrastructure and economy so highly developed as we have in the United States, there would be virtually no limits placed on care and training for people at all levels of ability. For such a society to thrive there is no place for thinking about dispensable, disposable people.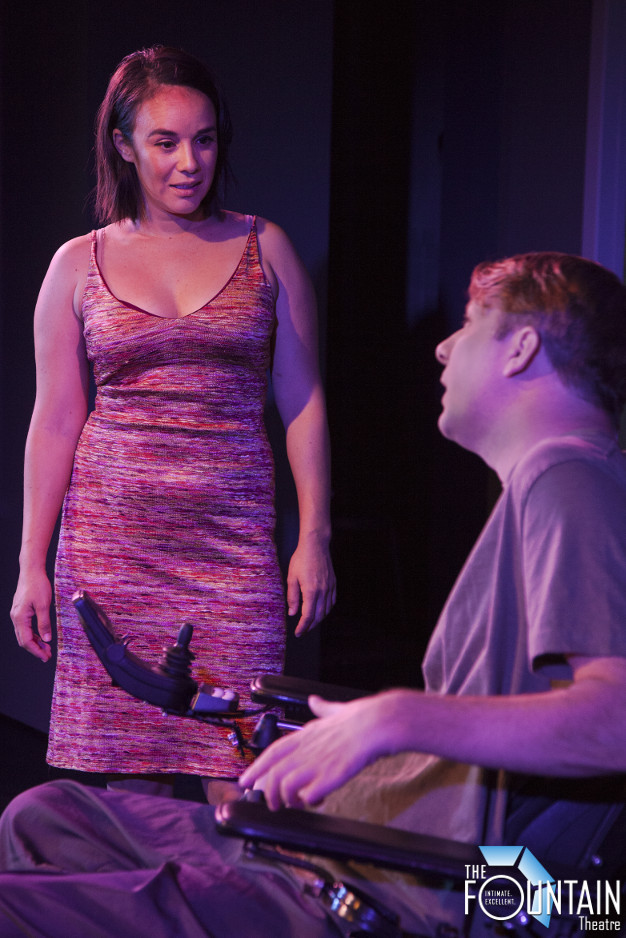 Entering the world of her new play, I was immediately struck by the continuity with the world of Ironbound. Majok is interested in life on the frayed margins of success, the folks who struggle to find a roof overhead, a hot meal, and supportive relationships of love and amity. These are Americans pushed to the bottom by inadequate wages, unaffordable housing, social contempt, for whom one small misstep can lead you straight to a Skid Row streetcorner. As one character in Cost of Living says, "It's little breaks that clean you out real fast."

In part her worldview has been shaped by her personal history as an immigrant from Poland. She and her mother undoubtedly expected more from America than what they got. Only by dint of extraordinary personal sacrifices and dedication to her craft as a writer did Majok emerge over time as one of our country's leading contemporary playwrights. But that's the problem with meritocracy: It works great for those with exceptional gifts, or perhaps we should say, gifts that are recognized as valuable commodities in the marketplace. For others, who may be excellent car repair specialists, or tool-and-die workers, school cafeteria servers, hotel employees or maybe just warm, loving parents, life is often a hard slog from cradle to grave. In a just world, it shouldn't have to be that way. I think that's what Majok is trying to tell us.

Here's the set-up. There are two pairings of people, who alternate in scenes depicting phases of their relationship. John (Tobias Forrest) has cerebral palsy and uses a wheelchair. A young man of some economic means, he lives independently, and is pursuing grad school, but depends on home care assistance for basic grooming needs and "whatever I need, within reason." His new employee Jess (Xochitl Romero) is an immigrant from Latin America and a Princeton graduate, but for reasons that are not apparent, she is not employed in her field, perhaps owing to psychological or emotional insecurity. So she is applying for the position as his home care worker. Among her other jobs, she also works in a couple of late-night bars for income. "I sleep for fun," she says. Their wary verbal sparring is so well written.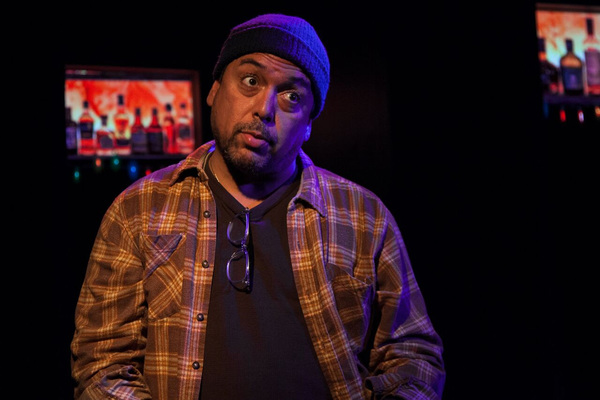 The other couple includes the lusty, potty-mouthed Ani (Katy Sullivan), who is a wheelchair-using quadriplegic in need of much more constant attention. Her caregiver is her former husband Eddie (Felix Solis), a Latino and long-haul truck driver presently not working who desperately needs both an income and a place to live. Sharing a home with Ani would resolve both of those issues, although there is much prickly baggage to overcome—and also a deep reservoir of love for one another that yearns to be expressed.

The play takes place in various apartments in New Jersey and New York, opening with a Brooklyn barroom monologue in which Eddie quotes the Bible (well, not literally): "The shit that happens to you is not to be understood."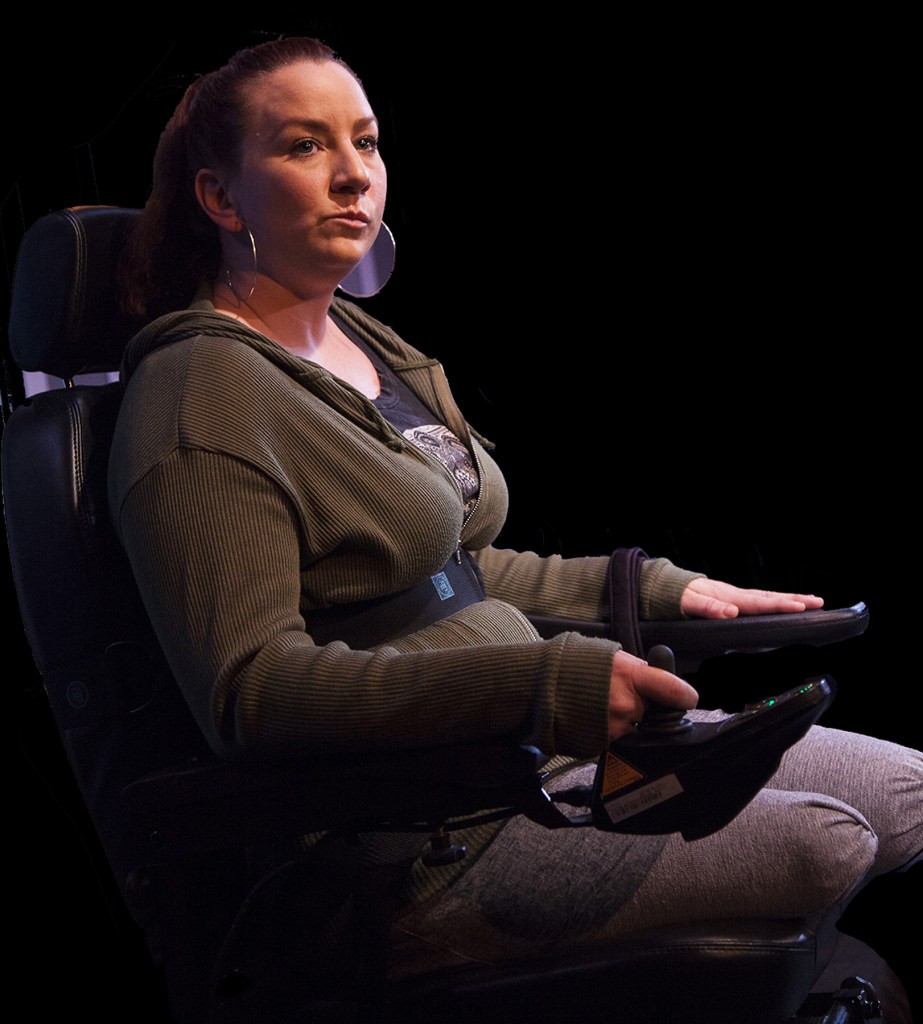 Where did her characters come from? In a statement in the program she says they "came to me incrementally over a year. They're all composites of people I know or have been, aspects of what I was feeling that year. I have been employed in the work that Jess does in the play and, yes, I have people in my life with disabilities. But I did not set out to write a play about disability. I wrote a play about class and loneliness and the journey towards connection with other human beings in America—that happens to also feature two disabled characters….

"This is not an identity play. I don't ignore these characters' specific experiences in the world. But they are, to me, first and foremost, characters. People. Not representatives of any one identity. They have joy, humor, longing, sexuality, anger, and, yes, grief. But joy and humor are as much a part of this world, of these characters' lives, as anything else."

Perhaps more than anything, Cost of Living examines the human need for one another, and what we do to get what that need demands of us. In a 2017 interview with Stage Buddy, Majok said, "I think sometimes in trying to protect ourselves—from being hurt, from being taken advantage of, from acknowledging the consequences of some of our own choices—that we can move away from people when perhaps we should be moving towards." One of the issues here, and not only for those with disabilities, is our lovability. Are our lovable years finished and must we move on to bitterness?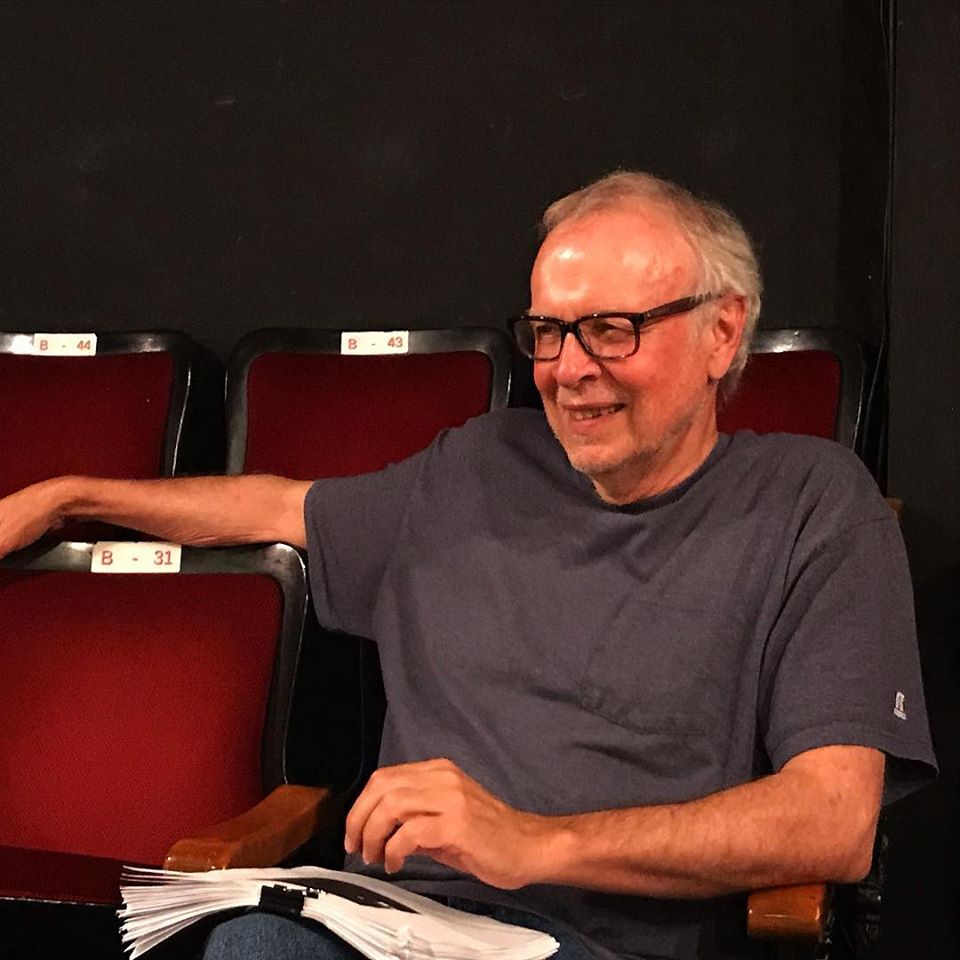 John Vreeke's direction is flawless, especially considering that two wheelchairs are involved, as well as a couple of scenes of personal grooming that are handled with humor, discretion, a notable absence of sentimentality, and a splash of eroticism. The play is cast with actors with disabilities who have both achieved remarkable heights—in Sullivan's case also as a competitive athlete. The acting is among the best I have seen in recent theatre outings. The play is performed without intermission.

As the Fountain's artistic director Stephen Sachs says, "It's a beautiful play that perfectly folds into our mission of diversity and inclusion…. At the same time, its themes are profoundly universal, illuminating the human condition." It has won several prizes in addition to the Pulitzer, and was named one of the "Best Plays of 2017" by The New York Times.

At first glance, the gray and black set design by Tom Buderwitz seems plain and simple enough—a mostly vacant living space with a few odd cartons and baskets indicating people moving in or out. They also contain some props for later use. But at a couple of key points, walls slide open and other environments appear. Other members of the production team include lighting designer John Garofalo, sound designer Jeff Polunas, costume designer Shon LeBlanc and prop master/set dresser Terri Roberts.

- Review by Eric A. Gordon, People's World


---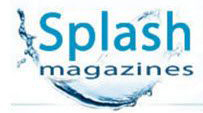 - Review by Elaine Mura
The 2018 Pulitzer Prize-winning play by Martyna Majok, COST OF LIVING demonstrates how challenges can lead to creativity and strength. In the case of COST OF LIVING, these challenges begin as physical and end as psychological and spiritual. Skillfully directed by John Vreeke, COST OF LIVING is – as one audience member summarized – intense and authentic.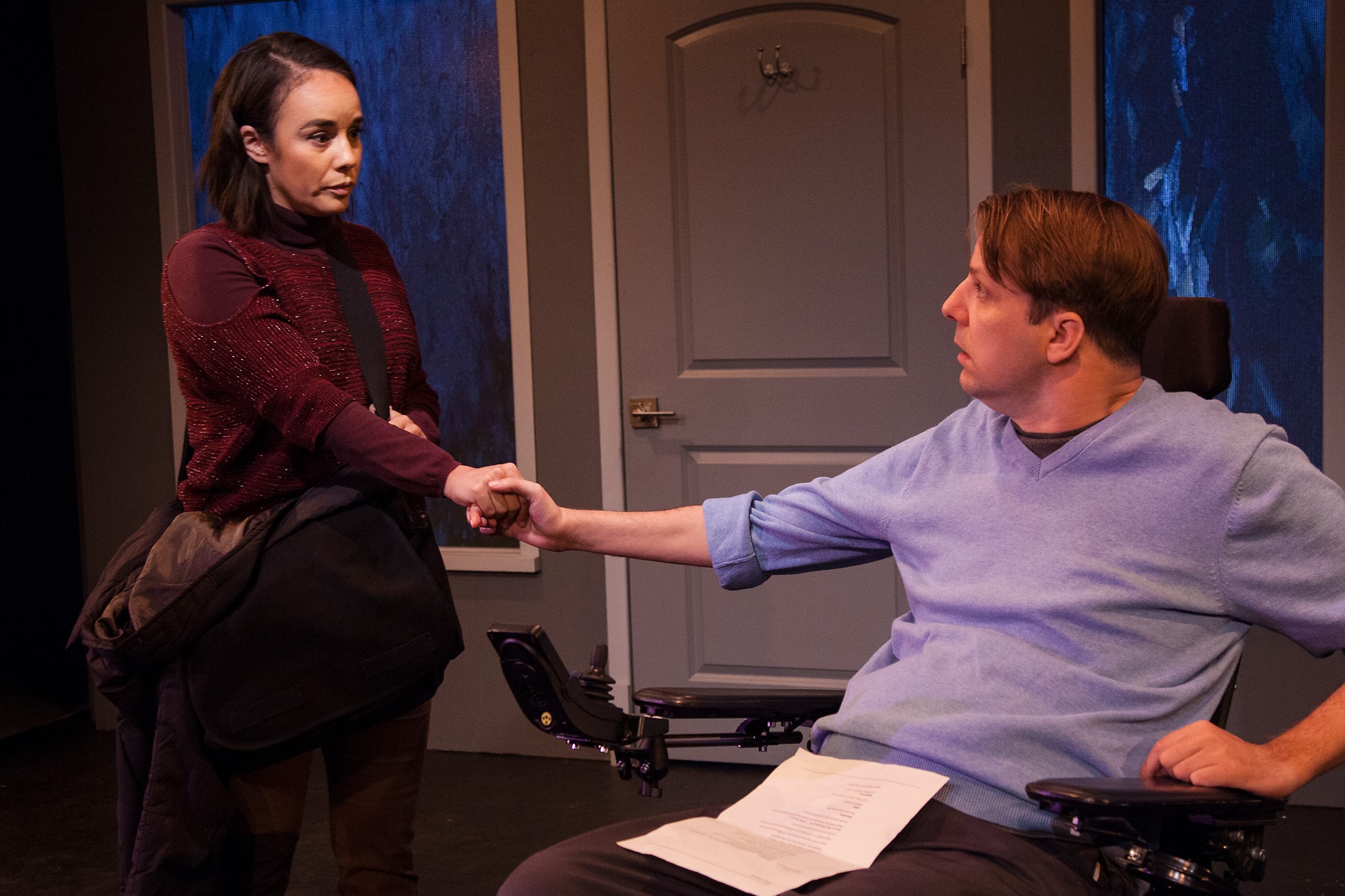 Presented in penetrating snapshots of powerful moments, COST OF LIVING allows the audience to enter to lives of two complex human beings as they struggle with physical limitations which might decimate the hopes for many of us. John (Tobias Forrest), who suffers from cerebral palsy, is portrayed by an actor who has faced his own personal challenges after a spinal cord injury. John is a bright, aware individual, a monied graduate student who wants to maximize his every skill. However, John needs some very personal assistance with activities of daily living, including showering, shaving, and other intimate activities which most of us take for granted. To help him, he has hired Jess (Xochitl Romero), a practical woman of enigmatic background and schedule.

Meanwhile, Eddie (Felix Solis), an in-your-face urbanite, also has his struggles as he is forced to deal with loneliness and loss following divorce. Then his ex-wife Ani (Katy Sullivan) has a life-changing accident which leaves her quadriplegic. Eddie's solution? To reunite with Ani and offer her all the effort and love that he can to help her deal with her crushing losses. Of course, this is no easy decision for these two hilariously foul-mouthed people, people who have never worn their hearts on their sleeves and who prefer to plod along without digging too deep. Katy Sullivan, like Tobias Forrest, has also faced her own challenges.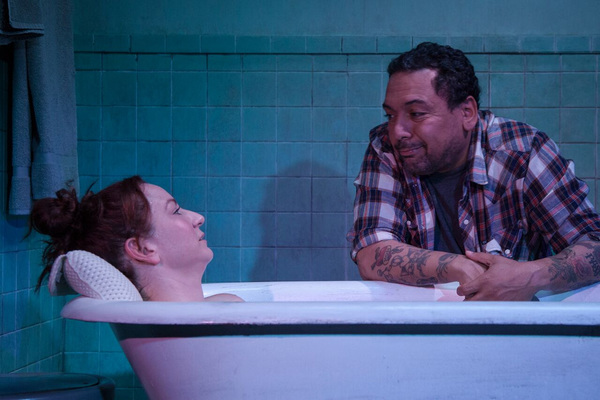 The two pairs continue with their lives, always in parallel tracks which never cross. Until they do. Playwright Martyna Majok has created a formidable tale about facing reality, even if that reality is bleak, with a sense of humor and unexpected chuckles. During the awards ceremony, Pulitzer Prize administrator Dana Canedy described COST OF LIVING as "an honest, original work that invites audiences to examine diverse perspectives of privilege and human connection through two pairs of mismatched individuals, a former trucker and his recently paralyzed ex-wife and an arrogant young man with cerebral palsy and his new caregiver."

COST OF LIVING is that and more, a heartfelt, provocative story which draws the audience in with an unsentimental and yet unexpectedly funny account of connection and communication. Scenic designer Tom Buderwitz offers a simple stage which morphs with Nicholas Santiago' video design. John A. Garofalo's lighting and Jeff Polunas' sound also offer subtle cues as the play moves along. For audiences seeking diversity – as well as how challenges can change people, even as those same people remain the same – coupled with what makes caregivers tick – COST OF LIVING will prove satisfying and memorable.



- Review by Elaine Mura, Splash Magazines




---




"Cost of Living is a stunning example of the kind of magic four good actors, able or disabled, can achieve when they're handed a good director and a remarkable piece of writing...and director John Vreeke handles Majok's emotionally loaded piece with the tenderness, humor and care it cries out for."



- Review by Sylvie Drake

With a title like Martyna Majok's Cost of Living, you can pretty much tell that the play that just opened at The Fountain Theatre is going to be about that living's high cost. Less predictable is just how high that cost can be — or might go — for some people. And although money plays a role in any life, and does here too, it is at once a present yet marginal element in the overall context of Majok's preoccupations.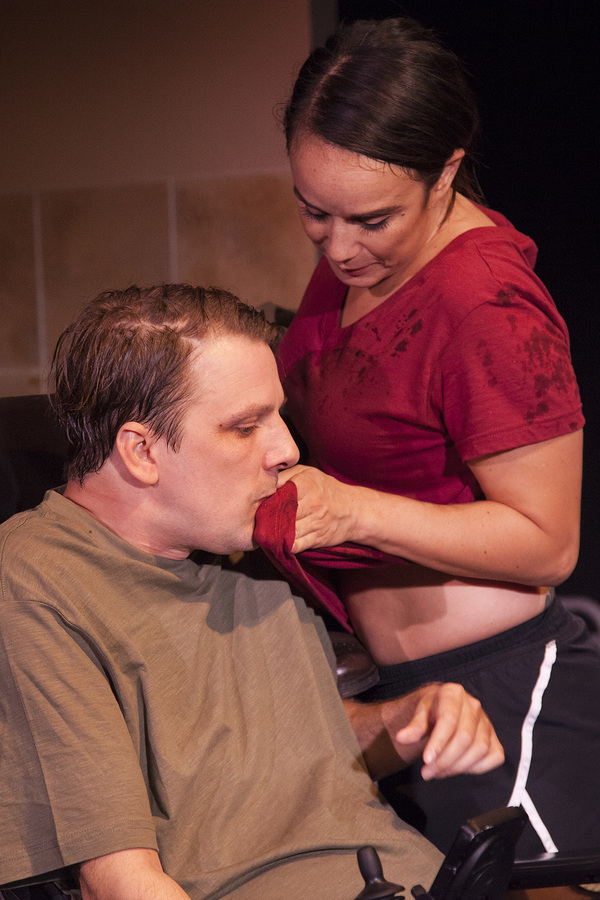 Given the Fountain's dedication to doing plays of "diversity and inclusion," its previous and current production have expanded the term to now extend to productions that feature actors with disabilities performing on stage. Cost of Living is a stunning example of the kind of magic four good actors, able or disabled, can achieve when they're handed a good director and a remarkable piece of writing.

The director is John Vreeke, who mostly has been active with Washington DC area theatres and Woolly Mammoth in particular. He handles Majok's emotionally loaded piece with the tenderness, humor and care it cries out for.

Eddie (Felix Solis) is a currently unemployed trucker who seems to have carelessly misplaced his wife, Ani (Katy Sullivan). Yeah, it's true that they were sorta separated, but now that he can't find her and thinks she died, he misses her. He's that kind of guy, you know? Well-meaning, but a little distracted. When he suddenly finds her — I won't tell you how — it seems she was in an accident that severed her spine.

In another part of town, a tough and very private young woman named Jess (Xochitl Romero) who attended Princeton yet mostly works in "late bars," is applying for a job as caregiver for scholarly John (Tobias Forrest), wheelchair-bound by cerebral palsy. John possesses an ego and a healthy trust fund that he lets her know is large enough to satisfy all his needs. All but the need of a healthier body.

These two couples don't know one another and would be unlikely to meet, but events overtake them that change their immediate lives and make them collide in mysterious ways.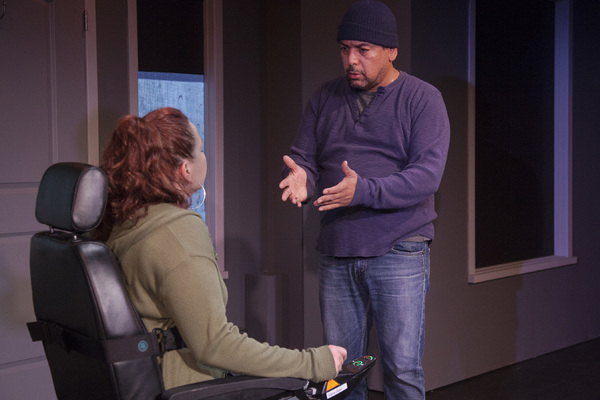 When Eddie finally finds Ani, she's pissed; pissed at him, pissed at the rotten hand life has dealt her, pissed that Eddie screwed up his trucking job, pissed that he wants to become her caregiver — because, knowing him, she figures he'll screw that up too. But Eddie begs, Eddie pleads, Eddie-the-bungler is so maddening and forgivable in his bungling way that he's difficult to resist. He tells Ani he misses her, he's lonely, and, hey, who'd be better at taking care of her than an ex-husband who also, you know, needs a job?

With John and Jess, it's a different story. He's the boss; she's the proud yet recalcitrant person in need that John also happens to need. John may have cerebral palsy with all the pain that implies, but Jess's need may be greater. It's the need of family, of a friend, of enough money to eat and pay rent, and above all, it's the need of somebody's warm arms around cold shoulders and a wilting heart.

We recognize all of these people, and Majok acknowledges in a program note that her "characters are all composites of people I have known or have been…" Have been. Heavy stuff. It shows. In very good ways.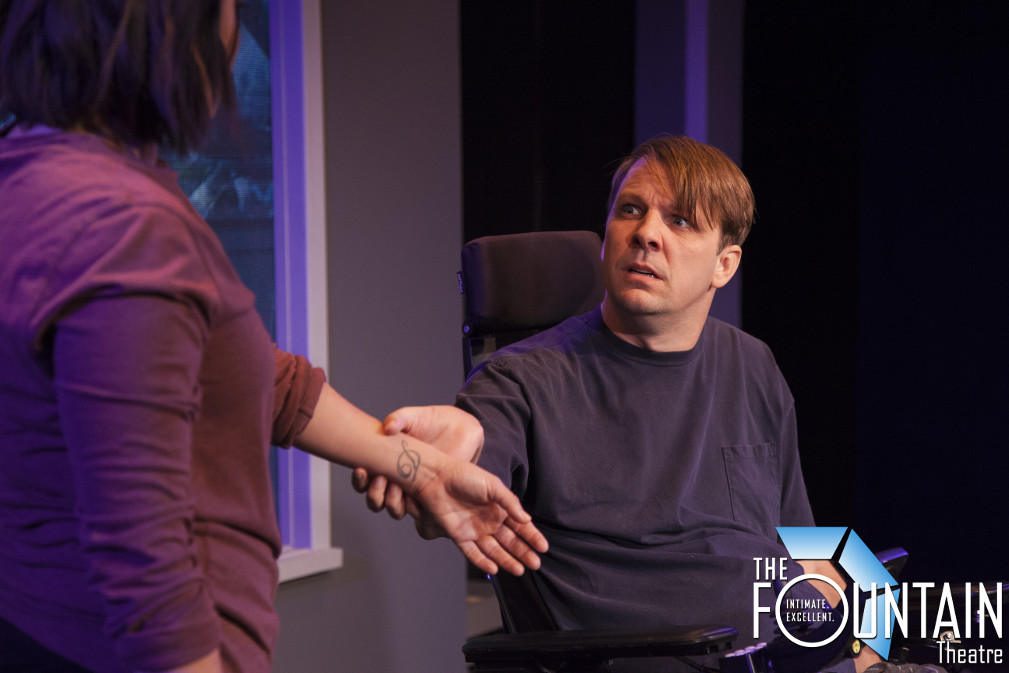 Cost of Living is an unsentimental play about difficult and complex emotions, as recognizable as your face in the mirror. We've probably all felt them in some form at one time or another, and Majok captures them like fireflies in a jar.

What's outstanding about her brand of eloquence is that it conveys all this with very few words, most of them not altogether coherent, except that what's unsaid comes through in a confusion of funny and loud and clear. She makes us see the beauty and the longing of these people in their inability to articulate. That rubs very close to the bone. No wonder Cost of Living won so many major accolades, including the Pulitzer Prize.

Vreeke's staging is as unadorned and direct as Tom Buderwitz's bare apartment setting, delivered with uncomplicated lighting by John A. Garofalo and clear sound by Jeff Polunas. That's all that's required. No bells and whistles. Just honesty and truth.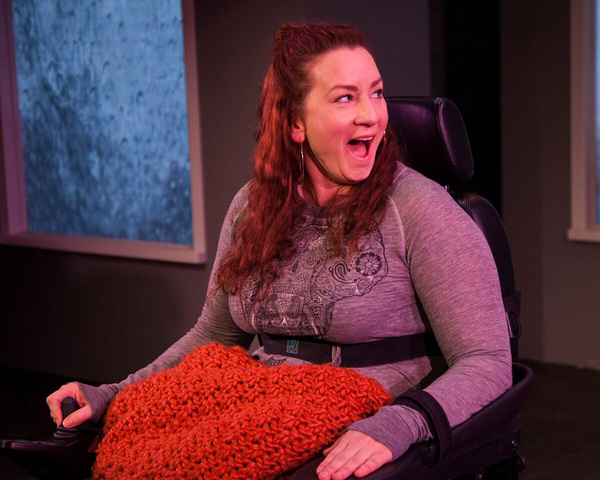 The terrific surprise is the cast. Solis delivers an outstanding Eddie, lost in his grief, in his ignorance, his bluster, his kindness and pain. Sullivan's Ani is equally admirable in her hysterical anguish at seeing her life destroyed by a split-second event that has shattered all hope of independence or joy. Her feelings for Eddie are a contradictory stew of despair, fury and hope. As different and crazy as they are, these two people love each other.

Romero's Jess is the opposite, enigmatic and stoic, perhaps because she may be closest to mirroring some of the playwright's personal experience. Forrest's imperious John reveals himself the least, because he doesn't need to. He has the armature of money to shield him from whatever other disaster life might dish up.

Things do not magically redress themselves for either couple. Indeed, things get quite a bit worse before offering a glimmer of something that looks distantly related to hope. The play stays with us because it reminds us of how breakable we all are, as well as how strong we can be when we must.

Spending an hour and 45 minutes with four individuals so walled off that they can barely express themselves, and yet who can make us feel it in ways words never could, is some kind of memorable.

- Review by Sylvie Drake, Cultural World


---

- Review by Erin Conley
The actual "cost of living" can take on many forms—physical, emotional, financial. In Cost of Living, Martyna Majok's 2018 Pulitzer Prize-winning play now in its west coast premiere at the Fountain Theatre in Los Angeles, two very different relationships between people with disabilities and their caregivers are examined through a universal lens of privilege, loneliness, and how both affect us all.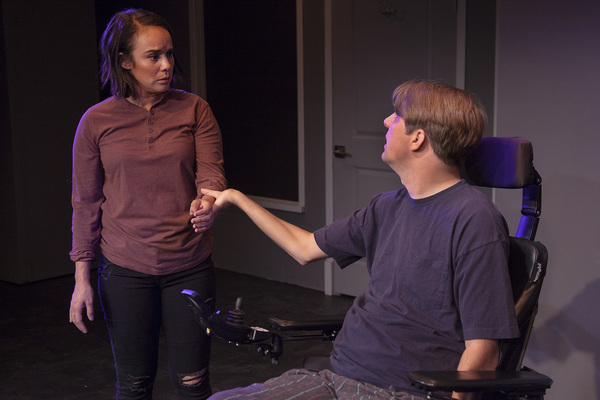 Ani (Katy Sullivan, winner of the Drama League Award for originating this role) is 42 years old and was recently in a terrible accident. Now a double amputee and quadriplegic, she very reluctantly accepts an offer of help from her estranged husband, Eddie (Felix Solis), whom she was separated from before the accident. Despite their relationship being totally reframed as Ani adjusts to her new normal, this intimate time together enables them to get to know each other in a way that feels fresh and different, even after over two decades as a couple.

John (Tobias Forrest) has cerebral palsy and is a phD student at Princeton. He hires Jess (Xochitl Romero) to be his caregiver and come by every morning to assist him in showering, dressing, and other tasks. John is rather arrogant and judgmental at first—his previous degree was earned at Harvard, and at first he is super skeptical of Jess, failing to understand why someone who went to Princeton for undergrad is not only applying for this job, but also spending her nights working as a cocktail waitress. Jess is slow to open up, but gradually reveals more about herself and the circumstances that led her to where she is. She and John are each privileged in different ways—Jess does not have to contend with the daily physical challenges John does, but as a first-generation American she has no other family in this country, and struggles to make ends meet. John often mentions that he has plenty of money and a penchant for suing past caregivers who made mistakes, and there are aspects of Jess's life he struggles to understand at all.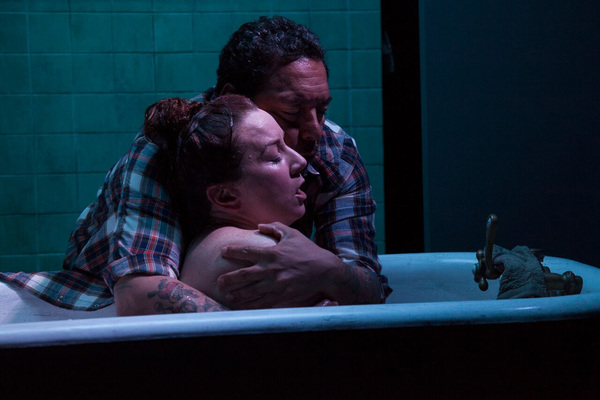 Ultimately, Ani and Eddie's story is by far the stronger of the two, largely because of their preexisting bond, which comes across marvelously in Sullivan and Solis's performances. Their arc is moving and heartbreaking, while by the end of the show it remains unclear what, if anything, John and Jess have truly learned from each other. An awkward misunderstanding between them is glossed over without delving into the ramifications, and their tentative relationship never solidifies in any satisfying way. There are times when Majok's writing truly shines—an opening monologue given by Eddie, or just about any time Ani speaks, her blunt and sassy personality heightened by the grief from her accident. But other times the play feels as if it is circling a few really interesting ideas whereas it might have been better off exploring one more deeply. Loneliness is the theme that rings the most true, especially based on the scenes chosen to bookend the play, but there are moments when this message feels muddled and it is hard to discern what precisely the piece is trying to say.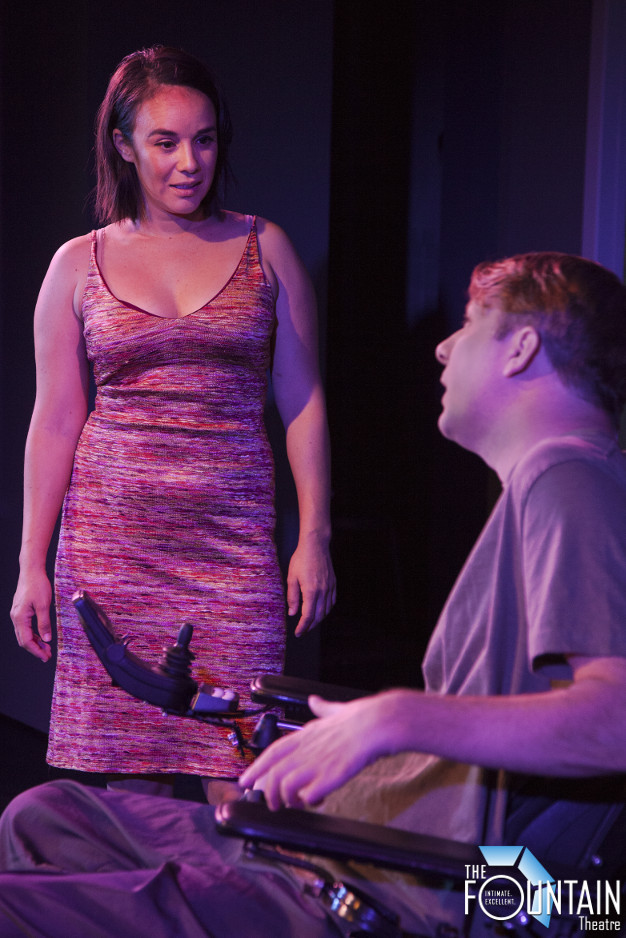 That being said, the fact remains that simply seeing disabled actors playing people with disabilities—particularly people with disabilities who are also three-dimensional human beings—on stage is still incredibly rare. Directed by John Vreeke, the play does not shy away from portraying every aspect of Ani and John's lives, even those moments that are brutally intimate and difficult. John's day starts when Jess arrives at 6am, and as they get to know each other, the audience watches as she shaves his face, helps him in and out of the shower, washes him, and dresses him. Eddie first ends up helping Ani when her nurse cancels one evening, giving her no other choice but to call the one person she begrudgingly knows will still show up for her. While John has a lot of experience living with his disability, Ani does not, and while she may hate to admit it given the resentment she harbors towards Eddie over why their relationship ended, his presence is extremely helpful to her, on a practical level as well as an emotional one. There are times when a more cohesive narrative could make these stories even more powerful, but more importantly, these are stories and perspectives not often seen, and works like Cost of Living are critical in terms of increasing visibility and inclusion in the media for people with disabilities.



- Review by Erin Conley, On Stage & Screen




---
"All four actors are supurb and Majok's dialogue is equally as tough...with beautifully designed production values and director John Vreeke's sturdy, literally in-your-face staging, an instant classic."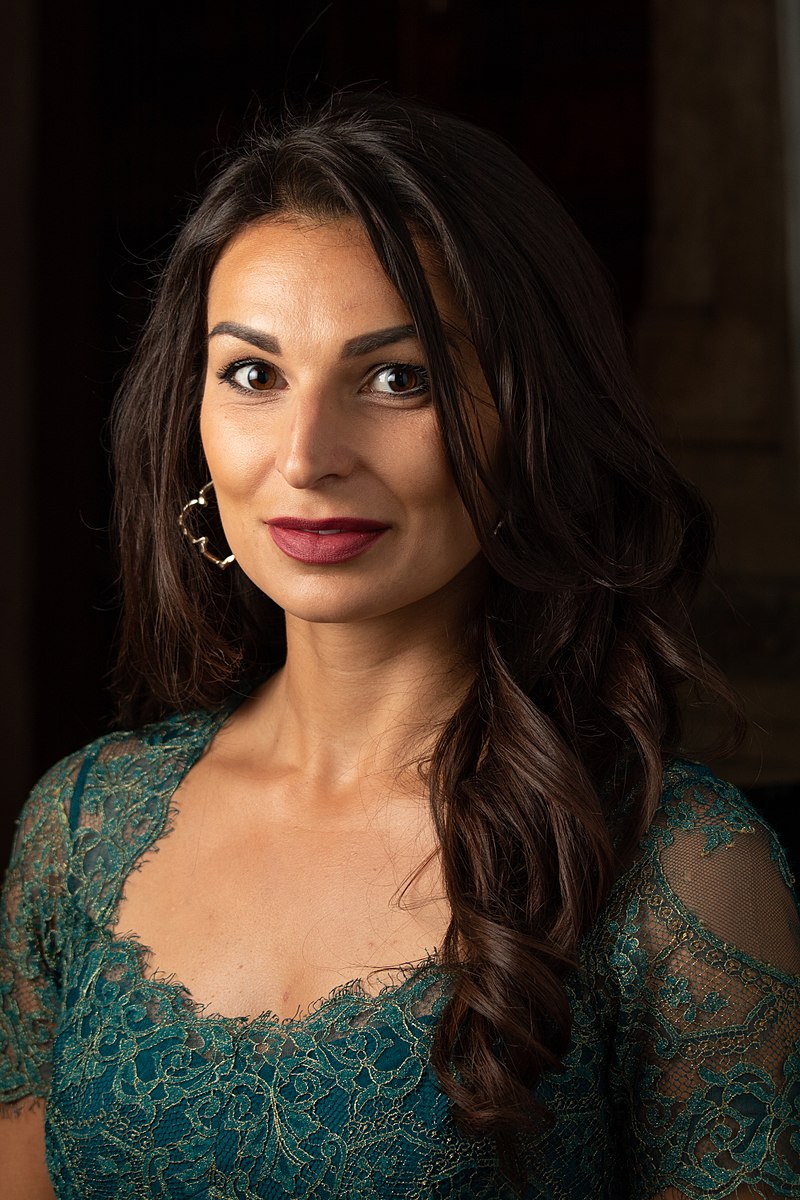 Although a four-part Angels in America-like epic could be written these days about the cost of living, Martyna Majok's 2018 Pulitzer Prize-winning play Cost of Living, now in its west coast premiere at the Fountain, is about so much more.

The Pulitzer committee each year searches for works written by American playwrights that help define who we are and deal with some aspect of life in our country and in our time. One long neglected area of inclusion in the arts in general has always been people with disabilities, something that Majok has addressed head-on in her brilliant exploration into the parallel yet never intersecting lives of two people with disabilities—not "differently abled" people, a term one of the characters warns his potential caregiver not to evoke as being "fucking retarded."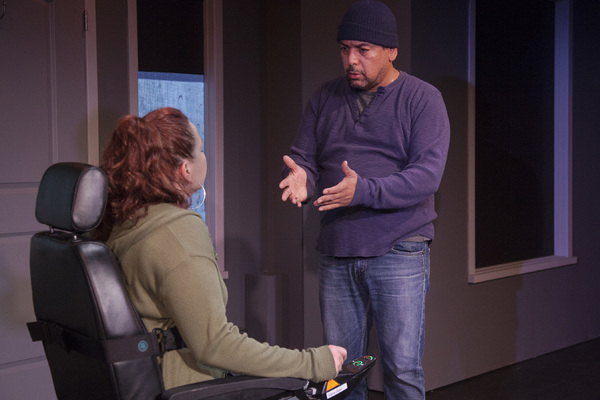 Recovering from a horrific car accident, Ani, played by Katy Sullivan, who originated the role at the Williamstown Festival before winning the Theatre League Award last year when the play transferred off-Broadway to Manhattan Theatre Club, is a double above-the-knee amputee. It's a new and difficult challenge that has not tempered Ani's salty, obscenity-laden speech nor made her happier to be stalked by her ex Eddie (Felix Solis), who insists his fervent desire to help her while she convalesces is based on his enduring love, not a sense of guilt or the fact that he is out of work.

In another part of the forest—no, actually New Jersey—a spoiled and well-heeled Princeton grad student with cerebral palsy named John, played by noted quadriplegic actor Tobias Forrest, so memorable in his LA stage debut in John Belluso's Pyretown several years ago for Playwrights' Arena, interviews Jess (Xochitl Romero) to work for him, never once asking for anything that even remotely hints of sympathy as he firmly lists her duties, which include bathing him and dealing with the most personal of his needs.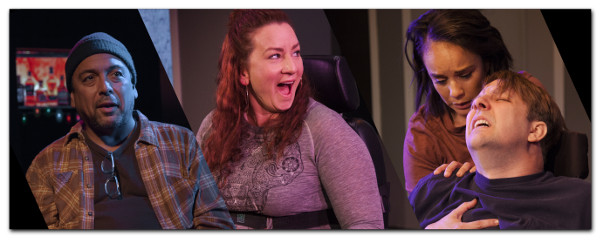 All four actors are supurb and Majok's dialogue is equally as tough and hard and relentless as they are, yet her genius for bluecollar drama is continuously underscored by a lyricism and a poetic quality that makes her play, indelibly aided by the Fountain's usual impressively loving and beautifully designed production values and director John Vreeke's sturdy, literally in-your-face staging, an instant classic.



After an amazing opening monologue from Solis as Eddie sits in a Brooklyn bar unloading on an unseen stranger he keeps buying drinks to insure the guy will let him rattle on, the first full-stage visual in Cost of Living is the introduction of Ani. When Sullivan, herself a double-amputee, suddenly appears onstage in her motorized wheelchair with her missing legs and her pants ending at the knee, the sight is at first a little jarring—not that it should be, just that it's so rare to see a disabled person cast in a play.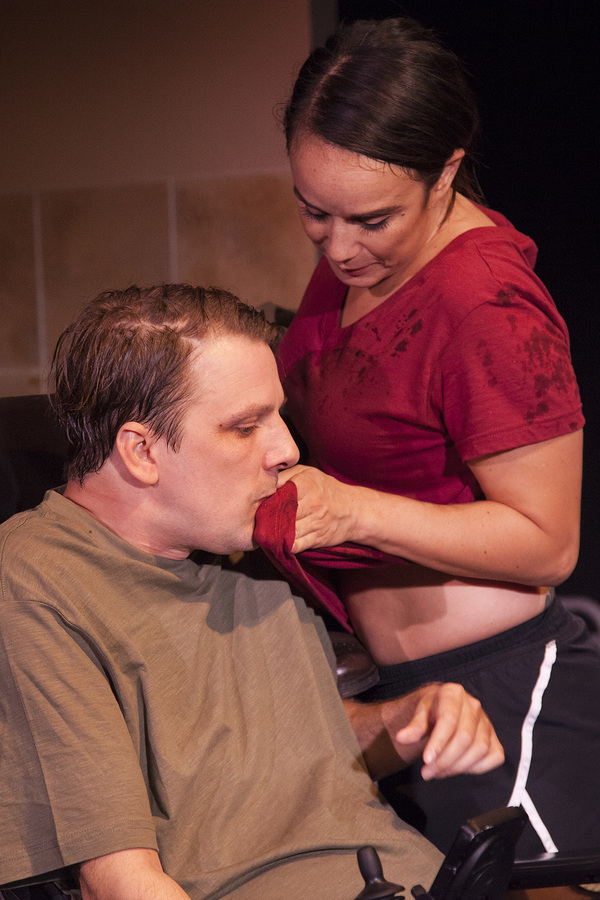 Still, never does Majok write Ani as a stereotype. Not for a minute is she to be looked upon as lesser than anyone else, something deeply ingrained in Sullivan's arresting, no-holds-barred performance that deserves all the many honors the actress has received. Ani's accident is only a subplot to the relationship the character shares with her ex, a union which was obviously troubled long before she was injured.

Forrest's entrance is also something that initially feels almost uncomfortable to observe as John struggles with his often uncontrollable physicality while putting up a front to impress his possible new employee. As with Sullivan's, it's a first reaction his remarkably confident performance quickly puts at ease for the viewer—and a good thing, too, as soon Tom Buderwitz' sparsely utilitarian but cleverly and unexpectedly versatile set morphs to unveil a tiled shower stall complete with running water. As we sit watching Romero strip, transfer, soap, and wash the naked and bravely selfless Forrest, it doesn't take long to get the point: there is not much difference between any of us despite our perceived differences.

Ultimately, it becomes clear here these differences are all physical, as the true message of Cost of Living begins to emerge: that of the desperate need each of us share for human contact and how desperately we fight to avoid it as our pride and insecurities conspire to shoot each of us in the foot. It's a message I myself have learned only too well the last six of my 72 years careening clumsily around this conflicted planet of ours and I hope Cost of Living helps others who deserve to not have to wait as long as I did to realize it.

As Jess tells Eddie when, near the end the play, Martyna Majok's two separate storylines briefly intersect in a kind of cathartic epilogue, "It's just a shame that some people have lived a lot of life before they meet some people."



-Review by TicketHolders.com




---
"Pulitzer Prize winning , Polish-born playwright Majok is a master of capturing emotions. She writes so well, the audience immediately develops genuine affection both for the disabled and the people who look after them. The cast is extraordinary, under the sensitive direction of John Vreeke."

- Review by Ingrid Wilmot, WillCall.org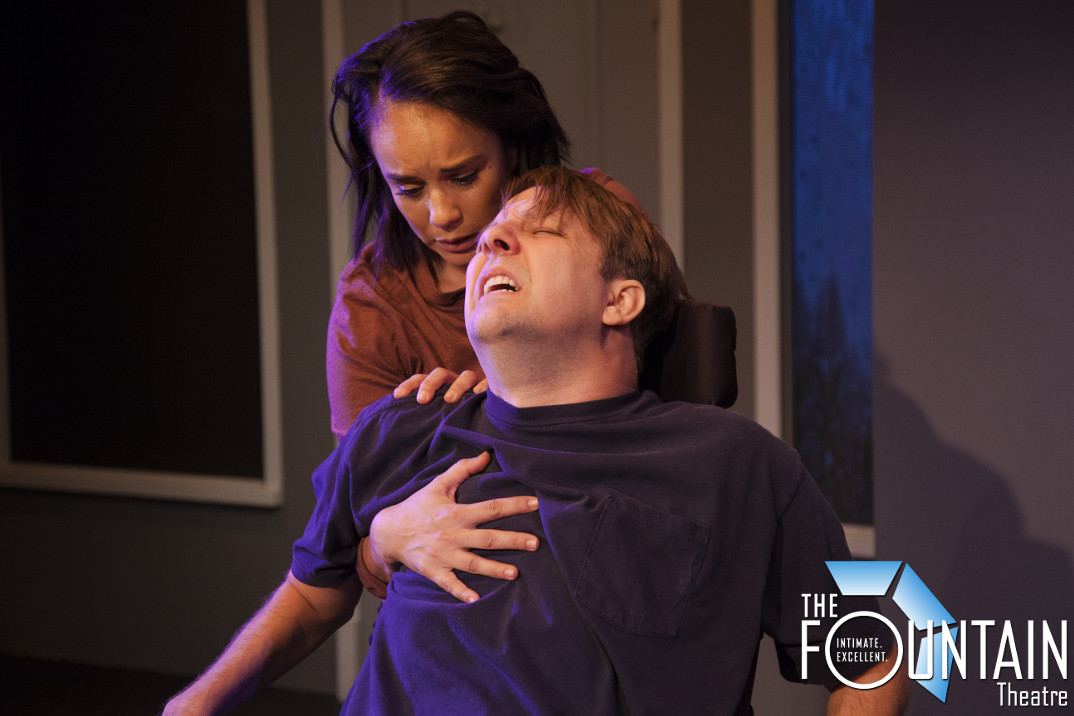 Whenever we see a handicapped person struggling with a walker, leaning on a cane or being pushed in a wheelchair, the initial reaction is one of sympathy followed by gratitude for our own unimpaired mobility. Do we ever wonder what it's like to live with a disabling affliction? Cost of Living takes us into the parallel world of two such individuals and their caregivers.

The play begins in a deserted Brooklyn bar, late at night where Eddie (Felix Solis) has been stood up by his date. He muses about his life and we find out that he is a temporarily unemployed trucker but costumer Shon LeBlanc has him looking like a street bum. We later meet his estranged wife, Ani (Katy Sullivan), a bitter woman, short tempered, with a loud, shrill voice and a terrible disposition. A more sympathetic pair are John (Tobias Forrest) and his helper, Jess (Xochitl Romero). John has cerebral palsy (fabulous acting job, facially and physically, by Forrest. Jess is efficient, attractive and strong. We see her giving him an actual shower (great set by Tom Buderwitz ). Do we suspect a little spark, just a glimpse of attraction between this unlikely couple? They make a semi-date to meet after her duty hours for which LeBlanc has her wearing the most unflattering, skin-tight dress imaginable, tsk, tsk.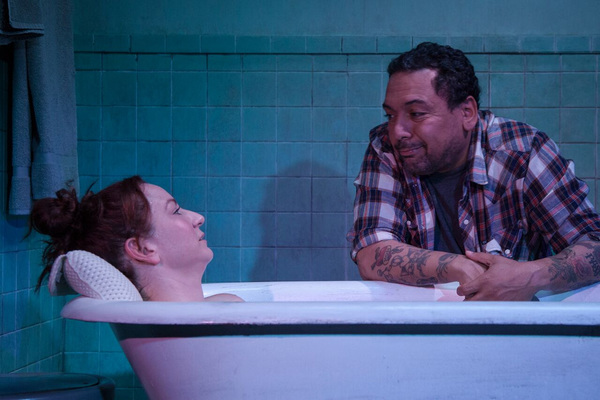 Pulitzer Prize winning , Polish-born playwright Majok is a master of capturing emotions. She writes so well, the audience immediately develops genuine affection both for the disabled and the people who look after them. The cast is extraordinary, under the sensitive direction of John Vreeke. Sullivan, in real life, is an Olympic competitor and record setting champion in the Paralympics in London in 2012. She was in the original cast in the Williamstown production. Romero plays the gentle but firm person we'd all want in a caregiver. Solis has an impressive resume in stage, screen and TV work. As for Forrest, he is so perfect, the part could have been written for him. He uses a wheel chair as a result of a spinal injury.

Incidentally, people with disabilities maintain a strict code of expressions they want us not to use. Including handicapped, brain damaged or wheelchair-bound. Everyone has become so sensitive, it pays to be in the loop. The Fountain Theatre, they say, is the only destination for which Westside theater lovers will cross east of La Cienega and for good reason. The Fountain delivers, time after time, with meaningful, provocative and entertaining material just like this show and deserves our support and patronage. See you there!


- Review by Ingrid Wilmot, WillCall.org



---


– Review by Steven Stanley



The costs of living are high indeed for the four damaged protagonists of Martyna Majok's 2018 Pulitzer Prize winner Cost Of Living, now being given a gut-punchingly powerful West Coast Premiere at the Fountain.





"John Vreeke merits highest marks for his incisive direction"


Eddie (Felix Solis) has already paid dearly for the life he has led, as we learn from a solo prologue that has the Brooklyn trucker describing to an unknown listener the recent death of the woman he loved deeply if not always faithfully for more than twenty years.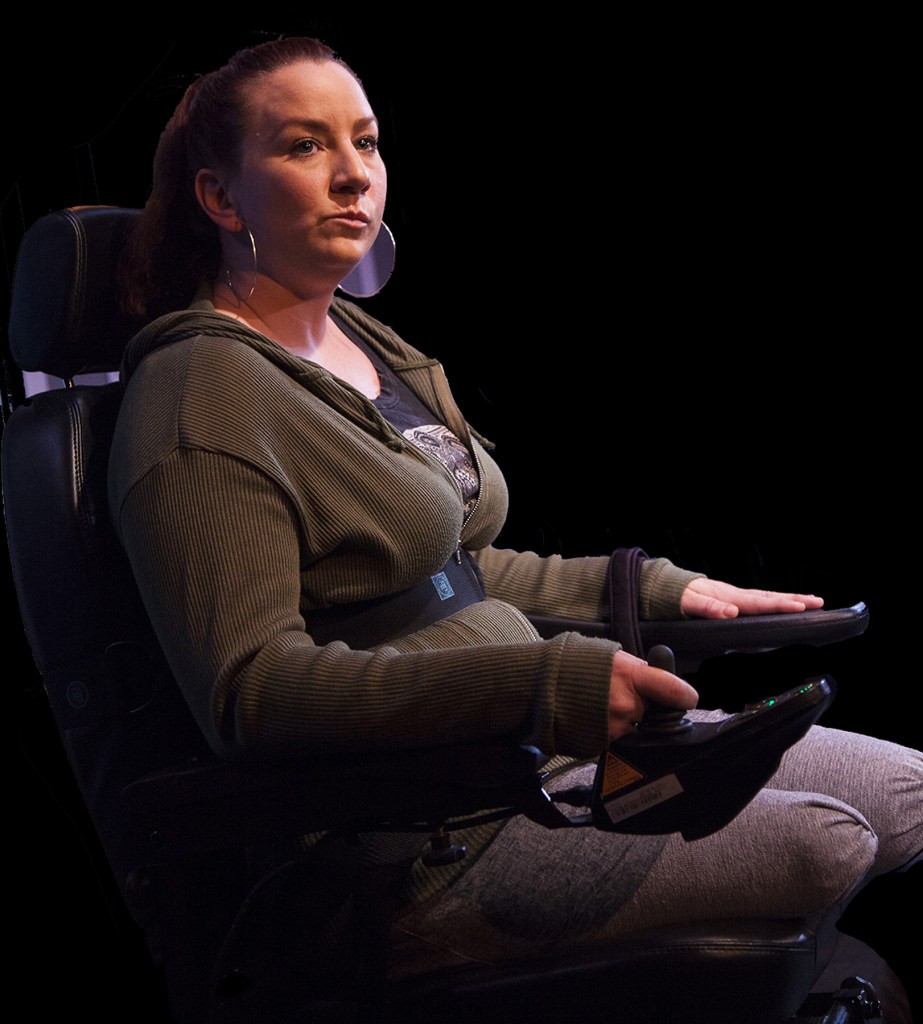 Flashbacks then introduce us to Cost Of Living's three remaining characters, beginning with Harvard Ph.D candidate John (Tobias Forrest), a trust-funder whose considerable fortune would make his life a walk in the park were it not for the cerebral palsy that not only keeps him wheelchair-bound but requires near constant caregiving.

Enter Jess (Xochitl Romero), the 20something daughter of south-if-the-border immigrants whose honors degree from Princeton would epitomize the American dream if only it had led to lucrative employment. Instead she's working for tips at a couple of late-night bars and hoping to add a third job to her current resumé by tending to John's needs, that is if she can convince him she's got the physical and emotional strength to do so.

Meanwhile, Felix has shown up at the Jersey City apartment he once shared with estranged wife Ani (Katy Sullivan), that is before he cheated on her, that is before a car crash shattered her spine and left her paralyzed from the neck down save the tiniest bit of movement in one finger, a six-month absence from Ani's life that makes her displeasure at finding her almost-ex-husband knocking on her door this September morning a no-brainer.

Though neither feels particularly wanted, both Jess and Felix soon find themselves assuming the role of caregiver, a job whose inherent challenges are exacerbated by the fact that John and Ani are what is kindly referred to as "difficult."

Whether as the result of disability or privilege or a combination of both, John is as arrogant, insensitive, and self-centered as a man can get; the foul-mouthed, bad-tempered, embittered Ani is no easier to be around; and playwright Majok does little to soften either, even after Jess and John have entered (or reentered) their lives.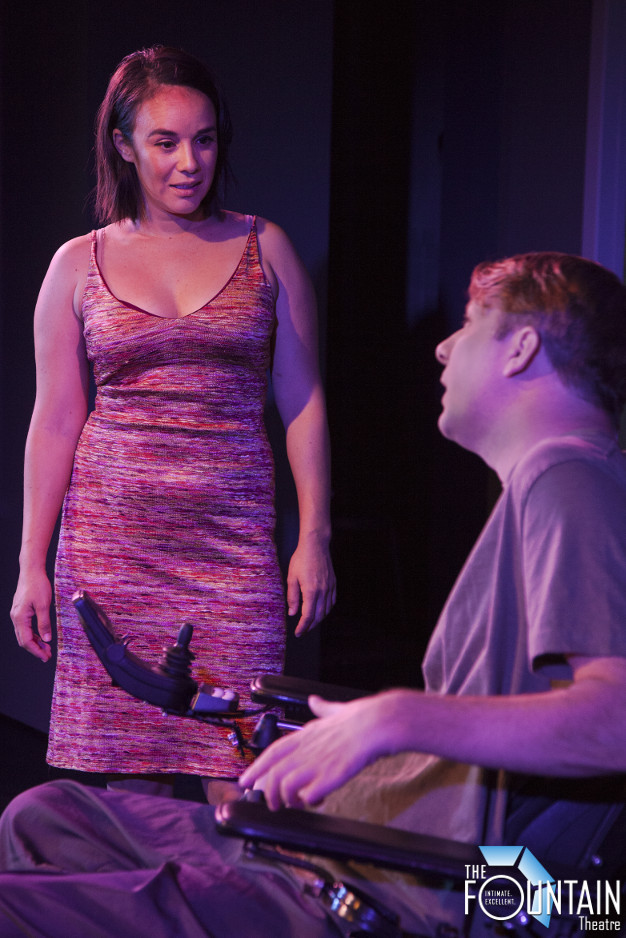 Instead, she makes us rethink preconceived notions of disability, wealth, education, and happily-ever-after, and by insisting that Ani and John be played by disabled actors, makes a political statement that for the most part Hollywood has refused to embrace.

A bilateral above-the-knee amputee (and champion Paralympics athlete), Sullivan is utterly convincing as paraplegic Ani, and so is real-life paraplegic Forrest in vanishing into the skin of someone with cerebral palsy, each actor daring us to care about characters who are, to put it mildly, not easy to love, but in Sullivan's and Forrest's expert hands, care about them we somehow do.

Romero and Solis are equally memorable (and cast per Majok's wishes with actors representing Brooklyn/Jersey diversity), the former giving us not just Jess's admittedly hard-edged exterior but the wounded soul beneath, the latter simply heartbreaking as a man living with almost unbearable regrets and doing his best to make things right.

John Vreeke merits highest marks for his incisive direction as do Tom Buderwitz for a scenic design that hides a couple of unexpected wonders, John A. Garofalo for his appropriately stark lighting design, Nicholas Santiago for his mood, weather, location-establishing video design, Shon LeBlanc for his character-defining costumes, and Terri Roberts for properties ranging from unpacked boxes to bathing accouterments, and Jeff Polunas's evocative sound design is every bit as fine.

It would be a major coup for any SoCal regional house to snag the rights to Martyna Majok's latest. (The 661-seat Geffen gave her Ironbound its West Coast Premiere in February.) That it's a 99-seater giving Angelinos their first look at Cost Of Living is a much deserved vote of confidence in The Fountain Theatre, one that pays off as one of the year's most remarkable, compelling productions large or small.

– Review by Steven Stanley, Stage Scene LA


---