REVIEWS & PHOTOS

:

---

Woolly Mammoth takes a dark trip to the suburbs
"The play, bracingly directed by John Vreeke, is brash and noisy. . .
rivets us to Woolly Mammoth Theatre's scintillating regional premiere of "Detroit."


Review by Peter Marks
September 16, 2013
Meet the nightmare neighbors. Their names are Sharon and Kenny, and they've just moved into the unkempt tract house next door. Recent graduates of Rehab U., they seem friendly
enough, even if Sharon gabs a little too frantically and Kenny's taste runs to calf tattoos and lap dances.
It's the impulses they unlock in you, though, that make Sharon and Kenny so scary: the feral urge to run wild, to howl at the moon, to tear up the pretty lawn and upend the pristine patio
furniture. And it is this unleashing of darker basic instincts, on streets laid out for sedater domestic acts, that rivets us to Woolly Mammoth Theatre's scintillating regional premiere of
"Detroit."
Lisa D'Amour's tragicomedy of beer, barbecues and boombox-driven mayhem takes place in adjacent backyards of two couples living on the edge of desperation, in an inner-ring suburb
that once upon a time represented the cultural and economic homogenization of American life and is now the increasingly divided domain of the haves, the have-littles and the have-almost-
nothings.
The play, bracingly directed by John Vreeke, is brash and noisy: neighbors of Sharon (Gabriela Fernandez-Coffey) and Kenny (Danny Gavigan), and the slightly more stable Mary (Emily
Townley) and Ben (Tim Getman), would have ample reason to stock up on Advil. But for all its raucousness, "Detroit" becomes a rather somber eulogy for the American middle class, a
stratum of society losing both its credit rating and its grip.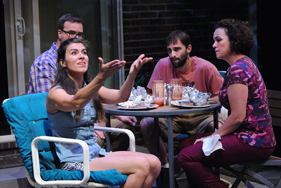 The paranoiac's notion of subversion brewing in the lookalike house next door is a dramatic staple, twisted into a diabolical new shape in the FX cable series "The Americans," about
Soviet sleeper agents conducting operations from a D.C. suburb. In horror movies, political thrillers and social satires, we're suckers for the story of the family on the block that, in
retrospect, always seemed a little bit off.
"Detroit" insinuates itself intriguingly into this slightly creepy yet familiar genre. If it doesn't break entirely new ground, it makes for both resonant social commentary and a meaty showcase
for five actors. (The fifth is the reliably effective and newly svelte Michael Willis as an original homeowner.) Vreeke and Woolly have cast "Detroit" exceptionally well. It's essential that all
four inhabitants of these two households compel us to believe that the force that brings them together is not wholly to be trusted, that something other than companionship is coaxing them
out of their isolation, weaving them more tightly into each other's lives than happens in most neighborhoods these days.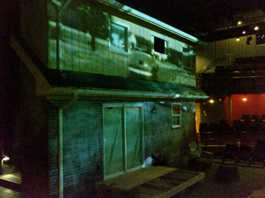 V
reeke and the superb set designer Tom Kamm present these couples as being at the center of their own lonely, rundown universe — and we're their nosy neighbors. They've reconfigured
Woolly so that the stage is in the middle, with audience members on either side, peering past brick-and- aluminum-sided facades and into the back yard. (The best seats are in the middle of
the long aisles; the sight lines on the far end, where I sat, are less than ideal.) The video projections onto those facades, of nostalgic suburban scenes, feel superfluous and to an unnecessary
degree foreshadow a key speech late in the evening by Willis.
But the sophisticated way that sound designer Christopher Baine uses music heightens the evening's sense of order decaying: mournful classical music plays during the transitions in the early
scenes; as the 100-minute production unfolds, the layers of sound become more complex, and the music turns into mere noise. The theme of change of a discordant variety is neatly
underscored.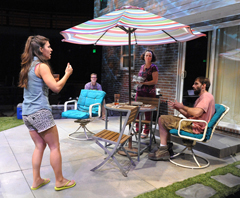 We're encouraged by D'Amour to second-guess ourselves about the vaguely unappetizing Kenny and Sharon, as the series of neighborly encounters progresses: Maybe they really have left
the drugs behind. And who are we to judge people merely because their idea of hors d'oeuvres is Cheez Whiz? Gavigan, in skeevy-looking sleeveless tees, and Fernandez-Coffey, wearing
cheetah-print cutoffs, are effortlessly convincing as recovering all-night party animals. Gavigan's Kenny keeps a wary eye on Fernandez-Coffey's Sharon as she waxes a little too
enthusiastic about Ben and Mary's big-box-store lawn chairs and grill. Even if you're inclined to look askance at Kenny and Sharon, you get a sense that Gavigan and Fernandez-Coffey
would be great company.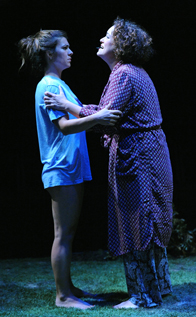 Still, the kind of intelligence at work here reveals that it's the secrets of conventionally suburban Mary and Ben that are going to take "Detroit" to a more refined dramatic level. Like
Fernandez-Coffey and Gavigan, Townley and Getman here contribute some of their best performances to date. Somehow, Townley measures out just the right volume of crazy in unhappy
Mary, who is both attracted to and frightened by the burned-out exuberance of her backyard pal. And Getman manages the difficult trick of subtly and appealingly evoking in this recently
laid-off bank employee the idea of a man who perhaps was never cut out for the straight and narrow.
Adroitly, "Detroit" follows the infatuation of Mary and Ben for Kenny and Sharon to a conclusion that, even if you don't see it coming, makes complete sense. For mobility, upward or any
other type, is no longer a consideration in the suburb of D'Amour's fertile imagination. It's a cul-de-sac in the purest sense — a national dead end.
Review by Peter Marks
The Washington Post



---
REVIEW:

Detroit: "chaotically funny and disruptive"
"Vreeke...once again proves he is prose's best friend as he draws the humor and insights out of every line"



Review by Jayne Blanchard




September 17, 2013



The street names in Lisa D'Amour's play Detroit sound sunny and full of promise, but the reality is dark and scary for the inhabitants of this first-ring Motor City suburb. The once house-proud and active 'burb is divided between the Haves, the Have Nots and the Never Hads—everyone clinging to their houses as if to a life raft. They also cling to the idea of home ownership as the be-all and end-all, their homes a bulwark against the insecurities and instabilities roiling outside the front door.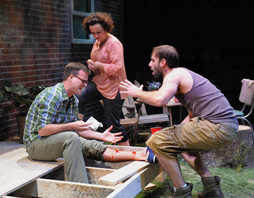 Miss D'Amour challenges our wistful notions of home and suburban escapism in her play Detroit, its sense of teeter-totter collapse masterfully rendered under the direction of John Vreeke leading
a fierce cast.

Mr. Vreeke, set designer Tom Kamm and lighting designer Colin K. Bills dispense any shred of making the audience feel smugly removed from the characters' desperate circumstances by placing the audience on either side of the stunningly realistic set, which consists of two back-facing houses and their abutting backyards—one neat and peppy with outdoor furniture, the other full of weeds, pieces of splintery wood and a barbeque pit that looks like a shortcut to hell. Grainy black-and-white family home movies are projected on the houses' back walls.

In a sense, we become the close-in neighbors of the two main couples. Ben (Tim Getman) and Mary (Emily Townley) were once upwardly mobile and now are hanging onto what they've achieved by their fingernails. With Ben laid off from his finance job and Mary the overworked breadwinner, they are trying to drum up that heartland can-do gumption and see all this as an opportunity for reinvention.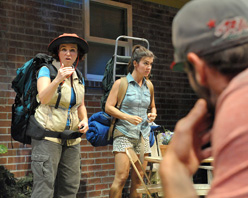 They need a distraction from the struggle against the downward spiral of financial
ruin—and
boy do they get it when new neighbors,
Sharon (Gabriela Fernandez-Coffrey) and Kenny (Danny Gavigan)—young, hip and tattooed—make their acquaintance.

Suddenly, patio barbeques and back fence chats take on a whole new edge with Sharon and Kenny in the mix. Fresh out of rehab for their 24/7 partying lifestyle, devoid of furniture or homey tchotskes (the bed sheet curtains on their windows defiantly stay that way weeks after they've moved in) and full of colorful stories, Sharon and Kenny are exotic creatures to the striving Ben and Mary.

The young couple lives paycheck to paycheck and seems to want nothing—except good times and living in the moment. Ben and Mary flutter around them like moths to the flame—curious about them, at once attracted and repulsed by them and even feel a little bit superior.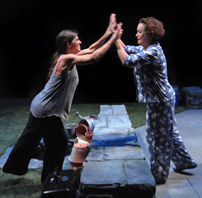 Both couples work to defy the belief that the Bright Acres suburb is isolating and dead by re-instituting neighborly contact and community with a vengeance. Mary even tries to relive her Girl Scout days by taking Sharon camping—a knuckleheaded scheme that goes hilariously a-cropper—while Kenny convinces Ben to go on a boys' night out tour of strip clubs.


Yet, Sharon and Kenny prove not to be merely trashy neighbors. They symbolize the power of Zero, the crazy nihilistic lure of having nothing and being nobody. Their destructive force lies in their not caring, their squandering and losing anything and everything that comes their way.

Ben and Mary symbolize the agony of hanging on to the past ideals of a house, two paychecks, savings and investments in a time where all of those safety nets are slipping away. In contrast, Sharon and Kenny are the unruly future—they represent the failure of public education and cohesive family, the romanticizing of the drug culture. To them, the American Dream is as foreign as a land line—they just make it up as they go along.

The cast realizes these unsettling truths with clear-cut brilliance, aided by Mr. Vreeke, who once again proves he is prose's best friend as he draws the humor and insights out of every line. Miss Townley excels as unhappy Mary, determined to put on a bright, brave face as everything she knows and cares about crumbles beneath her sensible shoes. Mr. Getman does some of his best work as the floundering Ben, who wields BBQ tongs not just as a cooking implement but as a means to hang on for dear life.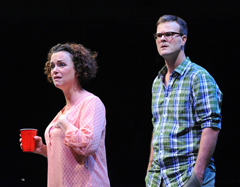 Miss Fernandez-Coffey practically leaves scorch marks as the volatile Sharon—friendly and garrulous one minute, spectacularly snarly and losing her marbles the next. As her partner in crime, Mr. Gavigan's Kenny seems more laid-back and contained until you begin to sense that it's all just an act.

Detroit can be seen as a metaphor for a dying suburb and the death knell for a peculiarly American way of life. But it also can be seen as the consequences of the shrinking of the middle class and the extremes we are forced into when there are only two classes—rich and poor.
Review by Jayne Blanchard
---
REVIEW:

John Vreeke directs a fantastic production of Lisa D'Amour's recession-themed morality play.
Review by Jane Horwitz
September 18. 2013

Lisa D'Amour's Detroit, currently playing in a riveting production at Woolly Mammoth Theatre Company, has everything and nothing to do with the decimated city of the title. The two married couples in D'Amour's play live in a rundown suburb near an unnamed urban center. Though they come from different generations and backgrounds, each couple teeters on the hairy edge of a financial, social, and spiritual abyss. Oh, and the show's a comedy, albeit a scary one.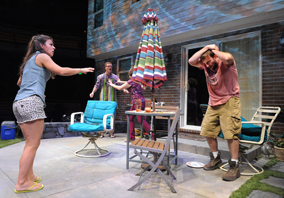 Under John Vreeke's pointedly revved-up staging, everyone and everything in the play looks and sounds shell-shocked and desperate, and not only in the wake of the Great Recession. The rootless young couple Sharon (Gabriela Fernandez-Coffey) and Kenny (Danny Gavigan) and their older, seemingly more settled neighbors Ben (Tim Getman) and Mary (Emily K. Townley) suffer just as acutely from two more "greats"—the Great Failure of Public Education and the Great Coarsening of the Culture.
So, yes, Detroit is a comedy, but a cataclysmic one, full of metaphors that in lesser hands would be painful in their obviousness. At Woolly, with Vreeke guiding a terrific cast and an ingenious design team, the play works as a simple, tragic farce, ignoring all metaphors. But it also works, if you let it, as a morality tale of philosophic ambition and massive symbolism about the destruction of the American middle class.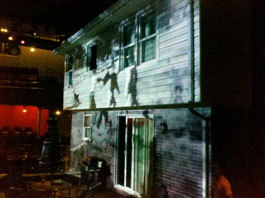 D'Amour often collaborates with artists from other disciplines on "devised" works and "site-specific" pieces staged in non-theatrical places. Detroit isn't necessarily such a work, but the team at Woolly has taken D'Amour's experimental background to heart in the way they've mounted it.
Woolly is already a fairly intimate theater, but set designer Tom Kamm has transformed the company's space, dividing the audience into two sections that face each other across a ground-level playing area. The two couples' conjoined yards are at the center of it. Ben and Mary have a well-kept patio with a nice gas grill and a table and chairs, marred by a wonky umbrella that thwacks people. Sharon and Kenny's yard is a mess, their deck missing planks and ready to break ankles. At the far end of each yard, like parentheses, stands the rear facade of each couple's house.
Review by Jane Horwitz
---
REVIEW:

DETROIT:
"human failure never felt so good"
"The ensemble work in this production is absolutely superb."

Review by Robert Michael Oliver
September 15, 2013
Lisa D'Amour's Detroit, now playing at Woolly Mammoth Theatre Company, uses the currently bankrupt Motor City as a symbol not a place, as that point of nostalgia when America—fresh from victory in World War II—built dreams of a beautiful way of life and planted them in suburbia.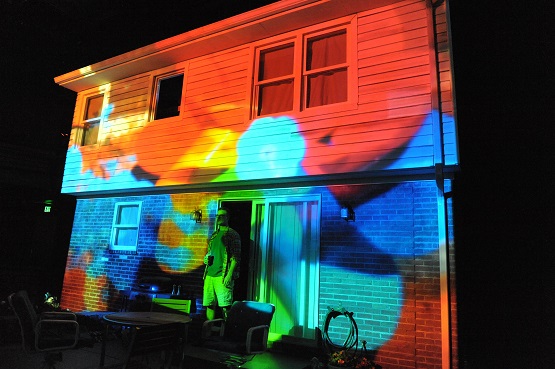 Director John Vreeke took those fantastic hallucinations and had them literally projected onto set designer Tom Kamm's decaying facades. That's the world awaiting Detroit's upscale Washington audience—Erik Pearson's video designs of a 1950's "first-ring" suburban wonderland of close knit families and happy neighbors, all born from a post-war, world-dominating American economy.
The distance between that Utopian dream and the emptiness of today's reality is the dark comedic theme of this Detroit and its symbol. To be sure, it is not a new idea. In the 1980s endless talk reverberated throughout DC on how to revive urban America, with Washington's own downtown blighted by lack of investment. Woolly's current home is but one indication of a successful grand gentrification.
D'Amour's Detroit takes its audience to the low tide of that renewal process, the inner suburban's present decaying infrastructure.
We meet the neighbors. Ben and Mary have lived in their home for several years. Sharon and Kenny have just moved in next door. We meet them at that most iconic of suburban events—the outdoor cookout with steak and potatoes and as few vegetables as possible.
The ensemble work in this production is absolutely superb.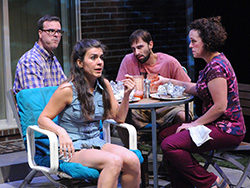 With Tim Getman as the "I want to be British" Ben and Emily K. Townley as the "why doesn't anyone like me" Mary, we get the 30-something childless couple who have fallen on hard times. Ben has been laid-off from his financial company, while Mary does her paralegal work without enthusiasm. But hope is in the air. Ben is building a website and will soon be launching his own online business as a financial consultant, and Mary … well, Mary is just hoping that Ben hasn't become addicted to pornography.
Getman's Ben exudes the suburban white collar worker who has too much time on his hands and not enough structure. We never know exactly what he is thinking but he sure knows how to grill a steak. Mary, on the other hand, both drinks and says too much, and Townley captures her inner desperation with total clarity.
The new mystery couple on the block consists of Gabriela Fernández-Coffey as the "watch me bounce of the walls" Sharon and Danny Gavigan as the "I'm so happy I can watch Sharon" Kenny. Both recovering drug addicts, Sharon and Kenny have committed to building a new life for themselves. Employed and happy, they recommit themselves to that goal every day.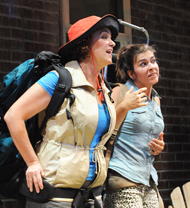 Fernández-Coffey nails Sharon's hyper-driven enthusiasm to perfection, making the character not only "off the wall" in her mannerisms but flashing with vulnerabilities—too open, too exposed, too needy for others. Gavigan gives Kenny a laidback roughness that compliments wonderfully Sharon's boundless energy. Later, when Kenny strays off the wagon, Gavigan reveals Kenny's unchecked primal recklessness.
We meet the two couples on the first day of their friendship—a joyous discovery of neighbors as an awkward, fast-paced exposé of how not to live your life. We quickly learn that even though Ben and Mary have lived in the area for many years they have no friends and have seemingly built no memories. Sharon and Kenny, on the other hand, even though they have no money to buy any furniture (the rented home has only one ugly chair and a mattress), they have a lot of fond memories: unfortunately, however, all those memories are soaked in days freebasing heroin, rendering them more dangerous than pleasant.
In other words, what we learn is that all four of these people are in desperate need of the new lives they are hoping to construct upon the rough soil of their decaying suburban neighborhood.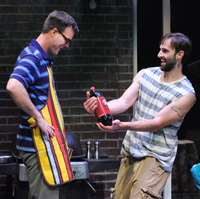 Complimenting the work of Kamm and Pearson are lighting designer Colin K. Bills, costume designer Ivania Stack, and sound designer Christopher Bain. Both enhance the production's shifting tone.
Perhaps D'Amour is familiar with that biblical verse: "Neither do men put new wine into old bottles: else the bottles break, and the wine runneth out, and the bottles perish: but they put new wine into new bottles, and both are preserved." If not, her Detroit lives as testimony to the rightness of that saying; for her four addicts—two acknowledged, the other two coming to see the light—are most definitely trying to build their new lives within an old framework, and they are destined to fail.
In the final scene, when the fifth member of the cast, Michael Willis, enters as old timer Frank with his simple yet clear view of the world, he reveals just how inevitable most of the action of the play really is.
The beauty of D'Amour's play is that its human failure never felt so good: you don't often get a chance to laugh at other people's misery so loud or so often and not feel guilty afterwards. When at the end, she sends in her Deus ex machine she does so not to save the day, but to put these folks out of their misery.
And maybe this time they will be able to start a new life for real.
Review by Robert Michael Oliver
---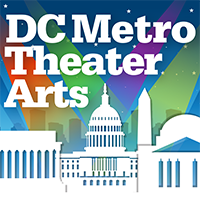 "Detroit is a magnificent examination of the
human species in times of financial turmoil"
Director John Vreeke works in a simplistic yet beautiful fashion to let D'Amour's work speak for itself.
Review by Amanda Gunther
September 15, 2013

Are you able to walk up to your neighbor's house and borrow a cup of sugar? Does anyone even do that anymore? Or is it just easier to go down to the 24-hour food mart and buy what you need rather than trying to determine if you have a functioning relationship with your neighbor? Do you even know the people that live next door? A compelling, yet highly humorous, socio-economical commentary on the devolution of neighborhoods in modern America is what comes to the stage to kick off Woolly Mammoth Theatre Company's 34th season: 'America's Tell-Tale Heart.' This area premier of Lisa D'Amour's Detroit falls on the recent news of the city of Detroit declaring bankruptcy and is the perfect examination of the nation's current economic crisis. With rich characterizations that unearth the desperation in all human beings when it comes to financial stability and surviving, this production is a firecracker to anchor their new season. Directed by John Vreeke, Detroit provides a comical yet deeply profound look at the way humans become defined by their economic situation.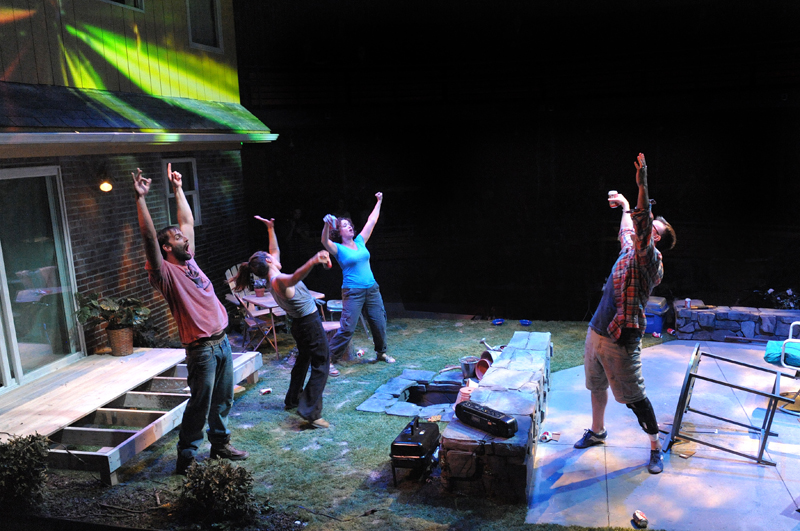 Detroit is a magnificent examination of the human species in times of financial turmoil, but the stage's setting, conceptualized by Scenic Designer Tom Kamm, is truly remarkable. Shifting the layout of Woolly Mammoth's internal theatre space, Kamm sets the audience in a tennis-court fashion, building two houses opposite one another with their backyards touching in-between. Kamm's attention to detail is authentically stunning; with siding and brick on the houses' exterior, with detritus in the rain gutter of the unsettled house, everything has a sharp realistic appearance. Kamm's decision to make these two backyards and houses so realistic calls the audience' s attention to the fact that these two homes could very easily be their own homes and that of their neighbor's. The visual atmosphere created is really astonishing and quite a good bit to take in.
Complimenting these two enormous structures in Kamm's design work are the visual
effects created by Lighting Designer Colin K. Bills and the Video Design provided by Erik Pearson. Pre-show and during the scene crossfades, Pearson projects video images of neighborhoods, from both times gone by and the present day, onto the two houses, creating a rather stunning aesthetic as the images distort slightly over the windows and splits in the brick and siding. Bills make distinctive shifts in the play's timeline with night and day, night being accompanied by further video projections; and when the emergency vehicles respond to the houses near the end of the production Bills captures the epitomical essence of what fire engines, police cars, and ambulance lights look like coming through the windows into the back yard. These visual elements aid in the harsh reality of the play's existence, pulling the audience into its existence.
Sound Designer Christopher Baine grounds all of the intense visualizations with sounds of familiarity. Sprinklers on lawns, dogs barking, cars rolling slowly down residential streets. All of these common neighborhood sounds echo throughout the piece in seemingly sporadic yet well-timed intervals; once again reminding audiences of where they are and what they are experiencing.

"Hilarity and chaos ensues as the play journeys on, a feat that needs to be witnessed to truly enjoy it."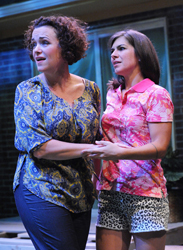 Director John Vreeke works in a simplistic yet beautiful fashion to let D'Amour's work speak for itself. The focus of the production is really an explorative commentary on economic structure and how it has matriculated into even the most basic of human relationships; that which we share with our neighbors. Vreeke guides the five performers to find an honesty in the depths of the characters' dialogues, letting the charades of their existences and marriages unravel and shine through in the moment rather than forcing sharp contrasts between the two personalities that live within each character. D'Amour uses unconventional tactics to expose these strained relationships in the economy, including humor; a brilliantly relatable way to address a drastic situation while keeping the audience from becoming too bogged down in the gravity of the situation.

The two couples have an inexplicable organic energy between them; Ben (Tim Getman) and Mary (Emily K. Townley) welcoming the newer couple to the neighborhood in a methodic, almost robotically chipper fashion, akin to the 'Stepford' vision of a community. Townley starts off inadvertently treating the new couple like low-class simpletons with a persistent grin on her face. But her character is much deeper than the initial encounter leads on. Townley gives a rousing rendition of a drunk character teetering on the edge of sanity, crying out and making lamentations that make sense only to the inebriated. When her world slowly unravels and the façade of her marriage and perfectly well-constructed economically stable life begins to shatter, Townley unearths a richly damaged character that she presents well with emotional outbursts.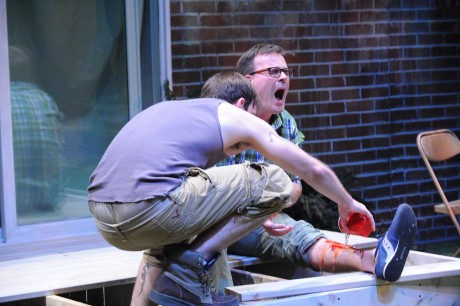 Playing her husband, Tim Getman is the iconic representation of the upper-middle class yuppie situated quietly in the suburbs. His character is also much deeper than meets the eye, confessions that don't come bursting out until close to the end of the production. Getman plays his character with close-to-the-chest reservations, making his moments of outburst truly explosive and that much more dynamic. His man-to-man scene with Kenny is the pinnacle of change in his life; an eruption of personal freedom that spirals upward and downward simultaneously for his character's trajectory in the story. Getman and Townley share an awkward chemistry, befitting of their marriage, and as their lives begin to shake apart they become exceedingly well at honestly displaying their inner truths, which are not nearly as polished and pretty as they led on.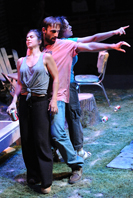 The new neighbors, Kenny (Danny Gavigan) and Sharon (Gabriela Fernàndez-Coffey) bring a humorous element to the show right from the beginning. The arrive on the scene without much sophistication or polish, as evidenced in their physicality and speech patterns. Gavigan is the more rough around the edges of the two, but is wildly passionate when it comes to finding freedom in his lifestyle. Fernàndez-Coffey is the real dynamite in the show. She carries a good deal of heavy emotionally bombastic monologues that truly address the grit of society, especially when it comes to her life as an ex-substance abuser. Giving the most dynamic performance of the show, Fernàndez-Coffey gives a heart-wrenching confession to Mary about slipping off the wagon and how her world is quickly spiraling out of control because of her need for substances.
Hilarity and chaos ensues as the play journeys on, a feat that needs to be witnessed to truly enjoy it. Michael Willis makes a brief appearance at the end of the production, a construct designed by D'Amour to tie up loose ends in the story; but his closing monologue is one of the most poignant in addressing the thematic elements of the show. A brilliant performance that is topical to everyone in the nation at present; thoroughly infused with belly-bursting humor to keep everyone aware but entertained while enjoying this vibrant new work.
---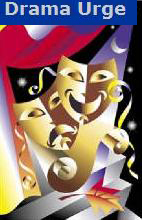 It's a virtuoso performance of touching affection.
John Vreeke's effervescent yet controlled production captures both the high energy
and poetic ruminations of the playwright.

Review by John F. Glass
September 16, 2013
Thinking about the much heralded play Detroit by Lisa D'Amour, now running at the Woolly Mammoth (to 10/6), is almost as much fun as the immersive experience itself. I've never seen a show quite like it. Funny dialogue, hyperbolic delivery of lines - a black comedy bordering on theater of the absurd - elaborate design, and excellent acting sit well in your memory as does the real time, high-concept event.
But Lisa D'Amour's incendiary post-recession [sic] fable says less about the Motor City or its environs than it does about the inner malaise of the rapidly expanding underclass. With each unstitching of the social fabric, job, home, and relationship, the sense of self unravels. There's a return to nature which is at first freeing, then anarchic and destructive.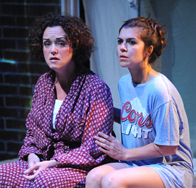 John Vreeke's effervescent yet controlled production captures both the high energy and poetic ruminations of the playwright. A profile stage arrangement, with the audience sitting on opposite sides of the playing area, and a pair of home façades - one dilapidated, the other well-maintained - placed at the ends of Tom Kamm's imposing set, offer the viewer symmetry and contrast. There's a palimpsest of almost retro texture, with 1950s pastels and bright conversational styles running through dark contemporary events which Ivania Stack's costuming, the lighting of the Colin K. Bills, and projections of Erik Pearson enhance.
What's it like to hit bottom - economically, psychologically, and socially - then keep falling? Two couples are about to find out. Mary and Ben, denizens of Suburbia Somewhere, USA and Kenny and Sharon, newly arrived neighbors who wander into their lives like a pair of alter egos - are on the same trajectory, but at different speeds: the former are sinking slowly, while their visitors, as we will soon find out, are heading down the drain.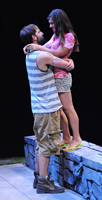 These desperate, fantasy-driven characters are played by their actors with conviction. Gabriela Fernández- Coffey as Sharon is so high strung that she seems constantly on the verge of hyperventilation. It's a virtuoso performance of touching affection. One step lower in intensity and but no less in neediness is the mercurial Mary performed deftly by Emily Townley. The snoopy, dipso Mary is on high alert, but the betrayals will seep through her guard like a home invasion. The versatile Danny Gavigan appears to have invented a different body habitus to play the hunkering Kenny while Tim Getman shows DIY Ben's ability to improvise and reinvent (if not hide) himself when life comes calling.
The structure of the play feels like a musical composition, with periods of extreme verbal speed alternating with slower, more thoughtful pacing. Sound designer Christopher Baine portends the mood with his cello riffs at the outset and accompanying the fast-forward action between scenes. The work builds toward a striking climax, following with a quieter coda. Regarding the latter, the playwright has tacked on a deus ex machina ending, in the form of a Fifth Man (played by Michael Willis) who ties up some of the play's loose ends. While it does give the play some closure, the expository nature of the writing sounds strained, as though the message - urban decline in general and Detroit in particular - might have been missed.
So what message should we take away? When it comes to a catastrophe, a razing of the grounds is not necessarily a bad thing for the long term: it clears the path for new growth. But it's the short-term we are dealing with in the here and now. And the future may be a pipe dream, a bad one.
Review by John F. Glass
*************************************************************************************
Applause meter:
4 ½ hands (out of 5). A theatrical experience of high order: arrangement, presentation, and realization of this dramatic work override a questionable denouement.
Runtime:
1:45 w/o intermission.
Program:
Excellent - fully committed!
---

"With solid direction from John Vreeke,
theatre-going Washingtonians get an in-your-face glance at the world..."
Review by Jennifer Perry
September 16, 2013
A timely addition to the Washington, DC theatre landscape, the Woolly Mammoth Theatre Company season opener, Detroit by Lisa D'Amour, offers a glimpse at life in modern America. No, the suburb depicted here is not one of yesteryear where everyone worked nine to five jobs and made a decent living, and neighborhood barbeques and dances were commonplace. No, it's not a place where an individual would not think twice about asking a neighbor for a cup of sugar rather than driving to the closest 24-hour minimart. At least, it's not completely that kind of place.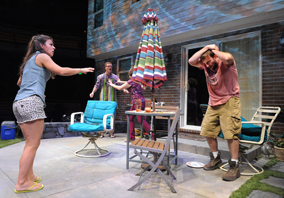 When two couples with houses back to back in an average suburb (though not necessarily one outside of Detroit - as the title suggests - but a place 'like' it) try to 'bend the rules' of life in modern suburbia, it initially gives them coping mechanisms in times of personal turmoil and distress. Yet, the move to restore neighborly relations has some pretty disastrous and disturbing results. Some are even life-altering.
It's clear why Detroit - which premiered at Chicago's famed Steppenwolf Theatre Company and most recently received a run at NYC's esteemed Playwrights Horizon - is a Pulitzer Prize finalist. D' Amour's witty yet thoughtfully dialogue, combined with a gritty depiction of modern America in the midst of an economic downturn, offers valuable insights into the very values and experiences that define much of our contemporary nation.
As presented by Woolly, with solid direction from John Vreeke, theatre-going Washingtonians get an in-your-face glance at the world beyond the Beltway today. Assisted by five extremely solid company members (with Michael Willis is a smaller supporting role), we learn what being neighbors means, and the good, the bad, and the ugly effects of sharing (or hiding) your own personal circumstances with those who live close to you.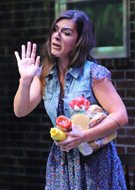 Is getting to know your neighbors today really all that worth it? Well, it's complicated - at least in the world of the play.
D'Amour focuses her social investigation on two neighboring couples who are largely representative of life in this country - at least at first glance. Mary (Emily K. Townley) and Ben (Tim Getman) were the definition of a reasonably successful middle class couple prior to Ben losing his job as a result of his company downsizing. Ben, now unemployed though in the midst of starting his own business (or so he says), and Mary are seeing the effects of his employment change on their marriage as well as their financial stability. On the other hand, the younger Sharon (Gabriela Fernández-Coffey) and Kenny (Danny Gavigan) haven't quite had that kind of stability as a result of some bad choices. They appear to want to get it together - at least initially when they first meet Mary and Ben - but face obstacles.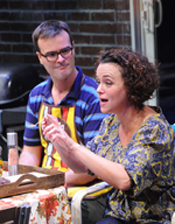 D'Amour is mostly successful at using average neighbor get-togethers (grilling steaks or burgers in the backyard for all to enjoy, for instance) to demonstrate the social distance between these two couples while illuminating the commonalities across their two life paths. Because the narrative is so carefully constructed - tracking how the neighbors first meet and their interactions - and her characters are so well-defined, the explosive ending (the details of which won't be spoiled here) is appropriately surprising yet not so completely far-fetched that it erases all that came before it. At times, she has a tendency of hitting the audience over the head to remind them that the suburb where Mary, Ben, Sharon, and Kenny reside isn't quite like the idyllic ones we hear about from years ago. Erik Pearson's projections of life during these sunnier times also highlight this, but they are less like a sledge hammer. However, in the case of the Woolly mounting of this play, the production elements and the acting are of such high caliber that these writing deficiencies become more tolerable, or, at the very least, less noticeable.
Tom Kamm's astoundingly realistic set - featuring two houses, yards, and an extraordinary amount of detail - and Ivania Stack's telling costumes give valuable insights as to where the two couples reside both geographically and socially speaking. As embodied by the four member principal cast, it's nearly impossible not to be able to easily identify where each character comes from and what motivates/challenges him or her. Yet, the actors are careful not to give all of the clues about these characters away too fast. As a result, the action in the ending scene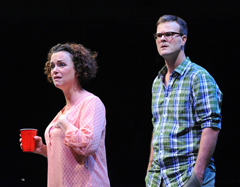 (featuring impressive lighting and sound from Colin K. Bills and Christopher Baine, respectively) is grounded in what comes before it while still being very climactic.
Fernández-Coffey's initially awkward and frantic take on Sharon stands in stark contrast to Townley's initially very reserved take on Mary. Likewise, it's clear from the get-go that Kenny, as portrayed by Gavigan, has a bit of a devious side and doesn't fit into Ben's straight-laced world. As the two couples get to know each other better (in good and bad ways) the physical and emotional facades start to disappear and we see the commonalities and differences are more substantial than they appear at first glimpse. Without all four actors' layered performances and commitment to giving raw, 'ugly' performances - particularly Fernández-Coffey and Townley who are tremendously authentic - it would be more difficult to see the play as more than a well-written, socially conscious dark comedy that few in our area (at least among the theatergoing public) can relate to.
---
WOOLLY MAMMOTH IN WASHINGTON DC

Video Trailer for DETROIT: