Dying City
Directed by John Vreeke


This gripping, psychological drama was a finalist for the Pulitzer Prize, and is a tour-de-force for two actors.
---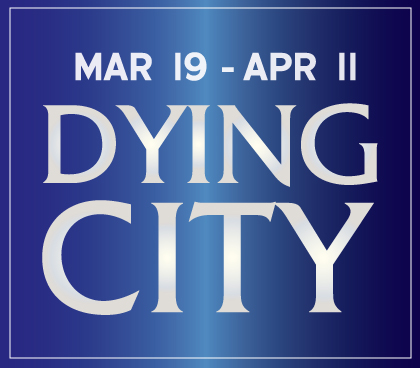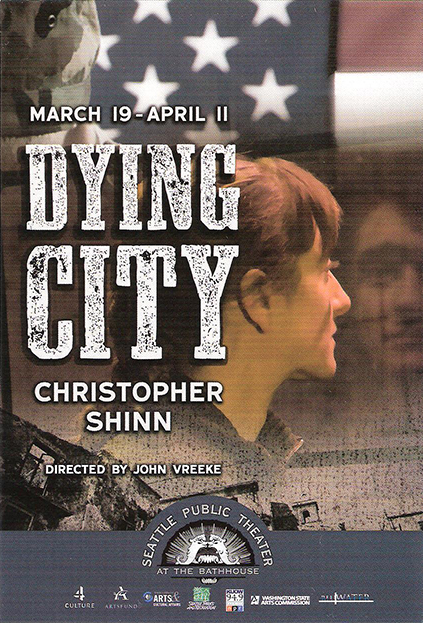 March off to an apartment in urban America for an affecting and gripping look at the fallout of war on our most intimate relationships with the Northwest premiere of

Dying City

by Christopher Shinn.


When a young man goes off to war, his death thousands of miles away has rippling effects on those he leaves behind. Kelly, his widow, is a therapist who watches "Law and Order" because "the mystery of a death is solved and therefore symbolically reversed." But when her dead husband's twin brother shows up unexpectedly, what she believes to be true is called violently into question. Is the "closure" we seek after death just an American myth?
---
REVIEWS:


Nuanced 'Dying' is shattering in impact, subtle in effects
A New York woman wrestles with the truth behind her husband's death in Iraq, in Christopher Shinn's haunting play "Dying City"



Reviewed by Misha Berson


Seattle Times theater critic


Nothing is entirely what it seems for quite a while in Christopher Shinn's lauded 90-minute drama "Dying City," now in a haunting local premiere at Seattle Public Theater. And no one is exactly who you think they are.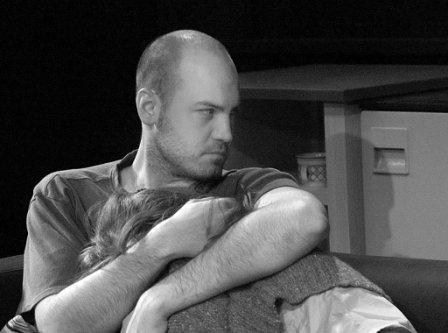 What is clear: Kelly (Shana Bestock) is a therapist, and the widow of Craig (Chris Maslen), a soldier and a student. And Craig is the identical twin of Peter (also Chris Maslen), a self-defeating actor who shows up out of the blue one evening at Kelly's apartment, a year after Craig's death in Iraq under murky circumstances.
For more clarity than that, you will need to ponder this shifting, troubling, yet rewarding waking dream of a play, staged with acute attention to nuance by John Vreeke.
As Bestock's crumpled form and glazed eyes make clear, Kelly has been through hell. And though she welcomes the anxious, chatty Peter, something is palpably wrong between them — but what?
That remains something of a mystery — as do so many elusive elements of the past, despite the earnest attempts of an intelligent, analytical person like Kelly, to order and understand them. Peter, who is gay, is carrying around his brother's e-mails from Iraq in a backpack. He wants to discuss them with Kelly, to force an epiphany, some closure. She wants to evade them. Between their wary, circular conversations, Kelly flips through her private memories of Craig's last night before his Iraq War deployment — like someone thumbing through a photo album, desperately searching for a face she can recognize.


Shinn slowly teases out the painful secrets of this human triangle. And with flashbacks, he assembles a devastating portrait of male misogyny, self-conflict and aggression, and female self-delusion.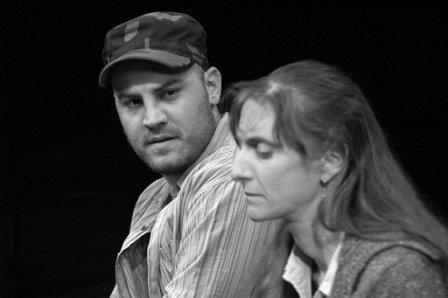 If this all seems a bit vague, it is because "Dying City" is shattering in its impact but, for the most part, subtle in its effects and complex in its analysis.
A violent childhood, a deadly terror attack, a duplicitous war, the limitations of psychology — they all collide and collude, in a tragedy Peter is clumsily trying to reconstruct. And Kelly is finally allowing herself to absorb.
Vreeke respects and enhances the many little shadings and shocks of this tale, with small blasts of heavy-metal music, fraught silences and tonal lighting.
And the performances he draws from his two-actor cast are exemplary. Bestock does not waste a gesture, a sigh. Intelligent and depleted, she's a traumatic shock victim with Peter — and with Craig, a caring, engaged but ultimately battered (emotionally, at least) wife.
But it's Maslen's double turn that keeps you in a viselike grip. He's a big man, with an imposing presence. He nails the different cultures and sexual orientations of Peter and Craig without resorting to cliché. He also shows us how alike they are at the molten core.
The instant when Craig finally weeps with bottled-up shame and uncontrollable fury is almost unbearably intense. Which is just as it should be, when one looks hard at a harsh, insoluble truth.


Reviewed by Misha Berson
Seattle Times theater critic


---



A Woman Meets Her War-Casualty Husband's Twin




Reviewed by Kevin Phinney




Wednesday, Mar 24 2010



Things are always darkest not before the dawn, but just before they go completely black. At least that's the gist of Dying City, a psychodrama that doesn't so much unfold as coil, python-like, around everyone in proximity. Actors and audience alike are pulled closer with each revelation, but the bond is anything but pleasant.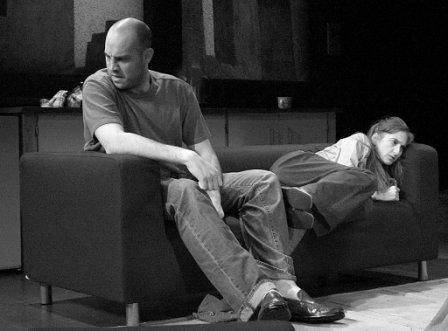 Christopher Shinn's 2006 potboiler about an Iraq War widow confronted by her late husband's identical twin is a spelunking expedition into the depths of personal trauma and the measures survivors will take to cauterize their wounds. Kelly (played by SPT artistic director Shana Bestock) is a shell-shocked husk of a woman, given to bleary-eyed hours spent staring at TiVo-ed episodes of Law & Order and The Daily Show. Before her husband's deployment, she poured herself into her counseling career and her marriage, and now she's pretty sure she was severely mistaken about both.

When her late husband's gay twin, Peter (Chris Maslen), shows up at the door, she's cordial and indulgent as he blathers on about his budding career as a movie actor (he's about to be "famous," he confides in a near-whisper) and the hissy fit that sent him storming offstage mid-performance in a local production of Long Day's Journey Into Night. He's vain, he's lost, he misses his brother Craig, and he seeks the solace of the one person he believes misses him just as much. Too bad, then, that Kelly would rather not reminisce, and it turns out that Craig (also played by Maslen in a series of flashbacks) did the worst of his dirty work far from the battlefield.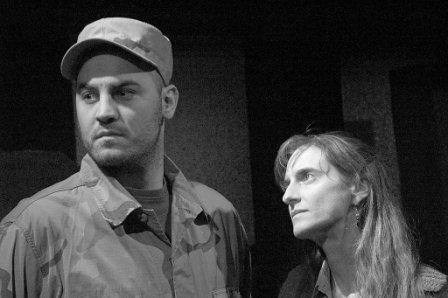 Bestock plays Kelly with a zombie-like exhaustion. Her eyes are hollow and vacant, her body language distant, and she raises her voice like a woman who never learned how. It's a shame that when she is required to react to the most devastating plot twist, her energy level doesn't rise to match. She's defeated before she has reason to be.

Maslen, on the other hand, is pitch-perfect throughout. As gay Peter, he's got just enough twinkle and affectation to be believable without slipping into Perez Hilton territory; as Craig, he's a bundle of repressed urges and self-loathing. There's surgical precision in director John Vreeke's staging; he allows nothing to interfere with these characters circling one another in ever-tightening spirals.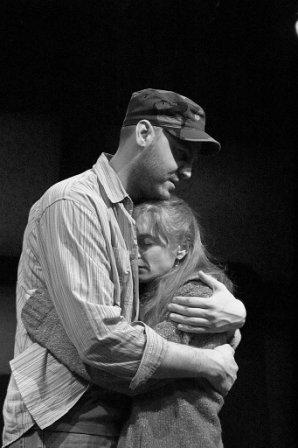 In less than 90 minutes, you'll see much of what the nation has gone through since 9/11. It's hard to believe that this week marks the beginning of the eighth year America has been at war in Iraq. That's twice as long as the World War II engagement that Tom Hanks and Steven Spielberg are commemorating right now in HBO's miniseries The Pacific. More than that, the contrast between wars couldn't be more pronounced. We have no war heroes anymore. People come and go from Iraq almost without notice. Some die, others are maimed, and many carry scars invisible to the naked eye. Outside of a few campaign speeches, there isn't much talk of service or the sacrifices made by those who go and those left behind. And while countless pieces have been written about the expense of our War on Terror, Shinn argues that we've yet to learn the true cost.

Review by Kevin Phinney
The Seattle Weekly


---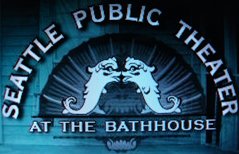 March 19th thru April 11th, 2010
Thursdays, Fridays, Saturdays @7:30 PM, Sunday matinee @2:00 PM.
The show runs approximately 90 minutes with no intermission.

A post-show discussion with the cast and director is scheduled for after the 2PM matinee on Sunday, March 28th.

Dying City features Chris Maslen and SPT's Artistic Director
and Education Director, Shana Bestock.
Directed by John Vreeke.


---
"Dying City" raises obvious, important issues in anything but obvious ways. And it knows too well that closure, that ghastly word, is a mass-delusional figment of the American imagination. Kelly talks about the satisfaction of watching "Law & Order," in which "the mystery of a death is solved and therefore symbolically reversed." Mr. Shinn knows that nothing about a death — or a life, for that matter — is that easy.

- The New York Times
---

Seattle Public Theatre ... at the bathhouse on greenlake
7312 W. Greenlake Dr. N. • Seattle, WA 98103 • 206/524.1300
Driving directions
Traveling north on I-5:
Take 65th St./Ravenna exit. Turn left on 65th St. Bear right onto Ravenna Blvd. for .3 miles. Bear right onto E. Greenlake Dr. N. Continue past the stoplight at the north side of the lake (Wallingford Ave.). Bear left as East becomes West Greenlake Dr. N. The theater will be to your left, on the shore of the lake, and just beyond it you can turn left into the parking lot. The theater is located only a short walk towards the lake.
Traveling south on I-5:
Take the NE 85th St. exit. Turn left onto Wallingford Ave. and follow it straight to the lake. Turn right on E. Greenlake Dr. N. Bear left as East becomes West Greenlake Dr. N. The theater will be to your left, on the shore of the lake, and just beyond it you can turn left into the parking lot. The theater is located only a short walk towards the lake.
Traveling north on Aurora Ave:
Shortly after passing through Woodland Park on Aurora Ave. you will see Greenlake on your right. As you reach the commercial area, take the first available right turn (at the gas station). This is W. Greenlake Dr. N. Take the next right into the parking lot. The path at the opposite end of the lot takes you to the theater on the shore of the lake.
---