THE MONUMENT
Directed by John Vreeke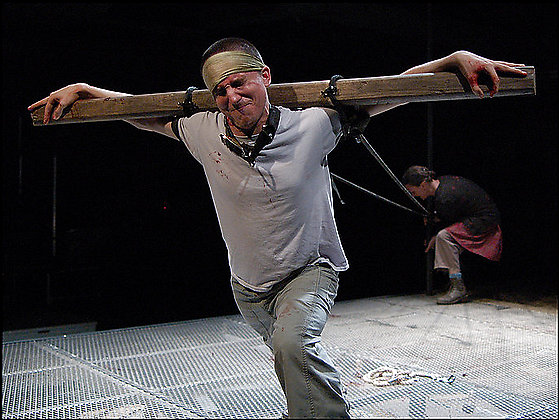 ---

Striking a Blow For Forgiveness
With 'The Monument,' Playwright Wrestled With Some Brutal Truths
By Jane Horwitz

Special to The Washington Post
Tuesday, June 13, 2006; Page C05

"The Monument," Canadian dramatist Colleen Wagner's play about war and ethnic blood feuds, roils with rage, grief and a stylized brutality. Her script doesn't specify the time or place, but the Theater Alliance production, at the H Street Playhouse through Sunday, echoes Bosnia during the 1990s.

John Vreeke, who directed the production, says the 85-minute piece is a blank-verse poem. "The rhythms are defined by the placement of the text on the page. It reads like a contemporary Greek tragedy," he says.

In it, Mejra (played by Jennifer Mendenhall), the mother of a young woman who is one of many that a soldier may have raped and killed while "following orders," gets the soldier released just minutes before he is to be executed. She then forces the shackled man, Stetko (Alexander Strain), into the forest with her to search for the remains of his victims.

"I feel like it's all about essences," Mendenhall says. "It could be Bosnia, it could be Rwanda, it could be Auschwitz, it could be anywhere that horrible things are done, and then it's like, here are the common denominators."

Wagner, from her home in New Brunswick, says she wrote "The Monument" after an extended sojourn in Southeast Asia. "When I came back in 1993, there were 43 bloody civil wars going on in the world . . . and the former Yugoslavia was one of them, but so was Rwanda, Somalia, endless wars in Africa and, of course, East Timor," she says.

She had been commissioned to write a play about the exploration of the Canadian north, but the characters in "The Monument" kept butting in, first in the form of Stetko's opening monologue, describing his atrocities with bravado, even as his execution is imminent. "I was pretty shocked by this voice, this character that I was hearing, but I thought, well, interesting exercise," Wagner says. "These characters forced themselves upon me. They were there and I simply had to write it. . . . I wrote it actually in about three weeks, then spent a year trying to do that last scene."

That scene hints at the possibility of forgiveness and reconciliation. It comes after nearly 90 minutes of recriminations and violence.

Mejra slaps Stetko across the face many times in a kind of vengeance ballet and later erupts in an even greater fury. But in the intimate space of the H Street Playhouse, Vreeke says he decided against choreographing "realistic" blows in favor of stylization. "She's swinging her hands, she's making a grunting sound like she's slapping, he's making a grunting sound like he's being slapped. You can see what's going on in his face. . . . You couldn't see that if we tried to make it real."

The non-naturalistic approach to the violence was intended to "remove people from trying to analyze it as being real or fake, and expose what it really is, which is this grotesque and horrific activity," Strain says.

It was hard, Wagner says, to portray the mother as anything other than fully justified in her actions, but she opted for a more difficult conclusion. "I wanted her to be a little more saintly. But in truth, she couldn't be, and in truth, we're not. And what I discovered, really, is only by coming to that place, where they can both look at each other and realize, yes, I am no different than you, my hands are as bloodied as yours" can they ask, "where can we go?"
---
A MONUMENTAL ACHIEVEMENT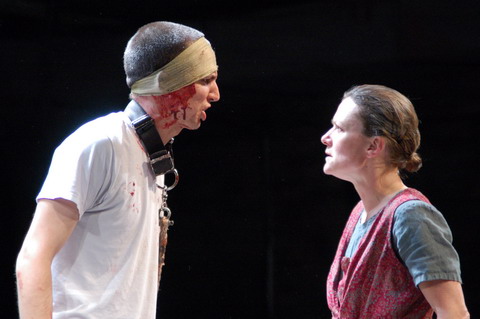 Beginning with Alexander Strain's opening lines it is obvious that Colleen Wagner's The Monument, mounted at H Street Playhouse by Theater Alliance, is a play that describes horrible pain and suffering. This production draws you in to its tragic narrative and by plays end you find yourself left with many difficult questions to ponder. Not an evening of light entertainment, one should be prepared for something far more demanding in order to do the production justice. John Vreeke's firm direction shines through the dark script, bringing out the human frailty that hides beneath the terror of war.

The plot is simple, during an unnamed genocide Alexander Strain (Stetko) has brutally murdered and raped twenty two young women and buried them where their families could not mourn their deaths. Convicted of war crimes, he awaits his execution strapped to a gurney. He describes the gory details of his crimes as he twists against the restraints. Jennifer Mendenhall (Mejra), a frail woman dressed in torn clothing steps from the audience with an offer he cannot refuse. Stetko is spared the gallows and agrees to follow her every direction for the rest of his life. What follows is a journey for both characters, one in which they discover unknown things about themselves and in addition they discover truths they wish could remain buried beneath the scorched earth of war. In the end we have feelings for both of them, both compassion and disdain and a lingering feeling that the terrors witnessed by these two people will be subjected on many more victims until people truly learn to communicate with each other.

Alexander Strain shows great range in a role that is different from any we have seen him in previously. His character is weak and filled with self loathing but has a violent evil side. Strain seems to grow in the role as the play progresses – at times his performance becomes so horribly real that his glare is terrifying.

Jennifer Mendenhall's Mejra is incredibly complex but she handles it with seemed ease. This character holds inside her heavy burdens that threaten to drag her into the earth that holds not only her daughter but the thousands of nameless victims of terror and genocide. Ms. Mendenhall's character becomes larger than life as the conclusion nears and she is able to show us both sides of this woman who has mixed feelings about the monster who murdered her child.

The set at H Street for this play was a dark, dirty stage that well represented the aftermath of war, the eye-sore of human inventions. Various articles of tattered female clothing are tacked to the rear wall of the stage as if to honor all that remains of their short lives.

In an interview with DCTR before the show Ms. Mendenhall expressed the importance of this and other plays that force us to reason through difficult questions and situations. The passion she brings to this play is significant and it is my feeling that this is not a show to miss. The Monument and its lessons are well worth your time.

---
May 20 - June 18, 2006
The Monument

Running time 1:20 - No intermission
t A Potomac Stages pick as a searing exploration of the brutality of war crimes




Entering the H Street Playhouse has been like entering a zone of heightened reality of late. Ever since it was the mental landscape of Mary's Wedding, the space has been a northern woods outpost (The Spitfire Grill), the backstreets of revolutionary Paris (Headman's Holiday), a Victorian era courtroom (Gross Indecency), a blank space for reminiscences (You Are Here), an intellectual refuge in repressive Iran (Haroun and the Sea of Stories) and both rooms imprisoning a hostage in the Middle East and his wife back home (Two Rooms). That's the thing about black box spaces. So often the audience's first exposure to the world of the play is not when a curtain comes up but when they first wander in to take their seats. For this absorbing exploration of brutality, you know you are in for a harrowing time when you enter to see that a man is strapped to a gurney, occasionally twisting or squirming as he awaits something that you know isn't going to be altogether pleasant. But you take your seat and watch this sometimes brutal but always fascinating one-act experience because you are already intrigued, already caught up in the theatrical experience even before the lights go down.

Storyline: In an unnamed Eastern European country wracked by genocidal war, a lowly private in the defeated army has been convicted of dozens of rapes and murders. Just prior to his execution, he's offered a reprieve, but not release, by a woman who puts him to hard labor and even harder mistreatment for reasons of her own.

This is the US premiere of Canadian playwright Colleen Wagner's oft-times excruciatingly brutal look at the impact of war crimes on both the victim and the perpetrator. That the location seems somewhat Eastern European (think Bosnia) doesn't negate the fact that the playwright is working on a universal level here. She puts the case from the victim's perspective into the hands of the mother of a victim of rape as an act of genocidal war, but she's first and foremost a mother and her pain is unrelated to the "cause" which unleashed the violence. The fascinating thing in the author's construct, however, is the portrait of the raper/killer, which shows him too to be a victim of forces not only beyond his control but beyond his comprehension. The troop soldiers of genocidal war are just pawns in an overwhelming struggle and the removal of restraints releases impulses that have terrible consequences.

Alexander Strain and Jennifer Mendenhall are the man and woman whose battle is played out on Nick Vaughan's grimy steel mesh and dirt set. Mendenhall comes after Strain with a vengeance - a suitable approach given the circumstances. She not only berates him verbally, she yokes him like an oxen working the fields, shackles him like a dog and smashes him repeatedly with a shovel. Her release of anger and frustration is frightening to behold. Strain absorbs it all while making his own voyage from resignation to recognition - but not to remorse. Both performances are compelling releases of pure emotion which, under John Vreeke's taught direction, avoids looking like an actors artifice. The emotions may be amplified by the immediacy of the black box environment but they feel very real.

There seems to be an unaccountable trend afoot in the local theater community to leave non-speaking members of the cast uncredited. First Studio Theatre Secondstage left Shawn Helm, who was the non-speaking but very much present guard throughout key scenes of Frozen off the cast list. Now we have an omni-present and even more central presence hovering in the background and occasionally taking center stage in this play which is not identified either by character's name or by performer's. Whoever she is, she does a very nice job and deserves a bit of recognition.

Written by Colleen Wagner. Directed by John Vreeke. Design: Nick Vaughan (set) Deb Sivigny (costumes) Suzanne Maloney (properties) Dan Covey (lights) Ryan Rumery (sound) Colin Hovde (photography) Jack Rizzotti (stage manager). Cast: Jennifer Mendenhall, Alexander Strain