"...Everyman's Opus hits the right notes."–Judy Rousuck, The Baltimore Sun

Opus




By MICHAEL HOLLINGER
Directed by JOHN VREEKE
Baltimore/Washington Premiere
September 6 - October 15, 2006




Five musicians, one quartet, and a make-or-break performance.

Violist turned playwright Michael Hollinger (Red Herring) examines the interplay of very distinct personalities who must, in the pursuit of art, play together as one. When a member of a famed quartet disappears, the other musicians seek a new violinist to perform with them at the White House. Will the brilliant young woman they select fit into a group of men with a complex and clouded history?



Cast

Peter Wray, Kyle Prue, Karl Kippola, Stephen Patrick Martin, and McKenzie Bowling.


Photo by Stan Barouh.

"...sparkling production at Everyman Theatre...a delightful evening...terriffic
–Geoffrey Himes, The City Paper
---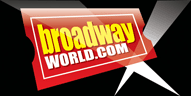 Tuesday, September 12, 2006; Posted: 3:35 PM - by James Howard
With the Baltimore-Washington premiere of Michael Hollinger's new play, Opus in a newly reconfigured (in-the-round) space, Everyman Theatre is putting us on notice that surprising things are headed our way this season. Directed by John Vreeke and performed by a near-flawless company of actors, Opus is the first of the new season, and the best Everyman has produced in 2006.
A theatre-lover's dream, this "dramedy" takes the audience into the world of string quartets, of which, this reviewer admits to very little knowledge. In fact, I was a bit concerned before that show that it might be a bit hard to follow were it too technical. What a relief to report that that is in no way the case. Hollinger does, in fact, use much musical jargon and throws around names of classical artists as if they were all common knowledge. But it is the way he uses them and the expert delivery of the lines by the cast that makes this potential quagmire crystal clear. In most ways, actually, the world of classical music here is little more than background music. One of the play's many strengths is the accessible use of that world to create an exquisite metaphor for any passion people have, be it musical, artistic, or even fantasy football. Anyone with a deep, true passion for anything can relate to this piece, and that is no small achievement.
The story follows the members of an internationally famous string quartet from the audition of a new member through to a career-making appearance at the White House, playing what is arguably the most difficult piece written for such a group, Beethoven Opus 131. It was the pinnacle of Beethoven's career, and looks in many ways to become the pinnacle for the quartet as well. Throughout the 90 intermission-less minutes of the play, we become witness to the inner workings of artists working, their passions in and out of rehearsal, and the unfortunate events that led to the need for finding a new member. The play moves fast, and is very carefully constructed, where words and phrases build, ebb and flow much like the very music the characters are playing. Hollinger clearly knows music, and has crafted a piece of theater much like a composer would a piece of music. The themes interweave, playing against each other, creating a crescendo of climaxes building to a shocking finale.
Rumor has it that Hollinger is still at work on the piece - I hope he doesn't tinker too much, but there are few very small areas where the script itself might improve. First of all, even though he is careful not to mention any specific president (and we'll assume this piece will outlast George W. Bush), the jokes about "the president" are just a little to "easy-way-to-a-laugh" for an otherwise smart, funny play. Second, while gay couples being portrayed on stage is now only shocking if they AREN'T included in a modern script, the otherwise interesting dynamic created by the situation the two men are in is marred by a perilously close-to-stereotype of one of the pair - think of a swearing cross between Felix Unger and Niles AND Frasier Crane. And finally, the build up to the ending is simply thrilling, and ultimately gasp-inducing, but it could stand to be a little less pat - all of the strings (no pun intended) are a little too neatly tied together all at once. Still, these are very minor quibbles in comparison to the overall mastery of the script's language, pacing and thematic structure.
One has come to expect excellent production values and fine, professional acting at Everyman, but this production really kicks all expectations up a notch (or four). It is superb in all aspects - design, direction and acting. In a giant departure from Everyman's previous proscenium style stage/seating structure, the space has been reconfigured to in-the-round. With this play, it gives one the sense of being able to look in at a very top-secret lab experiment, and also of participating as the audience the quartet performs for - a nice touch which only adds to the themes and lends an interesting intimacy to the evening. Mr. Vreeke's direction mirrors the script - his staging and pacing of the dialogue are like watching each note on a sheet of music come to life. Each step, each placement, is carefully constructed to help the flow and to guide the audience's eyes, and to abruptly stop it as well - music has rests, after all. Just like the musical geniuses they play, the actors move with a combination of grace and almost stealth as they and the play give and take.
James Kronzer's set design is gorgeous, again both simple and complex. A beautiful pattern of inlaid wood and elegant framing over the audience at once evokes a simplicity and an intricacy, matching Beethoven's music. The set is stunningly lit from all angles, including the floor, giving an almost art-like quality to the deliberate (and subtle) stage pictures created (lighting design by Jay Herzog). Each careful arrangement of chairs and music stands offers a sweet variation on a theme. And much kudos must be given to sound designer Chas Marsh and sound operator Andrew Gaylin who flawlessly recreate on cue (there must be literally a thousand cues) a string quartet at various levels of performance, from warm up to rehearsal to performance. (Music consultant Teresa Perez must also be given credit.)
All of the most beautiful design and direction in the world would be of little good without a top notch cast to execute the play. Again, Everyman has lived up to its sterling reputation in this regard, featuring a near-perfect cast of five, who clearly love what they are doing, and the chemistry - the "it" factor, if you will - that is impossible to describe and nearly impossible to force into creation is evident between every actor. The cast features only one Everyman resident actor, Kyle Prue, who gives a completely unaffected, realistic and charming performance. His role is often called upon to be the middleman and Prue delivers a nuanced character that could have easily been a bore or a stereotypical manipulator (many actors in this situation take that route whether the script dictates that necessity or not). Instead, he is funny and deep - a fascinating combination. As Carl, the easy going member with a painful secret (when revealed on opening night, the gasps and instant empathy were loud and palpable) Stephen Patrick Martin also gives a delightful performance. Like all of the best actors, both he and Kyle Prue let their faces do a lot of the work. So much is said by both actors with a simple glance, reminding me again how great live theatre is. Sharing those quiet moments live offers a thrill unparalleled.
The other two original members of the quartet, Elliott and Dorian, closeted lovers for years, are played by Peter Wray and Karl Kippola, respectively. While it really comes as no surprise that they are revealed to be lovers, aside from the slightly stereotypical hissy fits and neat-freak nerves Elliott displays, this gay relationship is presented to us in its decline. This device is cleverly and realistically integrated in the script by Hollinger, who, thankfully, doesn't further weigh things down by having one of them ill with AIDS, but rather depicts the unraveling of the relationship with a complex and completely relatable set of issues - for once, you don't have to be gay to get this. Dorian could just as easily be a woman, for example. Kippola is mesmerizing as he slowly doles out every layer of his character - so slowly that like a mouse with cheese in hand, the audience realizes that they have been caught off guard in his subtle, deadly serious game of manipulation. Wray, saddled with the more stereotypical role, makes the most of it, even his hissy fits (most thankfully) are controlled and at least interesting. And in the final scene he is absolutely riveting.
The find of the evening, though, is the young actress playing Grace, McKenzie Bowling, who makes her Everyman debut with Opus. She acts with such subtlety and, well, grace, that it is hard to take your eyes off of her for fear you'll miss anything she does. She is masterful in her vocalization - her pauses and breaths are just as poignant as the words she speaks. Bowling is so honest and real in her performance you never for a second feel as though she is acting, let alone reciting learned lines. Her name is one we are certain to see again. Brava!
Certainly, this is one of the best evenings I've spent at Everyman this year; and what an auspicious start to the new season. You will not want to miss this compelling, thrilling evening of theatre. Music lovers, theatre lovers and anyone with a deep passion for something they love would do well to attend Opus.
---


Disconnected Four
New Play Explores The Ugly Inner Workings That Make Beautiful Music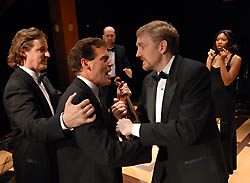 Opus
By Michael Hollinger
At Everyman Theatre through Oct. 15
Week after week of any creative collaboration can reveal anybody's inner jerk. Someone who is a big talent and a medium jerk can be tolerated, a medium talent and a big jerk easily booted out. The problem comes when someone is a big talent and a big jerk or a medium talent and a medium jerk. What do you do then?
That's just one of the questions raised by Michael Hollinger's new Opus, now in a sparkling production at the Everyman Theatre, but it's the question that drives the plot. The play's string quartet is the perfect vehicle for examining this question, because this chamber-music group is a democracy with no arbitrating leader. There are only four middle-aged men--each sitting in a black wooden chair on the set's handsome tan-and-chocolate parquet floor--who argue over every decision about repertoire, tempo, and phrasing.
Then one day there's a disagreement that can't be ironed out, and there are only three middle-aged men. Opus actually begins in the middle of the auditions to replace the dismissed violist, and the best candidate turns out to be a young woman fresh out of the conservatory. The three longtime members communicate in their own shorthand of jokes, insults, allusions--a language so opaque that Grace (McKenzie Bowling) doesn't even understand that they're offering her the job. When, after some comic confusion, she accepts, she's told that the quartet has one week to learn Beethoven's notoriously difficult Opus 131 for a command performance at the White House.
Once rehearsals begin, Grace learns the quartet's rituals in concert with the audience. She also learns the group's tangled history, presented in flashbacks. Dorian (Karl Kippola), the fired violist, was the group's biggest talent and biggest jerk, and his dismissal came on the heels of his romantic breakup with Elliot (Peter Wray), the first violinist. Cellist Carl (Stephen Patrick Martin) has been struggling with cancer, and Alan (Kyle Prue), the second violinist, saw his marriage break up over his habit of indulging chamber-music groupies.
Bowling, a recent UMBC graduate herself, captures the awkward tentativeness of a young unknown suddenly thrust into the midst of famous artists. She has trouble finishing a sentence without apologizing and starting over; she never criticizes another musician except to agree with someone else's criticism.
Her posture is slightly crouched as if expecting a blow, her hair is pinned up with chopsticks, and her thick glasses keep sliding down her nose. When she finally lets down her hair, takes off her glasses, dons a strapless black gown, and speaks up forcefully at the climactic concert, it's an ugly-duckling transformation that makes for a terrific moment.
Hollinger, who studied viola at the Oberlin Conservatory of Music, knows the inner workings of a string quartet well enough to convince us that we are kibitzing on actual rehearsals. He's also an accomplished playwright who frames his aesthetic and philosophical questions in a plot that keeps moving forward and in characters whose talent and jerkiness feel equally real. Hollinger has premiered six different plays at Philadelphia's Arden Theatre, and one of them, Red Herring, came to Everyman in 2003. That was an entertaining but slight spoof of film noir, and Opus is a far more ambitious and successful work.
When Dorian and Elliot recall the first time they played a Bach duet in music school, their description of the music becomes threaded with double entendres. It's a stylish, witty piece of writing, and it makes clear how easily art and sex get entangled. Ditto the way the recently divorced Alan, played with bounding, boyish enthusiasm by Prue, starts flirting with Grace, even though he knows it's not the best idea. He just can't help himself.
Kippola and Wray play Dorian and Elliot as one of those couples who love the differences between them at moments of passion and can't stand them the rest of the time. Kippola's Dorian is the irresponsible genius, voicing whatever irreverent thought flits through his brain, not caring how it affects anyone else. Wray pulls off one of the bigger stage challenges: He portrays an irritating, unlikable character so vividly that we can't ignore him, even though we'd like to.
Hollinger aspires to a play like David Auburn's Proof or Michael Frayn's Copenhagen, where the personal and professional relationships in a rarefied field fuse the emotional and intellectual themes into a single catharsis. Opus' ideas and characters aren't quite that hefty, but it's a delightful evening just the same, thanks to a terrific cast, John Vreeke's able direction, and the gorgeous music, prerecorded by the Vertigo String Quartet.
---
September 5 - October 15, 2006
Opus



Running time 1:35 - no intermission
t A Potomac Stages Pick for enormous intelligence in exploring the art of making music
A Potomac Region premiere




The essence of Michael Hollinger's play, which is receiving a captivating Potomac Region premiere, is an examination of collegial creation. When the objective is artistic expression, how do multiple individuals reach a consensus on every aspect of a performance? The play begins with an exchange of definitions of a string quartet. Some are simple dictionary definitions ("a group of four musicians") and some are frivolous attempts at humor. One, however, sets the tone for the play. "Four instruments played by a single bow" is the goal of the members of the fictitious "Lazzara Quartet" (An in joke? The script has the group named for the historic instruments they play, but there is a Jamie Lazzara currently making soloist-quality violins in Italy.) The actors who perform as the musicians in the quartet have something of the same task as their characters. While they explore the magic of collegial creation of the musical type, they have to accomplish a collegial performance of the dramatic type. Under John Vreeke's intelligent direction, they accomplish their goal.

Storyline: Three members of a successful string quartet have dismissed the other member of the group and are auditioning candidates for the post. Simultaneously, they are preparing for a performance at the White House which will be telecast to the largest audience they have ever reached. They find a replacement and select Beethoven's String Quartet No.14, Opus 131, one of the most challenging masterpieces in the cannon of chamber music. As they rehearse for the performance, the characters of the five - the three continuing members of the quartet plus the replacement and the replaced - are tested by professional and artistic stresses.

Mr. Hollinger is a classically trained violist who traded playwriting for music making, and is best known for An Empty Plate in the Cafe du Grand Boeuf which was a Potomac Stages Pick when it was produced at the Washington Stage Guild earlier this year. That bright and literate comedy/fantasy shares the strengths of storyline and precise language with this newer piece. This script, although it pursues a much more serious theme, is not devoid of humor. Indeed, it is the sharp exchange of barbs and the occasional ironic aside that gives this examination of serious subjects such vigor, vitality and a sense of personal truth. These are intelligent, determined people dealing with issues that are of supreme importance to them, sometimes through humor but more often through honest and impassioned argument. Not only do they face major artistic and professional challenges, each faces a personal crisis. It is a tribute to Mr. Hollinger's skill at play structuring that these crises seem the natural state of affairs for five mature, successful artists rather than mere convenience for the playwright. In the process, he gives us a very rare insight into the process of artistic creation. Anyone who has ever marveled at the unity a group can achieve when the performance of a complex work is at its best will find incidents, comments and revelations that resonate beautifully in this work. Hollinger avoids any hint of a lecture on musical appreciation, however. This is pure entertainment. He does make a small slip when he has one musician praise the acoustics of the Concertgebouw in Amsterdam saying "play a chord there and it goes on forever." Such a long delay time might help a symphony orchestra but would pose a frustrating problem for the precise interchanges of a string quartet.

Everyman's cast is superb, each establishing and then developing a distinct personality, and each reacting to the others in a complex, multi-layered display of dramatic styles. Peter Wray gives the lead violinist a brittle metallic veneer which plays against the sharper, hurt and defensive posture that Karl Kippola uses as the dismissed violinist who shares more than a professional history with him. Kyle Prue lends a more earthy and world-wise sense to the member whose divorce is a result of his yielding to the temptations of the one-night stops of lengthy world tours, while Stephen Patrick Martin slowly builds his role in the ensemble from supportive foil to major mover in measured steps. McKenzie Bowling mixes up the all-male group with her arrival both as an actress among actors and as the female violinist who wins the open slot in the quartet. Wray has one moment that sums up the passion musicians seek in performance when he reacts to Bowling's statement that she'd never played the Beethoven work before. The look on his face before he delivers the line "How I envy you!" says it all.

It seems almost pre-ordained that this play about a quartet should be staged on a square performing space with the audience on all sides. It is a four-sided battle of wills with one side shifting between the dismissed Kippola and the newly hired Bowling. There are times when James Kronzer's elegant wood flooring set seems most like a boxing ring and others when it seems most like a concert hall. He adds touches that enhance the image at key points including suspended ceiling frames that expand the visage, and recessed fixtures in the floor to accommodate some of lighting designer Jay Herzog's effective touches. Properties designer Liza Davies had the unenviable duty to come up with not only some lovely looking musical instruments which would be handled with loving care during the performance but one that would have to suffer an indignity which will not be disclosed here. She acquitted herself admirably. More than light, set or costume design, however, this play is most vulnerable to any deficiencies in sound design. It is a good thing, then, that Everyman has as its resident sound designer Chas Marsh, and a sound system that could reproduce the performances of the real-life Vertigo String Quartet recorded for the play's world premiere at the Arden Theatre Company in Philadelphia. The result was nearly flawless.

---

WASHINGTON TIMES
• Opus — Everyman Theatre — ***1/2. Violinist turned playwright Michael Hollinger's genteel and involving play about the inner workings of a string quartet gives a tantalizing glimpse into the insular and emotionally combative world of a famous ensemble as it prepares for a televised performance at the White House. Directed with sparkling musicality by John Vreeke, it may not blow you away with bombast, but its expression of fine feeling and unseemly outbursts are delicately moving. Through Oct. 15 at 1727 North Charles St., Baltimore. 410/752-2208. — Jayne Blanchard