---

Review by Elizabeth Bruce
February 14, 2013

Theatre J's whip-smart production of Mamet's 'Race'
is the go-to production for the unflenchable among us.
In Theatre J's production of David Mamet's blistering play,
Race
, the known and the unknown ricochet around the stage faster than a speeding arbitrage. The firm of attorneys Jack Lawson (who is white) and Henry Brown (who is black) has just been approached by a prospective client, the wealthy, white Charles Strickland (played by Leo Erickson), fresh from his rejection by previously sought counsel. Accused of raping a young black woman, Strickland bears eerie, if not absolute, resemblance to French politician Dominique Strauss-Kahn and his notorious sexual assault charge of similar ilk, although Mamet's play was written before that scandal broke.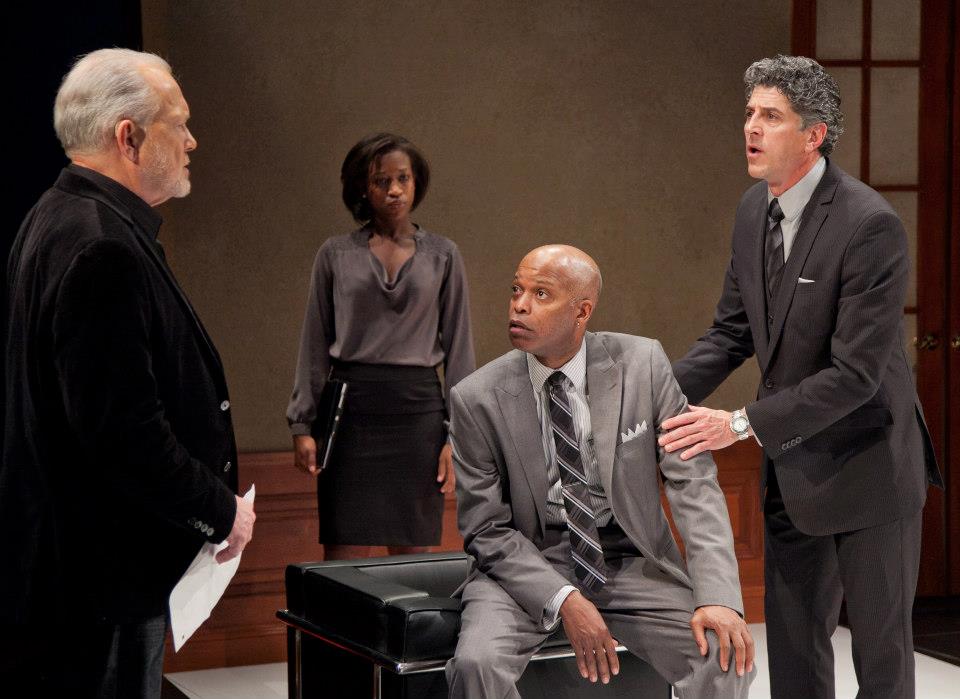 Jack (played by James Whalen) and Henry (played by Michael Anthony Williams) are reluctant to take Charles on as a client since the evidence, plus the race, class, and gender volatility of the situation all point to his guilt—or, more importantly, to his case being unwinnable. The firm, after all, is ultimately most concerned with their bottom line, and winning cases is their path to prosperity. "I tried being poor," Jack says. "I didn't like it."
Into this male triad enters Susan (played by Crashonda Edwards), a promising young African-American lawyer recently hired by the two-attorney firm. To her, we presume, will fall the task of illuminating the gender and race complexities embedded in this entangled web. The law, however, is much more complicated than that. "There are no facts about the case," says one of partners, echoing Nietzsche. "There are two opposing fictions."
Mamet does not burden us with case law—Race is not a crackling, four-letter-word version of Law and Order. What he gives us are the visceral, unspeakable undercurrents of the personal and the political that so divide us as a people.
Under Director John Vreeke's incisive direction, Mamet's scorching intelligence litters the stage with insights, confessions, and truths. Guilt and shame. Shame and guilt. Black and white. Woman and Man. All swept up in an incendiary dance.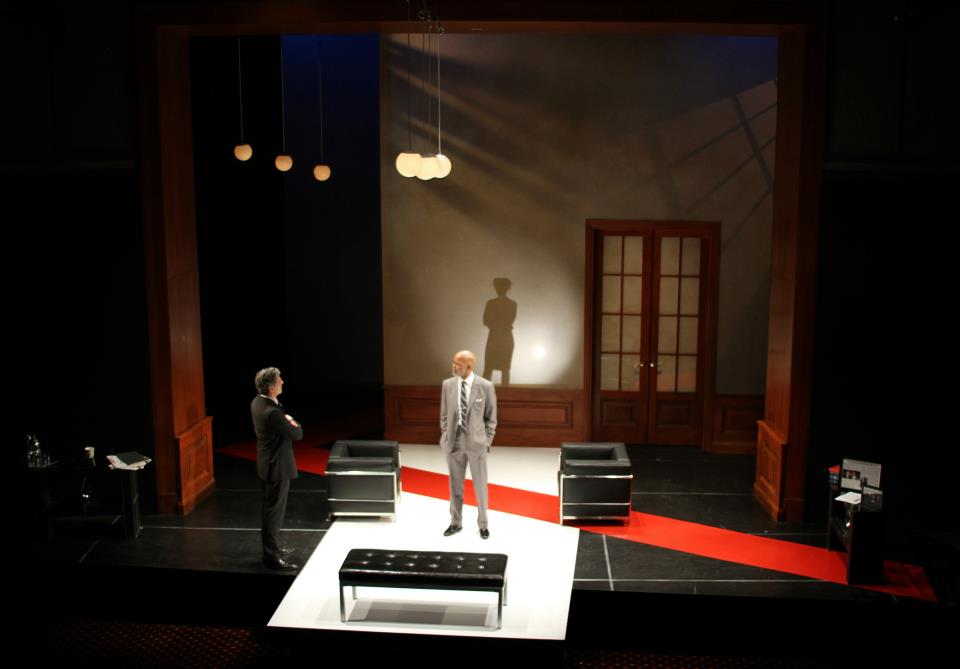 With mesmerizing nimbleness Jack and Henry crisscross the stage. Lean and tall, their gray gabardine suits swaying like silk, they are boxers, punching the air with legal arguments. Here a right hook of language, there a cross of logic, an uppercut of evidence lacking, they churn the law into a sweet science of strategy against their odds-on favorite foe: a guilty verdict for their client. Whalen gives Jack a swaggering, cynical certainty that decimates those in his way. "People are stupid," he tells Susan. "I don't think blacks are exempt." Williams' Henry is a velvety-smooth, acidly-funny crash course in candor. "Do all black people hate whites?" he poses to Charles. "Let me put your mind at rest. You bet we do."
Costumed by Erin Nugent, Whalen and Williams look every ounce the prosperous attorneys at law, pristinely groomed from the shine of their shoes, the argyle of their socks, to the shimmer of their designer ties and the salt and pepper of their hair—be it wavy or sparse. Indeed, only the extraordinary physical precision of Whalen and Williams belies their profession as actors. Our disbelief is utterly suspended, and we the spectators—veterans that we are of countless legal dramas—watch this bruising, sometimes wickedly funny match of legal wit with twisted interest. Is the client guilty? Is he not?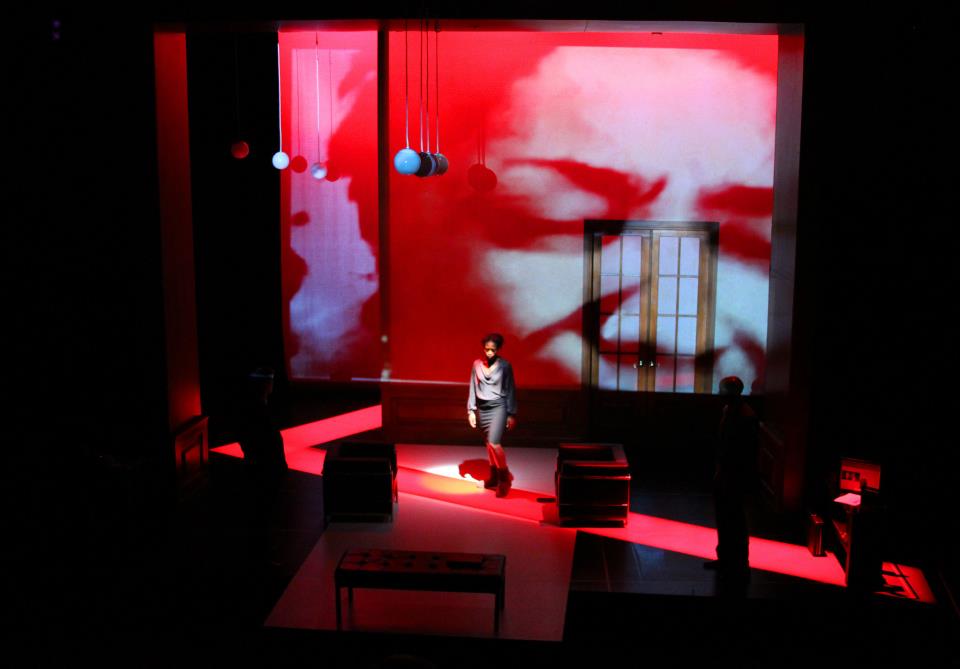 While Jack and Henry work the stage, Erickson's Charles, stands firm, rooting himself upstage or down, immutable, it seems, trapped in the labyrinth of his own presumptions: he is innocent. Erickson gives Charles the almost off-hand, arrogant demeanor of a man whom "no one has said no to in 40 years."
So too does Edwards' Susan hold herself still onstage, watching, arms crossed, her countenance the essence of skepticism: Charles is guilty. Edwards plays Susan with resolute clarity. The law is about justice, she asserts, while her bosses and the audience—sprinkled as it is with attorneys—scoff. But it is Susan who delivers the counterpunch of the evening, one certain to enliven post-show discussions for weeks.
The production values at Theatre J, as usual, were crisp and high. The minimalist, lawyerly sets by Misha Kachman; the uptown, late-in-the-day lighting design by Andrew Griffin; the sound design by Chris Baine; and the properties design by Becca Dieffenbach established well the impeccable interior of a successful small law firm. Shadowy projections at the top of the show by projections designer Jared Mezzochi bespoke the Jungian anima/animus to come, and the costume design by Nugent cinched the roles of each of the characters.
In a metropolitan area where one out of every eighteen residents is a lawyer, and the fissures of race, class, and gender are a subtext like no other, Theatre J's whip-smart production of David Mamet's Race is the go-to production for the unflenchable among us.
Review by Elizabeth Bruce
---

Review by Lisa Traiger
Arts Correspondent
February 13, 2013
Race, racial stereotyping and prejudice take a back seat
to the question of veracity. Somebody - or everybody - must be lying
There are no shades of gray in David Mamet's provocative legal drama Race, which deals with guilt and innocence, truth and fabrication, in black and white. For Mamet, race is everything in a case concerning a wealthy white man accused of rape by a black hotel housekeeper. That Mamet's 2009 drama predates the sordid, real-life headline grabber, when the former International Monetary Fund managing director Dominique Strauss-Kahn was accused of the same crime and then slipped out of the country, is nearly beside the point. In Theater J's deftly realized production, on stage at the Washington, DC Jewish Community Center's Goldman Theater through March 17, race is the lens through which every moment, every action, every statement is viewed. It's a daring construct, and in a rousing 90 minutes of snappish dialogue and biting barbs takes the audience on a wild ride.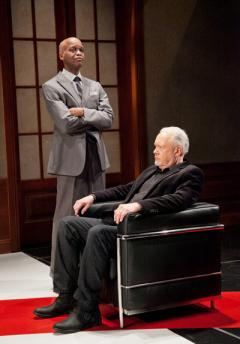 To write compellingly about race in this so-called post-racial era - when a black man occupies the White House, on the one hand, but, on the other, one in 15 African American men are incarcerated, compared with one in 106 white men according to the nonpartisan Center for American Progress - is a challenge of the highest order. That one-time liberal Mamet has taken up the mantel of truth teller on the nearly off-limits topic of racial politics is, in itself, intriguing. The former darling of the left-wing theater and Hollywood crowds, anointed for his earlier works, which seemed to take down the establishment or the status quo, Mamet has taken an about-face in recent years, realigning himself on the right. These days whether he's talking about Israel or education or taxes, he's solidly ensconced in the conservative camp.
In Race, two law partners sling barbs back and forth before their would-be defendant Charles Strickland, none too worried about his guilt or innocence, but highly concerned about the benefit and pitfalls of taking his case. Mamet unleashes his usual R-rated epithets and insults, made more powerful by the force of his preference for staccato dialogue and over-talking that transform the conversations into tightly wound realism, fed by the dynamism and tension-filled patter of the characters.
Director John Vreeke sets up the sparring nicely on designer Misha Kachman's chrome-leather-and-wood law office, overlaid at the start with Jared Mezzocchi's collage of historic photographic projections.
Sometimes lawyers Jack and Henry face off, other times they circle each other in a boxing ring. That they're on the same side in the long run makes the verbal dueling more intriguing as they pepper both their prospective client and their neophyte assistant with questions and demands. The kicker for Mamet is that one lawyer, Jack (James Whalen) is white, the other, Henry (Michael Anthony Williams), is black, as is new-hire Susan (Crashonda Edwards).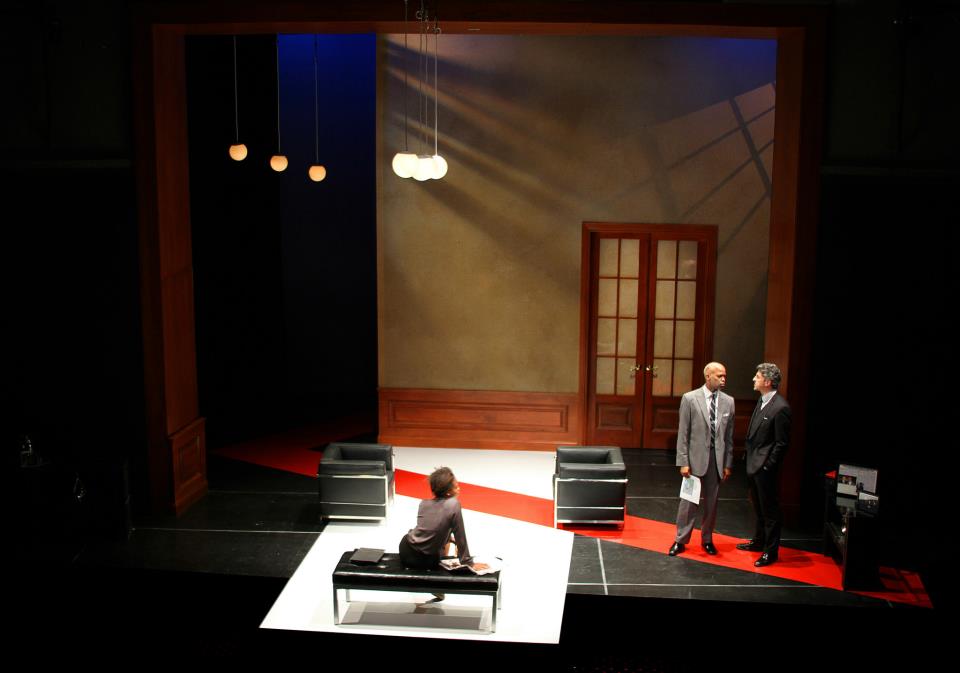 In Mamet's setup, race matters, really above guilt or innocence. When Brown confronts Charles early on he's perfectly blunt: "There's nothing that a white person can say to a black person about race which is not both incorrect and offensive. Nothing." And there you have it. The crux of Mamet's play in a nutshell.
Yet, by the end, race, racial stereotyping and prejudice take a back seat to the question of veracity. Somebody - or everybody - must be lying, otherwise this predicament couldn't stand. Mamet leaves questions of racial politics and truth in a tangled mess. He has, Race suggests, his opinions, but wants to let the audience work through the knotty dialectics of what race means and how it affects us in early 21st-century America.
Theater J has tackled Mamet, the late-20th- and 21st-century playwright poet of the downtrodden - those schemers, committers of misdemeanors, the half-forgotten and the oft-ignored. He ignites their dialogue with language so fiery it might even make Rahm Emmanuel blush. (Well, maybe not.) In Glengarry Glen Ross - coincidentally playing at Round House in Bethesda - Mamet did the same with salesman, but to more stunning effect. His Speed-the-Plow - seen at Theater J six seasons back - took on Hollywood deal makers.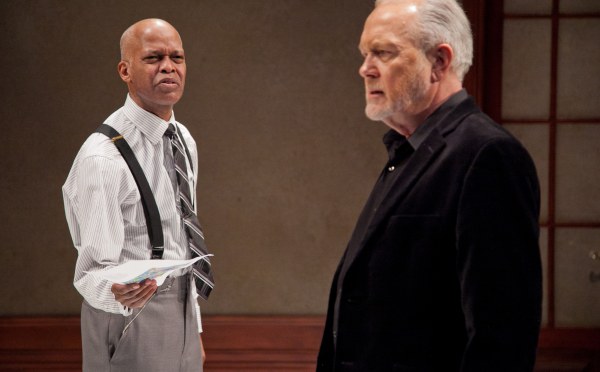 No matter where Mamet sets his characters down, they do best in the verbal boxing matches he contrives. Unfortunately Mamet consistently gives his female characters short shrift.
He does the same here in Race with Susan, who at first is a cipher, but ultimately insinuates herself becoming the instigator for much of the conflict in the 90-minute work's climax.
It's difficult, though, to like what Mamet does for and with his female characters. He just can't do them justice - they end up being called schemers, connivers, liars, would-be prostitutes or worse. To say the playwright has a misogynistic streak is an understatement.
Is Mamet a racist, too? It's hard to say. That he willingly took the bait and put race on the table suggests maybe he's not. He did, after all, grow up in a nice Jewish home on Chicago's South Side. His dad, unsurprisingly, was a lawyer and maybe those memories triggered this legal drama. In Mamet's world, no one gets a pass.
Review by Lisa Traiger
---

Review by Peter Marks
2/14/201
3


Vreeke applies an appropriately slick veneer,
reinforced in Misha Kachman's shiny office set
The distance between Round House Theatre in Bethesda and Theater J on 16th Street NW is only about seven miles, yet at the moment, that trip covers a large patch of David Mamet's polarizing career. Round House has on its main stage a revival of "Glengarry Glen Ross," the 1984 play that cemented his reputation and won him a Pulitzer Prize, while Theater J is featuring the regional debut of "Race," a 2009 drama that some observers have pointed to as evidence that one of America's premier playwrights has descended from scathing portraits to mere screeds.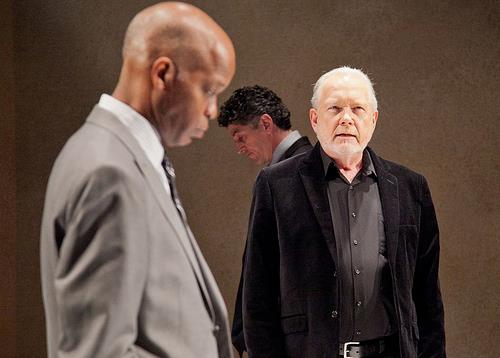 You can take in both of these decently handled productions and judge for yourself. It's the all-too-rare instance of programming alignment; I'd have rented a fleet of jitneys to run between the theaters and called them the Mamet Shuttle. On this occasion, the shuttling between pieces written 25 years apart does make plainer a great dramatist's disappointing narrowing of vision and growing tendency to hector his listeners rather than enlighten them.
The particular shame in this case is that Theater J's "Race," directed by the always even-keeled John Vreeke, is the shriller but tauter of the two evenings, featuring a quartet of strong portrayals by Crashonda Edwards, Leo Erickson, James Whalen and Michael Anthony Williams. They're all so commendably committed to the dramatization of this rather slender play — purporting to give the lowdown on racial politics as it pertains to the legal profession —that you wish they had a better distillation of Mamet's skills to work with.
"Race" is Mamet meets "Law & Order," and like most episodes of that long-running franchise, it is juicy and rife with plot twists — and almost instantly forgettable. Hinging on a broad-brush belief in a national tribal mentality, it's as unsubtle as the issue is complex (and even the title suggests a reductive treatment of the subject). A wealthy white man (Erickson) walks into a law firm that has one white partner (Whalen), one black partner (Williams) and a black associate (Edwards) and says he's in need of legal representation: He's been accused of raping a black woman.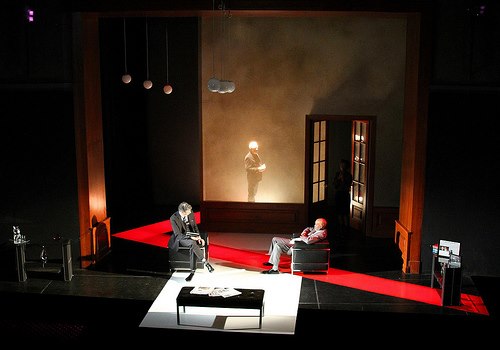 There's not a believably human character in sight. The playwright uses them as epigrammatic mouthpieces. "There are no facts of the case; there are only two fictions," Whalen's Jack says at one point. "Do you know what you can say to a black man on the subject of race?" Williams's Henry asks at another. "Nothing," replies Erickson's Charles.
"Race" goes on like that for 80 argumentative minutes, as Jack and Henry debate the pros and cons of taking Charles's case, and Edwards's Susan — depicted as the most agenda-driven and thus, in Mamet's estimation, the sneakiest — runs in and out of their office. She seems possessed of a briefcase full of ruses to try to influence the firm's decision and Charles's fate.
Vreeke applies an appropriately slick veneer, reinforced in Misha Kachman's shiny office set. On the other hand, Jared Mezzocchi's impressive projections, a montage of historical images of civil rights and other racial struggles, set up expectations for an incisive elucidation in Theater J's Goldman Theater — one that never transpires.
-
Review by Peter Marks
---

Review by Andrew Lapin
February 12, 2012
The stage action at times evokes a gladiator ring, with the lawyers swooping in synchronized semicircles around their client-prey before pouncing on his story's dangling loose ends.
Can you feel that white-hot bubbling of Conservatism in your gut? Can you smell that unmistakable, pungent aroma of angry men? It's David Mamet season in Washington, and the air is thick with chunky dialogue, whizzing through the Beltway like bullets from an unregulated firearm.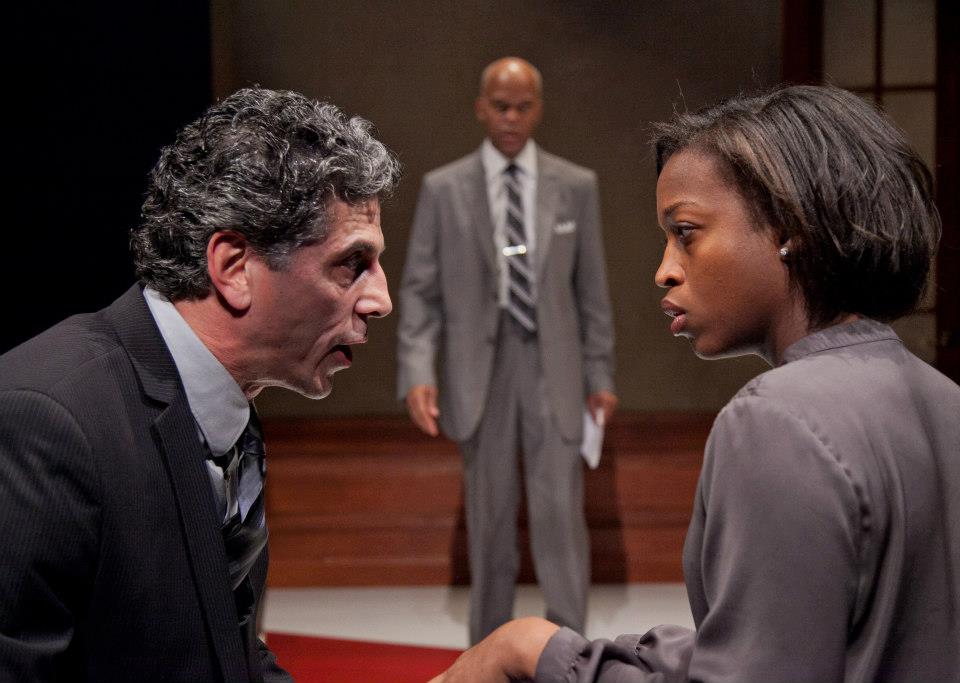 I
t is possible, right now, to attend two different Mamet plays within the Washington metropolitan area. In addition to the blistering new Theater J production of 2009's Race, the Round House Theatre in Bethesda has simultaneously mounted a stage for the playwright's Pulitzer Prize-winning Glengarry Glen Ross. But only one of these works is also the springboard for a weekend-long symposium on "Race in America" Jan. 16-17, featuring, among other voices, Washington's non-voting Congressional delegate Eleanor Holmes Norton and former Republican National Committee chairman Michael Steele.
A conference on race relations is a lofty thing to hang onto the coattails of any play. It's true that Mamet always aims for loft, but the decision to build such a program around a piece by the most powerful conservative white man in American theatre seems somewhat… obtuse. Equally so for Theater J to setadmission fees at a level that many will find prohibitively expensive, charging close to $100 for a member of the "general public" to experience both the play and the surrounding talks on race relations that purportedly concern the general public. The protagonists of Race would no doubt leap to some cynical conclusions here.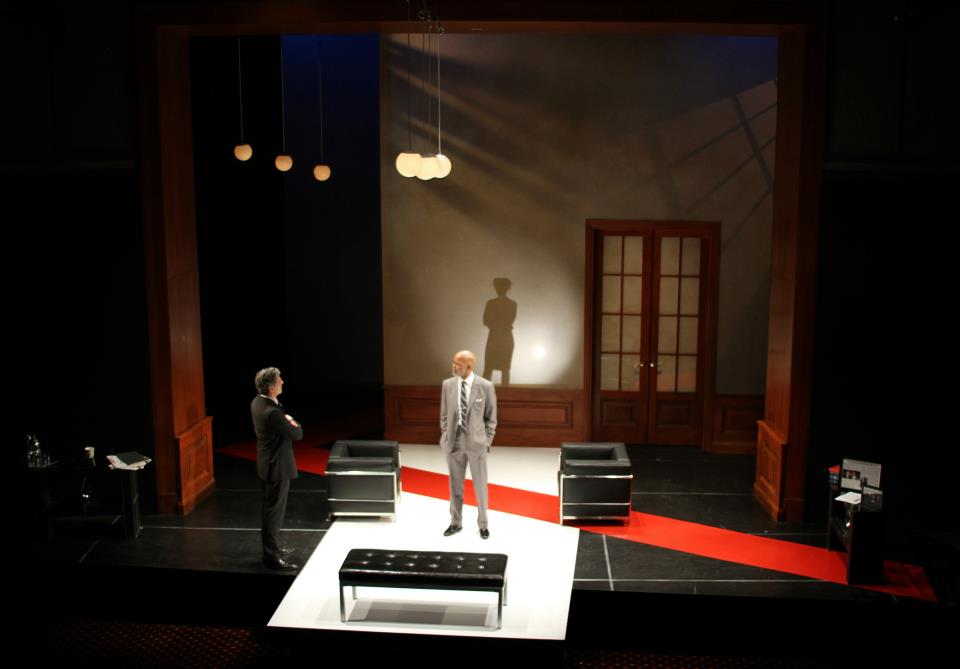 The play itself concerns a small law firm that takes on a high-profile case from a wealthy, powerful
client, seeking to defend himself from charges that he sexually assaulted a young woman. The client is white and his accuser is black, which means — as his very Mametian lawyers patiently explain in-between curse words — things aren't looking so good for him. But the client knows this, and that's why he went to a firm with both a white and a black attorney. The characters have names if you listen closely enough, but then again, why bother? In the audaciously reductive world of Race, skin is the only thing that matters.
What follows is a series of hypothetical legal arguments as the attorneys debate whether to take the case, cementing their own inherent prejudices in the process. James Whalen, as the white one, is smarmy and self-assured until he feels the earth shifting under his feet, while Michael Anthony Williams, as his fiery partner, strikes at points with furious anger. Drawing parallels to the case, the lone clerk in their firm is also a young black woman, who, as played by the steely-eyed Crashonda Edwards, is a spitfire of righteous guilt and anger, able at various points in the action to play both victim and perpetrator.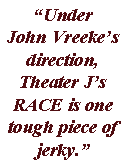 Under John Vreeke's direction, Theater J's Race is one tough piece of jerky. The stage action at times evokes a gladiator ring, with the lawyers swooping in synchronized semicircles around their client-prey before pouncing on his story's dangling loose ends. The color palette of the firm, heavy on the reds, whites and blues, is a sly joke — as is the framed photograph, visible only from up close, of the two lawyers shaking hands with President Obama. (Credit scenic designer Misha Kachman and lighting designer Andrew Griffin.) And the performances are uniformly excellent. Erickson, playing a daft man always several steps behind realizing how the rest of the world sees him, is a standout.
Vreeke also proves about as adept as one could hope for when it comes to his biggest hurdle: how to reconcile the two very distinct sides of David Mamet. As a dramatist, the man has an intoxicating love of dialogue that makes him consistently one of the most fascinating writers around. As a political and social theorist, he is a blithering idiot — his recent,absurdly argued case for a heavily armed society in Newsweek serving as only the most convenient example.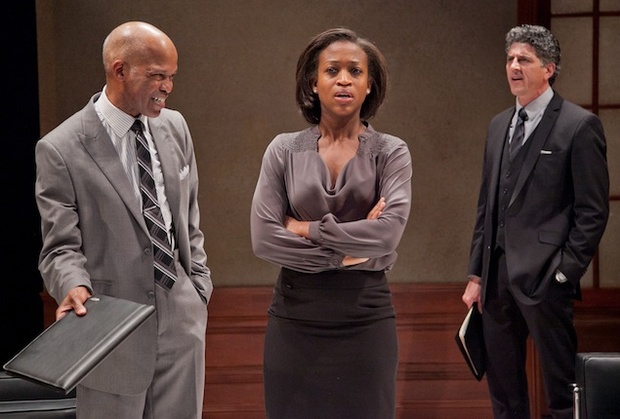 Race, for better or worse, spotlights both faces of Mamet — even as its characters argue over the facts and interpretations of their case, they still find time to sound off on affirmative action (they don't like it) and employ stereotypes as legal arguments (because, see, they're true sometimes!).
The idea that Mamet, of all people, has enough perspective and passion on the issue of race to attempt the definitive play on the subject is, at a basic level, absurd. Under Vreeke's smartly torqued-up direction, as the actors leap into cushy chairs, storm in and out of doors and wave documents around frantically, the title becomes satirical. In brief video sequences at the outset and the act break, supercuts of sensitive moments in racial history flash by at such velocity that the images, like Mamet's dialogue, become blurs.
Yet even after slyly (inadvertently?) pillorying the ideals Mamet holds dear, and producing a better play as a result, Theater J isn't done with the man yet. In early March, in collaboration with Round House, the company will host a"Write Like Mamet" contest, a chance for local playwrights to hash out their own five-minute scenes, in Mamet's style, as direct responses to Race. Good luck, local playwrights. Perhaps one day you, too, can anchor a symposium about both you and something infinitely more important than you.
-
Review by Andrew Lapin, DC Theatre Scene



---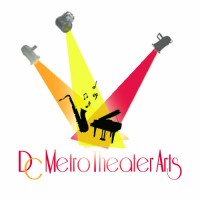 Review by Sydney-Chanele Dawkins
February 13, 2013



The astute direction of John Vreeke keeps the pace and unfolding structure of Race moving while maintaining a heightened sense of tension throughout


The Crime:

Rape. Or is it Race?
The Defendant:

Charles Strickland is a man who doesn't comprehend being told "No," and one who has never had to beg for anything. A wealthy, older white Executive with some notoriety, he is accused of raping an African-American woman in his hotel room. Strickland is ready to fight this criminal charge.
The Prosecution:

Evidence abounds. There is a statement taken from the chambermaid . . . , witness testimony from a married couple in the hotel room next door . . . and . . . a red, sequenced dress.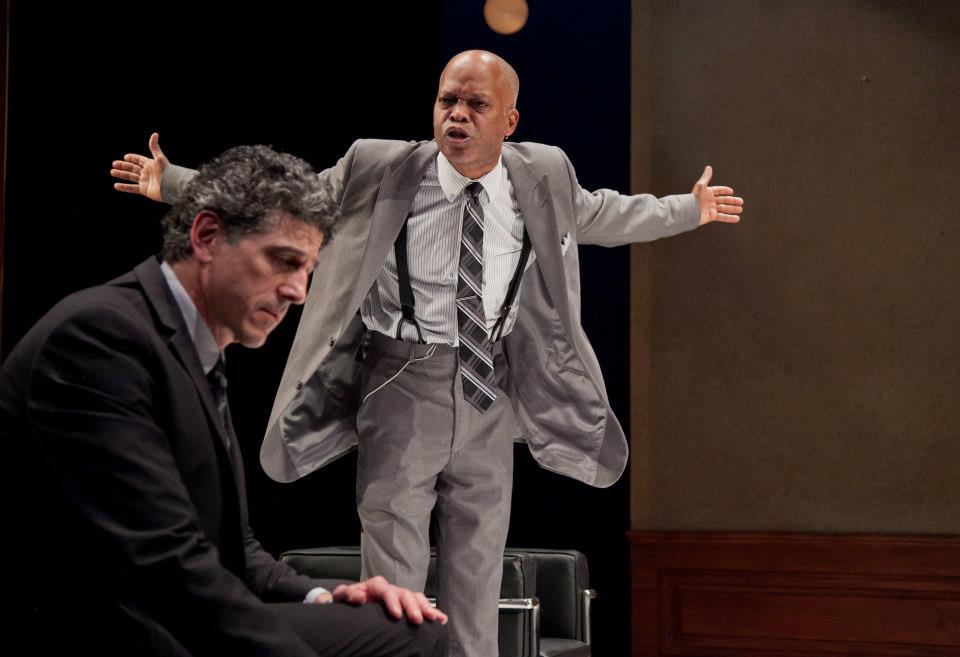 The Defense:
David Mamet's Race, the theatrical production currently playing at Theater J in Washington, D.C., is the fury of what happens when an accused man proclaiming his innocence, asks a boutique law firm of a black and white attorney to defend him, and how white privilege, racial guilt, stereotype insensitivity, and the blind ambition of the lawyers intersect. The lawyers utilize a tag team, attorney/client interaction to unveil the truth – or rather, to strategize and determine how and if this case is worthy of their defense. The four characters in this production find themselves in a quandary when a new lawyer gets overly involved, and the masked agendas and long felt opinions that smolder beneath the surface explode.
Is their client, Charles Strickland (Leo Erickson) lying to himself – as much as the lawyers' suspect that he may be lying to them?
The evidence, along with his protestations of innocence, set up a heated and frenzied debate of trust, shame, guilt, and the embattled relationship between blacks and whites and America's connected troubled past. Leo Erickson's solid performance on Opening Night was still developing into the defensive, self-righteous, heel with airs that we are led his character to be. The edge is there, and he's a little suave, but with Erickson, you know he's digging deeper.
The astute direction of John Vreeke keeps the pace and unfolding structure of Race moving while maintaining a heightened sense of tension throughout. Just when you think a situation has resolved its self, another incendiary confrontation or verbal twist is ignited. Jared Mezzocchi's projection design of African American images including lynchings, blackface, and the beating of Rodney King in between scenes, add flavor to the rancor and dissent exhibited among the four characters. The striking modern set design by Mischa Kachman and Andrew Griffin's lighting design makes a bold statement without deterring from the drama on hand.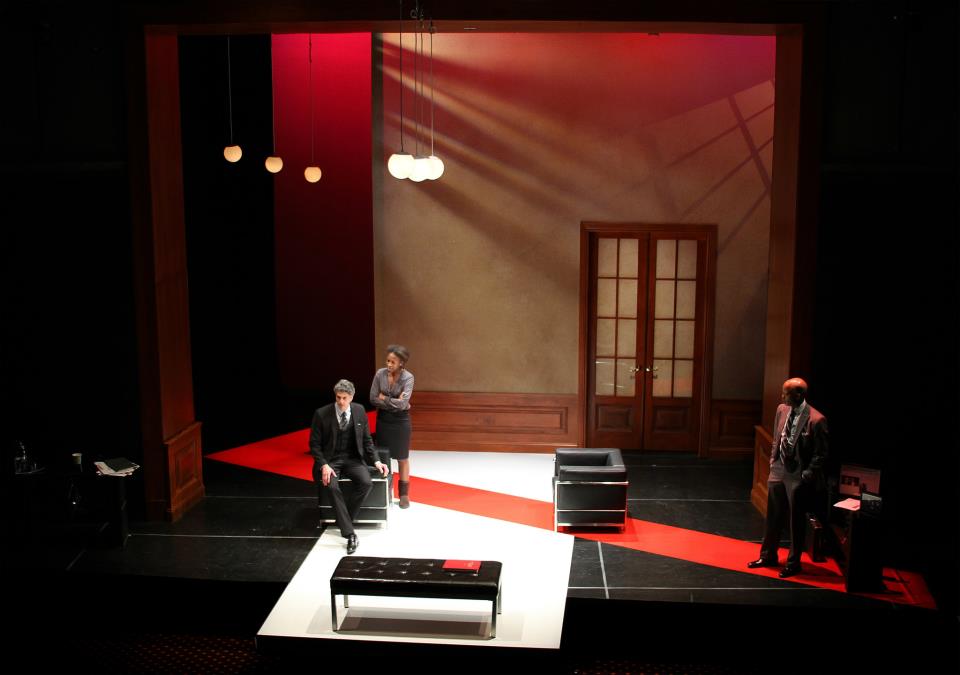 Race influences our perspectives and understanding of certain events in life.
This play attempts to challenge audiences and confront their understanding of the racial dynamics and myths concerning race. The audience quickly discovers Mamet's world view of justice, and law and order are the subtext that brings race to the forefront in this taut, blistering drama and challenging 80 minutes of theater play.
Michael Anthony Williams is quickly becoming one of my favorite actors in the D.C. area. When you see that Williams is listed in a cast, you can be certain that it will be a performance (and a production) that you don't want to miss. His performance last year in Bay Theatre Company's Master Harold . . . and the Boys left a lasting impression, memorable for the nuanced sensitivity and intense determination Williams captured with the Sam character. In Race, this impressive actor's palette of technique and talent is on full display as the black law partner, Henry Brown. Williams finesses the Mamet dialogue with skillful dexterity and emotional fortitude, and his ingenious display of humor perfectly situated at heightened moments when the audience needs relief from the verbal swordplay, is what he does best.
Both James Whalen and Jack Lawson, the smug, white law partner he portrays, are on top of their game from the opening moments when Whelan steps on the stage. As the most fully developed character, Whalen shines in the repartee interplay between the other characters – whether it's a tit for tat with his client Charles, or an employer relations showdown with Susan, the attractive, black, new hire that he's mentoring.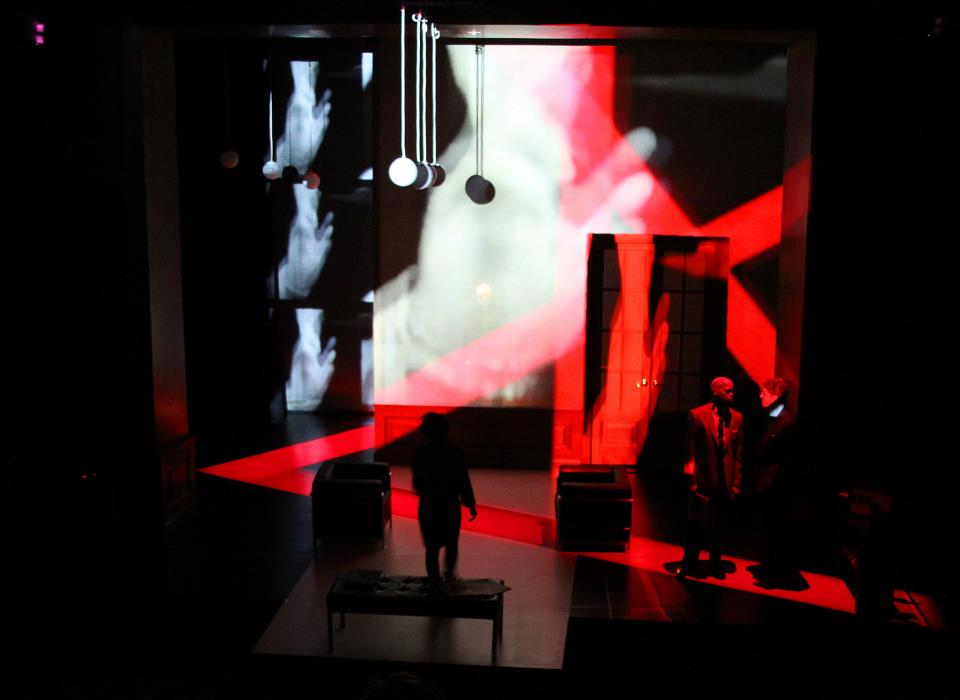 Crashonda Edwards (Susan) has a tough part. Edward's body language and controlled tones at different points throughout the play say one thing, but it's what her character says or perhaps more importantly what she doesn't say that reveals Susan's true self. Her character has certainly decided what side of the fence she is on in this racial legal saga, I would have preferred that this would have been more evident in her performance. To be fair, the Susan character is written with unbelievable identity motivations by Mamet.
While the Theater J Race ensemble is an engaging, recommended production, and speaking as an admirer of much of Mamet's past theatrical work, films, and film direction, I don't love this play. Race is personal, and so is Mamet's writing. As such, race – especially how it's presented in this play – reveals more than ever before, an evolving Mamet viewpoint that I don't much agree with or like.
The man has talent and something to say. A Pulitzer Prize winner for Glengarry Glen Ross, the way Mamet constructs dialogue and his flair for language is a highlight with any of his work. He is certainly entitled to write a play expressing his views on justice and race relations. But Race feels didactic, and a more honest and authentic discussion of race among the characters would have made this play resonate more powerfully for me as a theatrical production; instead it serves more as a conversation piece for how misguided Mamet's overreaching conservative themes are.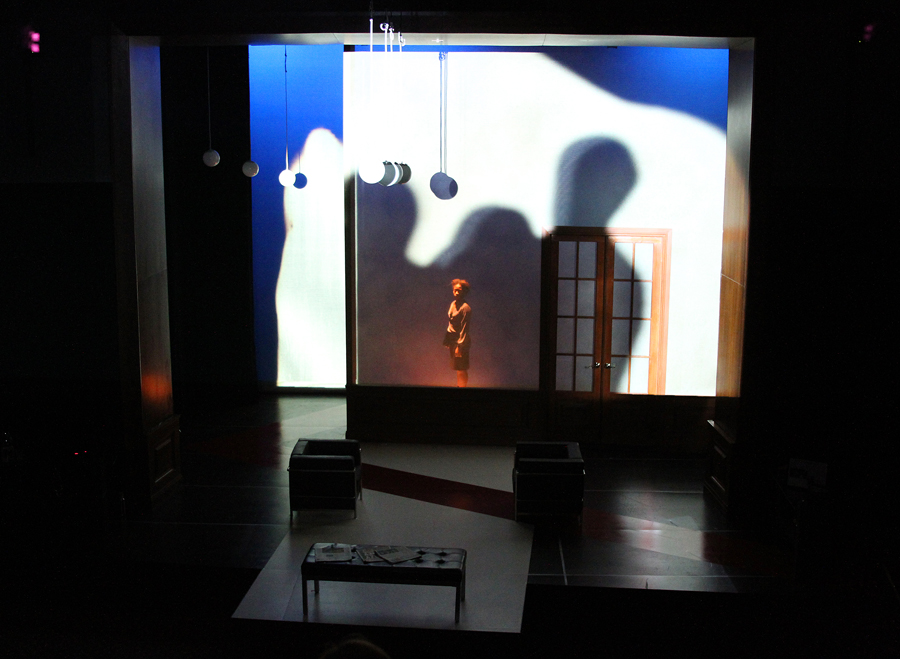 Mamet's oversimplifications on the complex African-Americans' perspectives of how race is viewed, is not as black and white as Mamet seems to believe. All black people most certainly don't believe that a white person can never talk about race to a black person and be right. This is a narrow Mametism that is mentioned twice in the play, and serves as a philosophical drive (along with white peoples' mistrust of blacks) as a foreboding undercurrent. To alienate and provoke for the sake of being provocative, without a thorough and genuine examination – as with many of the rapid fire exchanges in Race – is at best Mamet being trite, condescending, and self-indulgent. At his worst, it's hypocracy, plain and simple.
There's a line in Race, where Jack, the white lawyer, when asked if he thought that black people were stupid, says "I think all people are stupid; black people are not exempt." It's a good one-liner that drew laughs from the audience, but it just made me sad to think how many people might agree with that cynic nonsense. Have you ever noticed that rather than meaningful introspection, disillusioned or frustrated people tend to project their deepest fears and disliked personal traits onto other people? Thus, when they look at other people they often see the worst of what is in their own personality.
Misanthrope? Pessimist? You decide.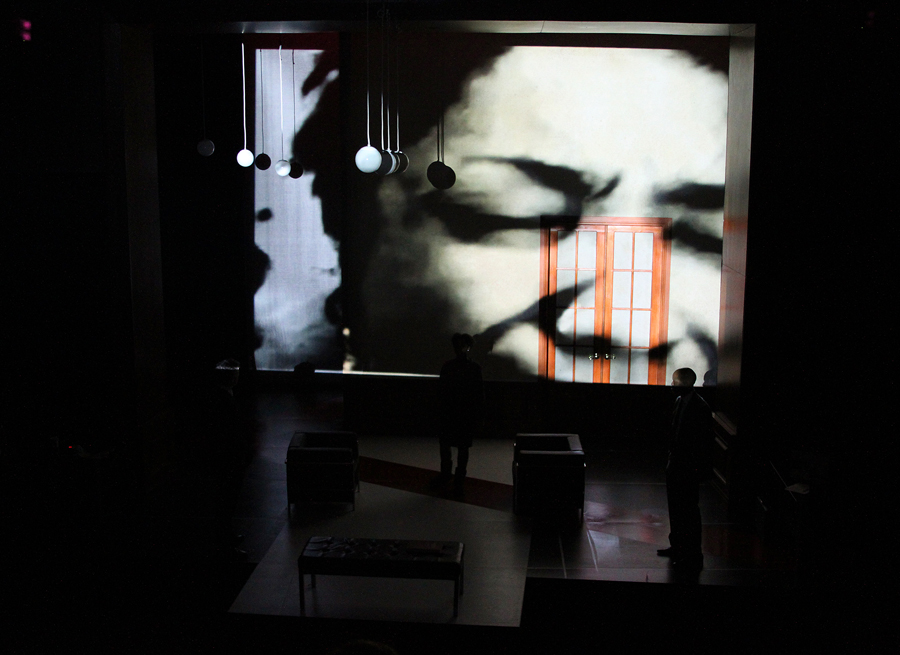 Kudos to Artistic Director Ari Roth and Theater J for coming up with the thoughtful and insightful "Race in America" Programming during President's Day Weekend (February 16-17) to tie in with the production of Race, curating two days of before and after the performance dialogues addressing the real issues and concerns involving America's oldest and most divisive issue.
What succeeds with Theater J's production of Race is the dedication among the actors to create believable characters and generate real chemistry – even when they are spewing lines that don't sound like the way real people talk. Vreeke's steady grip on controlling a vehicle that could quickly become unweildily in lesser hands is a gift.
What if we didn't live in a world of black and white?
How will the racial and legal spin in Race play out?
If one clings to the illusion that racism and prejudice isn't about you – (that it's something associated with other people) – then this Theater J production of Race reminds you how wrong you are.

-
Review by Sydney-Chanele Dawkins
---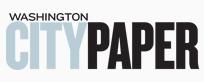 Review by Bob Mondello • February 15, 2013
John Vreeke's briskly authoritative production...was clear enough—
entrenched white male privilege battling perceived black entitlement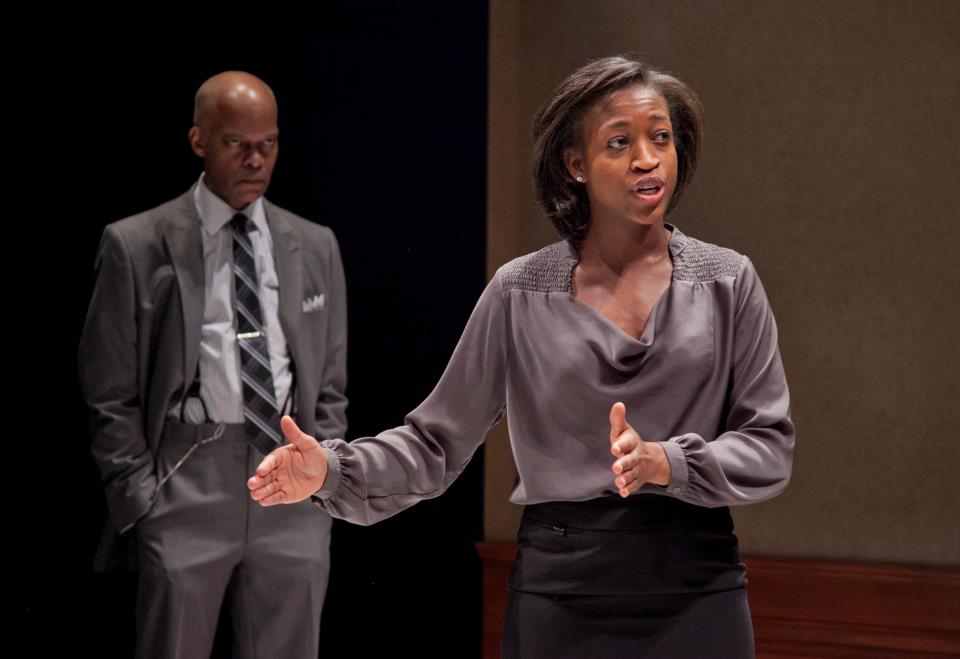 No contemporary playwright can match David Mamet for turning the stuttering, naturalistic speech patterns of ordinary folks into a revealing sort of street poetry. Give Harold Pinter his pauses; the stammer belongs to Mamet. The instant his characters begin backing up and restarting—which is to say, with their first onstage breaths—you know they're hiding something.
The legal eagles in Race are smooth, but in their practiced cadences, you'll still detect verbal tics suggesting hesitation and doubt. The problem this time is that Mamet has been annoyingly programmatic in how he's parceled out the arguments. Race tracks a series of attorney-client meetings in which a legal firm's partners—one black (Michael Anthony Williams), the other white (James Whalen)—debate whether they want to defend a wealthy white man (Leo Erickson) accused of raping a black woman. Also on hand is a freshly hired black honors student (Crashonda Edwards) who, being a woman in Mametland, can be counted on to throw monkey wrenches into their deliberations.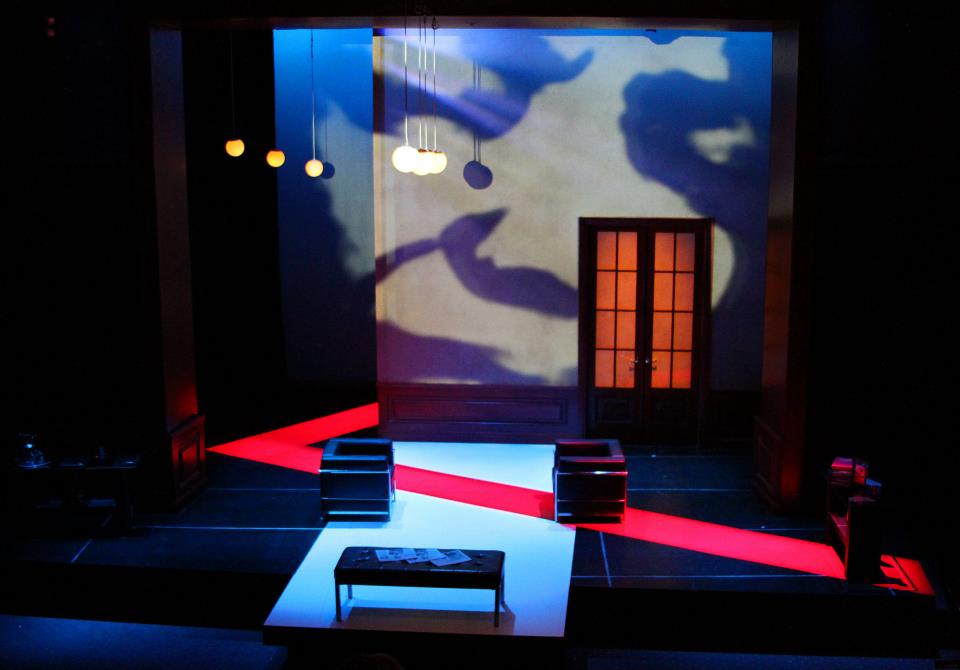 The case in this 2009 play is jaw-droppingly similar to the Dominique Strauss-Kahn affair of 2011, in which the International Monetary Fund managing director was accused of sexually assaulting a hotel maid. But while that lends the evening an initial frisson, what sustains audience interest is the legal wrangling, as the lawyers instruct on process ("there are no facts of the case, there are two fictions") and the defendant parses their queries with quasisurgical precision ("If I gave her money does that mean I paid her?"). At Theater J's final preview last weekend, the performances hadn't entirely jelled in John Vreeke's briskly authoritative production,but the essence was clear enough—entrenched white male privilege battling perceived black entitlement—in any seeming slip of the tongue, more than likely a snare to trap the unwary.
Onstage relationships neatly mirror the ones an audience can only hear about as the attorneys quiz their client about a hotel-room liaison where sequins flew. Still, walking position papers will never be as emotionally engaging as full-bodied characters. Perhaps as a consequence, in Race the characters' (and by proxy, the audience's) individual prejudice and hypocrisy seem less on trial than does a truth-obscuring legal system—hardly the provocation you'd expect from this particular playwright.


-
Review by Bob Mondello
---
---