---
Reviews: "Rapture of the Deep"


Balagan's Rapture of the Deep is Honest, Moving, Deeply Personal

Review by Matthew Echert
Arts Writer, posted 09/20/10
It isn't particularly often that the speaking-in-tongues, demon-obsessed, "I brake for the Rapture" subculture of true believers comes to be portrayed on stage. It's even less often that those portrayals evoke genuine empathy. Since it seems relatively safe to assume that the ranks of the serious theatre-making and the serious theatre-going contain relatively few serious religious devotees, it would be all too easy to take the low road, mocking the eccentricities of the faithful while ignoring their humanity.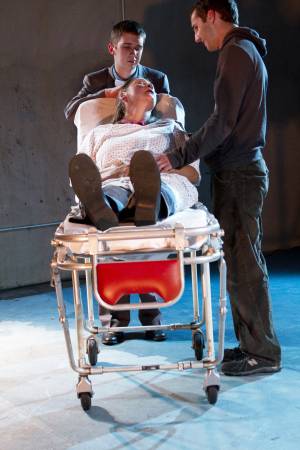 In his semi-autobiographical new play Rapture of the Deep, Seattle playwright and composer Eric Lane Barnes chooses to walk a fine line, gently poking fun at some of the absurdities of organized religion while simultaneously exploring the very real and universal human yearnings that drive people deeper into it.
The story unfolds in two different time periods separated by three decades. In the course of playing make-believe church, eleven-year-old Jimmy (Dylan Zucati) hears a heavenly calling and discovers he has an aptitude for doing the Lord's earthly work. Religion ceases to be make-believe and becomes a very real pursuit. (I can hear the skeptics among you snickering. Be nice.) Through either Providence or coincidence--it's largely left to you to decide which--prepubescent Jimmy gains a reputation as a faith healer. Alas, his faith is not enough to save himself from an early demise.
In the present, Jimmy's sister Wanda (Kris Mainz) has never been able to move past her grief over her lost little brother, twisting these feelings up in her relationship with her own son Guy (Bobby Temple).
To varying degrees, Uncle Jimmy's ghost haunts everybody in the show. Not really in a literal, "avenge thy dear father's death" kind of way. Not really in a theatrical, "the ghost isn't really there but exists merely to dramatize the character's own internal grappling with mortality" kind of way (à la Six Feet Under), either. It's more after the fashion of Crossing Over With John Edward: Jimmy's presence is an impalpable but perennially present force. Unlike Crossing Over, the ghost story that's central to Rapture is neither maudlin nor phony; it's honest, moving, and deeply personal.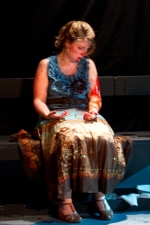 Guy and his best friend Bethany (Lauren Kottwitz) hold a makeshift séance over a candle and a can of Coca-Cola, to the great consternation of Bethany's born-again mother (Alyssa Keene), who takes it upon herself to bring Guy into the light and quite literally purge him of his demons.
The performances are mostly good, occasionally clumsy but unfailingly earnest. Lauren Kottwitz hits all the right notes as rebellious, sarcastic, but exceedingly charming Bethany. Alyssa Keene also shines with a nuanced performance in a difficult role, never letting her characterization slip into caricature.
Under the direction of John Vreeke, all of the cast do an admirable job of directing focus and evoking scenery on the necessarily spartan set.
Rapture of the Deep works hard to earn its moments of catharsis, and though it drags a little bit early on, the payoff is well worth the setup. The script is at turns touching and funny, though not without a few rough edges, as any new work inevitably has. Several scenes include beautifully sung hymns performed by the entire cast. These are also by Barnes, who is the Assistant Artistic Director of Seattle Men's Chorus. It's perhaps in these moments that Rapture soars highest. I found in them a reminder of the beauty and humanity of pure faith despite the occasional ludicrousness of its worldly manifestations. Undoubtedly, others with different experiences of faith and religion had different reactions to it than I.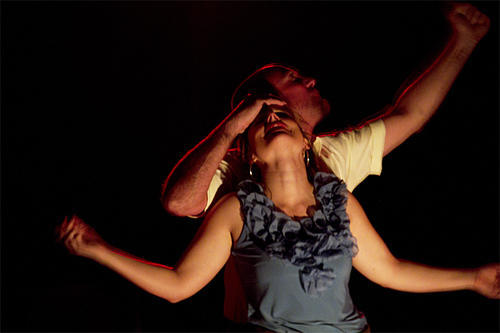 This is what makes Rapture a challenging, worthwhile production. It is a play that raises open-ended questions rather than making bold pronouncements, that strains to understand rather than seeking to impart. Its title refers to a term coined by Jacques-Yves Cousteau to describe the effects of nitrogen narcosis, a dangerous kind of delirium that sets in as divers descend deeper underwater. The deeper Rapture's characters descend into loneliness and desperation, the more fantastical their visions of the world are susceptible to becoming.
Leaving the theatre I wasn't sure exactly what I should be walking away from this performance with, and I think that's appropriate. This is the kind of work that I want to see theatres like Balagan producing: It's new, it's local, and it's risky.
Rapture of the Deep is the final production at Balagan's Pike Street location. High rent and the physical restrictions of the space limit Balagan's growth, so they're moving on to an as-yet undisclosed location. The challenges of their current space should be obvious to anyone who sees shows there: the relatively small space limits the amount of seating available; the low ceiling gives lighting designers little to work with; concrete walls and a cramped layout hold scenic designers within a pretty small box. A better facility will hopefully alleviate some or all of these problems.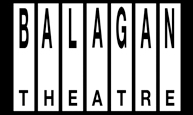 Still, the loss of Balagan is another blow to the Pike/Pine corridor, which lost Capitol Hill Arts Center in 2008, and it will be a blow to Capitol Hill if they ultimately move elsewhere in the city. They're already planning at least three other shows this season according to Executive Director Jake Groshong, as well as a remount of their well-received and completely sold out (as of this writing) live-action adaptation of Dr. Horrible's Sing-Along Blog. Of course we still have Annex Theatre, Theater Schmeater, Northwest Film Forum, and Velocity Dance Center, (which recently moved into CHAC's vacated building,) but this Capitol Hill denizen is hoping Balagan lands somewhere good and not too far away.
---

Theatre Review: by Bond Huberman
September 16, 2010