The Lyons' is a roaring family tussle

Review by Peter Marks, Thursday, December 5, 2013
The longest silence in "The Lyons," Nicky Silver's scathing comedy of familial malevolence, is the one that follows the line: "Let's talk about something pleasant."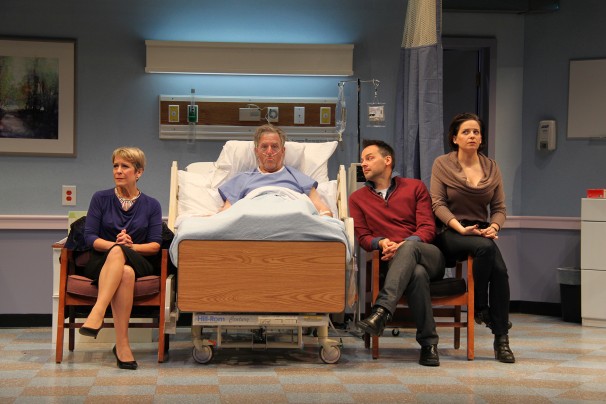 The Lyons, pieces of work one and all, are not programmed for pleasant. Gathered around the hospital bed of the dying patriarch Ben (a heartily, baroquely foulmouthed John Lescault), his brood is ever-ready to go nuclear, especially wife Rita (Naomi Jacobson), a manicured monster of passive-aggressiveness. Sitting regally at his side, Rita is like a grim reaper with good grooming, torturing Ben with details of her plans for spending his money. After he's dead, of course.
Out of Silver's depraved laptop spill the repercussions of the family's resentments, in ways that activate lots of laughs at Round House Theatre in Bethesda, particularly in the long, first scene that functions like an open sewer of bile. The enjoyment in director John Vreeke's production wanes a bit as the evening unfolds, however, a deflation due in part to the lack of a needed neurosis-fueled hysteria in the son, Curtis, played by an oddly under-energized Marcus Kyd.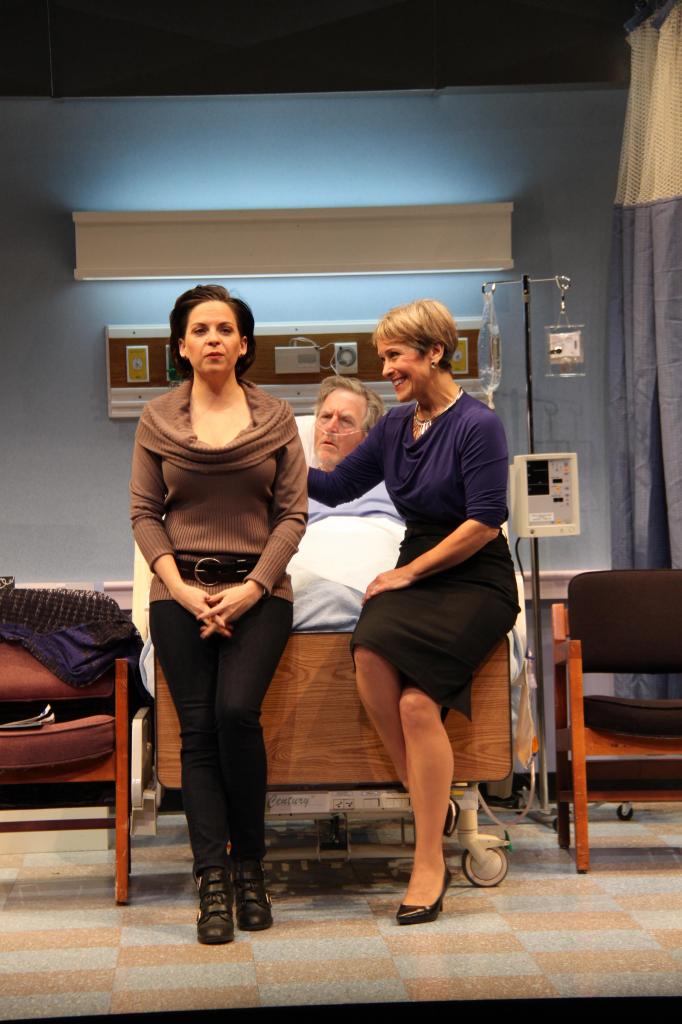 Still, the local premiere of "The Lyons" presents itself as a pleasing welcome back to Silver, whose early championing by Woolly Mammoth Theatre Company, in plays like "Fat Men in Skirts" and "The Food Chain," was important to the growth of the playwright and the company. It's a vital job that Round House is doing, reintroducing Silver to Washington and, in the process, demonstrating the strides producing artistic director Ryan Rilette is making in raising the company's profile as an essential stop for drama.
"The Lyons" did well in its initial off-Broadway run and less well in a move to Broadway, where in 2012 it lasted for little more than two months. The production did garner a Tony nod for Linda Lavin, as Rita. Jacobson, blithely tossing Rita's insults at her sputtering children, is a worthy inheritor of the role. Worthier still is the splendid Kimberly Gilbert, perfectly cast as daughter Lisa, a lost soul fermenting in liquor and insecurity. Gilbert's mixture of neediness and belligerence seems exactly right and fully justifies Vreeke's decision to reinstate a monologue Lisa delivers after intermission that was cut when the play moved to Broadway.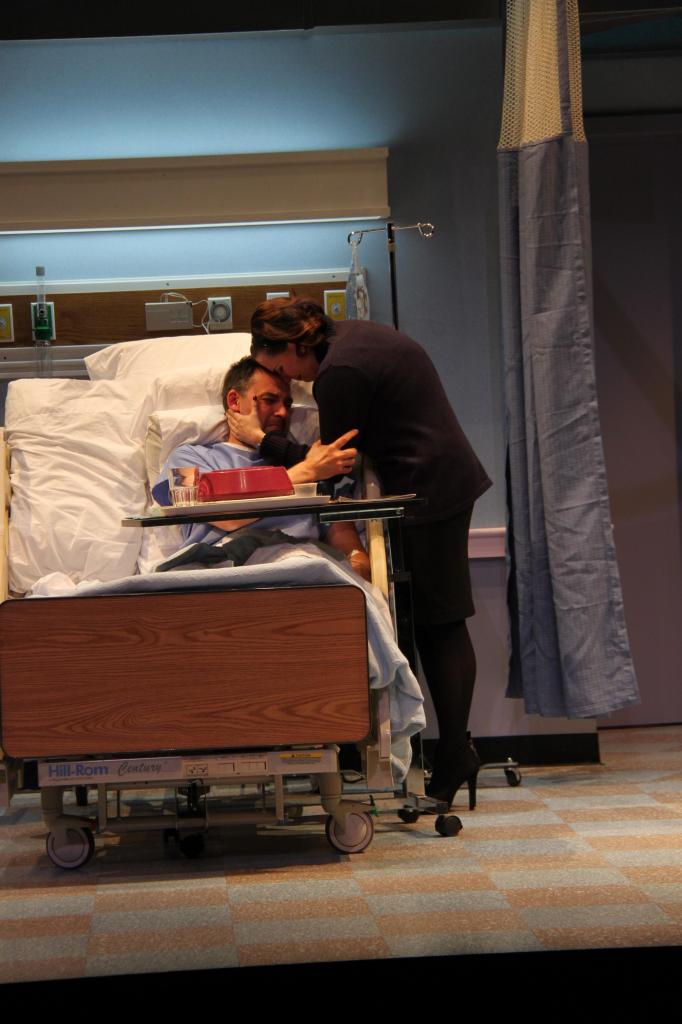 Lescault and Jacobson square off spicily in an opening scene that lays the groundwork for one of Silver's concerns: What is to become of the offspring of a couple who should never had been together? Regretting her lifelong tether to Ben, Rita takes her bitterness out on Lisa, who enters the hospital room to a barrage of her mother's withering judgments. Rita is so blunt that the audience giggles in spite of itself; Gilbert, looking dazed, makes us understand the ways in which Lisa's status as Mama's punching bag might transfer to other relationships in her life.
Dad, meanwhile, freed of inhibition by the death sentence cancer has meted out, unloads mercilessly on Kyd's Curtis, who's gay and emotionally disengaged and, as we discover, seriously disturbed. Curtis's creepy fixation — detailed in a scene in a vacant apartment shown to him by a Realtor played by Brandon McCoy — is embodied by Kyd in such an offhand manner that the explosion that occurs between them feels inadequately ignited. (On the other hand, Joe Isenberg's fight choreography is thoroughly convincing.)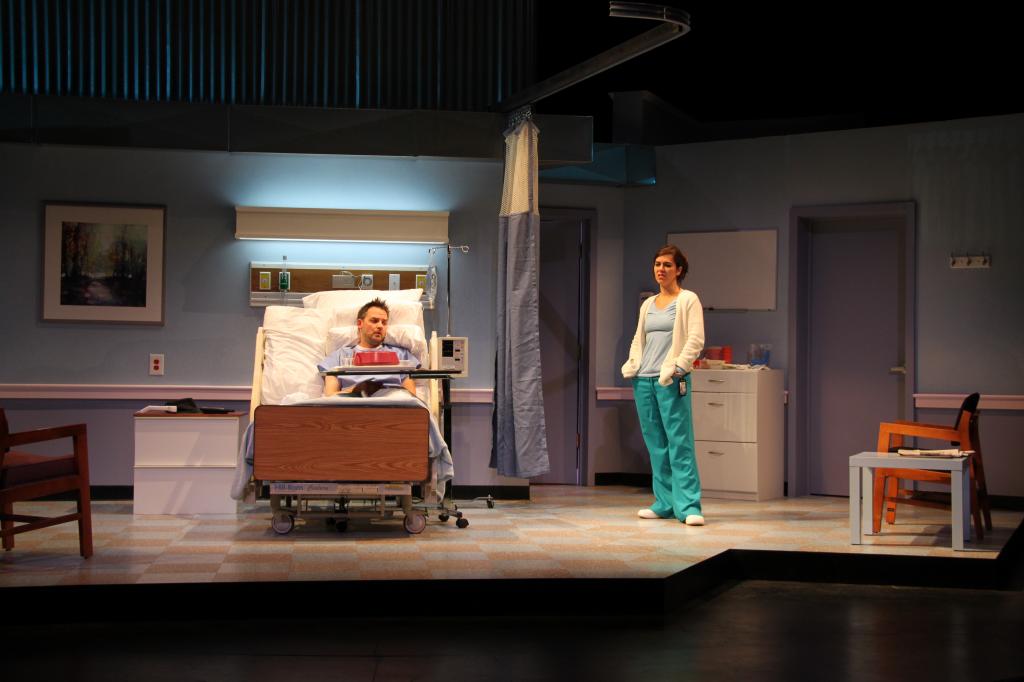 Misha Kachman's conjurings of the hospital room and apartment, mounted on a turntable, are pleasingly realistic, and the chic handling of Rita's wardrobe by Rosemary Pardee fetchingly underscores the greater attention Rita pays to the well-being of her closets than her kids. Laughing at the well-upholstered disaster that she and Ben have made of domestic life is a reasonable response to Vreeke's mostly satisfactory production. Cringing is as well.
Review by Peter Marks, The Washington Post




---

Just be glad they're not your family, OK?
Review by Trey Graham • December 13, 2013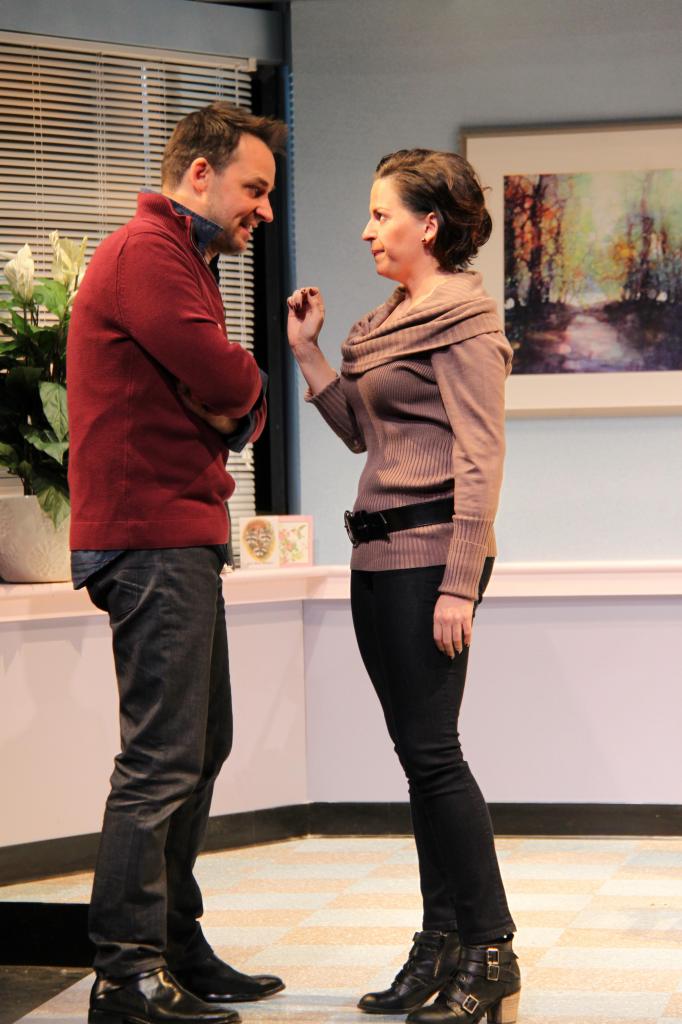 Kimberly Gilbert negotiates the transition from pissed off to half-broken as beautifully as any actor—and hoo boy, does Nicky Silver's scathingly funny The Lyons give her plenty of chances to come at that brittle, vulnerable place. A dark family comedy about a New York City clan with nothing but bitterness and damage to bind them, it's getting a taut staging at Round House Theatre in Bethesda, courtesy of the sure-handed director John Vreeke. No nerve, fair warning, will go untwanged.
Things open in the hospital room where the Lyons family patriarch, Ben, will soon be expiring from the cancer that's more or less everywhere. The end has been coming for months, but Ben and his wife Rita (John Lescault and Naomi Jacobson, a couple offstage, as well) haven't told their adult kids, partly because they didn't want to burden them and partly because they're emotionally stunted and as self-absorbed as your average Kardashian. Gilbert's Lisa—single mom, bit of a daddy's girl, history of relationship drama and booze—gets to absorb the blow first, because Marcus Kyd's Curtis—gay, a writer, full of dark secrets—is running late, per usual. Rita, whose briskly efficient manner and cuttingly chic ensemble mask a deep-seated, implacable hatred for the man she's been yoked to for 40 years, will deliver the news between criticisms of Lisa's wardrobe and inquiries about the right look for the living room she intends to redecorate as soon as Ben has kicked it.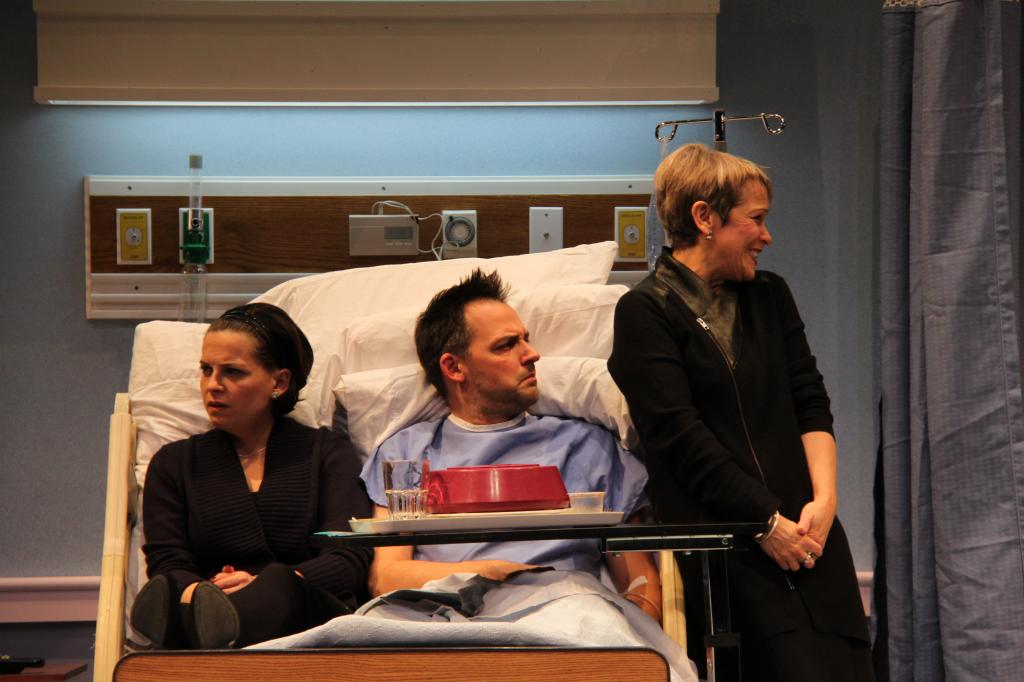 Silver's caustic comedies have always mined family for the damage kin can do in their lives together; this one reworks that formula and adds a deep vein of curiosity about the damage we can do in the process of leaving those lives. Together or apart, these people can't keep from knowing that conventional expectations about what family is don't apply, somehow, to them—and can't even start to come to terms with that. Vreeke's fine cast and a sturdy, unfussy production make for a surprisingly entertaining tour of the bleak territories that takes them to.
Review by Trey Graham • Washington City Paper
---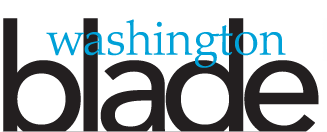 Review by Patrick Folliard, December 4, 2013
Ah, the Lyons family. For a second they seem a not-unusual American middle class family: long-married parents, a partnered gay son and a divorced daughter with two young children.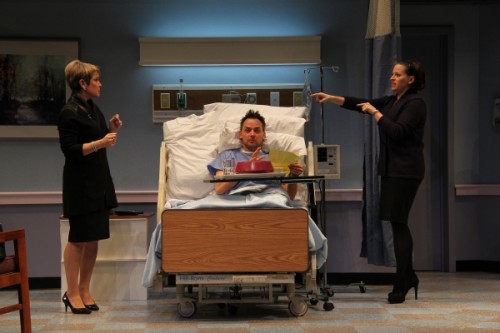 But then quickly you realize the subjects of playwright Nicky Silver's black comedy (straightforwardly titled "The Lyons"), are far from average — in fact, they rank rather high on the familial dysfunction scale. Not as bad as the Manson family, but up there.
Making its D.C.-area premiere at Round House Theatre, Silver's Broadway hit is in keeping with the gay playwright's tried and true M.O.: gay son protagonist navigating relationships with an unstable sister and self-involved mother. This particular incarnation kicks off in a hospital room where father Ben (a terrific John Lescault) is dying from cancer while his unconcerned wife Rita (the reliably funny Naomi Jacobson) thumbs through decorating magazines. Eager to redo the living room despite her husband's objections, Rita chirpily reminds him that he won't be around to see the results anyway.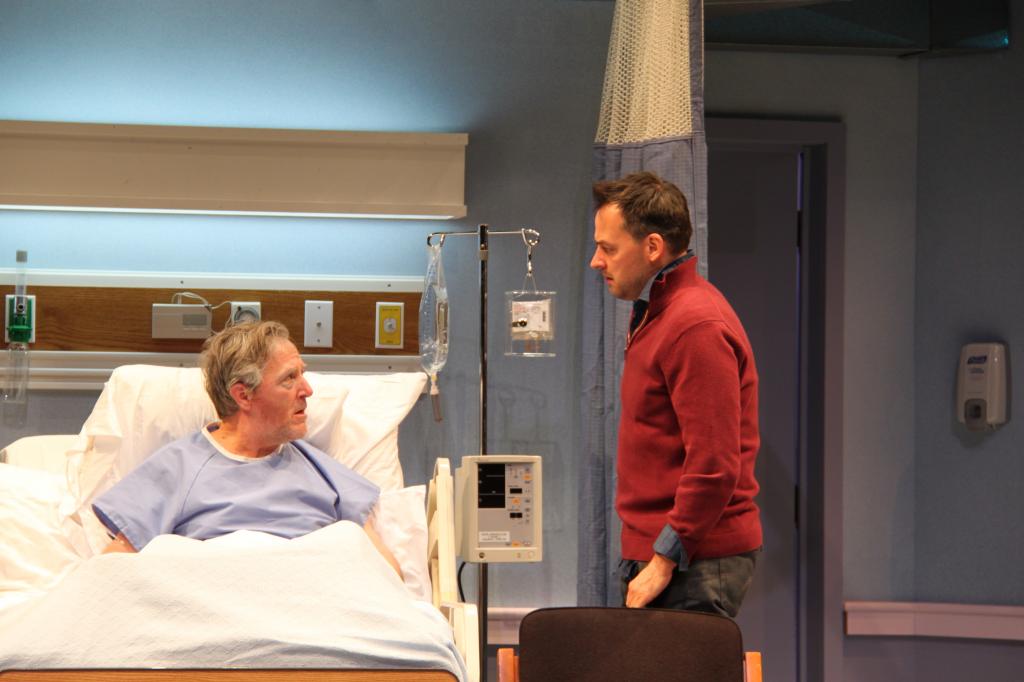 Shortly the couple is joined by their adult daughter Lisa (Kimberly Gilbert), an insecure recovering alcoholic, followed by their seemingly composed gay son Curtiss (Marcus Kyd) who comes bearing an enormous peace lily. A visit that should be all about the dying father turns into anything but, soon erupting into an explosion of accusations, revelations and admissions. Throughout it all, Lescault's Ben who never speaks but yells, makes his distaste for Rita and disappointment in Curtis very clear by dropping a barrage of loud and well-aimed F-bombs.
Silver jumps to and fro from biting dialogue to poignantly revealing monologues. His fabulously insensitive characters leave a trail of barbs, sarcasm and hurt feelings, but they also show flashes of insight, vulnerability and humanity. While each of the Lyons is ferocious in their own way, beneath the contempt that holds them together lies some caring. As the good Jewish mother, Rita worries incessantly about her children finding reasonable mates. She also defends her young fiercely. When her husband first guessed that Curtis was gay, he tossed out his young son's "Judy at Carnegie Hall" album. That move resulted in Rita purchasing a handgun.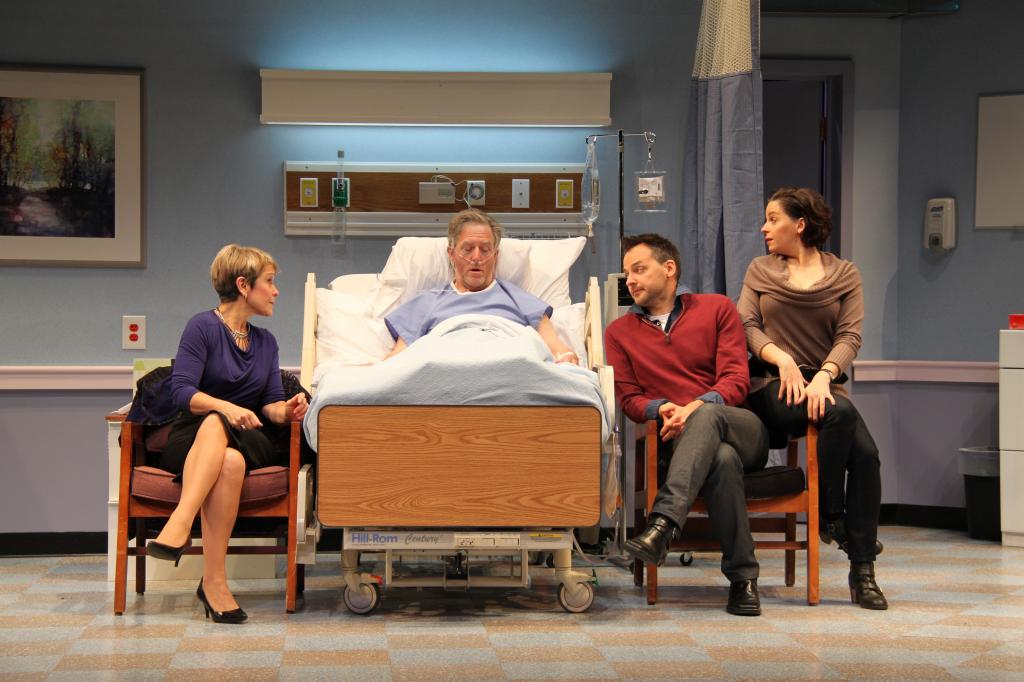 Skilled director John Vreeke has assembled an exceedingly agile group of actors. As Curtis, Kyd gives a nuanced performance. When with the family, he comes off comparatively restrained. Gilbert's wonderfully messy Lisa, lonely but hopeful, is the family's most sympathetic member. But it's far from their parents that the siblings reveal the most — Lisa more appropriately at an AA meeting. But Curtis lets his guard down looking at apartments with a disarming real estate agent played most affectively Brandon McCoy. The results are disastrous. Silver's characters act out in over-the-top ways (the production's program credits Joe Isenberg with the excellent fight choreography), but in terms of feelings they're not so out there.
Rounding out the talented cast is versatile actor Gabriela Fernandez-Coffey as a likable hospital nurse who changes from placid to hardboiled depending on the needs of each patient.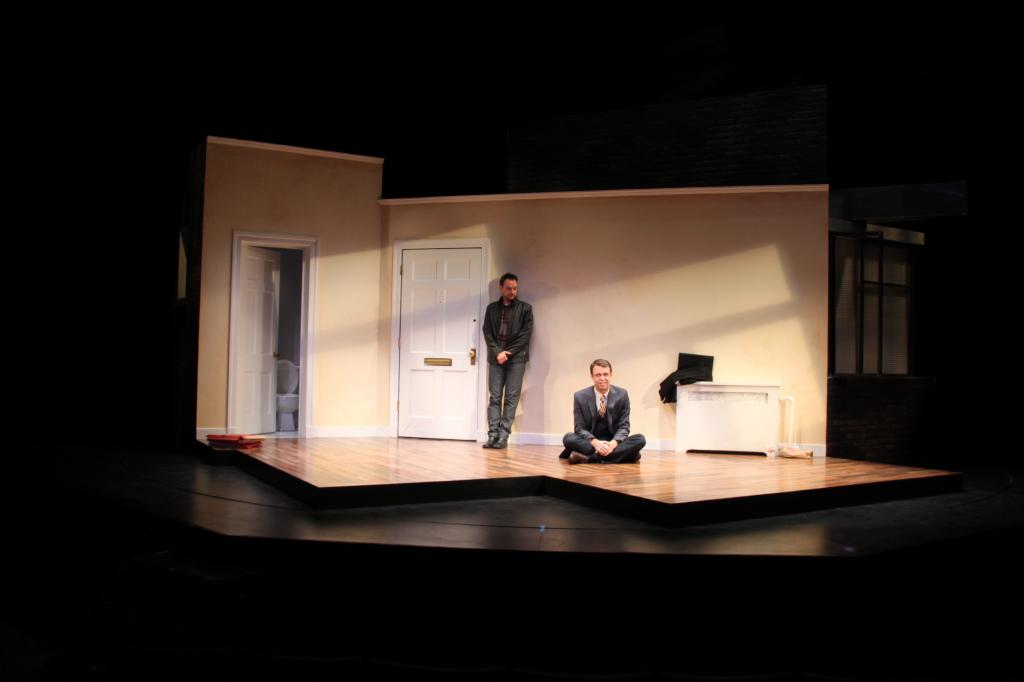 The production looks just right. Misha Kachman's realistic revolving set doubles as a perfectly nice, standard issue hospital room and a vacant, no-frills New York studio apartment. Rosemary Pardee's costumes are spot on — the Lyons' taste level is a little off. They dress sort of suburban hip.
Despite his visceral dissection of the family, Silver is hopeful. When Curtis is at his most alienated and broken down, there's a pervasive sense that things will improve. We seem to know it gets better.
Review by Patrick Folliard, Washington Blade


---

An expert cast in a darkly witty script
makes for a holiday treat at Round House
Review by Doug Rule, December 5, 2013
"And that's the time I bought the gun."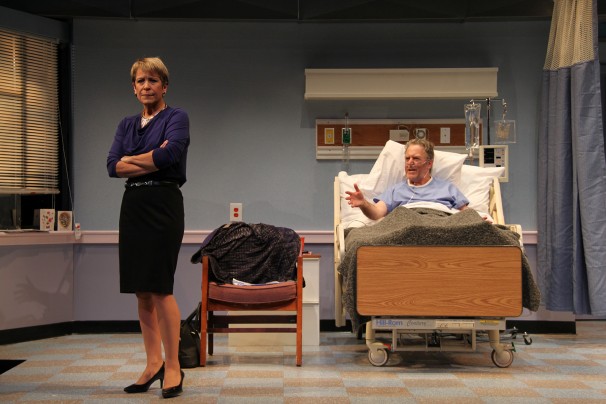 Rita Lyons drops that hysterical bombshell in the midst of recounting a sordid family story in Nicky Silver's The Lyons, a black comedy full of devilishly delivered barbs and unexpected twists and turns. It's all bright wit and dark humor. You should consider the production at the Round House Theatre in Bethesda the company's dystopian holiday treat for 2013. Every member of the show's seriously dysfunctional Lyons family wishes for a better life and lineage. You know, your standard-issue affair. But fate is a bitch, and so is Rita Lyons.
Surely your mother isn't quite as much of a monster as Rita, played with exacting precision by Naomi Jacobson. For decades Lyons has wished the husband she never loved would finally croak -- even once entertaining the idea of murdering him by firepower. Now that Ben Lyons (John Lescault) is on his deathbed, in a body riddled with cancer and a mouth full of potty, all she has to do is wait for death to take him away and leave her in peace. In the meantime she hopes to rekindle ties with her gay son and alcoholic daughter. In theory it shouldn't be hard, because they're all incredibly lonely people. But everything's a struggle in the Lyons family.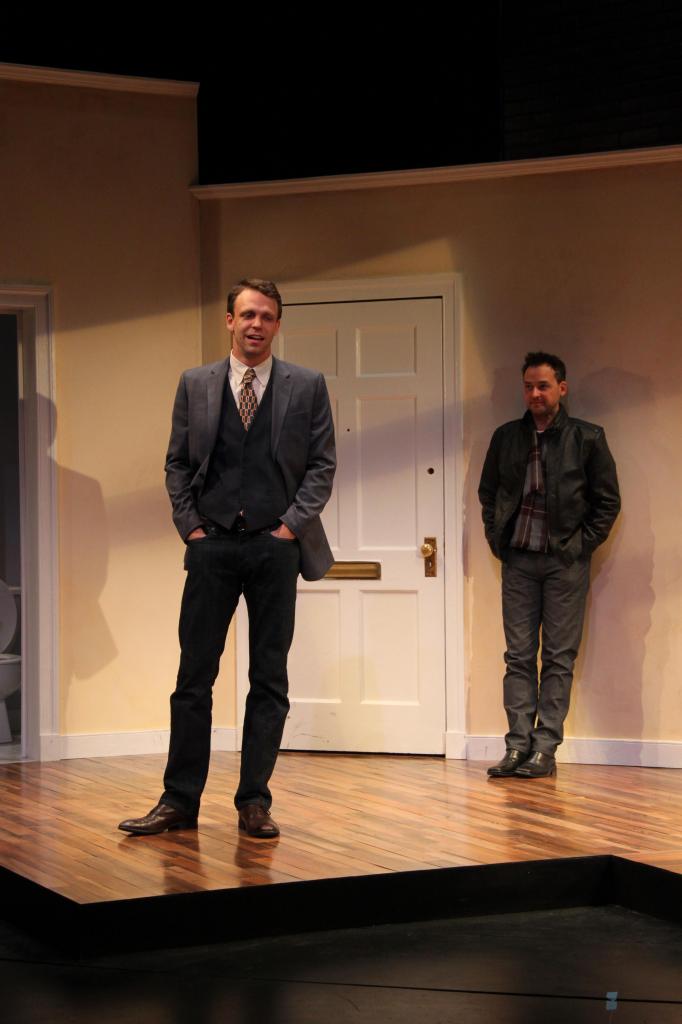 Silver, a gay playwright whose work is familiar to Woolly Mammoth patrons, has said that he doesn't set out to make likeable characters, only those who show a sense that "they are fighting for their survival." Director John Vreeke seems to have drilled that into his ensemble here. These Lyons are all lions to one degree or another. Jacobson is the queen of the jungle, portraying Rita as an utterly indomitable force, one who doesn't back down even when she knows she's said or done something wrong. Toward the end of Act 1, Rita reveals a vulnerable side in a soliloquy addressed to her sleeping husband about just how terrified she is of being alone. While that proves to be merely a momentary lapse of fortitude, it does help give us a fuller picture of the woman. It also allows Jacobson to show off her incredible range as an actor. She never stumbles in the demanding role.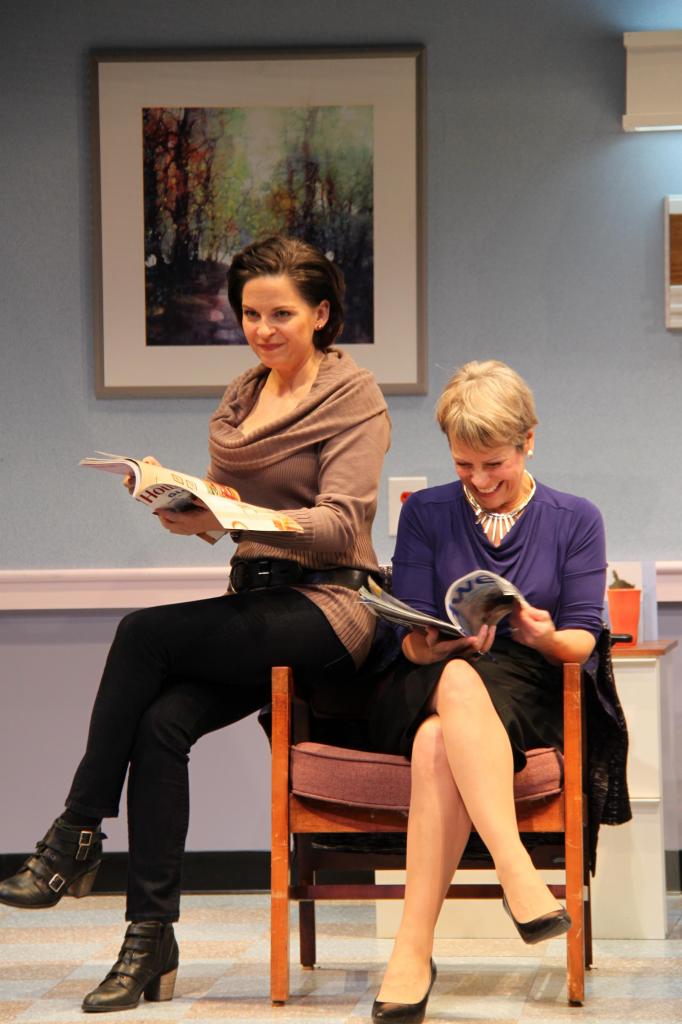 But then Jacobson is in stellar company here. Lescault plays Ben as a thoroughly defeated man who nonetheless rages as if there were still hope, still love to be found with his wife. Marcus Kyd and Kimberly Gilbert are the Lyons' offspring, both horribly scarred by a lack of love and respect shown between, and from, their parents -- and yet both still showing signs that they are capable of giving love and respect. You'll be both charmed and distraught by Kyd's performance as an imaginative, intelligent Curtis, who keeps getting tripped up by a real life that was stunted far too early -- age 7, to be exact -- upon rejection by his homophobic father.
And, as expected, if you've ever had the pleasure of seeing her onstage before, you won't be able to take your eyes off Gilbert. This incredibly expressive local actor puts her whole body into a role, with every physical movement and gesture adding to her portrayal. Gilbert as Lisa is well dressed (in stylish costumes by Rosemary Pardee), but a barely contained bundle of nerves and energy. She's a woman, full of greater potential, who can't seem to do the right thing, but also one who doesn't let that stop her from putting herself out there -- so unlike her brother.
The Lyons ends with a hint of resolution, with widowed mother Rita preparing for a getaway to the Caribbean and each Lyons kid trying to bond with an unlikely stranger. Even excepting for a few subplot twists better left as a surprise, these are signs that the future for this family might be better than its past. It wouldn't take much.
Review by Doug Rule, Metro Weekly

---

"A welcome antidote to holiday familial schmaltz being administered at Round House Theatre under the expert guidance of director John Vreeke"
Review by Jayne Blanchard, December 5, 2013
"Just because I yell, doesn't mean I don't love you," my mother used to say. If that maxim holds true, then the Lyons must be the most loving—and hoarse–family in existence.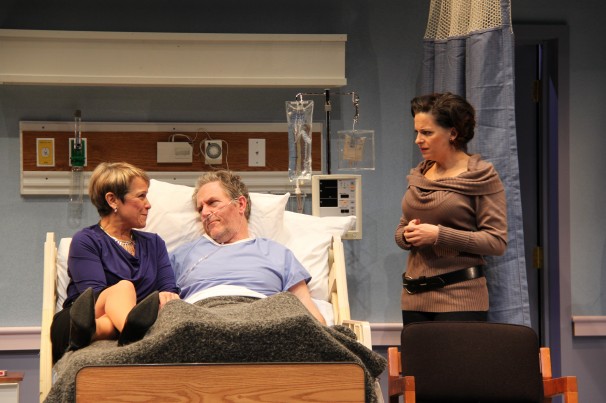 Love, bile and co-dependence are doled out in generous amounts in Nicky Silver's savagely funny play The Lyons, a welcome antidote to holiday familial schmaltz being administered at Round House Theatre under the expert guidance of director John Vreeke.
Death provides permission for the Lyons to go at it like possums in a burlap bag, although you get the feeling this clan has never exactly been reticent. Patriarch Ben (John Lescault) is in the hospital dying of cancer and the disease has made him a potty mouth—even the most banal of questions is greeted with a fusillade of profanity.
Wife Rita (Naomi Jacobson) kvetches about his language, but pretty much takes the whole situation in stride. "Who do you think you are, going to hell?" she snaps, in one of her many lacerating zingers. "You haven't done anything."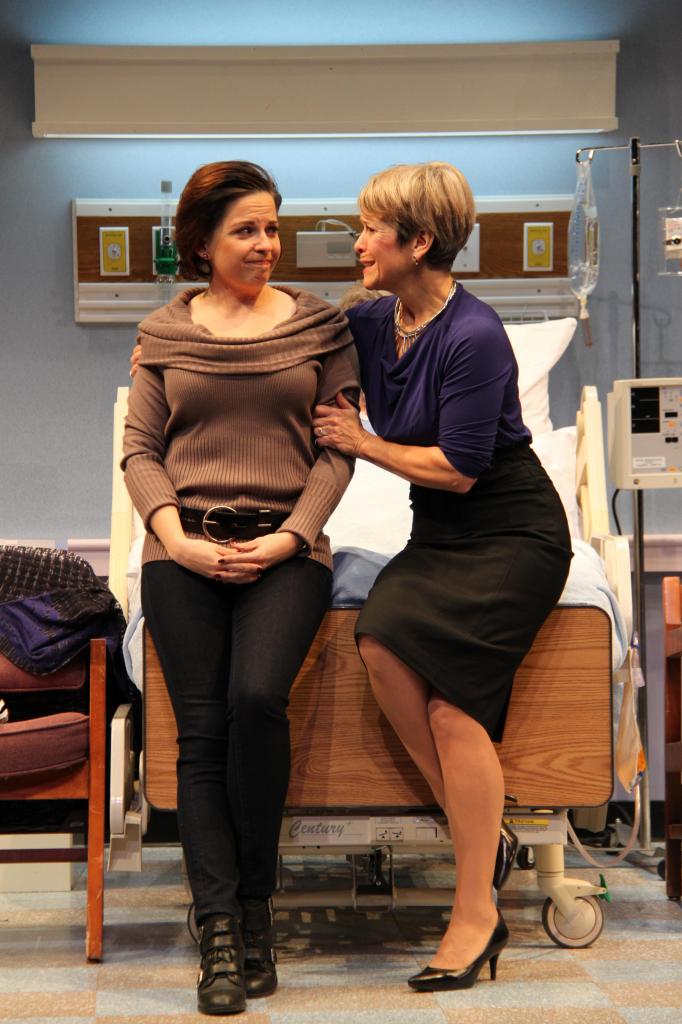 She has been tethered to this pepper pot for 40 years and knows escape is near. While he rages against the dying of the light, she perkily thumbs through home décor magazines, talking about redoing the living room in an "icy, cold blue" and asking her husband "What about Mediterranean?" not caring that he won't be around to enjoy the new room.
Enter the adult children Lisa (Kimberly Gilbert), a recovering alcoholic and divorcee with two children, and Curtis (Marcus Kyd), a gay writer who appears to be in a stable long-standing relationship. Rita nonchalantly drops the bomb that Dad's on his deathbed, saying "we didn't want to bother you."
So the Lyons gather in the hospital room, barely able to tolerate each other in such a small space but at the same time, they cannot bear to be apart. The first act is a brutal free-for-all, as everyone tries to make it all about them rather than the dying man lying in the center of the room. A seen-it-all Nurse (Gabriela Fernandez-Coffey) drops in and out of the action.
You have to laugh at the extravagant selfishness of their actions, as Rita notes "when the kids are at camp, the knives come out" in her story about the summer when Ben realized Curtis was gay and responded by getting rid of all his so-called "girly" toys and his "Judy Garland at Carnegie Hall" record and replacing them with toy soldiers and "The Ballad of the Green Berets." That summer was also notable for Rita buying a gun and when Ben expresses his astonishment, Rita deadpans "It was a WHIM."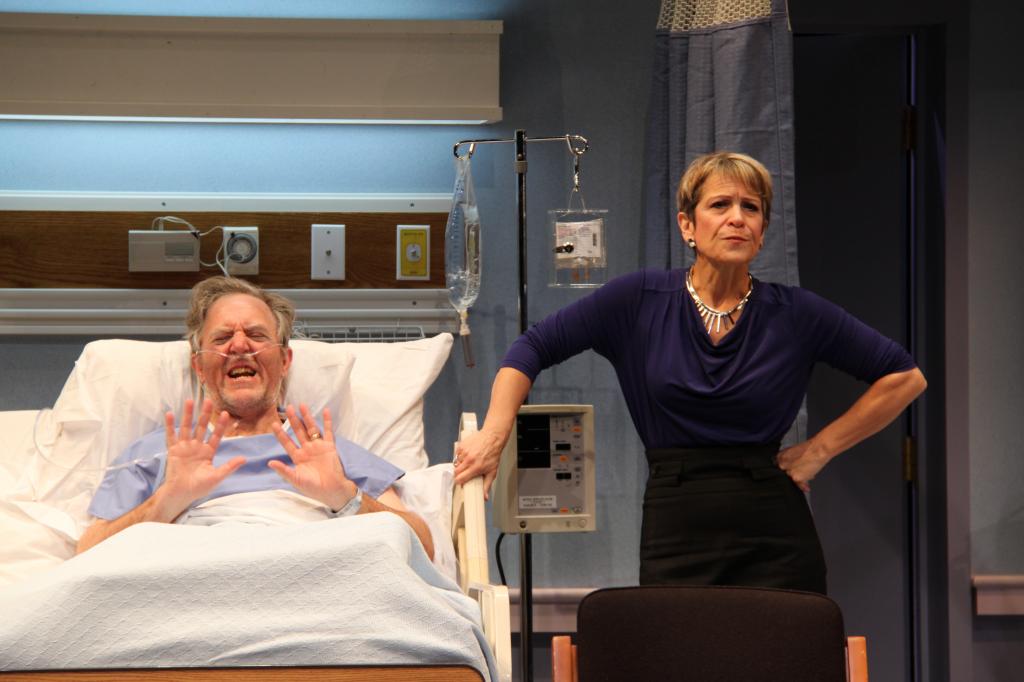 Then, Curtis blurts out that Lisa's ex-husband was abusive and she responds by informing the family that Curtis's boyfriend is imaginary. With most of the secrets out in the open, there is no cleansing sense of relief or closure. These secrets were part of their identity and they wore them proudly. It is almost as if they—and the audience—are choking on truth.
Nowhere is this more apparent than with Rita, played with brazen bravado by Miss Jacobsen. For a minute, she drops the overbearing Jewish mother act—funny as it is—and talks to Ben simply about what basket cases their adult children are. "Our children are disasters, lonely and terrible," she quietly acknowledges and in that hush you see a glimmer of recognition and forgiveness.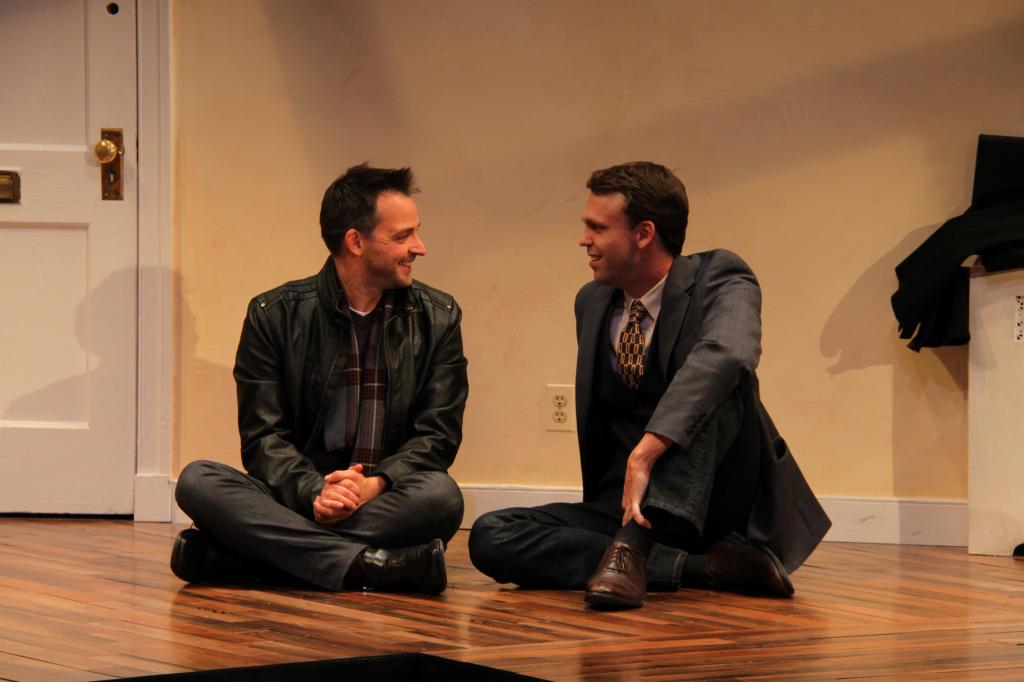 The second act goes between an empty apartment and the hospital room after Ben's funeral. Misha Kachman's clever set revolves between the two woebegone spaces. The second half begins with Lisa's monologue, which takes place at an AA meeting. Miss Gilbert is both fragile and incandescent as Lisa—someone who tries so hard but is such a mess– who admits that her family drives her to drink and how she finds it exhausting to remain cheerful.
Next, Curtis has an unsettling encounter with a real estate agent Brian (Brandon McCoy), who thinks he is merely showing Curtis an apartment. There is something off from the start—a weird sexual tension coupled with Curtis asking questions you normally don't pose to a stranger trying to sell you some real estate. Mr. Kyd and Mr. McCoy adeptly handle the shifts in mood and emotions, making the situation seem highly charged and desperately sad.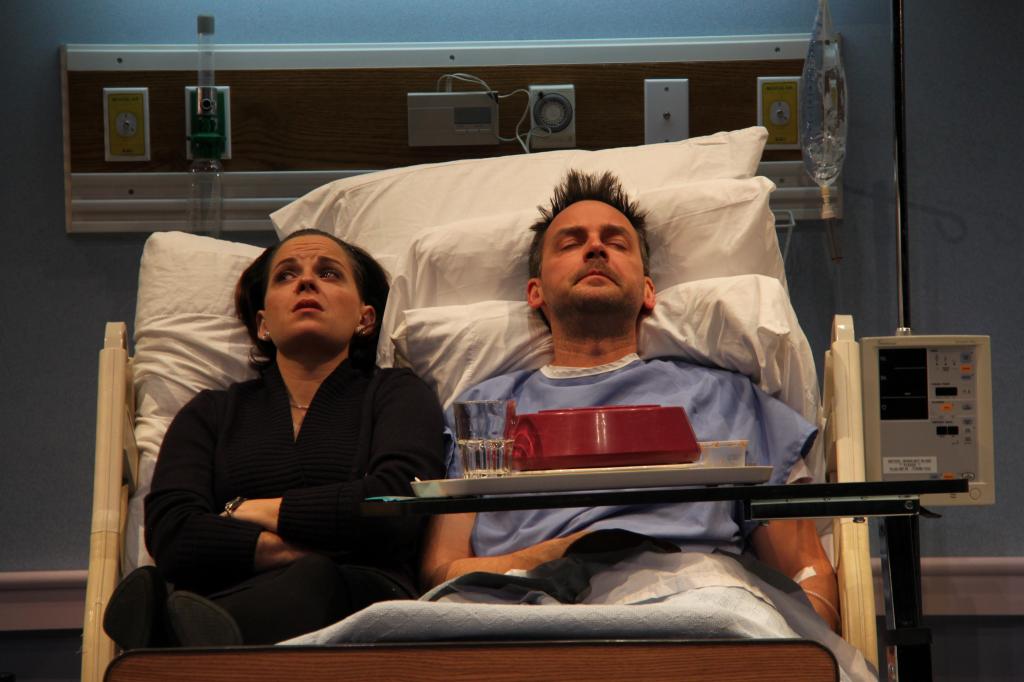 Back at the hospital, it is now Curtis occupying a hospital bed and acting very much like his father. Taking advantage of her kids being in the same room, Rita makes an announcement that would not be out of place in an over-the-top reality show and Miss Jacobsen delivers this A-bomb with such style you almost applaud Rita.
This leaves Curtis and Lisa to fend for themselves and when Lisa crawls into the hospital bed you catch a hint of their childhood bond. "Next time, choose people," she says to her brother and while this is sound advice, you wonder—really? Everyone in the play is such monsters and even the unseen characters appear to be opportunistic or abusive, and Lisa is telling her brother that human contact is the way to go?
Perhaps if we had seen more humanity and less collateral damage to the Lyons, this ending would ring true. In keeping with the lethal spirit of Mr. Silver's play, it should have gone for unsullied savagery and not a last-ditch effort at reconciliation and hope.
Review by Jayne Blanchard, DC Theatre Scene


---

In the season of unpleasant family reunions,
Nicky Silver's dysfunctional quartet doesn't disappoint.
Review by Missy Frederick

Perhaps the worst fate one could wish on the characters in The Lyons is for the four of them to end up in the same room together again.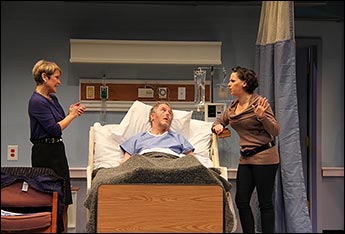 It's not an occasion that happens frequently. The quartet has been brought together in Nicky Silver's acerbic, funny play because Ben, the family patriarch (John Lescault), is dying of cancer. That might put most families on their best behavior. But even as the Lyonses try to tolerate one another (and truth be told, the suddenly vulgar Ben isn't making much of an effort), they wind up trading barbs, cutting each other to the core, and revealing each other's deepest secrets, all within the span of a hospital's visiting hours. As an example, recovering alcoholic Lisa (Kimberly Gilbert) hasn't been in the room for more than a minute or two before her mother, Rita (Naomi Jacobson), has revealed she thinks Lisa's son is retarded. "Just moderately. A little," Rita sniffs defensively.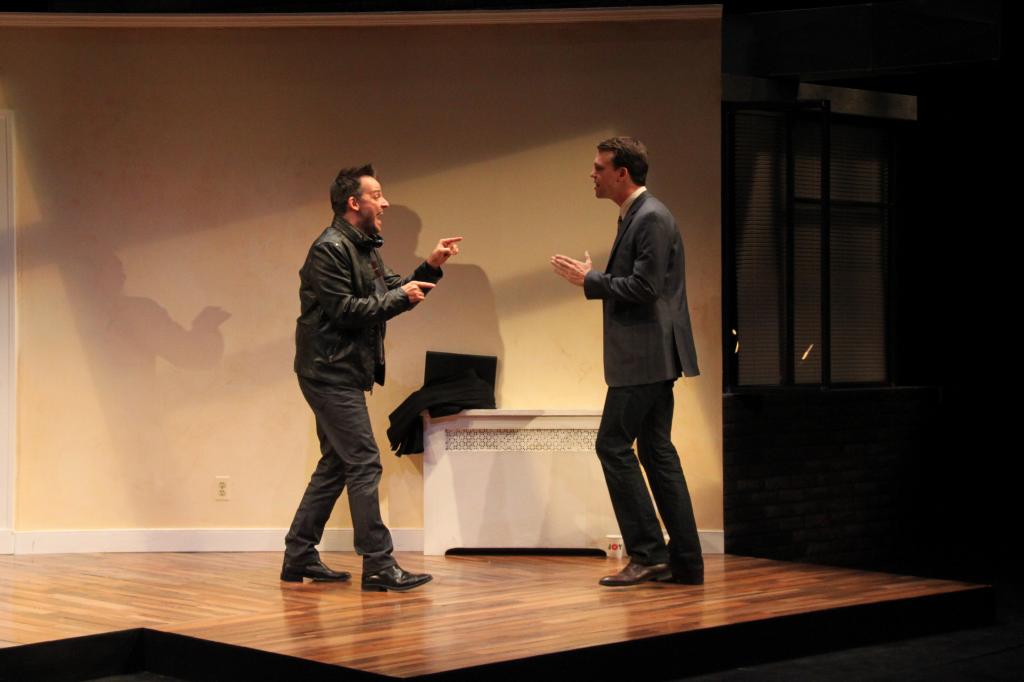 Silver's intriguing, sometimes jolting play works not because the Lyonses are likable, relatable, or even particularly realistic (the dialogue, even in the hands of Round House Theatre's able cast, can still sound practiced). It works because they're interesting. Particularly intriguing is the caustic but complicated Rita, a woman who's never really loved her husband but can't bear the thought of life without him. She has a tendency to destroy everyone in her wake, but Jacobson does an admirable job demonstrating Rita's surprise that anyone would see her thoughts or actions as less than obvious or justified, no matter how narcissistic or ridiculous they are. Ben dares express shock that she once bought a gun years ago, with designs on using it on him. "It was a whim!" she counters with hilarious exasperation. The character's complexity, combined with Jacobson's meaty portrayal, make it impossible not to root for Rita when it looks like she's been given a second stab at happiness as the play wraps up.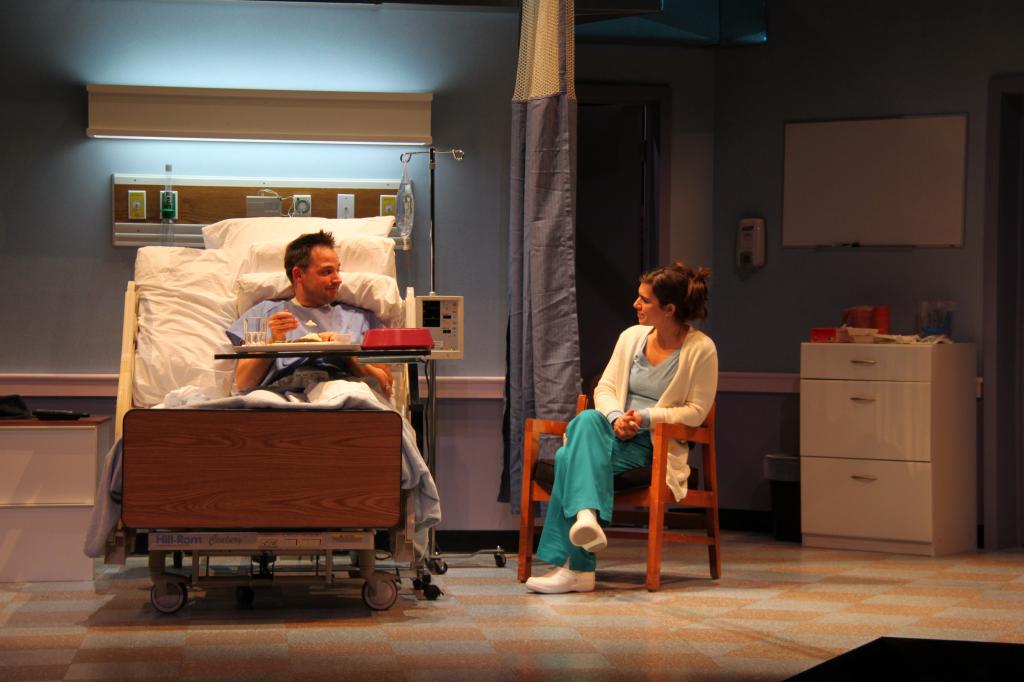 The first act of The Lyons proceeds rather conventionally, but the second act reveals more surprises. It's structurally different—Gilbert opens the play by including the audience in an Alcoholics Anonymous meeting. Scenes change swiftly, courtesy of Misha Kachman's rotating set, and transform to the tune of blastingly loud and unexpected music choices, including a creepy cover of "Over the Rainbow." The drama is also heightened—dire circumstances give the audience more of a window into Curtis (Marcus Kyd), Ben and Rita's son, who is perhaps the most damaged of the Lyons. His scenes with a no-nonsense nurse (Gabriela Fernandez-Coffey, making the most of a small role) have a tenderness to them.


It's a testament to Silver's writing and John Vreeke's direction that the audience longs for a little warmth for Curtis—or for anyone, really, in this dysfunctional family.
Review by Missy Frederick, Washingtonian


---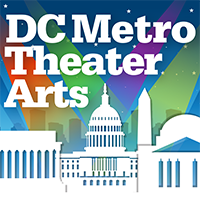 Director John Vreeke keeps the edgy, caustic – yet humorous – tone afloat
Review by David Friscic, December 4, 2013

Like a pride of carnivorous lions, the Lyons family is aggressively on the prowl for laughs (underneath the pain) In playwright Nicky Silver's The Lyons now playing at Bethesda's Round House Theatre. From the opening scene where we see the Jewish matriarch, Rita Lyons (Naomi Jacobson), prattling incessantly about re-designing her living room while her husband Ben (John Lescault) lies dying of cancer—to the last scene where Rita informs her dysfunctional family that she is fed up and striking out on her own, Director John Vreeke keeps the edgy, caustic – yet humorous – tone afloat.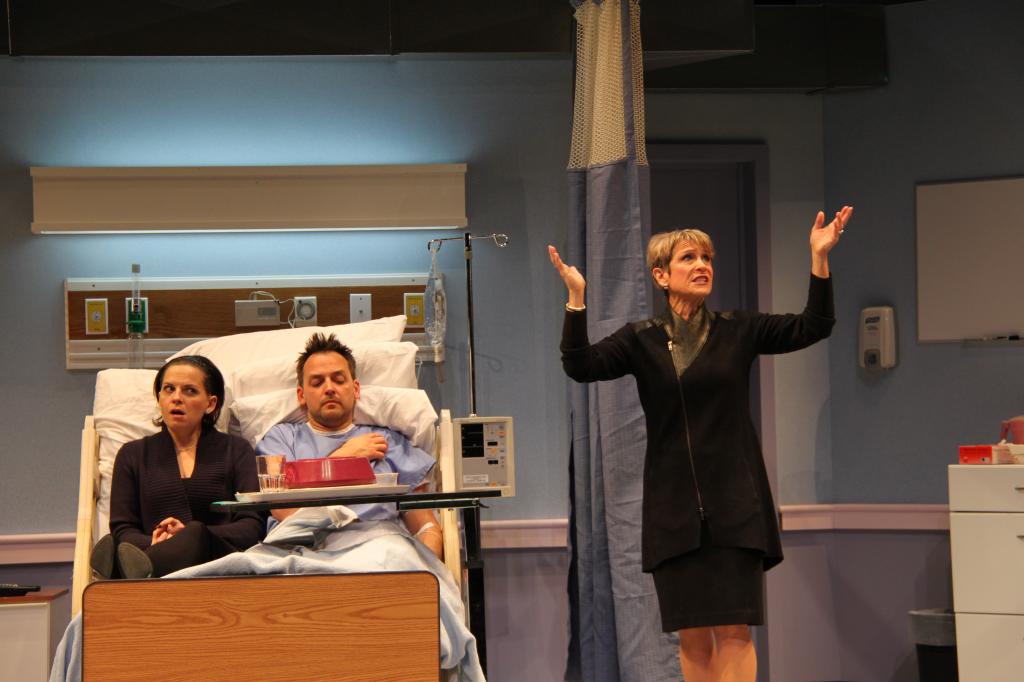 Forget Ma Barker, Medea, and Mommie Dearest (Joan Crawford), in the "domineering, mean mother" contest, the venom-spewing matriarch Rita Lyons wins the contest hands-down. Naomi Jacobson understands this character's ferocious will and vanity very well.. As she barks out orders and rages about her family's dysfunctions and addictions, her every gesture shows that she is in complete control in this family of strong wills and thwarted affections. Jacobson exudes supreme confidence as she strides across the stage.
John Lescault's dying husband is superbly played as he alternately rages and roars against the life he has been forced to live with his virago of a wife. Lescault adds a very realistic tone of belligerence to the proceedings. The scene where he demands the attention he is due is a standout of the play.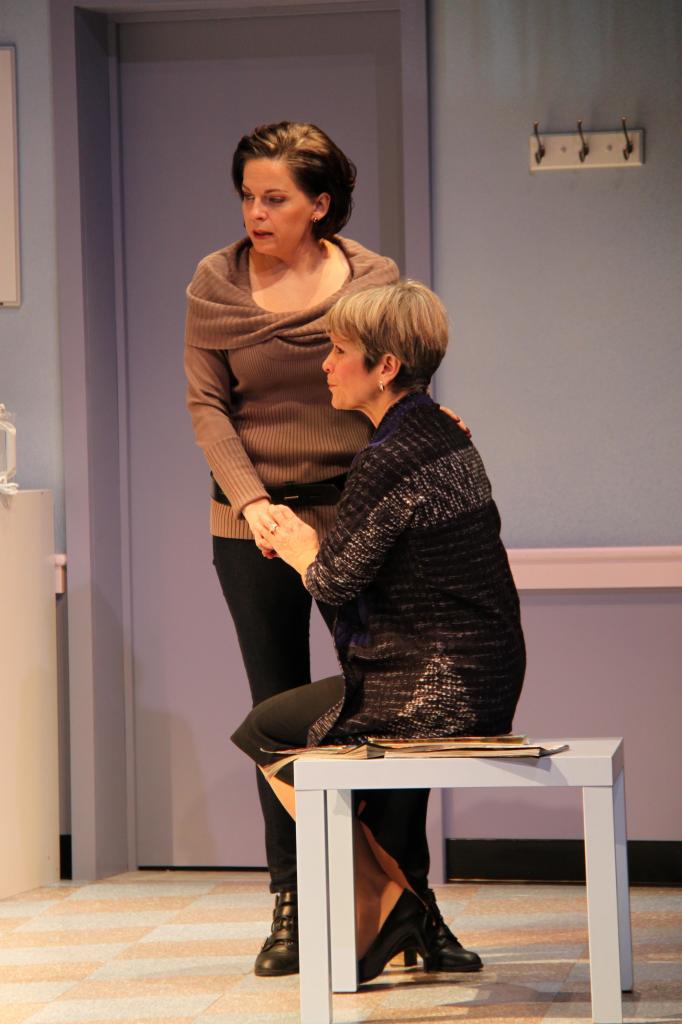 Hard to categorize, Silver's play never got the long run it deserved either on or Off-Broadway a couple years ago. Though the laughs keep coming in this savage comedy, there is great pain and anguish underneath the lines. I was never really quite prepared for the frequent shifts in tone, and there are some slow patches to still iron out. Trapped in their own isolated worlds of illusion and will, the characters speak as if they have been freed to say whatever pops into their heads and the lonely son, Curtis (Marcus Kyd) and ex-alcoholic daughter Lisa (Kimberly Gilbert) attempt to inject their scenes with spontaneity and intrigue. As the homosexual son, Kyd is wonderful and moving with a strong physical stage presence and is particularly effective in the second-act scene as he searches for a new apartment. As the realtor involved, actor Brandon McCoy hits all the right notes.
The subject of toxic families is nothing new but Silver keeps it fresh by keeping the audience off-balance with the audience never knowing what to expect next. Kimberly Gilbert – so marvelous in Round House's The Beauty Queen of Leenane - utilizes this element of surprise and uniqueness inherent in Silver's writing with a very physically busy performance that is replete with frenetic posturing and attitudinizing. Her attempt is only partially successful as there is too much overt telegraphing of emotions. More successful and, indeed, hilarious is the performance of Gabriela Fernandez-Coffey as the grimly determined nurse. Fernandez-Coffey possesses a dead-pan sense of humor with a sense of droll comic timing.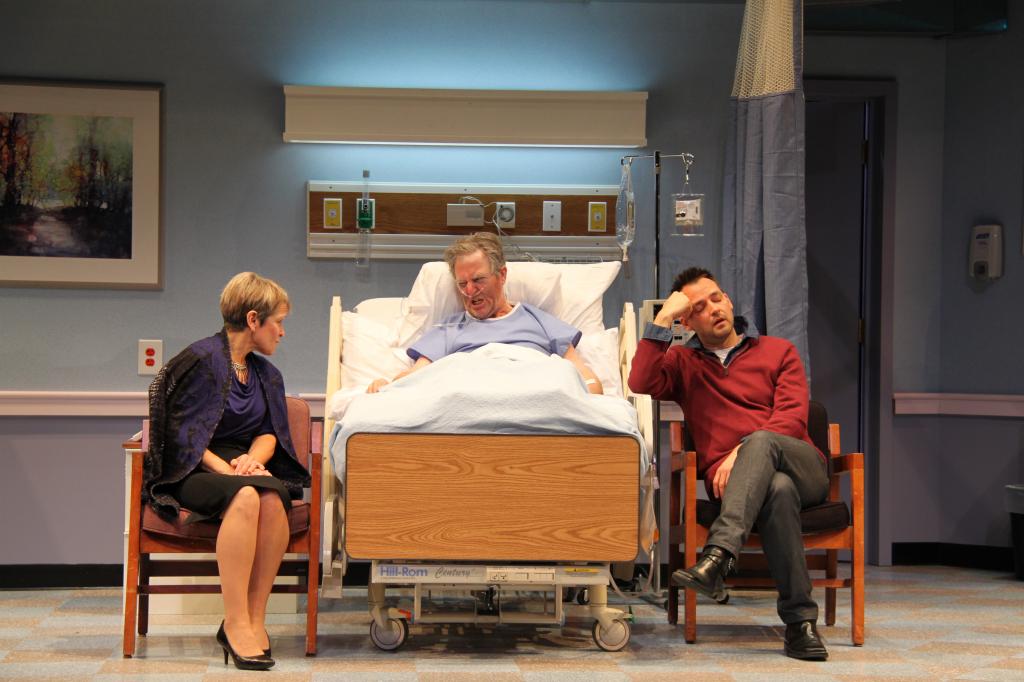 In what is becoming a Round House tradition, Scenic Design is a standout. Designer Misha Kachman has designed a perfectly appropriate hospital bedroom and apartment for the revolving set. Very clean lines and vantage points abound in Kachman's work. Lighting Designer Colin K. Bills does a bang-up job of lighting the proceedings and Costume Designer Rosemary Pardee parades the perfect attire for this cast of urban characters. Matthew M. Nielson's Sound Design efforts are particularly interesting – especially his utilization of strains of "Somewhere Over the Rainbow" to disarm the audience and increase the unsettling effect of the play.
Producing Artistic Director Ryan Rilette is to be commended once again for re-invigorating the Round House Theatre with such a fine array of provocative new fare.
Do not miss the madness of The Lyons!
Review by David Friscic, DC Metro Theater Arts


---

THE LYONS at Round House Theatre - Hear it Roar
Review by Charles Shubow, December 3, 2013
How does one pronounce the title of this play THE LYONS. My wife kidded me by sounding it out this way: the LEEONES. Why? Our son's father-in-law lives in Lyon, France (quite a beautiful city by the way).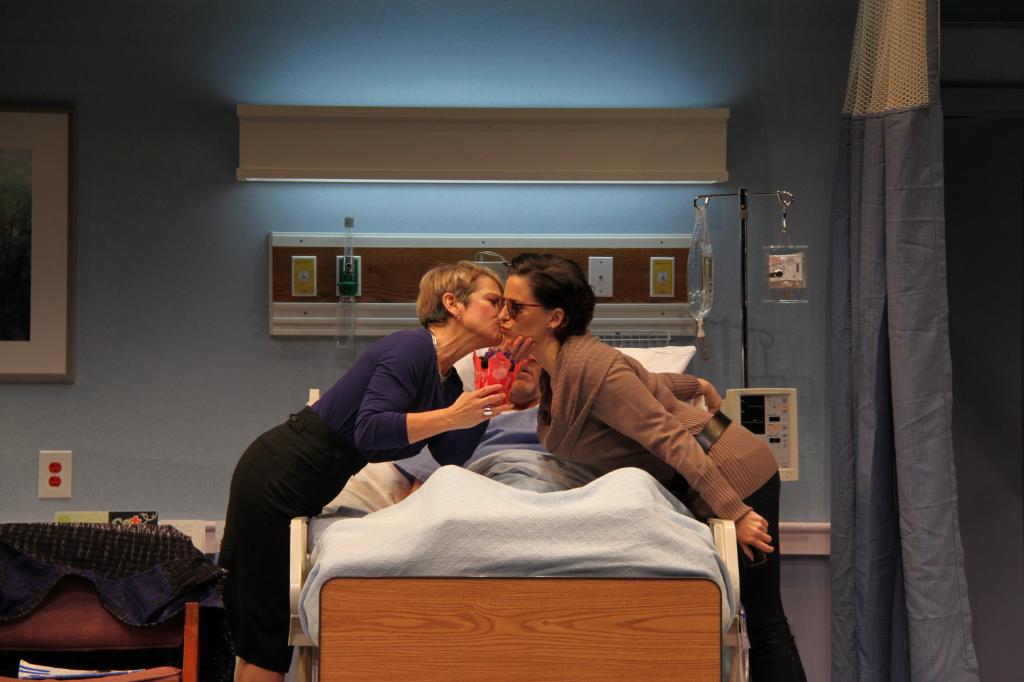 But playwright Nicky Silver said this about naming his play. "I didn't name them the Lyons by chance. I'll say that . I think that they are a combative group, which is not to say that they don't love each other very much. For whatever reason, each of them has been isolated in some way and is fighting pretty ruthlessly to find some kind of completion, some kind of connection that they don't have naturally."
This family growls, scratches, roars, screams, and seems to bite each other...sort of like any typical American family.
The play opens with the elder Lyons, Ben (the superb John Lescault) on a hospital bed dying from cancer. His wife Rita (the amazing Naomi Jacobson) by his side planning to decorate the living room...finally. "How about a Marrakesh theme" she asks her dying husband who always replies to her using some sort of expletive. She adds, "I know you won't be there to enjoy it." Ben counters with, "I'm dying Rita." Rita replies, "I know Dear. Try to look on the positive side. It's not so bad. Jews don't go to hell...and what have you ever done - you're not going to hell."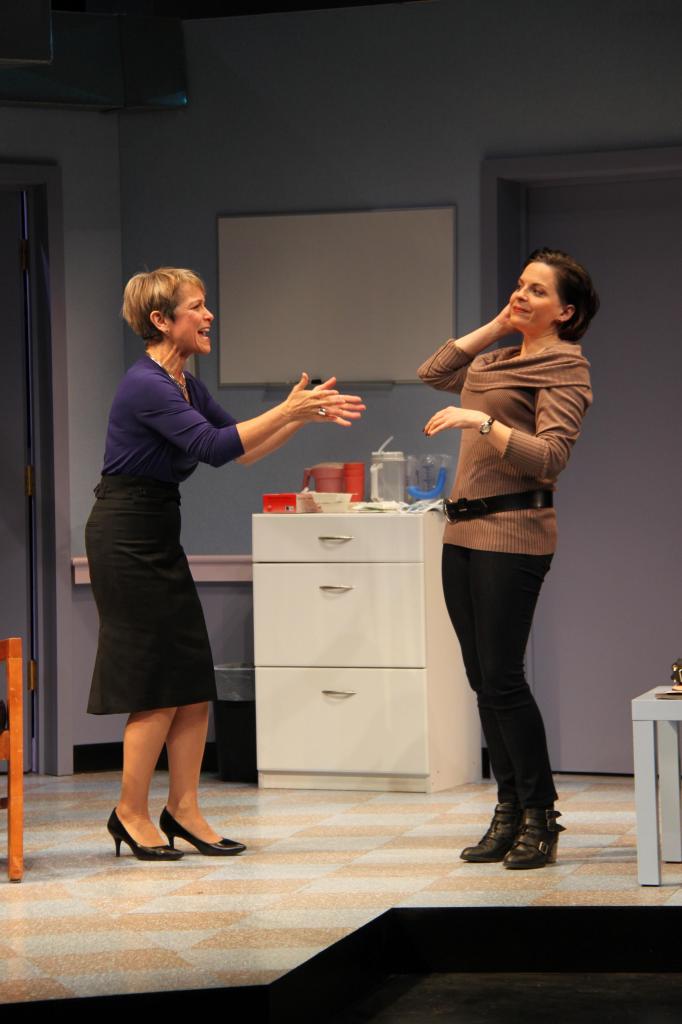 Ben and Rita have two children. The first to arrive in the hospital room is Lisa (played by the wonderful Kimberbly Gilbert who we last saw with an Irish accent the Round House THE BEAUTY QUEEN OF LEENANE). She's a reformed alcoholic, divorced, with two children. Rita tells her almost matter-of-factly that her father is about to die and they've known this for several months without telling the children. Lisa is flabbergasted. She's also shocked to learn that her parents believe one of her children is retarded. They ask, "Have you had him tested?"
When asked why it took so long for them to tell her about her father's condition, her mother commented, "We didn't want to bother you". She then asks her to express a feeling, something meaningful. Lisa talks about a time when she was little and in a playground, and when no one is looking, falls and gets injured. She's told she's talking about a scene from the film "Kramer v. Kramer". Yes...there's a lot of laughter...dark, very dark humor.
Son Curtis then arrives. He writes short stories, is gay and allegedly has had a partner for three years. After being told about the reality of the situation. his mother says, "Let's talk about something else...something pleasant." There's a LONG silence.
In anger, both children reveal secrets to their parents about their relationships. Lisa reveals that Curtis does not in reality have a partner. It's all imaginary. Later, Curtis surprises Lisa but informing their parents that Lisa was in fact beaten by her divorced husband. They are a cantankerous bunch and in the middle of a crisis.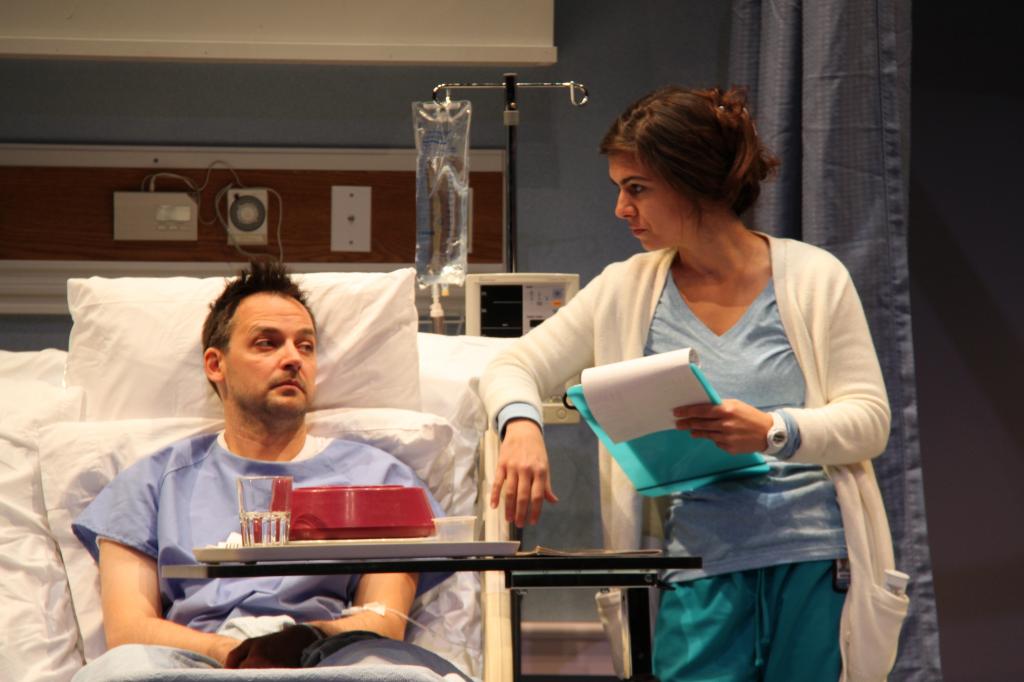 Later in the play, after their father dies, it's Curtis who finds himself in the same hospital room, with the same nurse, and he's acting very much like his father. It is here that Rita tells her children that she's done with them and they are now responsible for themselves. She wants to flee the coup and start her life over. It's quite a dramatic moment and Jacobson is in her element. She's an accomplished actress. Linda Lavin played this role on Broadway and I couldn't help seeing Lavin as Rita. But Jacobson does not play second fiddle. Her role certainly could play on Broadway. She's that good.
The terrific cast also includes Brandon McCoy as a real-estate salesman/actor and Gabriela Fernandez-Coffey as the nurse.
Director John Vreeke is an expert on Silver's work. He's a Company Member at Woolly Mammoth Theatre where they have done four of Silver's work. Kudos to Vreeke for doing a masterful job. I noticed in his credits that he was an Associate Producer and Casting Associate for the CBS his TV series "Northern Exposure" (which I loved). In the script, listen closely for an homage to this.
Rounding out the team is Misha Kachman (Scenic Designer), Rosemary Pardee (Costume Designer), Colin K. Bills (Lighting Designer) and Matthew M Nielson (Sound Designer).
Review by Charles Shubow, Broadway World DC


---
Check Out The Trailer for "The Lyons":