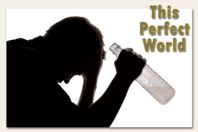 Charter Theatre

, Washington's only theater devoted solely to the development and production of new plays has kicked off its ninth season with

"This Perfect World,"

a powerful new play by Chris Stezin. The play examines the free-floating anxiety that has characterized America since 9-11 – specifically, its impact on one insurance company office drone whose life is coming undone by the increasing uncertainties of everyday life and his own personal weaknesses.
A workshop production of "This Perfect World" played to sold-out houses at this year's Source Theater Festival. Charter is co-producing the play with Source Theater. The play is directed by John Vreeke and stars Jason Lott.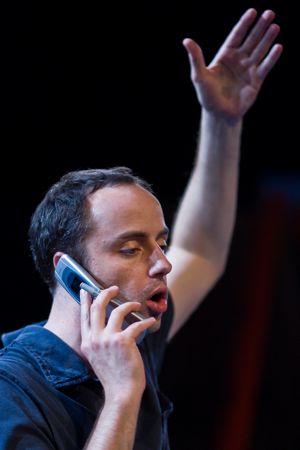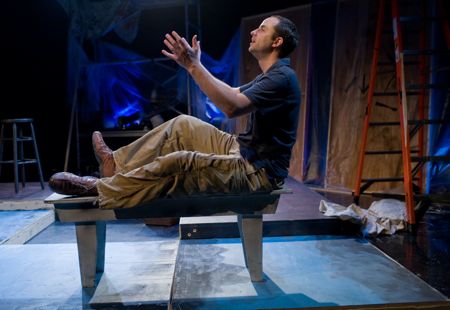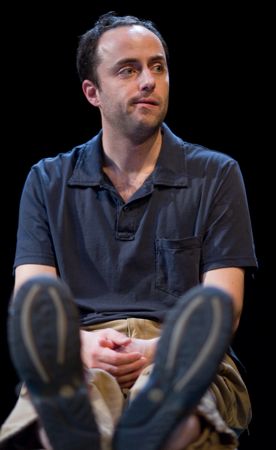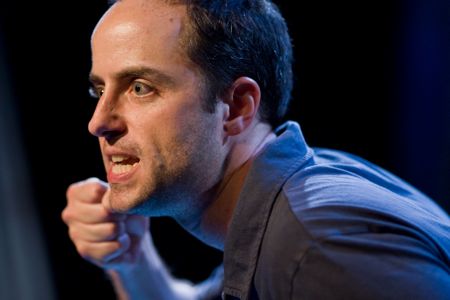 Alan is having some problems. Is that the lake in the living room?
Who is that man filming company headquarters? And why is his sister such a... you know?
Join Alan in his watery world as he tries to figure it all out.
---
reviewed by Tim Treanor
Stay with me here. This is a difficult concept, and I'm not sure I have it right. But is it not possible that there is something in this world called pain envy, being the jealousy that those of us whose lives have been rides on moving sidewalks feel for those who have triumphed through adversity? Extraordinary pain, after all, can help to create extraordinary people. I am not just thinking of folks like former Senator Bob Kerry (D-Neb.) or Senator John McCain (R.-Ariz.), both of whom suffered horribly in Viet Nam. I am thinking perhaps about the person who delivers your mail, or the homemaker down your street, both of whom radiate a sort of preternatural serenity and kindness. They have met the devil and stared him down, and they know who they are.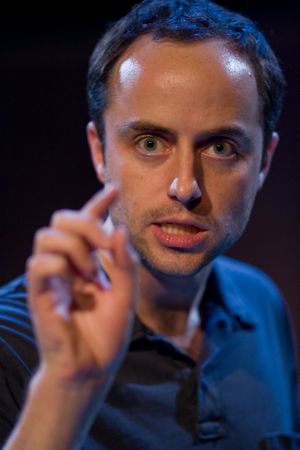 Even when pain breaks a person, and causes him to commit unforgivable sins, the pain makes him comprehensible to us. The boozehound, the pursuer of empty sex, the neighbor with bad personal hygiene and an unkempt yard - if there is great pain in their backgrounds, we understand even as we wrinkle up our noses. Would be it that there was such an excuse for our sins!
Now consider the case of Alan Anton (Jason Lott), bigot. Alan, employed by Erie Insurance and living on the shores of Lake Erie in Erie, Pennsylvania, has lost his job and gotten himself arrested after harassing a second-generation Iraqi-American for doing nothing more than filming the Erie Insurance building. Here is his background, which we may take as an explanation: he lost two people very important to him in the explosive aftermath of 9-11.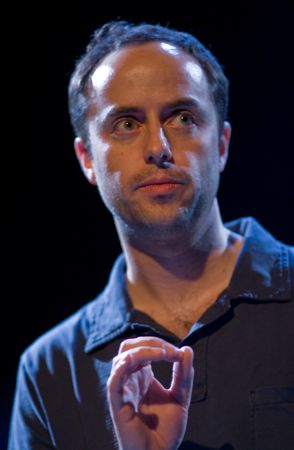 Pain defines Alan Anton, who every day puts on a suit of anger and greets the world. Without his bubbling rage, he is a sad and lonely fellow - a 39-year-old man who lives alone on the shores of the least Great Lake, and works - or worked - for an insurance company. One day he gets a drunken phone call from a woman who thinks she has dialed Alcoholics Anonymous. He is uncharacteristically patient with her, and soon she is showing up on his doorstep, with wine and chocolate chip cookies. One day he sees an Arabian-looking fellow filming the Erie Insurance building, and he goes down and takes the camera away. One day his sister, a hyper-effective lawyer with polished annoyance skills, shows up to challenge some of his basic assumptions. One day the waters of Lake Erie overflow its banks all the way to his living room, floating him and his improbable girlfriend to the diner on Route 20 (called "the Route 20 Diner") where he eats pancakes and eggs and three kinds of breakfast meats (including scrapple) and contemplates the aftermath of his life so far. All of this happens pretty much simultaneously, and Alan tells it to us, in bite-size parcels, slipping seamlessly from one story to the next.
Playwright Stezin is on to something here. I cannot limn out the plot in more detail without ruining it for you, but take it from me, he lays out narrative questions like open handbags full of gold coins, and after fully mining them, closes each one with a satisfying click.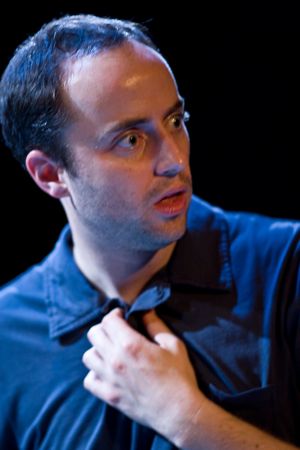 A one-actor play which explores the desperate upside of pain with four characters, two of whom are women and one of whom speaks in dialect, must be flawless in its execution, or face being shipwrecked before it sets sail. Fortunately, Charter has enlisted John Vreeke to direct and Jason Lott to be Alan Anton, as well as all the people who make his life what it is. Vreeke, who directed two of last year's best shows, The Last Days of Judas Iscariot and The K of D, lends his characteristic interpretive grace to the production. Although the technical elements are as primitive as possible (the set has no discernable meaning and can be eliminated entirely, to advantage), Vreeke, and Lott, manage to fill the evening with meaning through spot-on line readings. As for Lott, coming off a fine performance in Longacre Lea's Theories of the Sun, with this play he solidifies his reputation as an actor who can carry a show by himself. Lott's Alan Anton is Everyman, if Everyman had a large poisonous snake in the corner of the room that he thinks is asleep but isn't quite sure about.
I am sure, however, about This Perfect World, which may not be perfect but is honest and true. Stezin, whose work is beginning to get the recognition it deserves (he is working on a commission from the Guthrie Theater in Minneapolis), writes with all cylinders firing here, and I'm glad I saw it.

---

A Mixed-Up One-Man 'World'
By Nelson Pressley
Special to The Washington Post
Monday, September 22, 2008; Page C08
The lone character in Chris Stezin's "This Perfect World" is a bit of a basket case, and he seems to know it.
"Remembering through the dark waters of perception" is how Alan, the shell-shocked subject of this hour-long monologue, describes his mission. Wandering amid what looks like post-storm debris on the tiny stage at Arlington's Theatre on the Run, Alan says to the audience, "That's what I'm trying to do here -- make sense."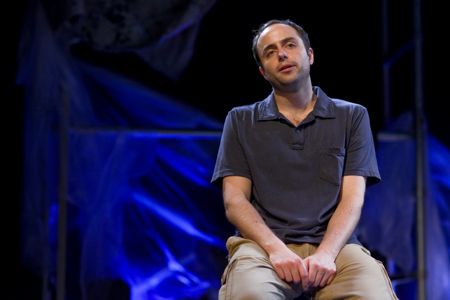 He doesn't always do it, despite the methodical, unfussy production by Charter Theatre (a specialist in new local plays, with Stezin as a company member). Actor Jason Lott looks slightly alarmed as a man who doesn't quite seem competent to be out on his own, but Alan slips in and out of lucidity in sometimes implausible ways. Coupled with a mean streak of post-9/11 xenophobia, this character study is a mashup of psychological puzzles and outright lies that you're not terribly compelled to solve.

Not that Stezin doesn't arrange Alan's confessions with care, and even with a little grim poetry. The waters of Lake Erie are rising, Alan awakens in a flood, he's in New York on 9/11 -- vivid but often fantastical and contradictory disaster imagery piles up, accounting for the soft-spoken style with quick-flaring intensity that Lott uses to tell the tale.

So what really happened? Did Alan lose a wife and child? Did he rescue his daughter from choking? What -- this fired insurance worker is a pilot? For sure, he lashed out at an Iraqi American who was filming the insurance building where Alan worked, setting up an ongoing personal conflict potentially rich with political overtones.

That skirmish does indeed generate some disquieting confessions, yet it doesn't fully tap into the vein of fractured identity and irrepressible hostility that Stezin seems to be stalking. Facts and fictions eventually get sorted out, but it's hard to connect Alan to anything larger than the unhappy and sometimes ugly patterns in his own head.

The impressive part of the show is how cogently Lott and director John Vreeke chart those patterns. Lott's an engaging performer who makes it easy for Alan to slip into the voices of other people he tells us about -- Alan's sister, a drunk woman who mistakenly dials him in the wee hours, the Iraqi man. The actor's storytelling has understated drive, and he is nicely attuned to the bits of comic relief; it's not a humorless play.

By Nelson Pressley

Special to The Washington Post

---

A monologue from a deeply disturbed former insurance man
Stream of consciousness monologues must be very difficult to write and surely they are difficult to deliver, especially when they last over an hour. I mean, how can one man remember all those words without getting any prompts from other cast members? And how do you make it seem as if the words just occurred to you? Here Chris Stezin has provided the words and Jason Lott performs in a production directed by John Vreeke. Everything seems so simple - simple set, single costume of rumpled dockers and an oft-washed polo shirt, clear words telling a seemingly simple story. But nothing is simple. The set has implications not clear until the words give them shape ("when I woke up this morning, Lake Erie was in my living room"). The words double back on themselves as the story unravels not just once but many times, layer by layer. Lott takes the emotional pitch from manic to depressed and back again and Stezin packs a surprise here and there just to keep us on our toes.
Storyline: Alan Anton - whose name is mistaken by a fallen-off-the-wagon alcoholic for "Al"coholics "An"nonymous and so she calls him in the middle of the night looking for "a meeting" - is actually an out-of-work former insurance man from Erie PA whose mind has begun to freeze up under the stress of his own problems. He's floundering in the waters of the lake or the trauma of terrorist attacks or failures of career, marriage, and parenting. His mind can no longer distinguish between his own hopes, dreams, frustrations and failures and those of other generations.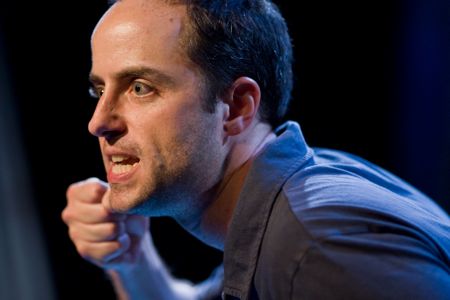 Stezin continues to provide provocative pieces of theater, from single act solo shows to big-cast multi act works. We profiled him back in June of 2004 and you can get some background on him here. Since then, he's written Sleeping and Waking, which was a Potomac Stages Pick in June of last year, as well as performed in such things as the comedy/drama of family relations, Short Order Stories, by Renee Calarco and the touching production of Side Man at Keegan. This monologue piece was workshoped at the Earl Hamner Jr. Playwright's Conference in Southern Virginia and then performed as part of the Source Festival earlier this year. At the Hamner, a local actor named Trey Childs handled the monologue but at Source Jason Lott joined the effort.
Lott is another well known member of the Potomac Region's rich community in the theater arts, an actor who has worked at most of the smaller and some of the major theaters in region. He can list shows at over a dozen local companies but has never worked at Charter before this. His performance is powerful and attractive, earning the audience's interest and involvement from the very start of the monologue and keeping it unflagging through a somewhat overlong course. In part due to the pacing that John Vreeke's direction gives to the performance, the short evening is never less than interesting and often it rises far above that level.
Klyph Stanford's lighting tends to shift a bit too obviously as Lott shifts from one segment of memory to another, but there is one nifty effect at the very beginning of the show. The transition from house lights to stage lighting is so subtle that it helps draw the audience into the world of the play without the usual moment of transition that is triggered by a curtain opening or a moment of darkness.
Written by Chris Stezin. Directed by John Vreek. Design: Keith Bridges (set) Klyph Stanford (lights) Ray Gniewek (photography) Melissa Miller (stage manager). Cast: Jason Lott.
---
"This Perfect World"
runs Thursdays through Sundays at Theatre on the Run at 3700 Four Mile Run Drive in Arlington.
Tickets are $28 on Friday and Saturday nights, and $25 at all other performances. All tickets are general admission. Tickets are available at www.chartertheatre.org or by calling the Charter box office at 202-333-2202.