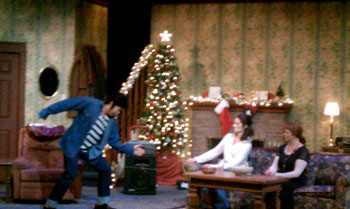 Martha, Josie and the Chinese Elvis
November 26th - December 19th, 2010
Burien Little Theatre, Seattle
---
John Vreeke directed the American Premiere of this unique holiday comedy
at Woolly Mammoth in Washington DC in 2006, and now in Seattle in 2010.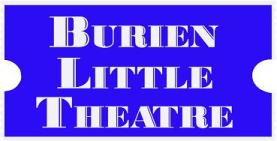 The show centers around an eccentric and hilarious collection of Bolton, England misfits. Josie, a dominatrix who feels ready to hang it all up, is dreading her 40th birthday - so her favorite client Lionel throws a party with a special musical guest! But the real surprise comes when a ghost from the past barges in, propelling this outrageous mix of edgy comedy, heart-throbbing humanity, and sheer ridiculousness. This holiday season John Vreeke directs it at Burien Little Theatre in Seattle.



---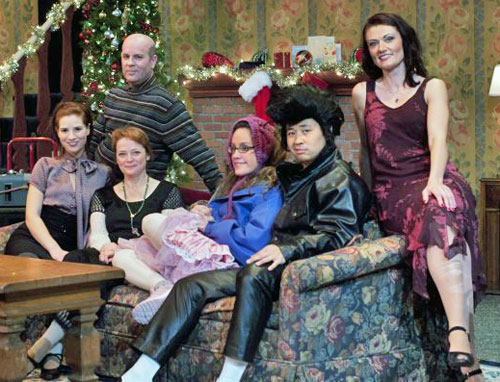 Martha, Josie and the




Chinese Elvis


*


November 26th thru




December 19th, 2010


*


Burien Little Theatre, Seattle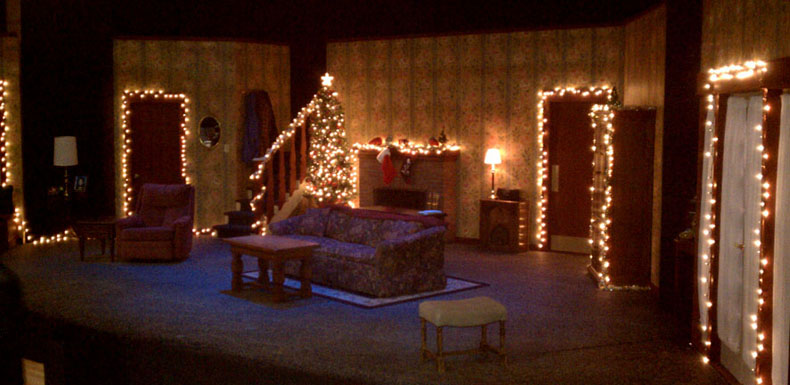 'Martha, Josie & The Chinese Elvis' At BLT: Great Time(ing)!


Review by Philip Benais



Martha, Josie And The Chinese Elvis; Directed by John Vreeke: Starring Kelli Mohrbacher, Geni Hawkins, Alexandra Novotny, Gerald B. Browning, Ken Wong and Angelica Duncan. Written by Charlotte Jones.



With a name like Martha, Josie And The Chinese Elvis, I expected the latest production from Burien Little Theatre to be exactly what we need for the holiday season; offbeat, quirky but ultimately heartwarming and pleasant. What I got was even better than that. In all sincerity, I can say that Martha, Josie And The Chinese Elvis made my day like no other winter play has or probably will. Between the bold humor, the lovable characters and the delightful performances, this is a play I would recommend to anyone mature enough to deal with a holiday play as unconventional as it is entertaining.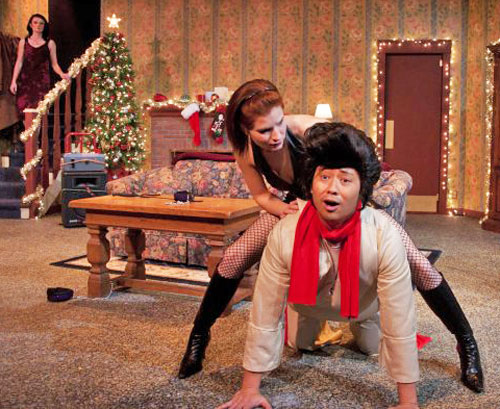 The story follows Josie Botting, a 40 year old 'counselor' who is coming to terms with growing older. Joining her are Kelli Mohrbacher as Brenda-Marie, (who plays a daughter that's a few sandwiches short of a picnic) Martha Clear, the obsessive compulsive maid and Lionel Trills one of her more 'distinguished' clients. When everyone figures out that it's Josie's birthday, Lionel decides to throw her a party, full of drinks, music and a special guest who turns out to be a Chinese Elvis. Throughout the rest of the play we're treated to wonderful writing, great music and acting that cinches the deal. Make no mistake, every one of the cast members for this play was spectacular and funny. From Geni Hawkins' neurotic Housecleaner to Ken Wong's affable Timothy Wong to Gerald B. Browning's sensitive Lionel Trills, everyone is pitch perfect and it contributes to a production that will bust your gut laughing and at times even feel emotional.

The key to the play's success is the timing. Sure the writing, directing, acting and music are perfect for the subject matter, but what pulls them all together is a brilliant sense of timing. There's never a stale joke or an action that goes without an audience reaction. Everyone in this cast from Alexandra Novotny to Angelica Duncan is a master of comedic and dramatic timing. The play functions on an internal rhythm that is both wondrous and magical and without it, it wouldn't have been the same.

I could go on and on about how much I loved this play, but ultimately it doesn't mean a thing unless I say this; go see this play. Take a friend or a family member and enjoy the wonderful treat that Burien Little Theatre has given us once again. I know I did, and I guarantee you will as well


---




Blog review posted by Dana Hunter


December 12, 2010



Chinese. F*#!ing. Elvis. Need I Say More?




Apparently, I do.



Today, I braved rain, floods and landslides (oh, my) in order to go see Martha, Josie and the Chinese Elvis at Burien Little Theatre. If you live in the Seattle area, you have three more chances to see this show, and if you miss it, you will be reduced to a pathetic wreck of a human being, weeping with remorse until the day you die. I mean, c'mon, how often do you get to see a show about a demotivated dominatrix, an obsessive-compulsive housecleaner, a cross-dressing drycleaner, a wanna-be ice dancing daughter, and an allegedly dead woman? Not to mention, Chinese Elvis!

Maggie and Eric truly find some fucked-up shit to put on, but man, is it ever good.

This is one of those moments I cursed myself for not bringing the camera. There were some strikingly artistic, truly beautiful and haunting moments in this play. When soon-to-be-former dominatrix Josie Botting is standing at the top of the stairs, watching her daughter try to walk in her stilettos on the hapless Chinese Elvis, everything about her screamed noir. It was a moment worthy of film. And it wasn't the only one.

I want to give a few particular shout-outs to the cast. Gerald B. Browning, who plays Lionel Trills, had the hard job of making a balding transvestite sub drycleaner come across as the most admirable man in the universe - and he does. Loved him. Geni Hawkins, who plays the very repressed housecleaner, does the best Irish accent outside of Ireland, and let me just say she makes you root for good girls wanting to go bad. Kelli Mohrbacher had a hard job playing Brenda Marie Botting, the "simple" twin, but she made you want to run her straight out for a pair of ice skates and a sequined costume (you'll understand why, should you see the show). Angelica Duncan, who is long-lost twin Louise Botting, played a difficult character to perfection (and I shall say no more, least I spoil your fun when you see it). They were all outstanding. They all got and deserved center stage. Which makes me feel guilty singling out the next two for special treatment.

But Alexandra Novotny... holy damn. I mean, honestly, she runs through the shadings of an extremely complex character flawlessly, and her expression was so fucking perfect. Some people can act without saying a word, without even moving more than a few muscles in a face. She is one. She left me breathless. And no, it didn't have anything to do with that cocktail dress toward the end there, although it was an excellent costuming choice. War paint, indeed!

I felt like bowing to her when I left. Seriously did.

And yet, she very nearly got overshadowed by Ken Wong, who is the Chinese Elvis that Lionel hires for a birthday party that turns bizarre. People, we are talking about an American who managed a Cockney-Chinese accent even while singing just like Elvis. Everything - his timing, his delivery, his expressions, his movements - everything was perfect. I mean, look at his face up there. Does that not look like a hapless, rookie Chinese Elvis who's been having a horrible night of it, and is now wondering just how to fuck he's gotten into this mess and wishes someone would come rescue him from it?

He even delivers a line as corny as "Elvis has left the building" in a way that was funny, fresh, and brought the fucking house down.

And in case you see the play and wonder: no, he's not lip-syncing. That's really him, singing Cockney-Chinese Elvis and sounding eerily like the King.

They couldn't have found a more perfect cast for this show. 'Twas a delight, worth risking life and limb and missing the weekly phone call with my best friend for. If you get a chance, go. Just go. You've got all next weekend for it.

Do not end up spending the rest of your life moaning about missing it.

Posted by Dana Hunter at 11:50 PM


RETURN TO MAIN PAGE - JohnVreeke.com