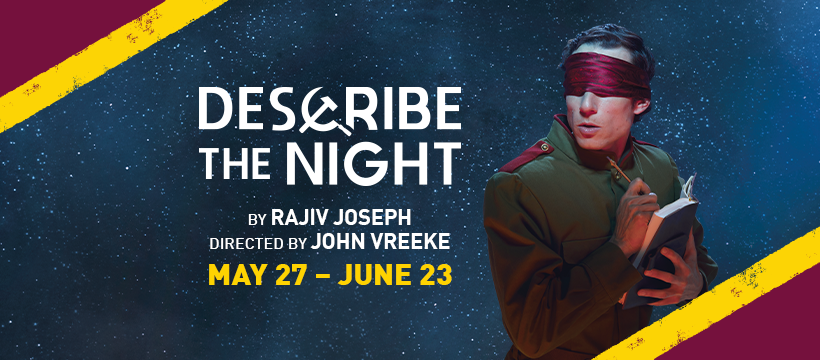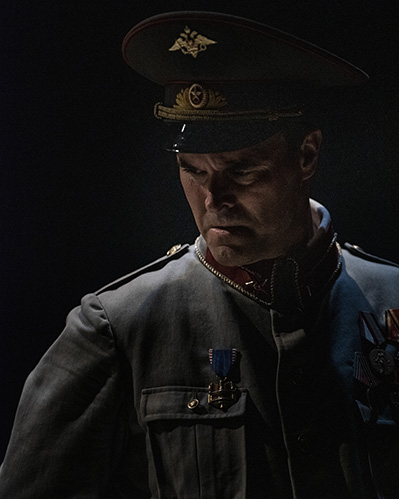 In 1920, Russian Jewish writer Isaac Babel starts a diary while wandering the countryside with the Red Cavalry. In 2010, after the crash of an aircraft carrying the Polish president, his diary is discovered among the wreckage. What did Babel write, and why does it matter so much to a low-level KGB agent who may or may not be Vladimir Putin? Describe the Night uncovers the mystery by tracing the stories of seven lost souls connected across decades by history, fiction, lies, and blood.
Pulitzer Prize-finalist Rajiv Joseph returns to Woolly after hit productions of Guards at the Taj (2016) and Gruesome Playground Injuries (2010). Describe the Night is a "work of major ambition" (New York Times) that will feel both timeless and tuned in to the age of #FakeNews.
Directed by Woolly company member John Vreeke
Featuring Woolly company members Tim Getman and Kate Eastwood Norris
Featuring designs by Woolly company members Misha Kachman, Colin K. Bills, and Ivania Stack
2018 Obie Award Winner, Best New American Play --- Photos and

Reviews

are posted below

---

This Putin learns the power of lies in 'Describe the Night'


.



"Vreeke, who directed Joseph's similarly tyrant-obsessed "Guards at the Taj" at Woolly in 2016, navigates with a sure hand. The atmosphere is imaginatively sinister..."

Review by Nelson Pressley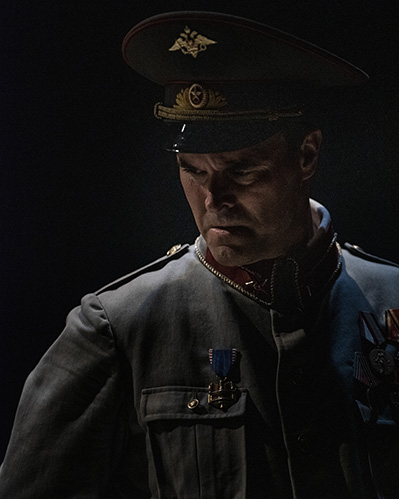 "Everyone has competing narratives. Isn't it so?" a frigid-souled Russian named Vova says in Rajiv Joseph's grim political fable "Describe the Night." Vova, you are meant to understand, is Vladimir Putin, and Joseph's long, twisting play arcs across 90 years as the Russian president absorbs a tyrant's lessons of seizing power by manipulating the truth.
Another real-life figure, Russian writer Isaac Babel — executed by authorities in 1940 — is a key character, dazzling the intimidating Soviet officer Nikolai Yezhov (also real) as he effortlessly spins up little fictions on the spot. That's the play's beginning, in 1920, and it bends forward to the 2010 plane crash in Smolensk that killed 96 people, including Poland's president.
At Woolly Mammoth Theatre Company, John Vreeke's fervently acted production gives Joseph's drama a suitably paranoid, suspenseful air, even if the ambitious script is sometimes overloaded. Misha Kachman's set design traps the characters on a gash of a stage bisecting the audience. One bank of spectators eyes the other, with the actors playing out power struggles in the middle. For good measure, Dmitri Shostakovich's compositions sometimes blare in, adding scale and tension.
Yet "Describe the Night" is largely a literary drama, waltzing with malevolent political themes. Babel is its soul, and Jonathan David Martin gives a bookish, slightly anxious performance as the writer whose exercises in make-believe and subversion get perfected by thugs pursuing power. The title comes from Babel's journal exercise, and as he explains it to the Soviet officer Yezhov — played as a literal-minded brute by Tim Getman — Joseph firmly establishes his refrain of truth and fiction.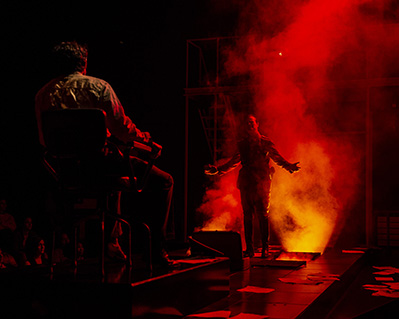 Where he takes it can sometimes tax your patience. Toggling forward to 2010, a rental car agent nam
ed Feliks bonds with the on-the-run journalist Mariya as the downed Smolensk plane smolders outside. Justin Weaks and Kate Eastwood Norris play the long, sometimes funny scene in full emergency mode, and then their characters vanish from the tale for almost two hours.


Meanwhile, back in the 20th century, Babel and Yezhov become unlikely friends; drawing from the record, Joseph depicts an affair between Babel and Yezhov's wife, Yevgenia. Departing from history, presumably, but leaning into metaphor and allegory, Yevgenia can forecast the future. (It's almost always war.) Regina Aquino plays Yevgenia with a whiff of entrapment that escalates into a sharp-edged bitterness; though her mystical rituals involve blindfolds, Yevgenia clearly sees the tragic patterns.
Yevgenia's granddaughter Urzula (Moriamo Temidayo Akibu) intersects with Vova (Danny Gavigan); it's complicated, and Babel's long-lost journal doesn't effectively bridge the plot's decades and relationships. As the play cycles through its nearly three hours, you can see why it has divided critics. For all its intriguing parts, the story never fully establishes an authoritative narrative stride.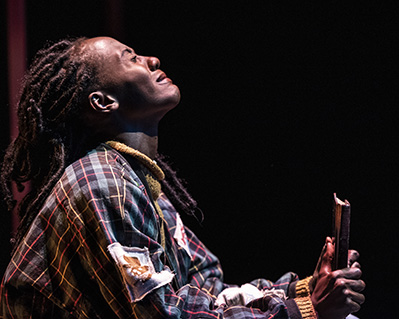 On the other hand, you can understand why it won last year's Obie Award as best new American play. The times hardly seem wrong for a fretful epic about truth and lies, the fictions governments learn to spin, and the truths that powerful figures rewrite or ignore. For the record — a p
hrase that seems totally destabilized by the play — Joseph began the script before the last U.S. presidential campaign, yet watching Vova and a magically undead Yezhov secretly blacking out portions of public documents may fleetingly put you in mind of the redactions in the Mueller report. It's possible to lean into this dark, warped phantasmagoria and think, yes, this is where we are.
Vreeke, who directed Joseph's similarly tyrant-obsessed "Guards at the Taj" at Woolly in 2016, navigates with a sure hand. The atmosphere is imaginatively sinister: Ivania Stack's costumes supply period details and whimsical departures from reality, and Colin K. Bills's lights help reveal the surprises in Kachman's set. The acting — so full of storytelling, even in its grim interrogations — deftly sounds the available notes of black comedy, especially when Gavigan's Vova samples Yevgenia's soup of blood-engorged leeches. At its best, that's the sort of vivid, perverse political imagery that "Describe the Night" feasts on.
Review by Nelson Pressley
---

"Under John Vreeke's keen direction and with stand-out performances from a talented cast, Woolly has created a spellbinding evening of theatre."
Review by John Bavoso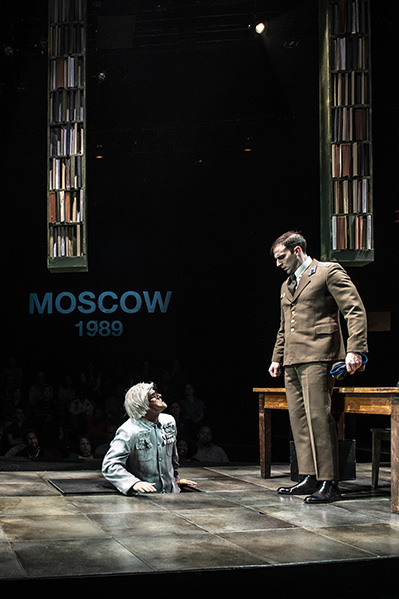 "Fiction carries a greater amount of truth in solution than the volume which purports to be all true," wrote British novelist William Makepeace Thackery, author of Vanity Fair. This simple sentence seems to be the mission statement behind Rajiv Joseph's Obie Award-winning play, Describe the Night, currently closing out Woolly Mammoth Theatre Company's 2018–2019 season. Joseph takes great pleasure in smashing the clay pots of historical "fact" and reassembling them into a new narrative, one that explores the nature of truth, the power of art, and nearly 100 years of Russian history. That's a tall order for one play, but under John Vreeke's keen direction and with stand-out performances from a talented cast, Woolly has created a spellbinding evening of theatre.
Describe the Night ranges from the front lines of the Polish-Soviet War in 1920 to a rental car office in Smolensk in 2010. We begin with the first meeting between Isaac Babel (Jonathan David Martin), the prolific Jewish writer, and Nikolai Yezhov (Tim Getman), the eventual officer in Stalin's secret police. Babel has been writing about his war experiences in a journal, including the killing of a local, elderly Polish man by Yezhov that day. Yezhov confronts Babel, wanting to know how he's going to portray the day's events—that Yezhov was defending himself from a man armed with an ax or that he murdered in cold blood a man whose tears of grief for his dead son unnerved the young officer. What follows is a debate regarding the nature of fact and fiction ("true is what happens; false is what does not happen," repeats Yezhov, unable to comprehend any shades of gray) and the beginning of a long, unlikely, and ultimately fraught friendship.
From there, we jump to 2010, where Feliks (Justin Weaks) is hiding inside the car rental office in which he works, having just been visited by the Russian police. The reason for their visit is a crash of a Polish Air Force jet carrying the Polish president and first family just outside the city. He's joined in short order by a similarly terrified journalist, Mariya (Kate Eastwood Norris), who managed to narrowly and accidentally escape a roundup of her media colleagues who happened to witness the plane crash. During their back and forth, Feliks reveals that he went to the site of the crash and spoke to an older woman before she died, and she handed him a book… Isaac Babel's journal.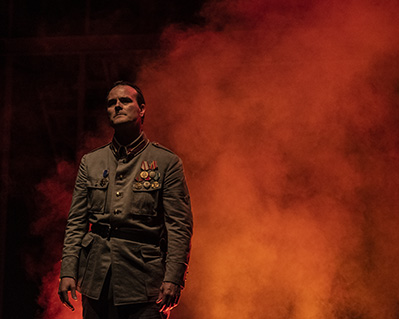 T

he plot then bounces back and forth between Dresden in the 1980s and Moscow in the 1930s and 1940s, with Babel's journal remaining the constant in every scene. In the process, we meet Yezhov's wife, Yevgenia (Regina Aquino), her granddaughter, Urzula (Moriamo Temidayo Akibu), and Vova (Danny Gavigan), the KGB officer meant to find Urzula and prevent her from defecting to the West.





The connecting of all these characters represents the ripped-from-the-headlines-and-stitched-back-together nature of Joseph's narrative—Yezhov, who was executed in 1940, appears as a worker in a clandestine Soviet bureau with the power to change official history with an all-powerful black magic marker ("the most useful tool in communism") in 1989. At the same time, Yevgenia is living her own life in Dresden, despite being 110 years old. Joseph seems to take great glee in hanging a lantern on these metatheatrical moments, which are meant to mirror the real-life process of editing the historical record to present an official version of the truth. The real Babel, for instance, was fully stricken from the public record until his persona was "rehabilitated" in 1952; similarly, Yezhov was literally removed from photos showing him with Joseph Stalin after his death, as if he never existed.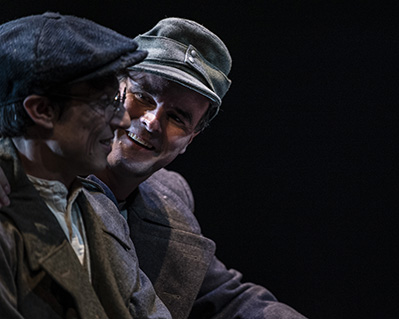 The script bends over backward to connect these disparate characters in unexpected and increasingly fantastical ways, but they themselves are kept ground thanks to some stellar performances from the cast. Getman, in particular, deftly plays the straightforward Soviet officer Nikolai as both slapstick and menacing, keeping the audience on the edge of their seats and laughing nervously. Weaks plays Feliks is the opposite direction—rather than controlled and placid, he's as jittery and exposed as a live wire—but with a similarly visceral physicality. And Akibu's gorgeous voice and tender defiance brings depth to a character who isn't as heavily featured as the others.
Vreeke, who's previously directed Woolly's productions of Joseph's Gruesome Playground Injuries in 2010 and Guards at the Taj in 2016, finds inventive ways to have his characters turn up in unexpected places. Even when a character isn't in a scene, he or she is seated somewhere off to the side or in the balcony, either passively watching the goings-on or actively participating by swinging a spotlight. These choices—combined with scenic designer Misha Kachman's galley stage, which cuts the audience perfectly in half—give the feeling that we are part of the action, rather than mere spectators.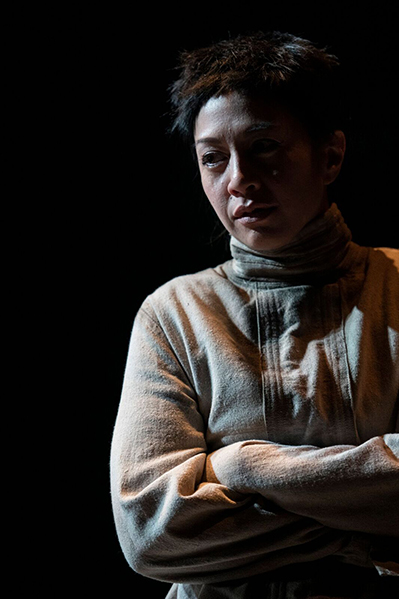 One characteristic of Joseph's script who's harder to mitigate is the sometimes complex-to-the-point-of-confusing structure of the narrative. I've only touched on some of the plot points above—to explain them all would require one of those crime boards with thumb tacks and red strings commonly found in police procedurals. The jumps in time and aging of characters can be difficult to keep up with, and while knowing the news stories and histories from which the plot is pulling isn't strictly necessary, it certainly helps. I was left at the end feeling that the show was too long yet wanting it to be longer—we only get one scene between Feliks and Mariya at the very beginning of the show, and the dynamic between Weaks and Norris was one I longed to see more of. And while all the metatheatricality surrounding the ways in which truth and facts are developed and altered is interesting and certainly resonant to today's world, I was left unsure as to what message or lesson I was supposed to be taking with me out of the theatre—I left impressed, but vaguely confused at the same time.
Still, Describe the Night is an ambitious play by a celebrated American playwright brought to life with care and a winking nod by one of DC's top theatre companies. In the age of "fake news," pausing to look at how and by whom the official story is being crafted is a good thing—and it may, in fact, be the most important thing of all. And the idea that one person's words, scribbled hastily in a journal, could have the power to inspire generations to come offers some hope that even the most ephemeral of artworks can have a permanent impact on us all.
Review by John Bavoso
---

"Describe the Night" is a study in how truth and lies are twisted and deformed, and the lengths authoritarian regimes will go..."
Review by Mary Ann Johnson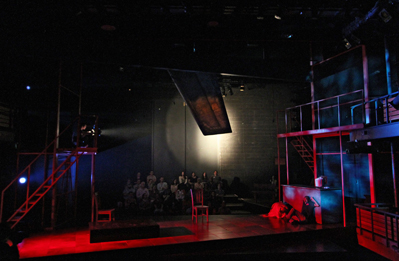 This is an ambitious, involved show that uses the 2010 plane crash in Smolensk that killed 96 people, including Poland's president as a linchpin. Starting in 1920 with the chance meeting of (real-life) Russian writer Isaac Babel and the future head of the NKVD (from 1936 to 1938, the most active period of the Great Purge), Soviet officer Nikolai Yezhov, the story proceeds through three generations. It isn't exactly a friendship that the two men strike, but there is a connection. And this connection is what unites the different streams of consciousness for the 90 years that the play covers.
This play places historical people into imagined situations, and then blends real situations with the characters, some of whom have died (e.g., Yevgenia as an old woman), all the while skipping merrily back and forth in time from 1920 to 2010. The easiest way to visualize this is that the characters from 1920 to the 1940s are real, and after that, it's more fluid. This is a play that asks that you suspend your need for a linear story and be willing to accept magic realism.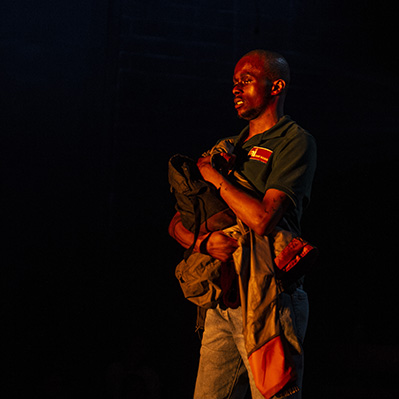 But ultimately, the characters are secondary; "Describe the Night" is a study in how truth and lies are twisted and deformed, and the lengths authoritarian regimes will go to 1) produce, 2) disseminate, 3) protect a truth that consolidates their hold on power. The characters are basically conduits for a lesson in the ultimate spin—execution and writing someone out of history. In the days before photoshop, this took some real effort, and one of the characters, Nikolai Yezhov, was basically removed from Soviet history, photographs, records, files; he became known as the "Vanishing Commissar." However, unlike Babel, who was also purged and executed but eventually half-heartedly "rehabilitated," Yezhov was never brought back in memory.
And what is the price that societies pay when truths are eradicated? Since humankind began keeping records, what are the dangers to a status quo, particularly when controlling a population, if some fragment of a truth is found, and someone's imagination is lit up to go and find out more? Just how dangerous is that?
All these questions the play raises, and in some form mostly answers.
As Isaac Babel and Nikolai Yezhov, Jonathan David Martin and Tim Getman have real chemistry together. Martin is as nimble with his words and delivery as he is on his feet; although only a few inches taller, Getman somehow manages to simply loom over Babel. Even when having a (relatively) friendly exchange, there is an undercurrent of violence emanating from Getman.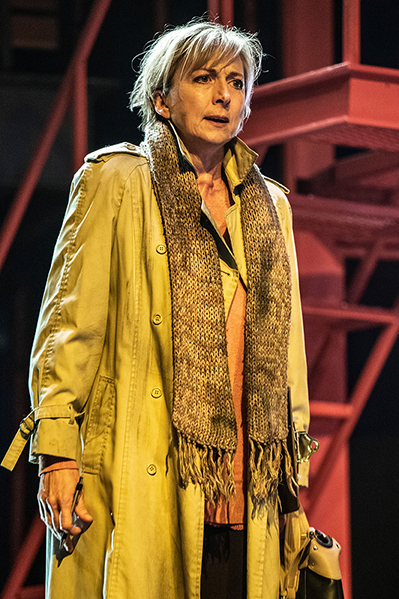 T

he rest of the cast is rounded out by Justin Weaks as Feliks (he makes a solid impression in the first act then sadly disappears for two hours until the last 10 minutes or so); Kate Eastwood Norris as Mayiya, a Polish journalist that escaped the round-up of journalists in Smolensk, Russia, where the Polish plane crashed; Regina Aquino as Yevgenia, wife of Nikolai and lover of Babel; Danny Gavigan as Voval (he is only in the last scenes, playing, dare we imply it, a frighteningly silky Putin as an up-and-coming KGB officer); and Moriamo Temidayo Akibu as Urzula, granddaughter of Babel.





The staging is intriguing but sometimes doesn't offer enough privacy for the actors. The stage bisects a seating area Woolly has placed at the back of the stage, and there are two large metal walkways with rooms standing guard at either end. It was a bit awkward when a character needed to age or grow younger and the crew simply appeared and handed them a robe and wig or some such. Clearly, the actors had practiced donning changes without the aid of a mirror, but it felt like such a private moment to spy on. And it seemed to jar one out of the moment; this is not a play that one ever loses awareness that it is a play. That is not a critique but seems to fit more with the somewhat scattered, removed approach to the question-asking.





This is a dangerous play of dangerous questions and few hopeful answers. At the end, I was left wondering, what IS the point of our existence—all these resources, all this time and effort, all the lives wasted in pursuit of some power, and you're going to die anyway, and what has been left to the next generation to build on? What kind of mad game are we wasting all this time on, anyway? And would humanity have the courage to change? Given the possible future humanity is hurtling toward, these are very timely questions, but who dares to answer?





Review by Mary Ann Johnson




---

Woolly always puts on a good show, and with compelling performances from each member of the talented cast, and direction by John Vreeke that emphasizes the nightmarish parameters of this historical epic, it's hard not to appreciate such a bold and adventurous production.
Review by Beatrice Loayza
Like Marcel Proust's famous "madeleine moment," Rajiv Joseph's ambitious new play Describe the Night, in an exciting, Kafkaesque rendering by Woolly Mammoth Theatre Company, finds philosophical potency in the memory of objects and moments in the past -how they continue to haunt and harass, stimulate and enrapture us. But memory is a tricky thing, fallible, prone to manipulation. Before the firing squad, in any case, the difference between true and false blurs into whatever pleases the executioner.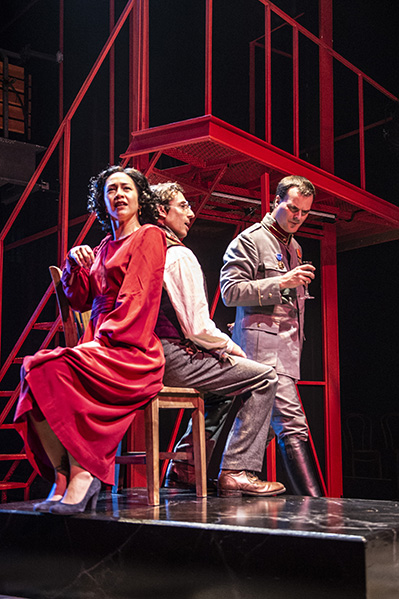 This unsettling fact – our tenuous grasp on objective truth – pervades Joseph's sprawling tale of 20th and 21st-century Russia, which links famed Russian author and journalist Isaac Babel's 1920 diary with the eerie 2010 Polish Air Force plane crash that killed practically the entire acting government. Framed by bleak, industrial cages on either side, a slim stage runs through the audience like a river, offering two different mirrored perspectives through which we can observe the events. It's a clever decision that speaks to Joseph's thematic concerns while also offering a mildly immersive element, especially when imitation searchlights swirl frantically over the audience with a sense of urgency and danger (those with sensitive eyes will want to turn away).
Our current political reality should be enough to prove that history is hardly the upwards line of progress that the textbooks would have us believe. As a sort of antidote to this faulty notion, the narrative jumps back and forth through time – 1920 to 2010 to 1937 to 1989 and so forth – as connections are forged between Isaac (Jonathan David Martin) and Mariya (Kate Eastwood Norris), a reporter fleeing government persecution after finding herself in the wrong place at the wrong time in the aftermath of the crash.
The play opens to Isaac suffering a bout of writer's block. It's 1920 and he's serving as a war correspondent of the Russian Red Cavalry during the Polish-Soviet War, where he meets the meat-headed, unstable, and occasionally menacing Nikolai Yezhov (Tim Getman), a soldier wrestling with his demons after killing an old peasant that confronted him with an ax. Or was it a shovel? Nikolai concerns himself with making sure Isaac isn't recording the "wrong" version of things, and Isaac assures him the small glory or disgrace of a single man doesn't interest Stalin. In any case, Isaac is less concerned with his official duties than he is in his creative work – short stories and novels cheekily, often metaphorically, denouncing the government's authoritarian tendencies, which Nikolai, for the most part, turns a blind eye to. Fast forward to a reunion in 1937 at Nikolai's home, where Isaac meets Nikolai's eccentric, bookish wife, Yevgenia (Regina Aquino). Sparks fly between the two right before Nikolai's eyes, and a passionate affair ensues that will send shockwaves for decades to come.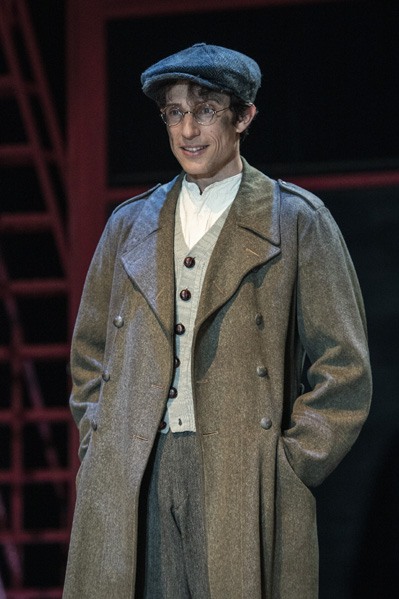 But it's the chemistry between Martin's Isaac and Getman's Nikolai that leaves the greatest impression as both men tease out hard truths from one another, at first in the form of a friendship developing hesitantly over a bottle of stolen sacrament wine, and later in the interrogation room. Getman stomps around the stage with a physical presence that mirrors the pressure-cooker repression of his character; his brutish manner and chuckled misogyny only exacerbate the increasingly noticeable fact that he has something to hide.
As a much older version of himself as a Soviet archivist, Getman is less effective as he interprets the aged Nikolai as a sort of hunched caricature that immediately feels out of place with the somber, urgent (magical) realism of the production as a whole. Same goes for Aquino's older Yevgenia, whose chipper attempts at grandmotherly comic relief land nowhere. As a mystic-type with the ability to see the future and concoct leech stews that have the effect of unearthing seriously buried memories when consumed, Yevgenia shines when her folk-witch edge is emphasized. The decision to have the same actors play both the young and old versions of themselves works for the sake of continuity, and perhaps makes it easier for audiences to put the pieces of Joseph's intricate puzzle together (I'd recommend reading through the playbill, here more so than in other productions), but I could've done without the bad wigs and trembling imitations of an older person's hoarse speech.
On the other side of the timeline is Norris's Mariya, a relative nobody who briefly bunkers down with a frazzled rental car salesman, Feliks (Justin Weaks), also terrified of the impending police searches. Mysteriously in possession of Isaac's journal, Feliks hands it off to Mariya, who will later be questioned by President Putin, or Vova (Danny Gavigan), himself. A more personal spin on Vova's rise to power is also sprinkled in, notably a rendezvous with KGB target turned lover Urzula (Moriamo Temidayo Akibu), the granddaughter of Yevgenia who hopes to flee to the West where she can pursue her dreams of becoming a singer. Akibu, it's worth noting, has a lovely, jazzy voice that fills up the room.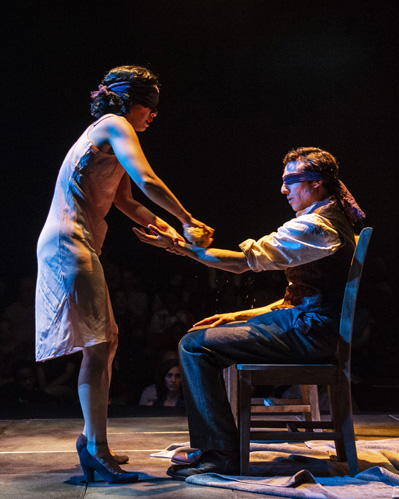 Norris is effective as the wide-eyed reporter suddenly swept up into a world of corruption and systematic abuse, while Weaks, given perhaps the smallest role of the bunch, nevertheless distinguishes himself from the rest of the cast with a twitchy, sinewy performance that elevates his character's paranoia as an expression of metaphysical panic. Last but not least, Gavigan's rendition of a young Putin hits its high point after a hearty serving of that infamous leech soup that causes him to react violently and physically to the sudden recollection of his origins.
A single storyline alone would seem to provide sufficient material for the play's nearly three-hour runtime, but Describe the Night aspires to much more conceptually; it's the reason why Joseph's efforts are so rewarding in their Freudian appraisals of history and trauma, but also why the play feels so meandering, ultimately sabotaging its own climactic revelations near the end. But Woolly always puts on a good show, and with compelling performances from each member of the talented cast, and direction by John Vreeke that emphasizes the nightmarish parameters of this historical epic, it's hard not to appreciate such a bold and adventurous production.
Review by Beatrice Loayza
---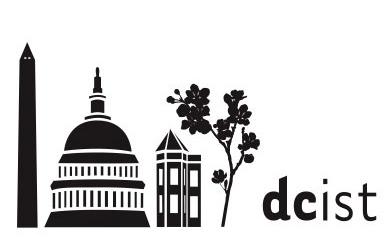 'Describe The Night' Weaves A Complicated Russian Tapestry Spanning Nearly A Century
Review by Peter Tabakis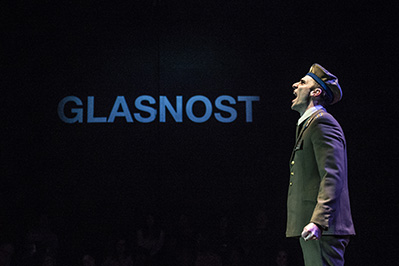 With Describe the Night, the 2018 Obie Award winner for Best New American Play now showing at Woolly Mammoth, playwright Rajiv Joseph (a Woolly regular with Gruesome Playground Injuries and Guards at the Taj) dramatizes a 90-year-long round of narrative Tetris. Much like that quintessentially Russian video game, this production can be riveting, but also frustrating. The story opens within the Polish countryside in 1920, leaps forward to the site of a 2010 plane crash near the Russian city of Smolensk, and then hopscotches back and forth across time and place via a series of vignettes, mismatched puzzle pieces that eventually lock into an orderly (if unsatisfying) whole.
The playwright's non-linear, and predominantly ahistorical, approach is engineered to be spoiler-heavy and, consequently, impossible to dig into with specificity. But I can say this: Joseph imagines a deep friendship between real-life figures Isaac Babel (a celebrated journalist and the author of Red Cavalry) and Nikolai Yezhov (a key villain in Joseph Stalin's murderous "Great Purge") that spans decades, a connection that's crucial to Describe the Night's melodramatic and made-up twists and turns. Director John Vreeke and scenic designer Misha Kachman (Woolly veterans, both) are working on an alley staging (with the audience flanking a catwalk-like stage) that feels inherently menacing.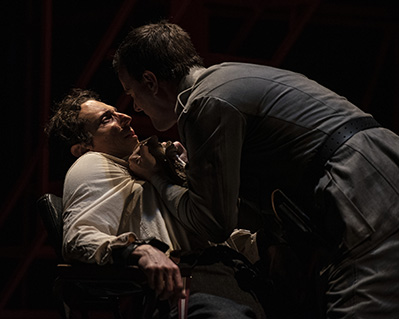 When our two protagonists first meet in Poland in 1920, Nikolai (Tim Getman, a slobbering puppy dressed in Soviet military garb) is portrayed as a truth absolutist. Isaac (the sad-eyed Jonathan David Martin) is a dogged reporter on a mission (he's also an unapologetic storyteller and fabulist). Their initial verbal interplay, where Isaac illustrates the power of a well-crafted yarn, reverberates throughout the play's lengthy runtime. And Isaac's journal, which is passed from one hand to the next like a red violin, becomes the show's all-important MacGuffin.
Truth and fiction blur late into Describe the Night. A pistol fires in 1940, tipping the first tile in this show's elaborate domino formation, which collapses backwards and forwards and reshapes everything and everyone we've seen thus far. Among those characters: a woman (Karen Eastwood Norris, always great) seeking a rental car from a nervous attendant (Justin Weaks) after a tragedy in 2010. Those two may or may not be connected to two other prominent characters (Moriamo Temidayo Akibu and Regina Aquino, both excellent) we meet in the 1930s and 1980s. And a lowly soldier (the foreboding Danny Gavigan) who rises, rung by rung, and is somehow tangled up in this mess, bears an awful lot of resemblance to Vladimir Putin.
An assumption like that is never confirmed in this play, of course, because truth is forever malleable under a totalitarian regime. Describe the Night, however convoluted, resonates more in our upside-down world, where Orwellian phrases like "fake news" and "alternative facts" have slipped into the lexicon with frightening ease.
Review by Peter Tabakis


---


Describe the Night is a must-see for any serious DC area theatergoer

Review by Jennifer Perry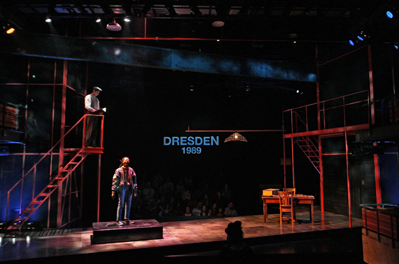 Notable for being the final selection of Woolly's incomparable Founding Artistic Director Howard Shalwitz, Rajiv Joseph's Describe the Night is a must-see for any serious DC area theatergoer. Despite some baffling staging decisions by John Vreeke (at least for some members of the audience), the show features some of the season's strongest ensemble acting and an epic story that will keep you interested for close to three hours.
Pulitzer Award-winner Rajiv Joseph's story spans 1920 to almost present day (2010). Writer Isaac Babel (Jonathan David Martin, giving his best DC area performance to date) encounters Nikolai (Tim Getman), a soldier, in the Polish countryside during the Russo-Polish war. While both Russian, they could not be more different. Nikolai is obsessed with facts and rules, in part due to his military service. Babel sees the world around him, and the actions of his country more specifically, in terms that are much less black and white. Perception matters, and he takes great care to detail what the world looks like around him - physically and otherwise - in his journal and later, his books and screenplays.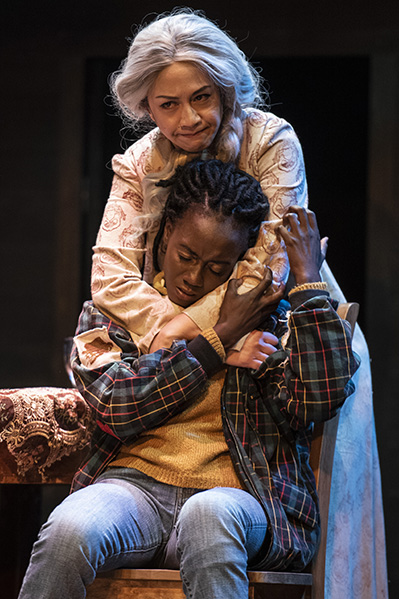 Joseph takes these ideas of fact vs fiction and truth vs lies and weaves them throughout his story, which not only spans multiple decades, but multiple countries (Poland, Russia/Soviet Union, and Germany). A jigsaw puzzle emerges - how Isaac and Nikolai (and his wife Yevgenia, well played by Regina Aquino) are connected to Feliks (Justin Weaks), a car rental employee in Poland in 2010 and Mariya (Kate Eastwood Norris), the reporter Feliks meets on the night the President of Poland and other senior leaders are killed in a plane crash. How are they connected to Vova (Danny Gavigan), the KGB officer turned Russian leader, and Urzula (Moriamo Temidayo Akibu), the young girl living in Dresden who he's tasked to prevent escaping to the West? In an effort not to spoil all of the twists and turns here, let's suffice it to say that the pieces (and how they all fit together) become increasingly clear in Act Two. Isaac's journal is the key not only to their connection, but how each person has been personally impacted by manipulations or interpretations of the truth - truth that can be traced back decades.
Joseph's play is - without a doubt - long. While there are some moments that go on for slightly too long (the initial scene between Feliks and Mariya is but one example), he is a master at presenting a cohesive and compelling story featuring rich and well-defined characters. While there are many twists and turns, the story is never convoluted and is always interesting. Perhaps with a lesser acting company it might be a slog at times, but this is most definitely not the case at Woolly.
Each cast member is on equal footing, approaching each character with a similar level of understanding of who they are as individuals, how they are connected to others, and how they fit into the big picture - without showing all their cards to the audience too soon. Even if a particular character is not involved in a particular scene, there's a good chance they will (at least at one point or another) be sitting on a bench onstage or up on a platform quietly watching the proceedings. These proceedings, of course, have profound implications for their own character's journey.
If
I were to offer one quibble about Vreeke's direction, I would suggest that deciding to present the show with alley staging was a misstep. If anything, a least for those of us sitting in folding, padded chairs in the North Bank (which is essentially where the backstage/stage area usually is), this staging eliminated any opportunity to fully immerse ourselves in the story and forget that we're watching actors perform scenes within the confines of a theater space. From my vantage point, I could see crew running the fly system, setting props, getting set pieces ready, or moving lights. While this is clearly intentional - perhaps to emphasize the "truth vs fiction" or "reality vs. created reality" aspects of the story - it was, in a word, distracting (at least for me). Their movements often took me out of the moment and wonder if I would have felt the same way if I was sitting in the traditional seats.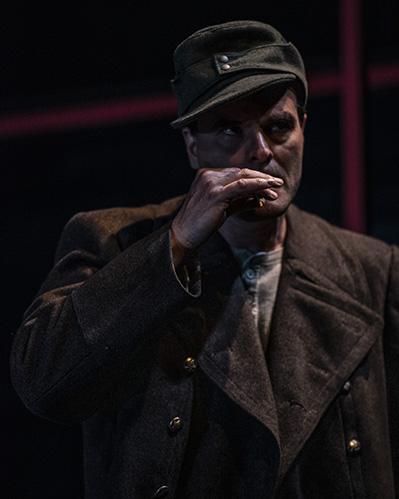 I

've been going to see shows at Woolly for years - in a reviewing and non-reviewing capacity - and this is just yet another example of how decisions to change up the seating don't always make for a pleasant viewing experience for the entire audience. At least, in this case, set pieces didn't block my view like in some other productions. I admire the creativity though even if it didn't really work.





Other strong technical elements - from Misha Kachman's easily transformed set, and Roc Lee's sound design that provides just the right ambience for any scene, to Colin K. Bills' appropriately harsh lighting design - add interest and complement the story.





All in all, this show is an incredibly strong way for Mr. Shalwitz to end his time selecting shows for Woolly. While I may not have liked every show he selected since I've been going to Woolly, there's absolutely no denying the fact that he was keen on selecting shows that would challenge his audiences and provide them an opportunity to see shows they would not be able to see anywhere else in town - even with the number of choices we have. His unique artistic vision will be missed, but I look forward to seeing what Maria Manuela Goyanes has in store for us as the new artistic director. Looking at her selections for next season, I think the company is in good hands

.



Review by Jennifer Perry




---
The photos

belo

w

by Misha Kachman