.

"Stylish 'Ghost-Writer' at MetroStage"
Reviewed by Nelson Pressley
Published: May 2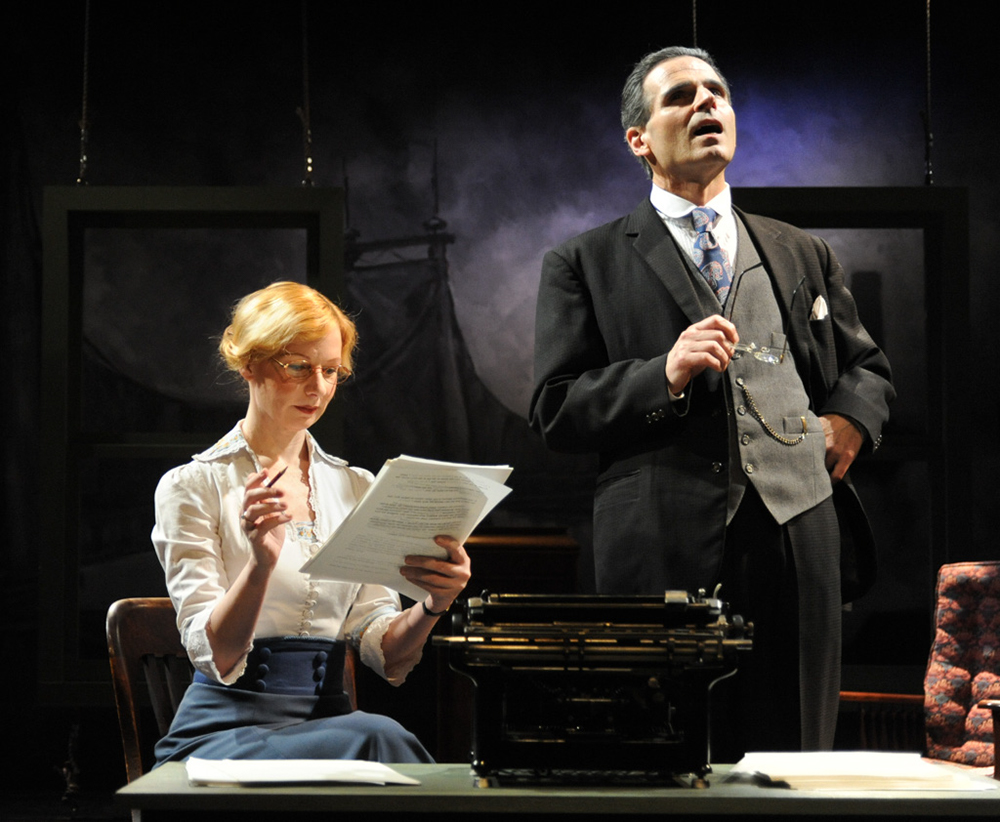 It is 1919 in the enjoyably bookish drama "Ghost-Writer," and the novelist Franklin Woolsey has just died. Yet his typist, Myra Babbage, continues to type, insisting that she's just finishing his novel.
"What is so mysterious about that?" she asks innocently.
Well, heck. Is she taking dictation from the dead? Trying to make her name by dotting the i's and crossing the t's of the Great Man's Last Work?
Michael Hollinger's 90-minute play feels like midlist fiction as he ponders Myra's case (Inspired? Love-struck? Spooked?). But the three actors in John Vreeke's disciplined production at MetroStage are such crisp speakers and quick thinkers that they give this diversion a stylish kick.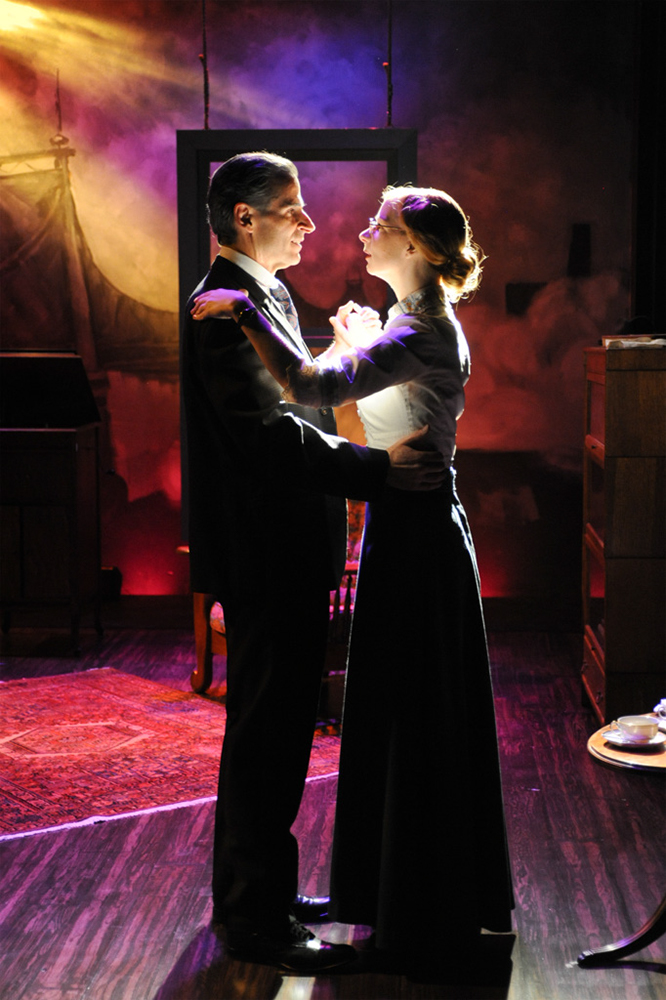 The poised cast is led by Susan Lynskey, whose Myra is winningly articulate and prim (pinned-up hair; oval glasses; long, blue dress — the early-20th-century young librarian look). Myra is being observed by a spy sent by Woolsey's suspicious widow, Vivian; this character is unseen, so Myra, like Salieri in "Amadeus," essentially delivers her explanations to us.
Lynskey couldn't be more personable or rational as she describes working with Woolsey, a character we meet in flashback scenes. Paul Morella is impressively businesslike as the novelist, unspooling long sentences that are as professionally immaculate as his three-piece suit. As Woolsey dictates, Myra efficiently and adoringly clatters away at the manual typewriter; when they get on a roll, the rapid sound is like firecrackers.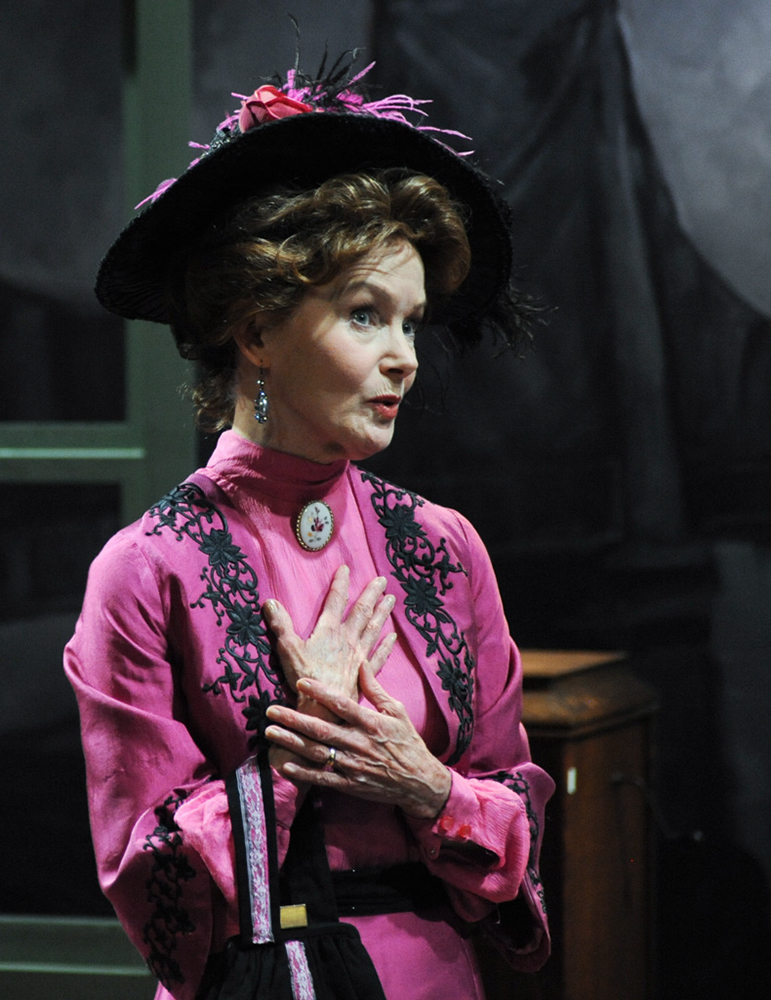 The fifth wheel is the flamboyantly dressed Vivian, played with strong doses of intelligence and pride by Helen Hedman. Vivian swans in and out wearing intimidatingly fashionable dresses with matching hats, and you sense that her wardrobe isn't mere plumage but power. (The costumes are by Ivania Stack.) Vivian is jealous of Myra's connection with her husband, which appears to be continuing beyond the grave. Why, she demands, does this typing go on?
Hollinger's plot is reportedly based on the relationship between novelist Henry James and his typist, Theodora Bosanquet (who is also the subject of the Michiel Heyns novel "The Typewriter's Tale" and Cynthia Ozick's short story "Dictation"). The play is relatively light, but it moves its freight briskly, and Alexander Keen's shadowy, pinpoint lighting is notably good as haunting becomes the theme.
Vreeke's actors make rewardingly adult work of their early-20th-century characters; they are deft enough to wring high comedy from a dispute about a semicolon. Full marks all around for such period flair.
Reviewed by Nelson Pressley
Washington Post


---

"Ghost-Writer, achingly subtle and superb"

Reviewed by Jayne Blanchard
April 30, 2013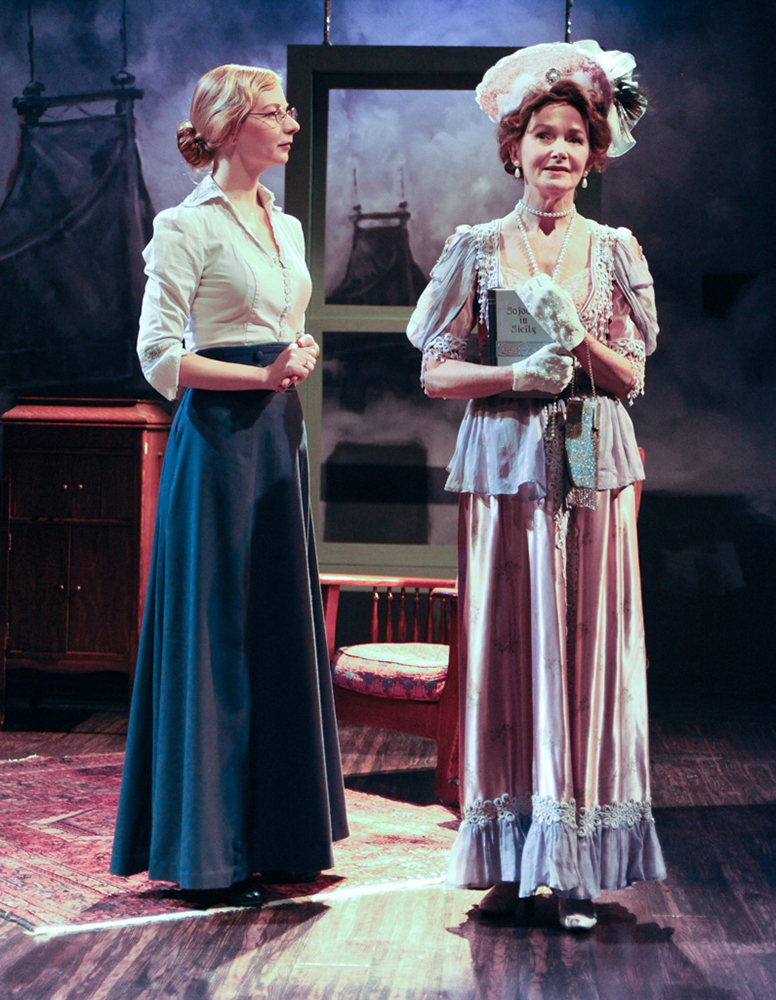 Michael Hollinger's Ghost-Writer may have been inspired by the relationship between Henry James and his secretary Theodora Bosanquet, but there is something delectably Jane Austen-y about the story and its decorous emotions. The play, receiving a primrose-pretty production at MetroStage under the assured guidance of director John Vreeke, presents one of those achingly subtle romances where a mere touch on the forearm is as burning as a caress and conversation is the most beguiling form of foreplay.
Are you the kind of person who believes semicolons are an affront to polite society and exclamation points the bawdy strumpets of punctuation? Someone who, when under the sway of a crush, spends countless hours interpreting sharp intakes of breath, pauses and sidelong glances? Then Ghost-Writer is right up your alley.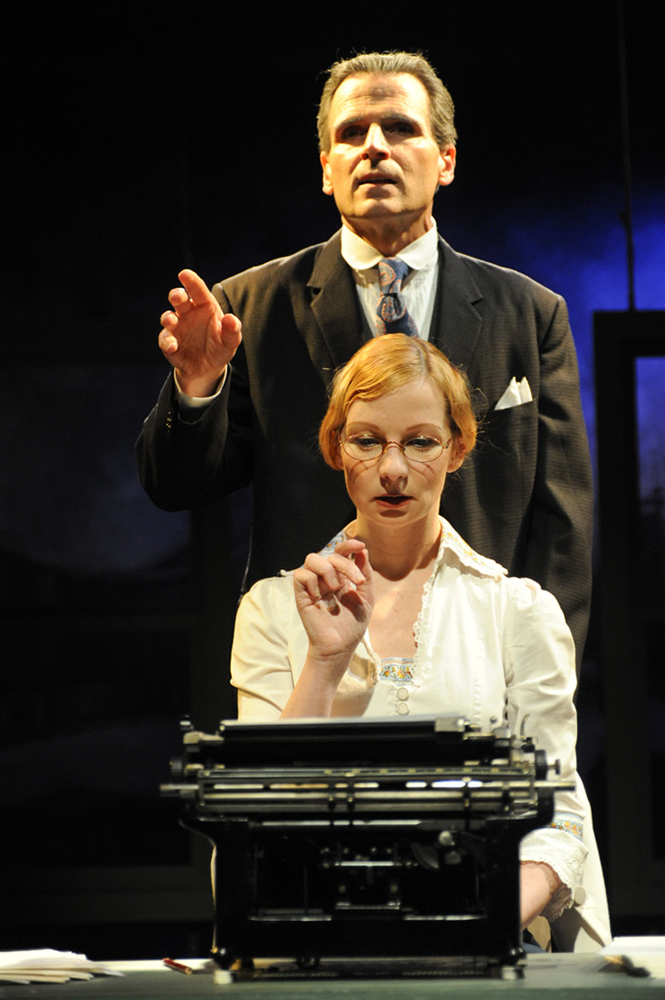 Beyond being a witty treatise on punctuation (even the title makes a sly joke about a certain writer's love of hyphens) and a romance of grave restraint, Ghost-Writer also succeeds as a play about writing, which the secretary Myra (Susan Lynksey) describes as a "wait for the words." No evoking the muse, no feverish bursts of creativity, just stilling the mind and body and waiting for your dreams and desires to soak into letters and then form words.
This brief billet-doux to love and the labor of writing satisfyingly explores the bond between fictional early 20th century American novelist Franklin Woolsey (Paul Morella) and his typist Myra, who becomes his conduit after he discovers that the rhythm of her clacking is a strange music that unleashes the prose pent up in his brain. Dictation becomes collaboration, as Myra begins by taking over the rigors of punctuation and then seems to anticipate Mr. Woolsey's words before he even utters them.
This breathtakingly private union—the scenes of them working together seem so intimate you almost feel embarrassed about looking in—proves a source of envy for wife Vivian Woolsey (Helen Hedman), who, during one shrewd exchange, politely shows Myra exactly where she provided inspiration for some of his finest characters.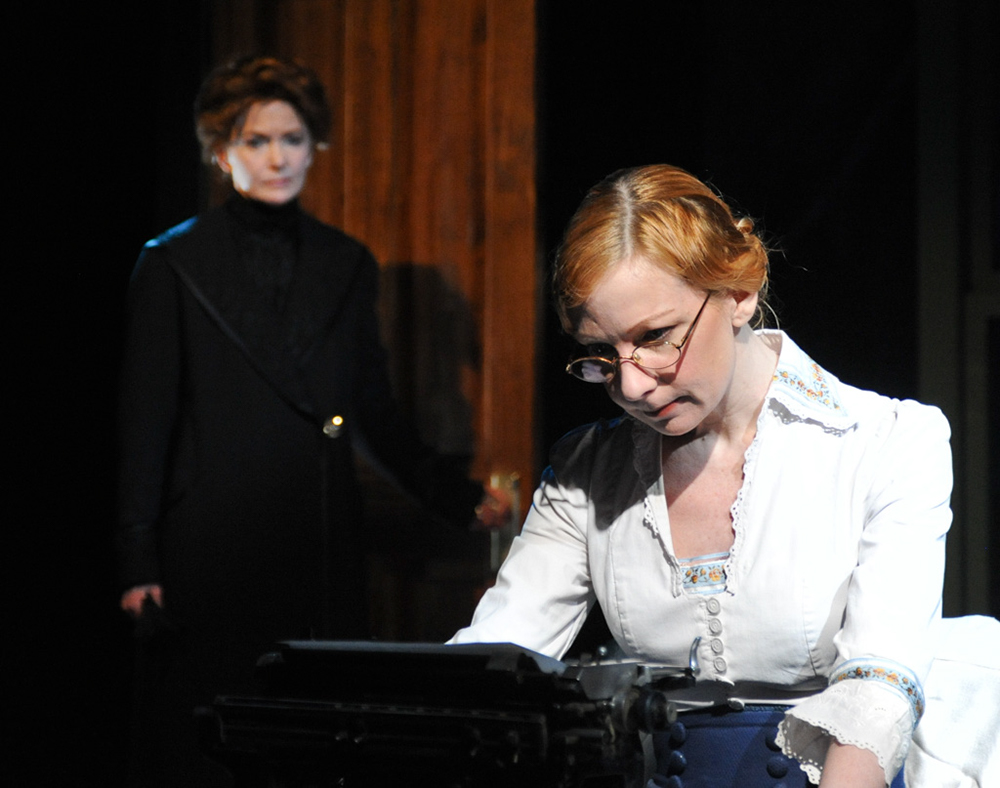 Vivian's concern is actually the impetus for the play's action. Mr. Woolsey dies suddenly while composing his latest novel, but Myra continues the work, insisting that it is he dictating from the grave.
Vivian has an invisible investigator—the audience—come in and see for themselves Myra's suspicious enterprise. Is she really channeling a dead novelist's prose? Is Myra a deluded spinster? Or is it something else—the birth of a writer in her own right who is reluctant to emerge from the shadow of her mentor?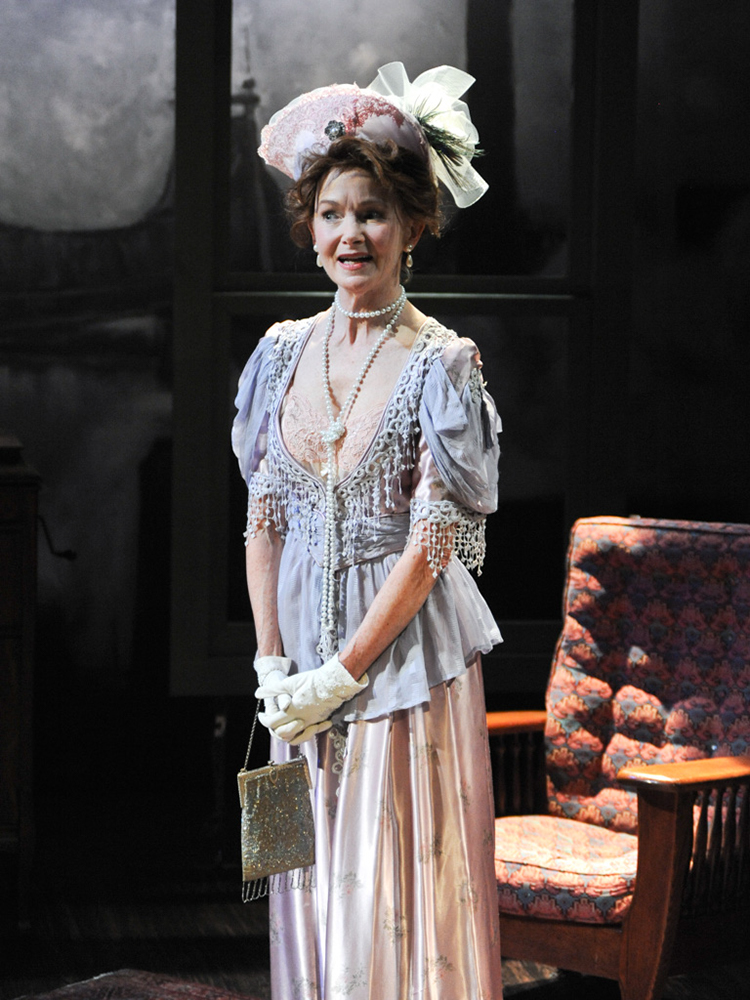 Even though the play itself has a vintage quality—as seen in Jane Fink's evocation of a rented room sparsely furnished in Arts and Crafts pieces and a new-fangled typewriter and telephone and Ivania Stack's period-perfect costumes—the actors approach the roles with newness.
Miss Lynskey's Myra, with her grammarian's diction and her erect posture, looks every bit the ideal career woman of her era. From business school classes to dance lessons every Thursday, Myra is out to improve herself every way she can. Her plan, however, goes astray when she succumbs to the symbiotic relationship with Mr. Woolsey. Miss Lynskey shows with carefully articulated gestures and phrasing, the pleasure and pain of becoming one with someone who cannot return the favor. When she has to let him go, the sting of separation is palpable.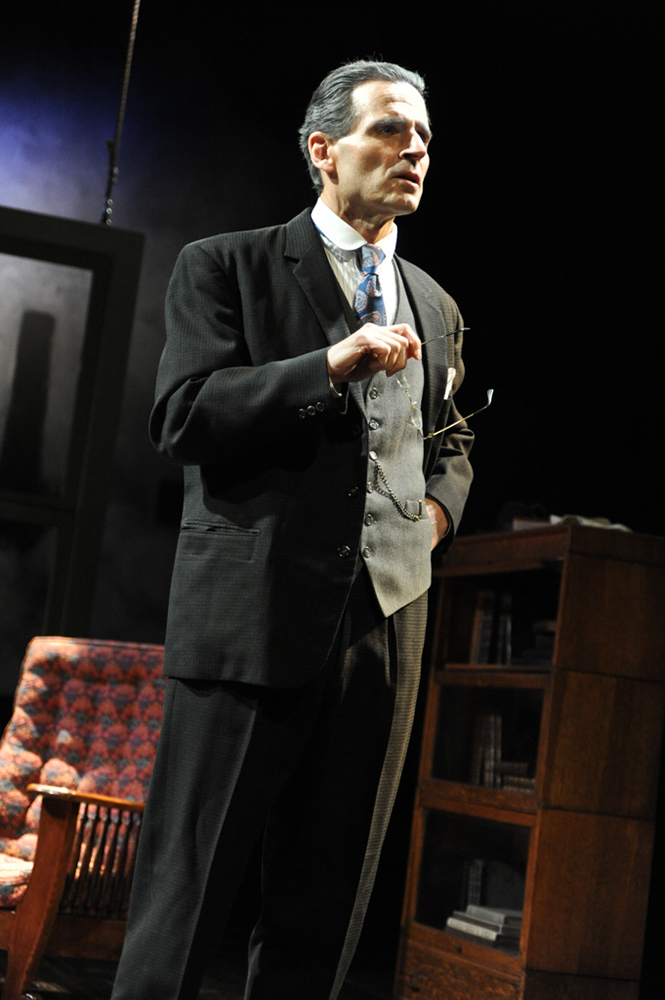 Miss Hedman's regal portrayal of Vivian reveals the character's not-so-attractive traits and a twinge of sympathy for Myra's attraction to her husband, as she knows all too well how lonely it is to love a writer. Mr. Morella also ably depicts the distracted, absorbed life of a novelist, someone at once a model of restraint but also someone who will do anything to get the words out of his head and onto the page.
Ghost-Writer does not provide answers to its many ambiguities, but instead daintily teases us with the possibilities. As such, it is a tender treatise on unspoken affection, the writing process and what we remember and what we wish was so.
Reviewed by Jayne Blanchard
DC Theatre Scene

---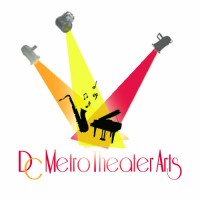 Ghost-Writer Review: "I think I'll see it again myself..."

Reviewed by Yvonne French
Posted on April 30, 2013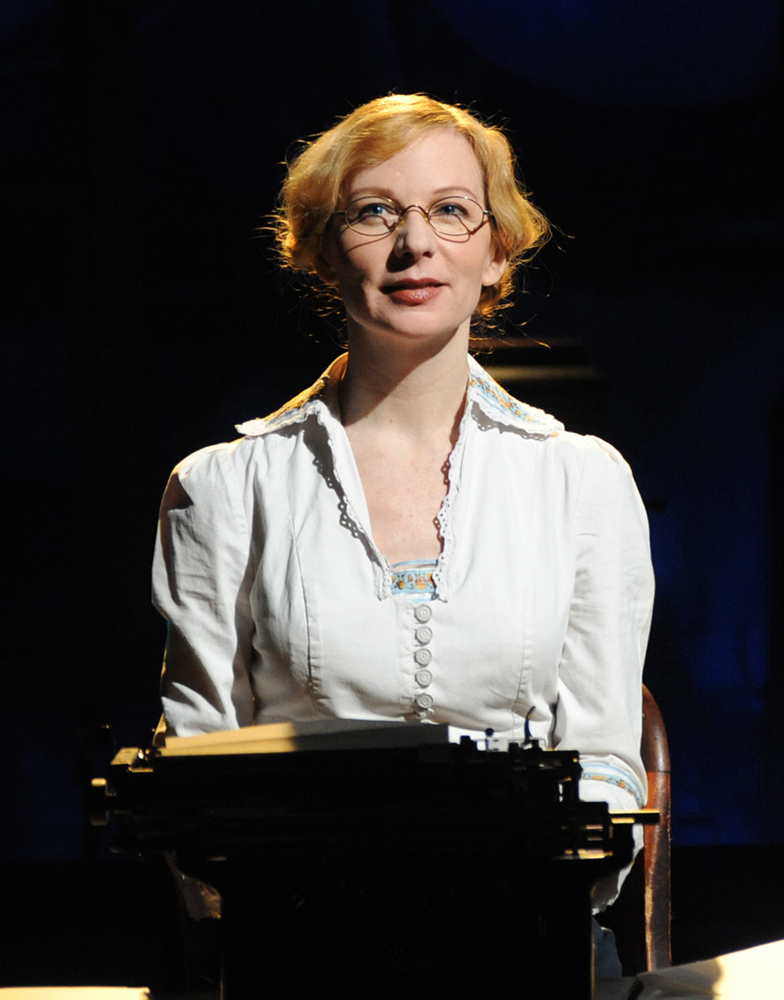 In 1897, American writer Henry James got writer's cramp and hired Theodora Bosanquet to take dictation on the newly invented typewriter in an arrangement that spanned the last eight years of his life.
These two literary figures are portrayed in the Washington premiere of Ghost-Writer, by well-regarded contemporary playwright Michael Hollinger. Like Hollinger's six other plays, it was originally produced by the Arden Theatre Company in Philadelphia.
Ghost-Writer is set in a study with a window looking out on the Queensboro Bridge. The Henry James figure is named Franklin Woolsey. After Woolsey dies, his secretary, Myra Babbage, continues typing in his voice, causing a stir with the public. His wife, Vivian Woolsey, questions whether Myra is channeling her late husband's words.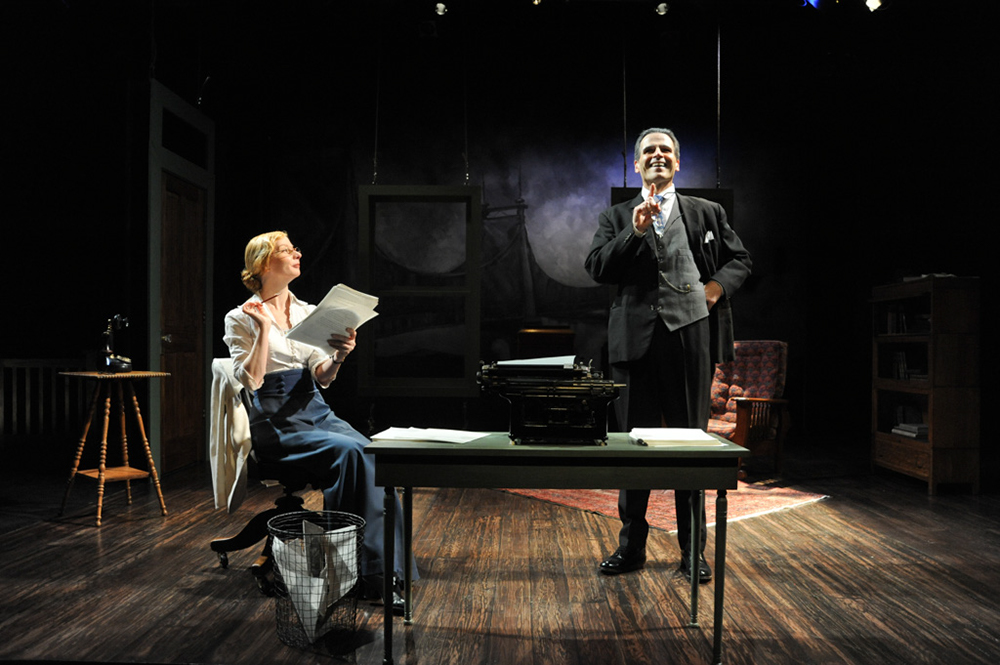 This action is only topical. There is a rich subtext that is conveyed by three experienced actors under the sure-handed direction of John Vreeke, whose simple placement of them the stage has an emotional meaning. Together they offer a brilliantly nuanced performance that leaves it up to the observer to draw his own conclusions, which makes it quite an engaging show.
Myra Babbage is played by Susan Lynskey, who has 90 percent of the dialog in the wonderful script. She addresses everything to the audience as if it collectively represents a muck-raking reporter who is looking for a salacious story about fakery, adultery, or both. But she also adopts the audience as a cozy confidant. She has laughing, intelligent eyes under arched eyebrows, one of which she lifts in irony to make a point with a subtlety that is nonetheless visible to all in the 130-seat theater.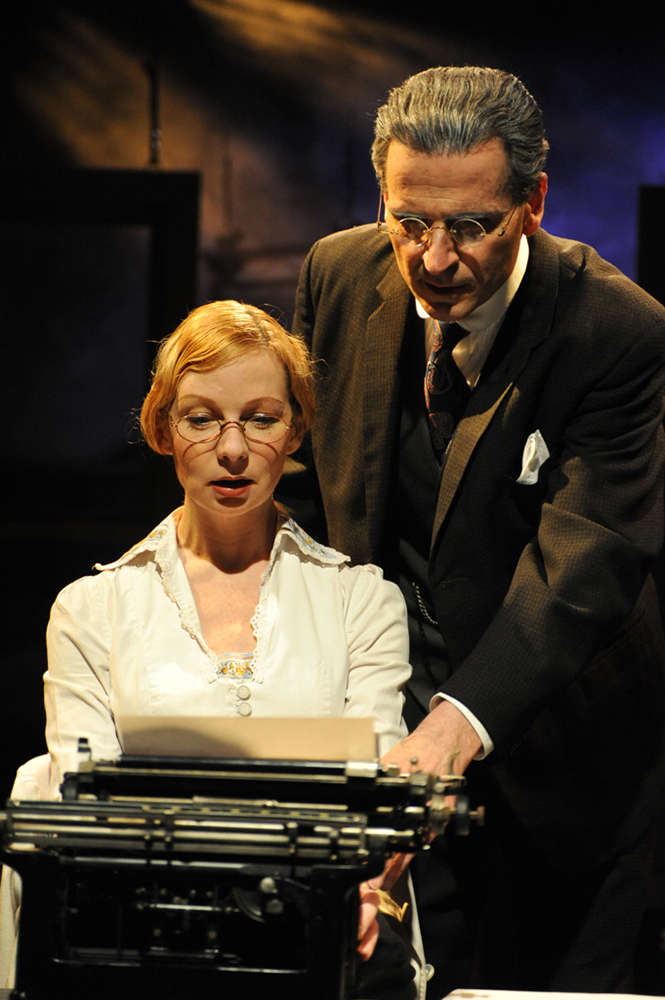 Franklin Woolsey is played by Paul Morella. To the delight of the audience, he and Lynskey argue about a semi-colon early in the play.
"I'm not sure that's what you want," says Myra.
"I beg your pardon?" he asks.
"A semi-colon. After 'proud, impervious eyes.'"
"Why not?"
"You must know that I would never contradict you were I not certain that your punctuation – carefully considered though it may be – will mar the phrase, and therefore the paragraph, chapter and book."
The result is that he will say the words and she will add the punctuation, and so their relationship begins.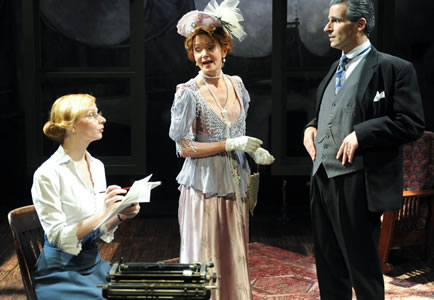 Morella portrays Woolsey with an eagle-like visage, unflappable but willing to bend to the influence of Myra. He often stands still or looks out the window at the bridge, thinking of what to write. If he can't come up with something, he asks her to type a phrase, any phrase, to get him started.
Lynskey won't divulge the phrase she types (it is unscripted), but whatever the words are, it becomes a musical refrain throughout the show. It is interesting to note that Hollinger was a violinist before he became a playwright.
Vivian Woolsey is played by Helen Hedman. I admire her elegant portrayal, not as a mistrustful wife, but as one who would expect her husband's literary secretary to be a writer herself. She also portrayed Mrs. Woolsey as unapologetic of any pecuniary interest she might have in seeing Mr. Woolsey's final manuscript published.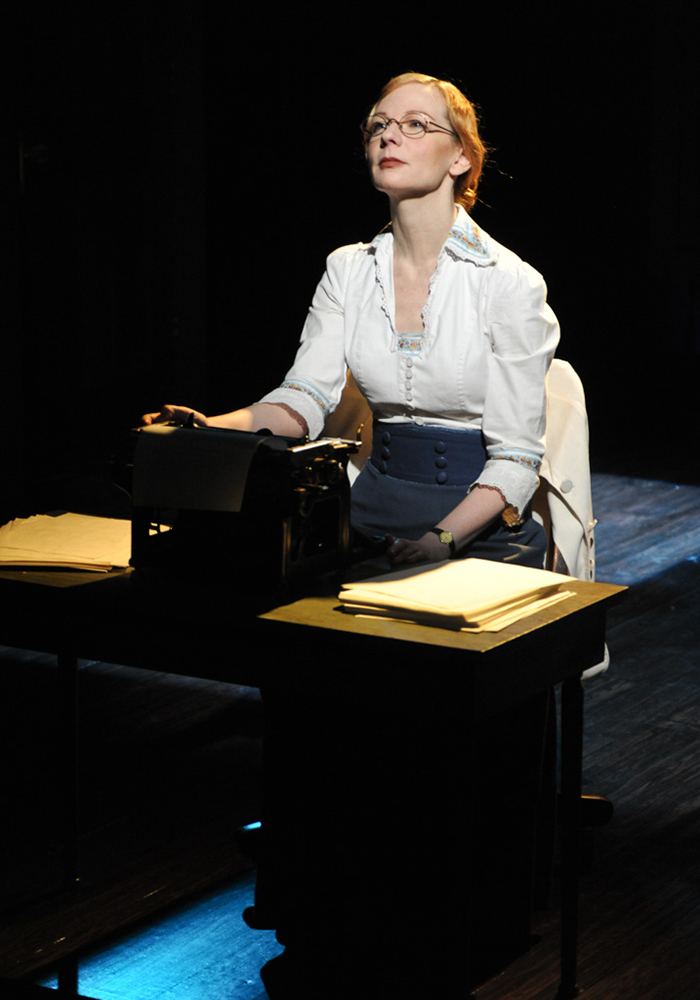 Jane Fink's set design includes a backdrop painted with billowing fog that looks in a certain light like it is coming onto the stage. Robert Garner's sound design features strands of music that fade in and out during some of Myra's reminiscences. Alexander Keen's lighting for the scenes with Myra and Mr. Woolsey has a nostalgic yellow cast. Ivania Stack's costumes for Mrs. Woolsey include a light pink satin confection with a lavender over-jacket that drips with lace trim. Mrs. Woolsey's piled hair made her look like a Gibson-girl. Myra's hair is curled into a roll at the nape of her neck with stray wisps that suit a person whose mind is on more important matters
Said audience member Will Elwood, "Anyone who comes to see this should come twice because it is very Shakespearean with a lot of foreshadowing. This is the second time I've seen it and it thunderclapped me."
I think I'll see it again myself.
Reviewed by Yvonne French
DC Metro Theater Arts
---

"Ghost-Writer" is a piquant, whimsical gem
and MetroStage has given it all the polish such a jewel deserves.
Review by Barbara Mackay
Special to The Washington Examiner
MetroStage's final play of the 2012-2013 season is a witty, wry, enigmatic comedy by Michael Hollinger that muses on the process of writing, from the inception of idea to the choice of
punctuation. A light-hearted homage to the novelist Henry James and his relationship with his typist, Theodora Bosanquet, Hollinger's "Ghost-Writer" is about a fictional writer, Franklin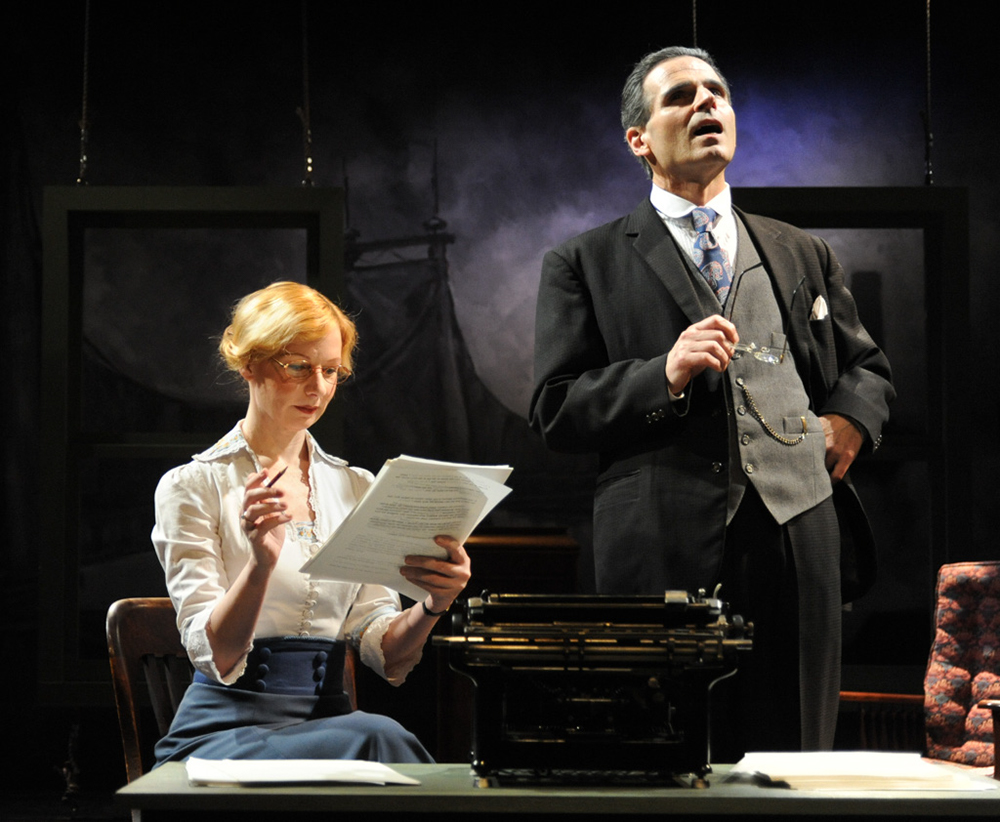 Woolsey (Paul Morella) who dies, but after his death, his typist, Myra Babbage (Susan Lynskey), continues to take dictation, writing in Woolsey's voice and style, to the confusion of all
who knew the writer, particularly Woolsey's widow, Vivian (Helen Hedman).
The play, which takes place in 1919, begins with Myra recalling how her employer used to give her dictation as he stared out the window at the Queensboro Bridge. She recounts his
various moods and silences and shows how she learned to accompany the writer on the typewriter as precisely as a pianist would accompany a singer. Theirs is a love story of the most
unconventional, rarefied kind.
Much of the appeal of "Ghost-Writer" comes from the way it plays with notions of time. After establishing how she normally worked with the writer, Myra loops back to the first day she
came to "audition" for him, typing his absurdly long, fast dictation. At the beginning of the play, Woolsey has a telephone. Not until midway through the play do we learn how Vivian made
him get a telephone.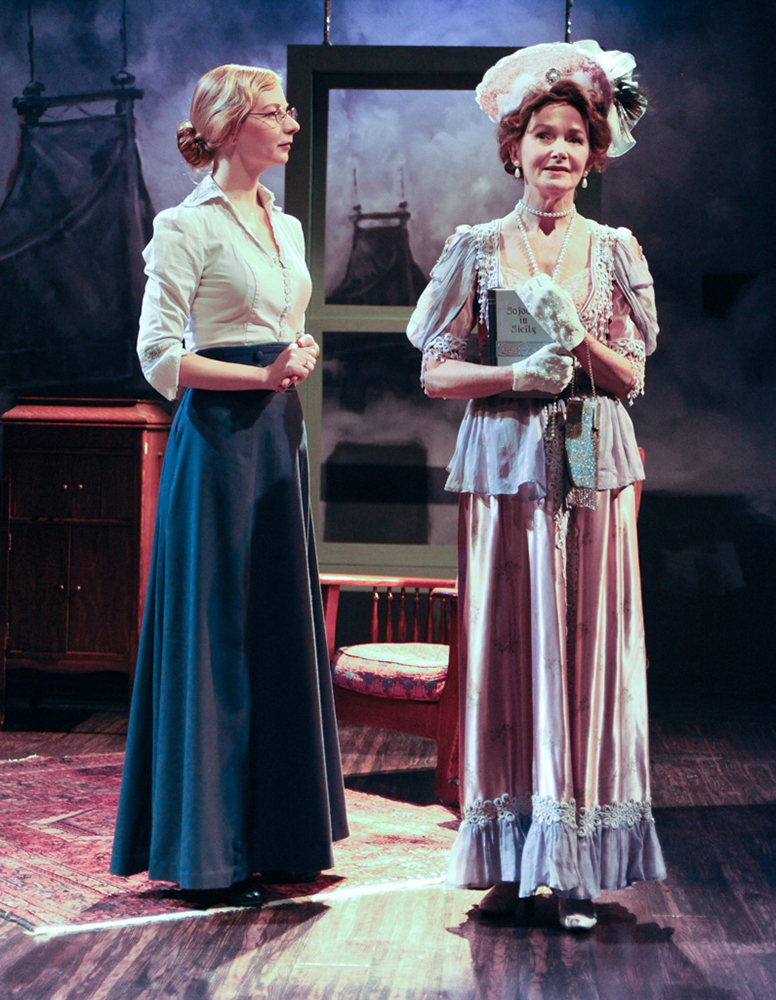 The cast at MetroStage is first-rate. Lynskey is generally prissy and prim as Myra, who insists that the writer follow her lead when it comes to punctuation; he can control the ideas. Yet
when she is writing her own story, she becomes a totally different character, passionate and authoritative.
Morella is equally engaging in a split role: controlled and remote in the first part of the play; open and engaged when he becomes a character in the world Myra imagines. Hedman plays
Vivian as an elegant woman -- superficial, vain and spectacularly jealous.
John Vreeke keeps the action moving swiftly and intelligently on Jane Fink's clean set, which shows the writer's unadorned study with the typist's desk downstage, a comfortable armchair, a
freestanding Victrola and two large windows looking out at the looming Queensboro Bridge.
Ivania Stack's costumes include a three-piece suit for the writer, luxurious silk dresses for his wife and a plain white cotton blouse and long brown skirt for the typist. Sound designer Robert
Garner has created marvelous rolling thunder to accompany a threatening storm throughout the play.
"Ghost-Writer" is a piquant, whimsical gem and MetroStage has given it all the polish such a jewel deserves.
Review by Barbara Mackay
---


Review by Susan Berlin
MetroStage in Alexandria, Virginia, has brought together three fine actors and a skilled director, John Vreeke, for its production of Ghost-Writer, a low-key meditation on the nature of the creative process.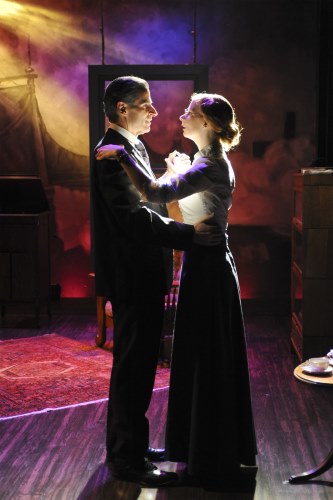 Playwright Michael Hollinger took his inspiration from the symbiotic relationship between novelist Henry James and his longtime typist and later biographer, Theodora Bosanquet. Hollinger's
fictionalized story, told in a trim 90 minutes without intermission, revolves around a mysterious triangle comprised of author Franklin Woolsey (Paul Morella), typist Myra Babbage (Susan
Lynskey), and Woolsey's wife Vivian (Helen Hedman).
"What is a ghost but a vivid memory when we least expect it?" Myra tells an unseen visitor to Woolsey's New York City office in November 1919. The novelist had died some months
earlier, leaving an unfinished manuscript, but Myra returns to the office each day and writes what she says are his words from beyond the grave—hence the presence of the visitor, who
wants to see her in the process of writing.
The bond between Woolsey and Myra is neither romantic nor physical, but it is as binding in its way as the connection between Woolsey and Vivian, who transcribed her husband's earlier
novels in longhand. Vivian feels understandably threatened by the presence of a person who, as she sees it, wants to take advantage of a business acquaintanceship to profit from her late
husband's fame.
Vreeke has worked with his actors to convey deep, dramatic emotions without resorting to overt drama. These people are reserved in their lives and their interactions, but their reticence
hides deep wells of feeling that can only be expressed obliquely. Lynskey dominates the proceedings as storyteller and participant, but Morella's sense of buried suffering and Hedman's
frustration add measurably to the atmosphere.
---

"The piece is wonderfully tongue-in-cheek comical
and its trio of actors are superbly in sync."
Review by Jordan Wright
As MetroStage celebrates its three Helen Hayes Awards for last year's "Jacques Brel is Alive and Well and Living in Paris," theatergoers are treated to another brilliant show by producing
artistic director Carolyn Griffin, who has spent seven years searching for the perfect vehicle for actress Susan Lynsky.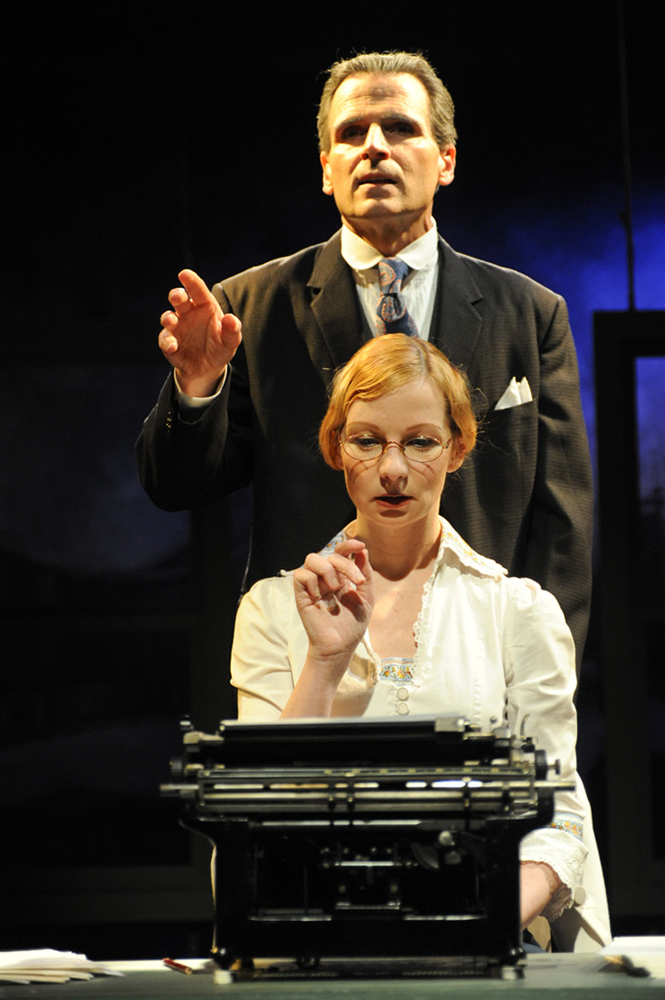 At long last she appears to have found it with "Ghost-Writer." She chose well. As the last production for the season and the premiere of the play in the metropolitan area, it's a spellbinding
piece for the three-actor cast — most especially for its leading lady.
Franklin Woolsey (Paul Morella) is a renowned novelist married to a proper Victorian lady (Helen Hedman). Moving in the rarified circles of aristocratic Old New York, he draws from its
foibles like a hawk preying on a field mouse.
Before giving away any more, a bit of background: Playwright Michael Hollinger was inspired by Henry James' relationship to his real-life secretary, Theodora Bosanquet, and used it as a
vehicle to inform a narrative that examines the art and act of writing.
Woolsey's newly schooled, but oh-so-clever typist, Myra Babbage (Lynsky), is a hunter of sorts too — one who dallies with her target while keeping him enthralled. The play is set in
1919, the age of women's advancement in the workplace and the beginning of their post-war freedoms. The 19th Amendment, which eventually gave women the right to vote, was then
reaching the House floor for approval and women were experiencing a newly achieved independence. It is no coincidence that Hollinger sets the play in this power-shifting moment.
Babbage is a woman with ideas about writing and editing, and she isn't afraid of appearing presumptuous in order to express herself. She jousts with the author and his obsession with
commas and dashes, periods and semicolons until he begins to trust her judgment and her way of turning a phrase when she sometimes finishes his sentences. (A curious clue in the
punctuation of the play's title is revealed at the outset and explains Babbage's successful insinuation into Woolsey's mind.)
We meet the duo in Woolsey's study. The decor is the austere Mission style befitting a serious writer of the late Victorian period. A Royal typewriter is front and center with the primly
dressed Babbage at its helm. She has been recently hired as Woolsey's amanuensis — a taker of dictation — her fingers poised to record his every word.
He quickly grows addicted to her presence and the staccato sound of her typing and cannot think clearly when she pauses awaiting his next dictation. She devises a phrase that she types
over and over again until he's able to recapture his train of thought.
"Don't tell me what it is," he insists.
And her secret gradually becomes her power.
"The waiting is part of the work," she explains. "We waited together."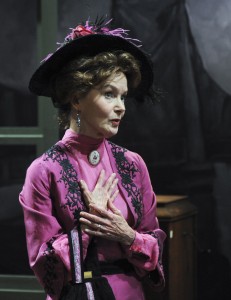 Thus begins their long and very close collaboration as Babbage, addressing the audience as if we were her inquisitors, explains how, after Woolsey's death mid-novel, she is able to
complete his work by divining his words.
"No one else has an intimate relationship with his style," she insists, emboldened by their relationship and not wanting to abandon the book to Woolsey's wife, Vivian, nor his publishers.
From time to time, Babbage and Woolsey are visited by his jealous wife. Can you blame her? When the socialite tries to replace Babbage by learning to type, a hilarious scene ensues and
Hedman is at her best as the dithering pupil of Babbage the Taskmistress.
The piece is wonderfully tongue-in-cheek comical and its trio of actors are superbly in sync. But it's Lynsky as the stalwart heroine who captivates. She is magnetic, giving an enthralling
portrait of a young woman gaining her footing in that brave new era, confident and well educated, polite yet outspoken, secure in her expertise and unafraid to stand up to anyone. She is
utterly enthralling in the role.
Review by Jordan Wright


---

Pithy, poignant and elegantly produced, Ghost-Writer
is thoroughly engrossing and extremely well acted.

Review by Laura Fries
Scholars note that Henry James was a master of narrative fiction and a champion of literary freedom. With grammar and punctuation, however, there was very little wiggle room. James
would most likely be thrilled then, with Michael Hollinger's play, based in part on the writer's relationship with his faithful typist and grammarian, Theodora Bosanquet. Former Metro Stage
alumni are brought together for what feels like tailor made roles in this wonderfully wacky, wordy and thoroughly worthwhile production.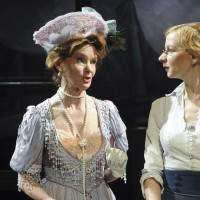 Ghost-Writer, with its well-placed hyphen, is an ode to James and Bosanquet, here under the guise of novelist Franklin Woolsey (Paul Morella) and his gal Friday, Myra Baggage (Susan
Lynskey). Amidst the backdrop of the Queensboro Bridge, viewers get a front row seat to the creative process. Sure Woolsey is a celebrated "genius" writer, but it soon becomes
apparent that Myra is a confident and intellectual challenger to Woolsey's precise prose.
Pithy, poignant and elegantly produced, Ghost-Writer is thoroughly engrossing and extremely well acted. In true Jamesian style, Myra recalls the events that lead to a most interesting
predicament. When Woolsey drops dead in mid sentence while dictating his latest novel, Myra finds herself unable to stop typing. She feels that somehow Woolsey is still speaking through
her, enabling her to finish his book. Myra defends her actions to an unseen journalistic interloper (not a real writer), defending her actions as neither opportunistic nor fraudulent—simply as
necessity.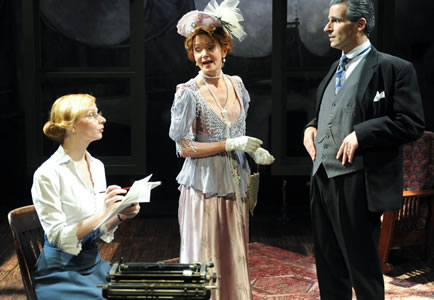 This is Myra's story in every way. Even when, in flashback, we see Woolsey dictate to her, his novel seems to bend to her will as well as her punctuation preferences. Perhaps she was the
writer all along and Woolsey's talent the real figment of her imagination. Myra describes her working relationship with Woolsey in sensuous double-entandres, but theirs was a meeting of
the minds.
Still, this sparks the interest, ire and jealousy of his wife Vivian (Helen Hedman). She resents not only her typing talents, but the role of muse and confidante. Vivian, who when she can't
prove herself as a poet or writer, tries to first usurp Myra as a typist, then threatens to halt the posthumous book.
Lynskey is simply mesmerizing as Myra, perfecting the art of the monologue, the purposeful pause and the transformation of the typewriter into a beautifully played musical instrument. Her
tete-a-tetes with Vivian are entertaining and Hedman presents a powerful force to be reckoned with. Morella as Woolsey is appropriately muted, seen mainly as a memory—albeit a
formidable one. A stellar way to end the season, Ghost-Writer runs through June 2.


Review by Laura Fries