REVIEW

Stone Soup passes their driving test with flying colors with "How I Learned to Drive"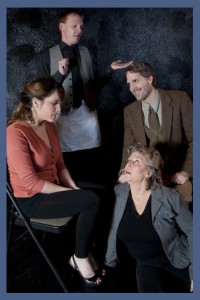 Paula Vogel's How I Learned to Drive, the Pulitzer Prize winning play currently on the boards at Stone Soup Theatre, is a "grown up" play in every sense of the word.
The plot centers on "Li'l Bit" a young woman who recalls her childhood/teenaged years growing up in rural Maryland in the 1960′s and 70′s in a family that defines dysfunctional but specifically recounts her complicated relationship with Uncle Peck, the uncle by marriage who taught her how to drive. Uncle Peck is also a serial pedophile (of both sexes) but his feelings for Li'l Bit develop beyond just sex. Ms Vogel's masterful work not only deals with these very adult issues, but does so in a complex and dramatically challenging way. The play features just the two main characters and a cast of three "Greek chorus" members who play all the secondary roles, and a complicated format of flashbacks and monologues told out of chronological order. "Drive" demands a talented and experienced cast and crew to successfully pull off, and Stone Soup Theatre, the small theater company on Stone Way between Wallingford and Fremont, delivers the goods with a passionately directed, acted and designed production that proves that small theaters can achieve big results when they have the talent and courage to attempt challenging pieces of theater. This production of How I Learned to Drive is well worth taking the time to see.
Chief among the pleasures of this production is John Vreeke's direction.
Stone Soup is a very small theater space but it's limitations are embraced by Mr Vreeke who keeps the staging simple while maintaining visual interest. At more than one point in the show, the actual door to the theater building is used as an exit/entrance point for characters and every inch of the playing space is utilized. Bobbi Kolpakas' scenic design is simple, consisting of a raised platform on wheels primarily used as the car in which Li'l Bit learns to drive, but it also gets used as a table and a bed. A vague representation of a road map/directional symbols painted on floor and the back wall are the only nods to the driving theme present in the show; other productions tend to go overboard with the driving theme, so it's nice to see it underplayed; the text and play title make it very clear, what this play is about. We don't need it hit over our head, and Ms Kolpakas design gets the job done. Costume, lighting and sound designs were also kept simple, but professionally executed.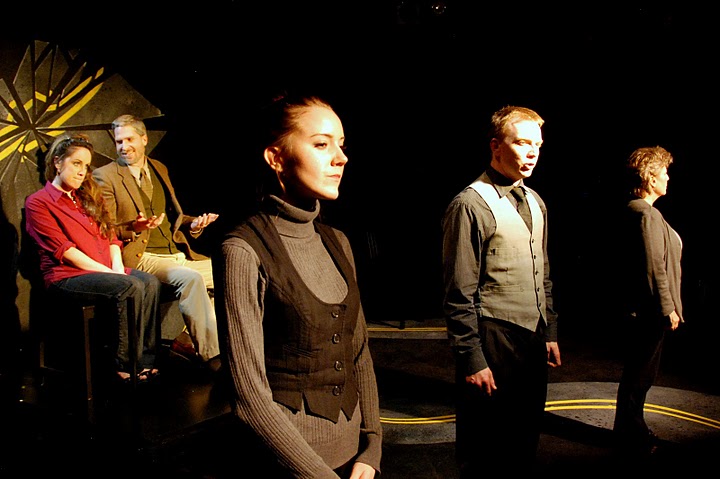 But, the cast is the primary standout in "Drive" and all five actors do exemplary work. The three chorus members: Maureen Miko playing the older female roles; Zachariah Robinson as the other men in the cast and Jager Weatherby playing a variety of characters including a younger version of Li'l Bit at one point, do fine ensemble work managing to delineate each individual character but maintaining a unity at all times with the other characters and the mood of the piece. It's actually very tough to pull off ensemble roles; it's easy to get lost in the shuffle, or to overplay certain characters, but all three actors know when it's appropriate to be larger in life in certain roles, (Li'l Bit's aged and very sexually inappropriate grand parents for example) and to hold back in others, (Uncle Peck's long suffering wife or a suspicious waiter). Excellent work from all three actors.
However, How I Learned to Drive is, at heart, a two hander, focusing on the main character of Li'l Bit and her problematic relative, Uncle Peck and the two actors cast in these roles do an outstanding job and give powerful performances. Kelli Mohrbacher's slightly gawky frame and cracking voice enhance her Li'l Bit with pathos and meaning…she's like a broken puppet who can't quite be repaired. Li'l Bit isn't always a likable character; she at times, uses her Uncle Peck as much as he (ab)uses her and Ms Mohrbacher isn't afraid to play those uglier sides of her personality which only enhances the moments when the character is vulnerable and preyed upon. It's a tough, frequently very funny performance, but here's always a hint of steel in it, and Ms Mohrbacher does an excellent job with it.
She's matched, and sometimes surpassed, despite her skill, with the "where did this actor come from?" work from Jaryl Draper as Uncle Peck. I have not encountered this actor's work before but he's now moved to my "Ones to Watch For" list. Mr Draper gives an astounding performance as a man you ought to hate, but instead, end up pitying. Uncle Peck is a charming but wounded man, hounded by his own various demons, and a serial pedophile but Ms Vogel's strong writing and Mr Draper's equally strong acting, make the character real and complicated and touching and terrifying in equal measure. The fact that Uncle Peck is, on the surface, a "nice" guy; considerate, courteous and intelligent instead of the usual pedophile stereotype of a leering, ignorant, and obviously perverted monster, only makes the character more believable and all the more chilling. Mr Draper's subtle performance never goes off the rails; it's nuanced, natural but very precise. His most searing moment is a monologue in the middle of the play, where Uncle Peck recounts another moment when he seduced a young boy while on a fishing trip. The actions of the character are horrific, and Uncle Peck knows it, and Mr Draper manages to play both that realization and the joy of the seduction, carefully layering and mixing those mixed emotions in a haunting and complex performance. It's superb acting from a gifted actor and Mr Draper's performance alone, is worth the price of admission.
Stone Soup's How I Learned to Drive is highly recommended and don't dally in booking your tickets.
It's a small space and fills up quickly.
Review posted by Michael Strangeways
February 20, 2011
---

REVIEW



Stone Soup Theater's

How I Learned to Drive
Review by
Nancy Worssam
February 11, 2011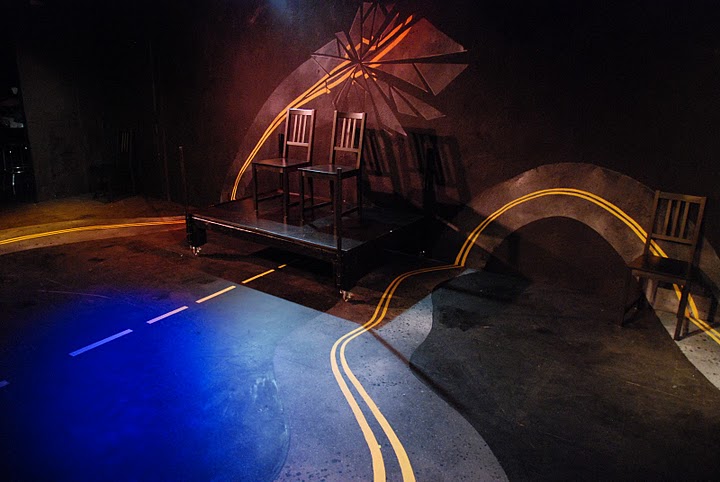 There are times when less is more. Stone Soup's "How I Learned to Drive" is minimal in terms of stage props and set, yet it is overwhelming in its impact.
The main character Li'l Bit grows up within a dysfunctional, cracker family--a mother who lacks control, a sexist grandfather, an old-fashioned harpy grandmother, and an aunt who can't face reality. The only person who takes an interest in her is her Uncle Peck. But like Humbert Humbert of "Lolita" fame, his interest is self serving. He craves her sexually, can't wait until she's past the jail-bait age.
The metaphor of learning to drive has to do with gaining control. It's Uncle Peck who teaches Li'l Bit how to drive, and thus it's Uncle Peck who gives her freedom, but at a heavy price. And that's the conundrum that guides the play.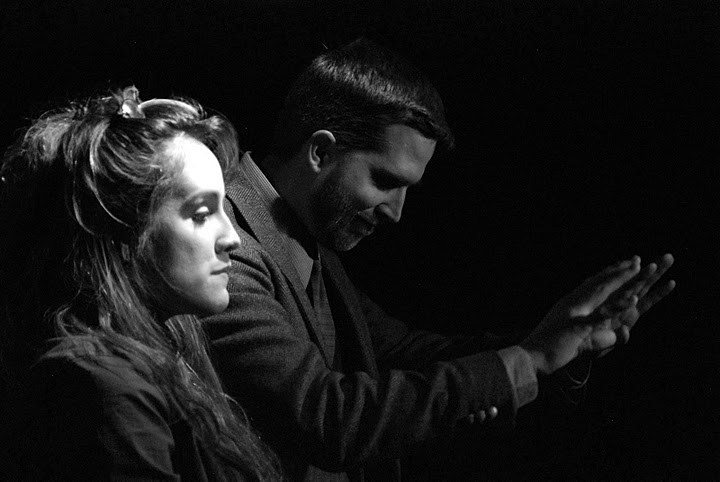 I saw a much more elaborate production of this play a few years ago in one of Seattle's major houses and left unimpressed and unmoved. Stone Soup's nuanced approach to the script works on a much deeper level.
Director John Vreeke has successfully taken what some want to perceive as a rant against pedophilia and turned it into a psychological exploration of troubled souls.
That's what I think the author Paula Vogel has in mind.
Here we have a superb acting ensemble, each performance noteworthy. The set, minimal as it is, evokes both the roads that lead to freedom as well as the narrow, dark spaces that hobble a soul. Give this show four stars!
---

REVIEW

Stone Soup Theater's How I Learned to Drive
is a tour de force
By Katherine Luck
Published: Tuesday, February 8, 2011
Stone Soup Theatre: a theater with an unassuming name, located in an unassuming performance space in the heart of Wallingford. Who knew there was brilliance behind that unassuming front door on Stone Way North?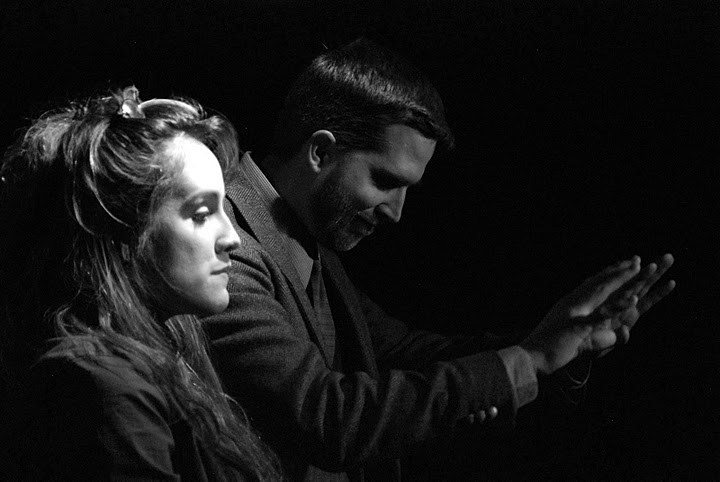 Their recent production of the 1998 Pulitzer Prize-winning How I Learned to Drive by Paula Vogel is a tour de force of genuine emotion and restrained power. Staged in Stone Soup Theatre's intimate 62-seat DownStage theater space, the play is set in and around Maryland spanning the years between 1963 and 1983. Tackling the difficult subject of incest between protagonist Li'l Bit and her Uncle Peck, the script plays with chronology, frequently speeding ahead several years, then reversing as unexpectedly as a teenager taking their first driving lesson.
Vogel, who grew up in Maryland, paints vivid word pictures with her prose. She deftly makes the audience smell the farmland, see Uncle Peck's beloved childhood fishing spot, and feel the bumpy road as Li'l Bit steers her life inexorably off course.
Bobbi Kiopakas's set was a simple yet highly effective black wall and floor sparingly painted with swerving yellow road dashes and broken glass. Using little more than a four-wheeled flatbed and a few chairs, the actors were able to create a whole world ranging from a seedy motel room to a contentious family dinner to a car speeding down a wide open road.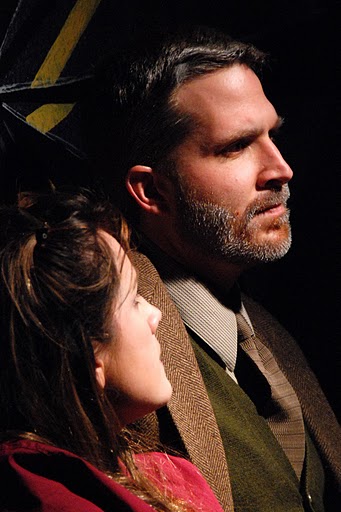 Moving effortlessly between directly addressing the audience and interacting with the other characters on stage, Kelli Mohrbacher as Li'l Bit displayed an astonishing ability to channel 20 years of growing up in a 90-minute play.
Improbably, Jaryl Draper was able to make the inherently vile Uncle Peck a sympathetic figure, deepening their fraught relationship and bringing a sense of unexpected pathos to the drama.
The Greek Chorus — Jaeger Weatherby, Zachariah Robinson and Maureen Miko — provided a solid narrative thread from start to finish. The "How to drink like a lady monologue," delivered by Miko, in particular provided a welcome moment of hilarity in an otherwise intense production.
In the deft hands of director John Vreeke, this inherently "hard to watch" topic became a play that was impossible to look away from.
By Katherine Luck
Journal Media Group
---

REVIEW

Stone Soup Showcases 'How I Learned To Drive'
by Kirby Lindsay
For the last play of their season (the last production of this season will be the Double XX Play Fest in April) Stone Soup Theatre has produced an award-winning play so well-suited to the small theater, and its limited resources, that it could potentially spoil first-time visitors.
From February 4 – 27, on Thursday, Friday and Saturday nights, and at two Sunday matinees, audiences can see How I Learned To Drive by Paula Vogel. The 1998 play won the Pulitzer, Obie, Drama Desk, Outer Critics Circle and New York Drama Critics' Circle awards, and this production, ably directed by John Vreeke, showcases the many reasons this work earned acclaim.
A 'Mother's Guide'

While performed on the larger of Stone Soup's two stages, the Downstage, this still provides little distance between audience members and the action. In Fool For Love – the relentlessly emotional Sam Shepherd play, produced last season at Stone Soup – the close quarters gave audience members no escape from an emotionally powerful performance. The same holds true here, where Vreeke deliberately removed even the few perceptual boundaries usually in use at Stone Soup.
Entering the theater means walking onto the stage, and the actors – once introduced - never leave the stage, even as they occasionally try. Yet, as a member of the audience during a preview performance, I never felt trapped, as in the Shepherd play. For Vogel has carefully balanced a harsh, intimate subject matter with humor, and humanity. This production feels less a slap in the face than a steady tap on the temple.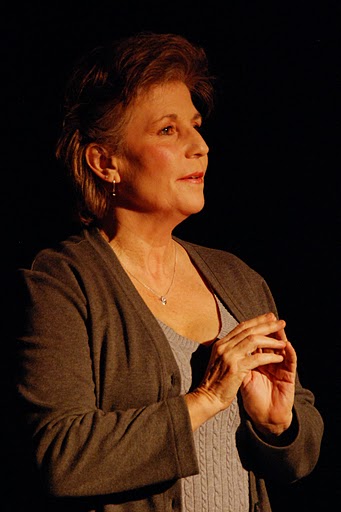 Quality performances by the entire cast – Kelli Mohrbacher, Jaryl Draper, Maureen Miko, Zachariah Robinson, and Jager Weatherby – realize an ultimately tragic story. The use of abstract images, and the abundant driving metaphors that provide transitions between scenes that take place over thirty years, can be vaguely distracting. The opening, with an abrupt delivery by Mohrbacher, made it initially hard to enter the story. Abstract blocking used during an immediate, and intimate, scene between the principle characters also made it hard to warm up to the story, at first.
That doesn't last. As one audience member observed during the after-show 'talk back,' "the play got deeper, and deeper, and deeper." Instances like Miko, founder of Stone Soup, who skillfully draws laughs with her delivery of, 'A Mother's Guide To Social Drinking,' make the play accessible. "Stay away from 'Ladies Drinks,'" she advises, in a dulcet, cultured voice at complete odds with the characters and situations we've so far encountered. The bit of much-needed comic relief also underlines the hypocrisy and delicate societal shadowplay that create this play's horrible story.
An Uncle's Charm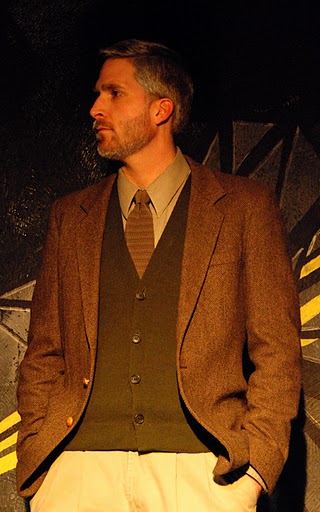 For this is a story about incest; about an inappropriate relationship. And it is the simple, charming and deeply disturbing role of Uncle Peck, as portrayed by Draper, that captured the preview audience. Draper gives an outstanding performance of an incredibly complex character – a credit to his talent as well as that of the playwright and director.
Rather than a simple, cardboard villain that allows audiences to feel justifiable righteous indignation, this production provides nimble navigation of the thin line between charm and manipulation; between self-deception and awareness of wrong. As Draper has boldly admitted about his role, "I don't feel he's wrong." This disturbing, distasteful, and dysfunctional relationship is honestly portrayed, as a tragedy for all involved.
To experience this unique, layered work, step inside How I Learned To Drive at Stone Soup by February 27th. Tickets can be purchased through Brown Paper Tickets, the Stone Soup box office, and sometimes just before a performance. Go enjoy this excellent showcase of a deservedly award-winning play – and decide for yourself!
by Kirby Lindsay
The Fremocentrist