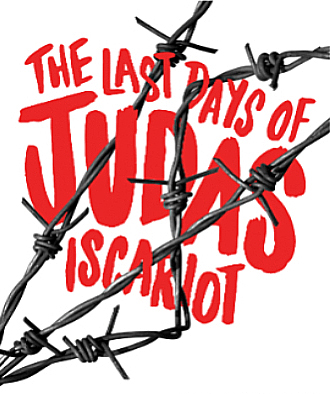 The Last Days
of Judas Iscariot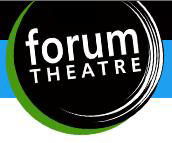 By Stephen Adly Guirgis
Directed by John Vreeke

May 22nd - June 14, 2014
Forum Theatre - Washington DC
---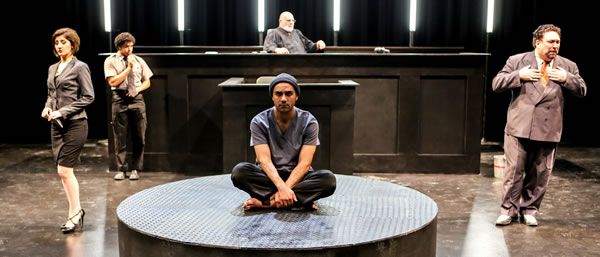 In a courtroom in present-day purgatory, the Bible's greatest and most unexplained villain is on trial, and everyone from Mother Teresa to Satan is called to testify.

Both comedic and touching, Guirgis' "street-poetic" play asks us if we are capable of true forgiveness and real compassion.



---
REVIEWS, ARTICLES and PHOTOS
(Photos: Melissa Blackhall Photography for The Forum Theatre)


---

Splendid production of 'The Last Days of Judas Iscariot'
Review by Nelson Pressley
The Washington Post, 5/27/14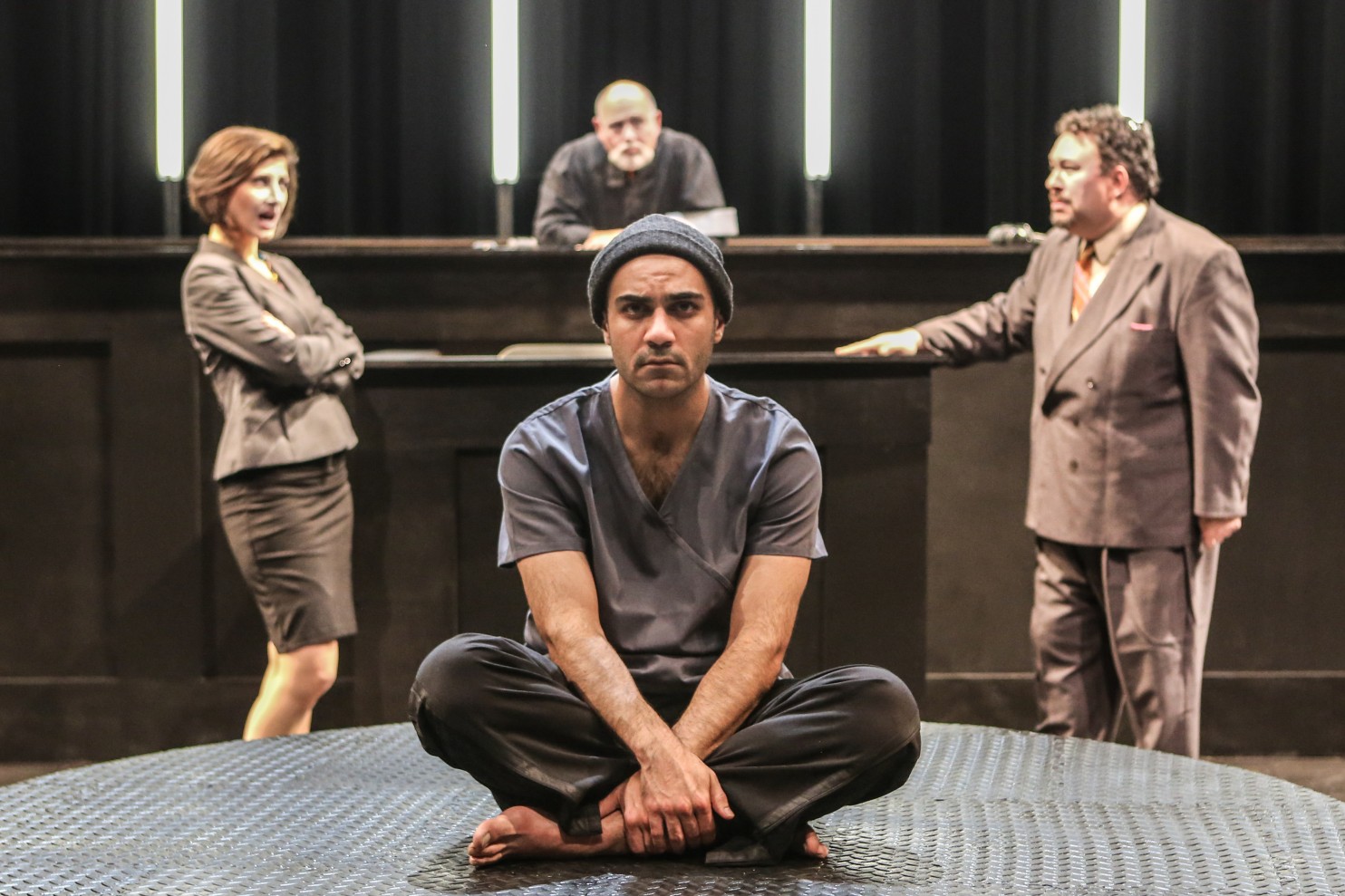 "The Last Days of Judas Iscariot" is a splendid storm of a play, a full three hours examining the proper fate of the man who betrayed Jesus and, by conspicuous extension, the fate of unforgiven souls everywhere. It's a holy courtroom drama and a brazenly irreverent farce, set in Purgatory and animated by slangy, gritty, foul-mouthed characters who somehow insist on keeping the stakes very real.
The scrappy Forum Theatre made an exhilarating show of Stephen Adly Guirgis's sprawling drama six years ago at the H Street Playhouse, which has since been abandoned for redevelopment. Now Forum and director John Vreeke are getting the band back together for a remount — let's not call it a resurrection — in the more spacious Round House Silver Spring theater, next to the AFI movie complex.
Good news: the muscle memory is intact, and the show remains a blustery dazzler.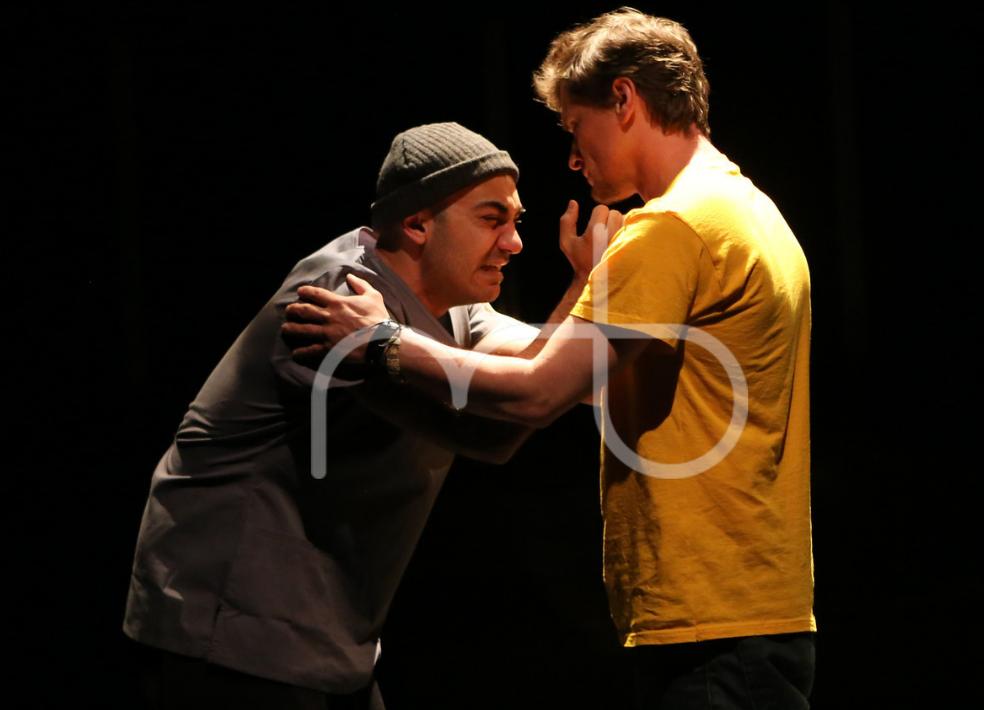 If three hours of Bible analysis as rehashed in the language of gangsters isn't your thing, so be it. (The runaway success of "Book of Mormon" suggests we're fine with that.) Guirgis's style is unabashedly in-your-face and sometimes slapstick silly, yet he establishes his startlingly deep earnestness right at the top. The play opens with a quiet, piercing monologue from Judas's mother (Annie Houston), and her pain commands respect.
More sympathy for the damned arrives in the form of a defense lawyer zestfully named Fabiana Aziza Cunningham, an aggressive figure in a sleeveless black dress and strappy heels. Cunningham, played with salty assurance by Julie Garner, demands that Judas's appeal be heard by this Purgatorial kangaroo court. The blowhard southern judge — a character that would seem doomed for the rocks of cliché, yet which thrives in Brian Hemmingsen's drawling comic turn — wants none of it. Over and over he bellows, "Next case!"
The trial is inevitable, though, and it's a wild one. Vaudeville hijinks abound: The judge keeps referring to the clownish prosecuting attorney, Yusef El-Fayoumy, as "Mr. El-Fajita." El-Fayoumy butters up the judge and blurts inane objections; this buffoon is the play's comic fail-safe, and Scott McCormick nails punch line after punch line.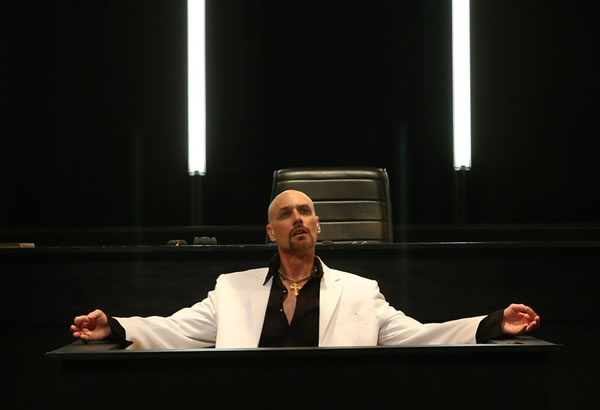 Pontius Pilate takes the stand. So does Mother
Teresa (she's funny, too). So does Satan. Guirgis, whose "The Mother— With the Hat" starred Chris Rock and Bobby Cannavale on Broadway in 2011, and whose off-Broadway dramas were often directed by Philip Seymour Hoffman, may be windy, but he's also pretty fearless. The roles here crackle with clever comebacks and blistering speeches.


Vreeke's gang got this mixed tone exactly right six years ago, and once again their aim is true. Most of the actors are back, including Jim Jorgensen as a flashy, white-suited Satan, Patrick Bussink as a sublimely patient Jesus in jeans and T shirt, and Frank Britton as a commandingly guttural, militaristic Pilate. (Britton was brutally attacked after leaving the theater Sunday night and may be out of the show indefinitely, pending surgery planned for Monday.)
Newcomers include Thony Mena as the amusingly feisty Simon the Zealot, Nora Achrati as a puckish Mother Teresa, and Maboud Ebrahimzadeh, ferociously bitter and despairing as Judas. The set by Colin K. Bills, who also designed the stark lighting, remains simple: a high bench for the judge and a small raised circle (of hell, though it's textured like a manhole cover) where Judas unobtrusively nests while the debate largely swirls around him.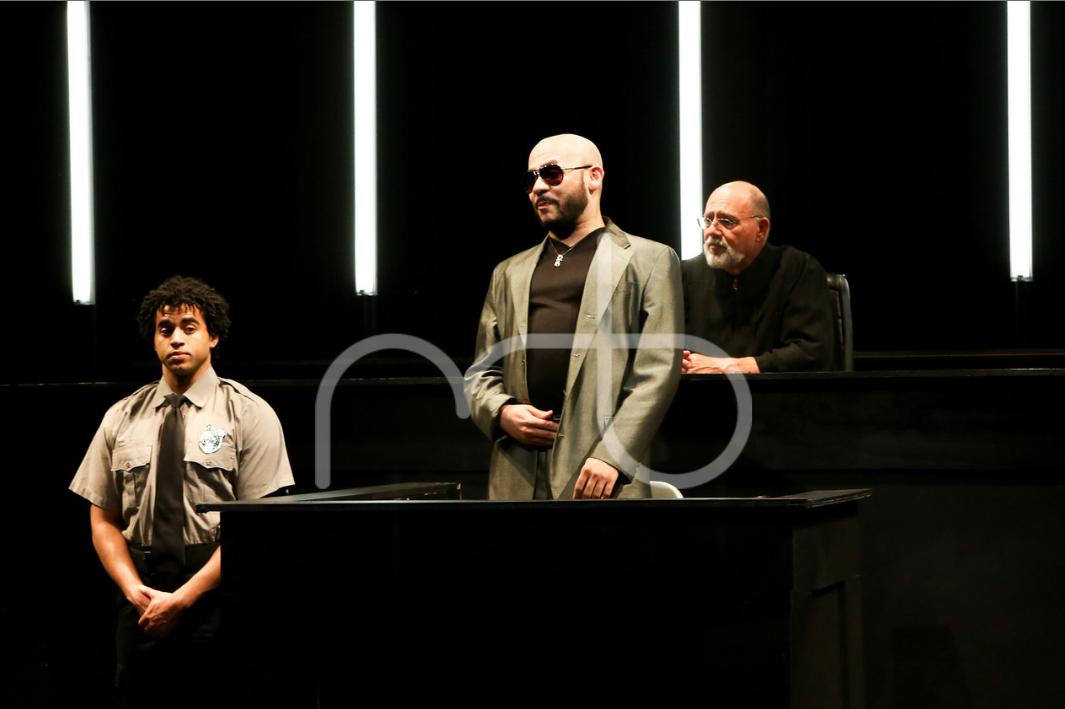 Visually, the rest is a cosmic void that's more richly amplified here than it was on H Street. The wide stage and high ceiling are perfect for the shifty torrent of words and passions in "Last Days." The play demands everything from whiffs of burlesque to the intensity of chapel, and Vreeke's 15 actors routinely turn it on a dime.
"The Last Days of Judas Iscariot"
by Stephen Adly Guirgis. Directed by John Vreeke. Costumes, Brittany Graham; sound design, Michael Dove. With Kecia A, Campbell, Alina Collins Maldonado, Frank B. Moorman, and Jesse Terrill. About three hours. Through June 14 at Round House Theatre Silver Spring, 8641 Colesville Rd., Silver Spring. Call 240-644-1390 or visit forum-theatre.com
Review by Nelson Pressley
The Washington Post, 5/27/14


---





A superb cast brings an emotional, modern day spin to Jesus' betrayal and Judas' subsequent trial before a jury of ethereal peers





Review by Ben Demers




DC Theatre Scene, 5/28/14



Sometimes, we could all use a little love and understanding – even, perhaps, the man who betrayed Jesus Christ. In Forum Theatre's crackling production of The Last Days of Judas Iscariot, a superb cast brings an emotional, modern day spin to Jesus' betrayal and Judas' subsequent trial before a jury of ethereal peers. Director John Vreeke wrings can't-look-away performances and captivating emotion from the winding tale of saints, sinners, purgatorial jury members, and the quest for ultimate forgiveness that binds them all together.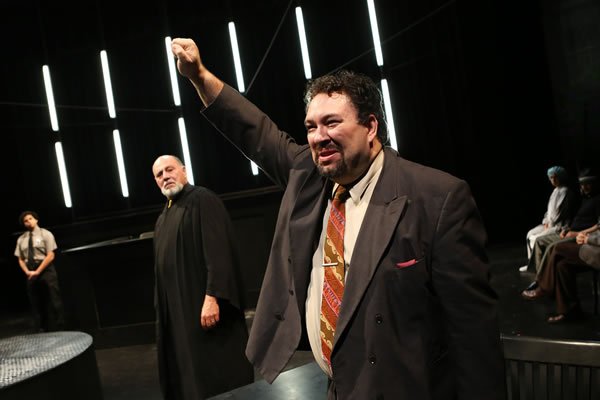 The audience enters the theater to witness Judas sitting motionless on a central pedestal, ringed by a motionless, motley crew of ethereal judge, jury, and attorneys. Scenic and Lighting Director Colin K. Bills builds an otherworldly courtroom that seems to expand to infinity with his use of black paint, stark white tube lights, and sharp, geometric wires stretching overhead in all directions. In this salon of divine justice, we first meet Judas' mother Henrietta Iscariot, who pleads with the audience to see the good in her son. It's vital that Henrietta, played with plaintive sadness by Annie Houston, take the stand first in order to immediately broach the audacious idea that even Judas has a soul worth saving.

From there, the trial slowly builds steam, progressing toward a verdict through a steady rhythm of procedural hurdles, legal curveballs, and captivating testimony. It's like the most complex episode of Law and Order ever conceived, at once concerned with both the minutia of legal procedure and the grand implications of divine retribution and human frailty. The expansive cast of characters is modeled largely after New York City archetypes and cultural memory, owing to playwright Stephen Adly Guirgis' formative years growing up on the Upper East Side. Guirgis also sprinkles in key historical figures in the fields of religion, charity, and psychoanalysis, who help give context to Judas' notorious act in the Garden of Gethsemane.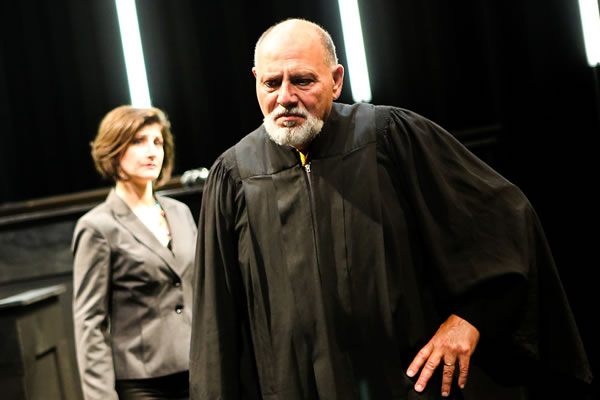 While there's hardly enough space to sing the praises of all fifteen polished cast members, several key performances deserve special mention. Alina Collins Maldonado breaks the tension of the early proceedings with her sassy, in-your-face turn as Saint Monica, mother of Saint Augustine. Through her emotive eyes and flashing smile, Maldonado blends barrio swagger with tender vulnerability as she recounts her transformative visit to Judas' infernal prison.

Scott McCormick provides vital comic relief to the rapidly intensifying proceedings as blowhard prosecutor Yusef El-Fayoumy. McCormick walks a fine line between sharp legal mind and sycophantic bootlicker; one minute he is figuratively nailing Judas to a wall with expert litigation, and the next he is wooing his opposing defense counsel with the worst pickup lines ever written outside of the Craigslist personals section.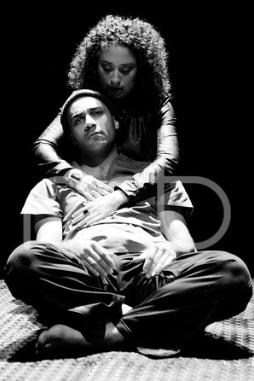 As Judas' counsel Fabiana Aziza Cunningham, Julie Garner wows with her slow burn performance as a defense lawyer with a checkered past and a chip on her shoulder the size of Manhattan. She holds her own in a battle of wits with El-Fayoumy, giving as good as she gets, until a fateful encounter with Lucifer on the witness unleashes an arresting torrent of bottled emotion. And the man that brings Cunningham to tears is none other than the scene-stealing Jim Jorgensen, who imbues the Prince of Darkness with equal parts effortless cool, childlike glee, and viper-tongued malice. Jorgensen employs a bombastic blend of good natured jokes and acrid fire and brimstone to assert his power and remind attorneys and witnesses alike of how inconsequential they truly are.

At three hours running time, this is the longest play I've seen in years, yet the seamless current of howling humor and complex moral debate made the time fly. Even as we emerged from the theater at close to midnight, I still wanted more.

The Last Days of Judas Iscariot cements both Guirgis' place among the top modern playwrights and Forum Theatre's well-deserved perch within the upper echelon of Washington mid-sized theaters.



Review by Ben Demers


DC Theatre Scene, 5/28/14



---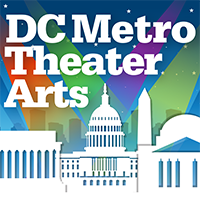 Review by Sydney-Chanele Dawkins


DC Metro Theater Arts


Celebrating Forum Theatre's 10th Season, is the Helen Hayes-nominated return production of The Last Days of Judas Iscariot, directed by John Vreeke.The 2005 play written by Stephen Adly Guirgis debates punishment, redemption, and the nature of free will as Judas is on trial in Purgatory. Catatonic, allegedly so consumed by guilt that he cannot speak in his own defense, lawyers, witnesses, Saints, Freud, and the Devil himself, try the case without him.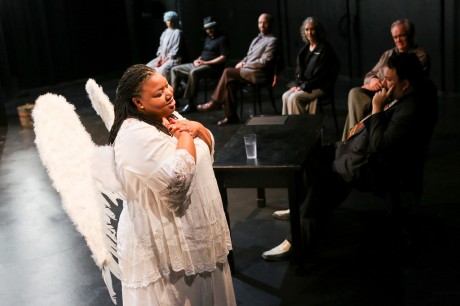 Forum Theatre's Artistic Director Michael Dove said his decision to remount The Last Days of Judas Iscariot defines who they are as a theatre company. "It started our shift toward new plays and was the type of play that would become our aesthetic: highly affecting stories that ask big, big questions. We thought, 'What better way to celebrate how far we've come than to look at the play that started it all?'"
Sometimes we seek stories that we think will entertain us, and then there are others that find us because of the timely relevance and /or an identifiable subject matter. The Last Days of Judas Iscariot is a story that found me.
The question of God, Jesus Christ, and the Holy Spirit is a personal one.
The conflict between divine mercy and personal choice through free will inhabit Guirgis' world of wonder and questions why Judas Iscariot was condemned to Hell for eternity when other apostles were given forgiveness by Jesus.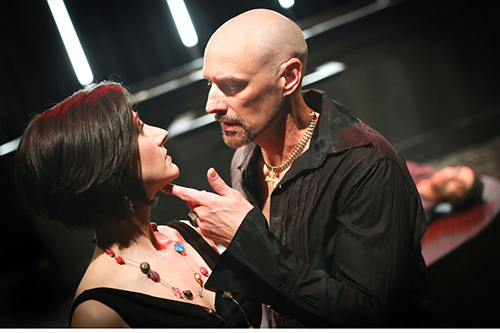 Without knowing how this play would evolve, my curiosity pondered why there was sympathy for the betrayer of the greatest mistake in history. On the other hand, I recognized the value and relevance of such a play addressing the hunger and real need to discuss the big questions in life about the afterlife, God's love and his final judgement. Guirgis' The Last Days of Judas Iscariot is not only bold and dramatic theatre, the greater merit is the three hours shared experience of public discussion about faith, spirituality, personal responsibility, and the impact of the choices that we make.
As fiercely funny as it is tragic, the intensity and intention of The Last Days of Judas Iscariot is ferocious. Guirgis' script dances with philosophical and emotional reasoning while exploring the theological issues and the personal backstories of the saints and sinners who inhabit this imagined, multidimensional world between Heaven and Hell.
With human life, a gift has been given to all us. How one chooses to receive that gift and the favor that it provides, and how we choose to share our lives with others, ultimately defines the meaning of life and is the take-away of The Last Days of Judas Iscariot.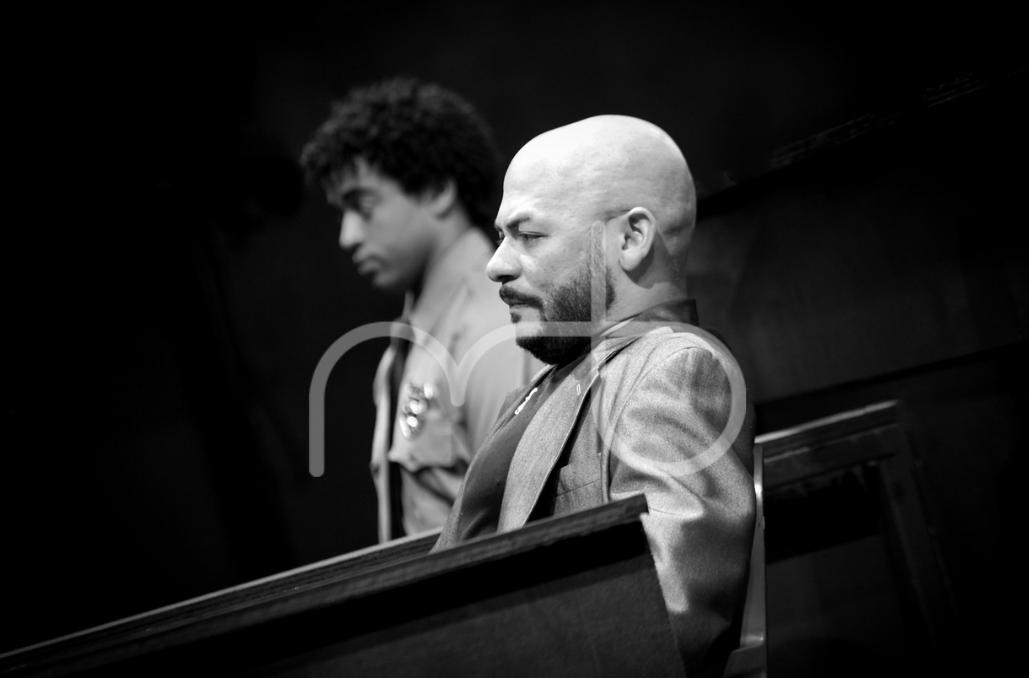 The fact that Jesus knew that Judas would betray him doesn't mean that Judas was a puppet of God's will. Judas made the choice. A man's character is defined by his actions.
While we do not know the motivation behind Judas's betrayal, for 30 pieces of silver he allowed his desires to be manipulated by Satan. Judas' actions: his greed, persistent misunderstanding of Jesus' mission, and lust for his idea of righteous power was his ultimate undoing.
If you believe in God, one learns to accept that as humans, all is not known.In a word, it is Faith – the substance of things hoped for, the evidence of things unseen.
Frankly, it is that lack of irrefutable evidence and the need to having the answers to everything that makes a nonbeliever's 'faith' in a higher power troubling. In The Last Days of Judas Iscariot we see those sentiments memorialized in court testimony and through the flashback scenes with the various characters. Answering some of those unfulfilled questions and addressing that worldly point of view doubt is the gravitas of Guirgis' potent and timely play. Still, the play often felt like a gratuitous exercise of indulgence testing the limits of narrative balance and repetition, dramatic momentum, and my active attention.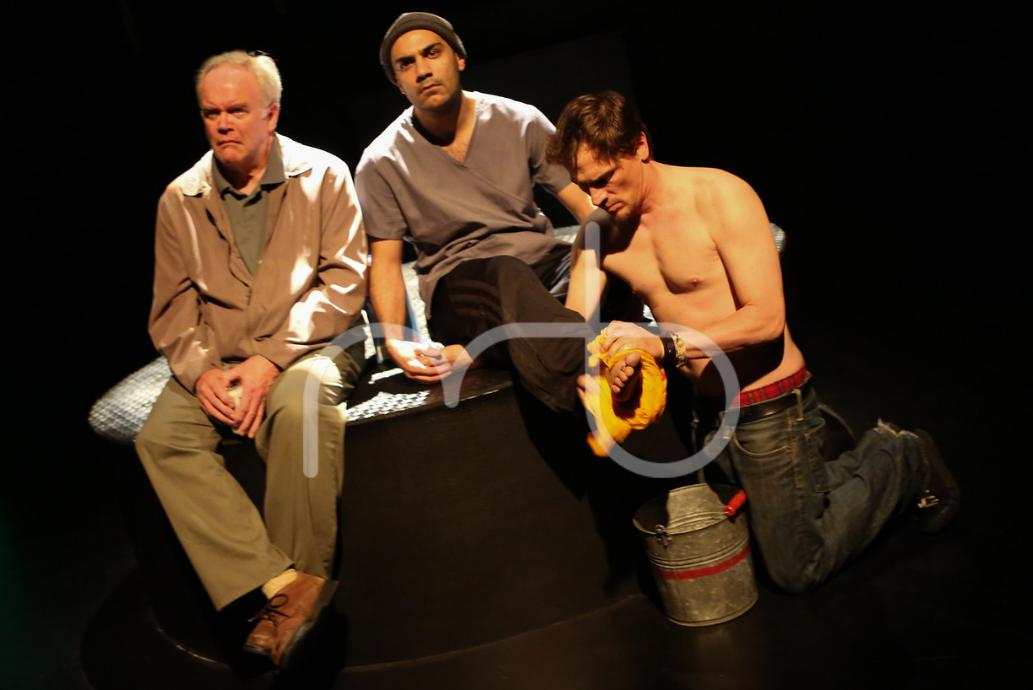 Thankfully, Vreeke's fine-tuned direction filled the inconsistencies of the script with skilled continuity, active staging, and heightened, entertaining performances by an eclectic, fifteen member ensemble making the journey rewarding. Vreeke's cohesive understanding of the text and his sophisticated ability to navigate the subtext, lugubrious monologues, and what one could argue a few unnecessary characters is an absolute strength of this Judas Iscariot production.
The play begins with a traditional look at judgement, and a writ being handed down from the pearly gates of Heaven by St. Peter. The sparse, striking set and lighting design by Colin K. Bills, sound design by Michael Dove and costume design by Pei Lee appropriately dressed and filled the space without distracting or taking away from the power of the text.
The complicated showdown and battle of legal wills are presented by two attorneys debating remorse and grace, and whose passionate rhetoric and verbal combat test the boundaries of spiritual truth, intellectual reasoning, and courtroom decorum in this anything-goes Purgatory Hall of Justice.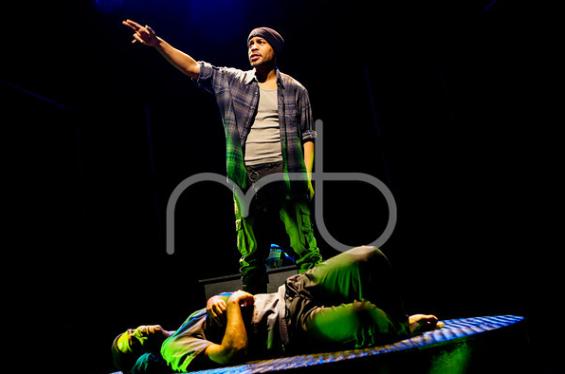 Defense Attorney, Fabiana Aziza Cunningham, played by Julie Garner, is tenacious and no-nonsense, and her determination to successfully plead Judas' case is unwavering. Yusef El-Fayoumy as the boisterous and strident opposition, craftily created by Scott McCormick's impeccable timing, antics, and humorous interpretation, produces several of The Last Days of Judas Iscariot best and memorable moments.
On a circular centerpiece in the middle of the court room, Maboud Ebrahimzadeh solemenly exists as the inscrutable Judas and Patrick Bussink as Jesus of Nazareth anchors the show.
The pleasure of Brian Hemmingsen's southern charm and drawl never ends in his role as the animated and frustrated Judge Littlefield. But, it is his role as Caiaphas the Elder, where his adroit emotional skills elucidating the character's conflicted but resolute nature that resonates authenticity and lasting impact.
As the boastful, foul-mouthed, trash-talking Saint Monica, Alina Collins Maldonado sets the tone early for the high stakes court room hijinks and her spirited, scene stealing, historical revisionism that brings flava to Purgatory and laugh out loud laughs.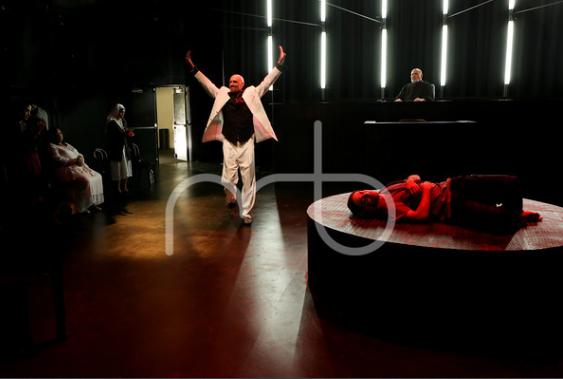 The charismatic Nora Achrati makes distinct character choices to
differentiate her dual roles of Loretta, Mother Teresa, and Mary Magdalene. Jim Jorgensen is smarmy and terrifying as Satan, a cunning liar, a charming manipulator, and a white-suit-wearing twisted demon seeking to kill, steal and destroy hearts, minds and egos at any opportunity.
Frank Britton's memorable time on the stand as the militant and righteous Pontius Pilate is a second act highlight as the trial nears its end. Britton has the rare ability of elevating any character that he performs and making his mark without ever stealing focus from the other ensemble members. (Britton was brutally assaulted and injured on his way home from the Monday night cast party of Judas Iscariot. He is having surgery today, and his return to the show is currently unknown.)
Was Judas a true disciple of Christ or an uncommitted pretender?
We all mythologize our lives, but ultimately we are free to choose between two masters: sin or Christ Jesus. At some point Judas tried to undo the evil he had done by returning the money but he was too late. Judas's ultimate fate is decided.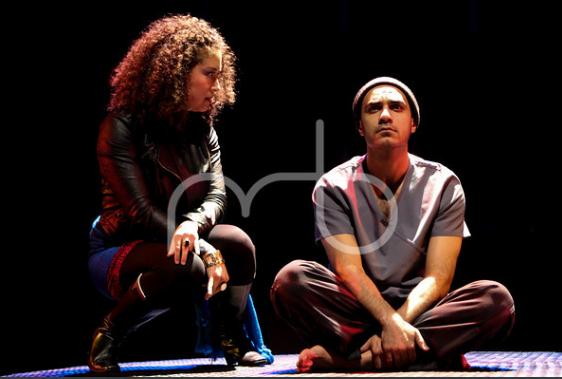 Romans (6:19-23) reminds us that the wages of sin is eternal death. In a life without God and a slave to sin, that's all one can expect or hope. It's impossible to be neutral. Being a "good" person is not enough, and without accepting salvation the final outcome is guaranteed.
Stephen Adly Guirgis and The Last Days of Judas Iscariot questions God's fairness in allowing one man to bear such guilt. The importance of salvation is the vital missing aspect of what will be seen as a thought provoking argument. God's sovereign plan is not for man to entirely understand, but what is known is that salvation can not be bartered for, pleaded, or received because of good deeds.
Truth or allegory, what one is likely to believe will be based on the experiences of their background and spiritual belief. For those who come open to fictional possibilities, The Last Days of Judas Iscariot is for you.
Through Forum Theatre's new Forum for All initiative, all walk up tickets are Pay-What-You-Want, and such an offer to see this 'kick in the pants' show is one choice that doesn't need to be questioned or debated.
Review by Sydney-Chanele Dawkins


DC Metro Theater Arts


---
Court is in Session with Forum Theatre's Provocative Revival of
The Last Days of Judas Iscariot
Review by Benjamin Tomchik
Broadway World DC
Forget the fire and brimstone of hell. Forget the pearly white gates of heaven. Souls are tried and learn their eternal fate in a black purgatorial court room with fluorescent lights. Next up on the docket: Judas Iscariot, the man who sold out Jesus Christ for 30 pieces of silver. Forum Theatre's solid revival of The Last Days of Judas Iscariot is sinfully provocative. Stephen Adly Guirgis' play unapologetically makes us question the legacy and fate of one of history's most infamous characters.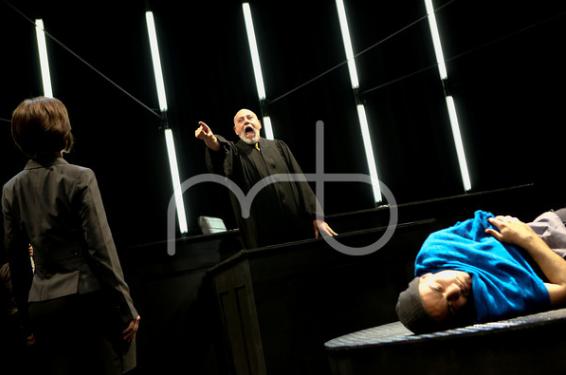 The Last Days of Judas Iscariot perfectly captures the circus-like atmosphere of the celebrity trial which so often consumes cable news. There's the celebrity, parade of witnesses and attorney's all too eager to prove their ability. When it comes to celebrities, who could possibly be a bigger defendant than Judas Iscariot (Maboud Ebrahimzadeh)? What's commendable about The Last Days of Judas Iscariot is Guirgis' establishment of a premise that reintroduces us to characters that are so well-established in the pantheons of religious and human history.
Alone in a cell in purgatory Judas Iscariot sits in a catatonic trance, consumed by grief and unable to speak. After an appeal from Saint Monica (Alina Collins Maldonado) and writ of trial signed by God, Defense Attorney Fabiana Aziza Cunningham (Julie Garner) brings the case of Judas Iscariot before Judge Littlefield's (Brian Hemmingsen) courtroom in Purgatory. Saints and Satan (Jim Jorgensen) all find themselves arguing whether Judas' actions amount to eternal damnation in hell or if God's love for the lowliest of creatures extends even to him?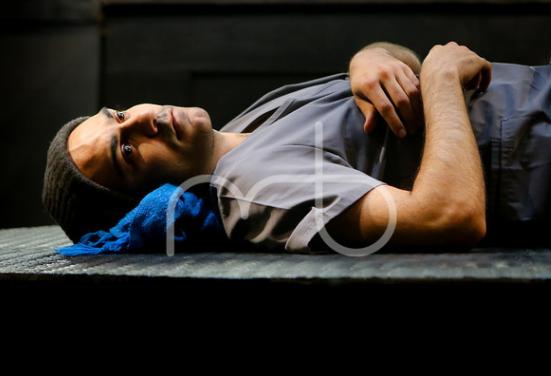 Guirgis script is ambitious with its entertaining mix of black-comedy and dramatic examination of Judas' conscience and soul. The Last Days of Judas Iscariot crackles with electricity when the attorneys become engaged in a theological waltz with the witnesses. These exchanges, particularly the Act II scene between Cunningham and Caiaphas (Brian Hemmingsen), are exquisite in their ability to make us rethink and question the events and motives surrounding the death of Christ.
Forum Theatre has assembled a gifted ensemble of 15 actors who have to give life to more than 20 different characters. Under John Vreeke's capable direction this ensemble shines with some wonderful performances.
As the title character, Ebrahimzadeh's performance isn't so much about what Judas says but more specifically what he conveys. Guirgis has Judas only speaking in flashback scenes. For most of the show he's lying or sitting on a circular column center-stage. Ebrahimzadeh is giving a focused and stellar performance. We can feel Judas' struggle by looking into his eyes, and observing his lack of movement and response to others.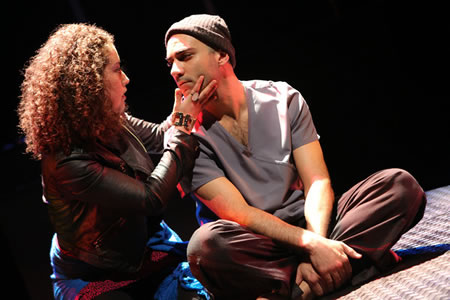 Hemmingsen portrays three characters with such skill that he makes it look effortless. Even more impressive are the impactful portrayals of two of those characters, Caiaphas and St. Matthew. Although Judge Littlfield may be the largest of his three roles, it's the emotional depth and honesty he gives St. Matthew and the passion he brings to Caiaphas that make his performances impressive.
Sparring with Hemmingsen's Caiaphas is Garner's Cunningham, whose persistent and focused demeanor allows her to bring Judas' case to trial. She's given some of the play's best scenes and with a flash of inquisitive questioning can get a rise out of anyone who crosses her on the witness stand. Thought it's interesting to observe how her line of questioning, while always focused on Judas, may also be seeking to answer ulterior questions.
Scott McCormick's performance of her legal counterpart, Yusef El-Fayoumy (Scott McCormick) isn't as successful. El-Fayoumy is supposed to be an Egyptian lawyer prone to fits of submissive groveling. McCormick's interpretation and accent makes his El-Fayoumy seem more like a waffling attorney from Soviet-era Russia.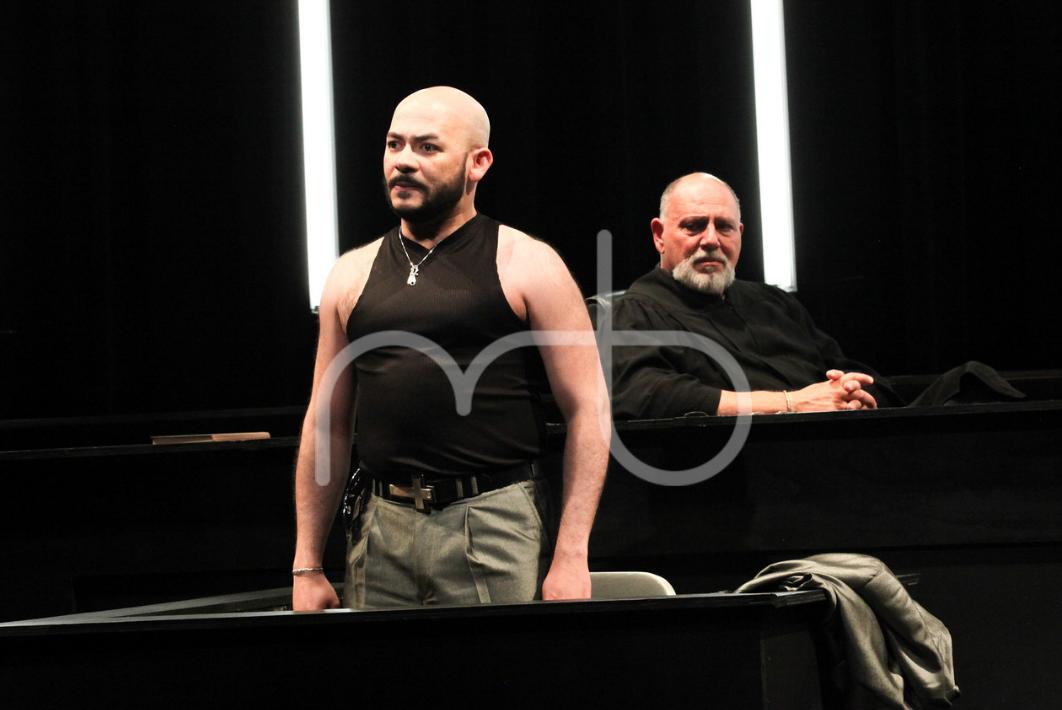 While it may be cliché to make Satan frightening, Jorgensen brings a chilling intimacy to the character. His terrifyingly calm and blunt Act II assessment of Cunningham, Littlefield and El-Fayoumy souls puts on full-display why eternal damnation in hell is something to fear.
Other standout supporting performances include Patrick Bussink who does a wonderful job conveying Jesus' compassion and willingness to forgive. Maldonado's re-envisioning of St. Monica gives her the flavor of a Latin street diva. It's a gutsy performance in that we don't expect it and yet, it works to great success.
Finally there's Frank Moorman's Butch Honeywell, a juror who doesn't know if he's deceased. Moorman doesn't have much stage-time, but his commanding delivery of the play's final monologue gives The Last Days of Judas Iscariot one of its finest dramatic moments. His delivery is so honest and human that we genuinely feel for this man whom we just met.
Review by Benjamin Tomchik
Broadway World DC
---

The Last Days of Judas Iscariot, at Forum Theatre, prepare for anything but the ordinary
Review by Tina Ghandchilar
MD Theatre Guide, 5/28/14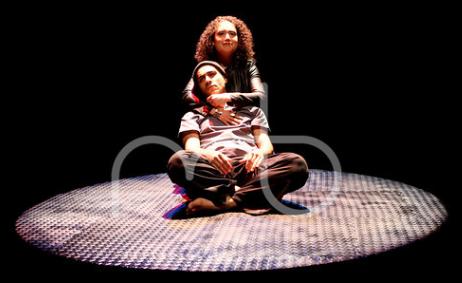 If you are planning on seeing The Last Days of Judas Iscariot, at Forum Theatre, prepare for anything but the ordinary. Welcome to the world of purgatory, where Judas is held on trial, and is so psychologically beaten down by consuming thoughts of guilt that being able to speak in his own defense becomes impossible. The Last Days of Judas Iscariot, written by Stephen Adly Guirgis and directed by John Vreeke, is a provocative dark comedy in which a group of lawyers, saints, and witnesses gather in a courtroom along with Satan to try a case revolving around Judas. Throughout the course of the trial, profound issues and questions are raised in regards to the essence of spiritual free will, Judas' betrayal to Jesus, and whether or not he should be punished or redeemed. With so much modernized Biblical investigation running wildly rampant during the trial, 3 hours almost seem to fly by.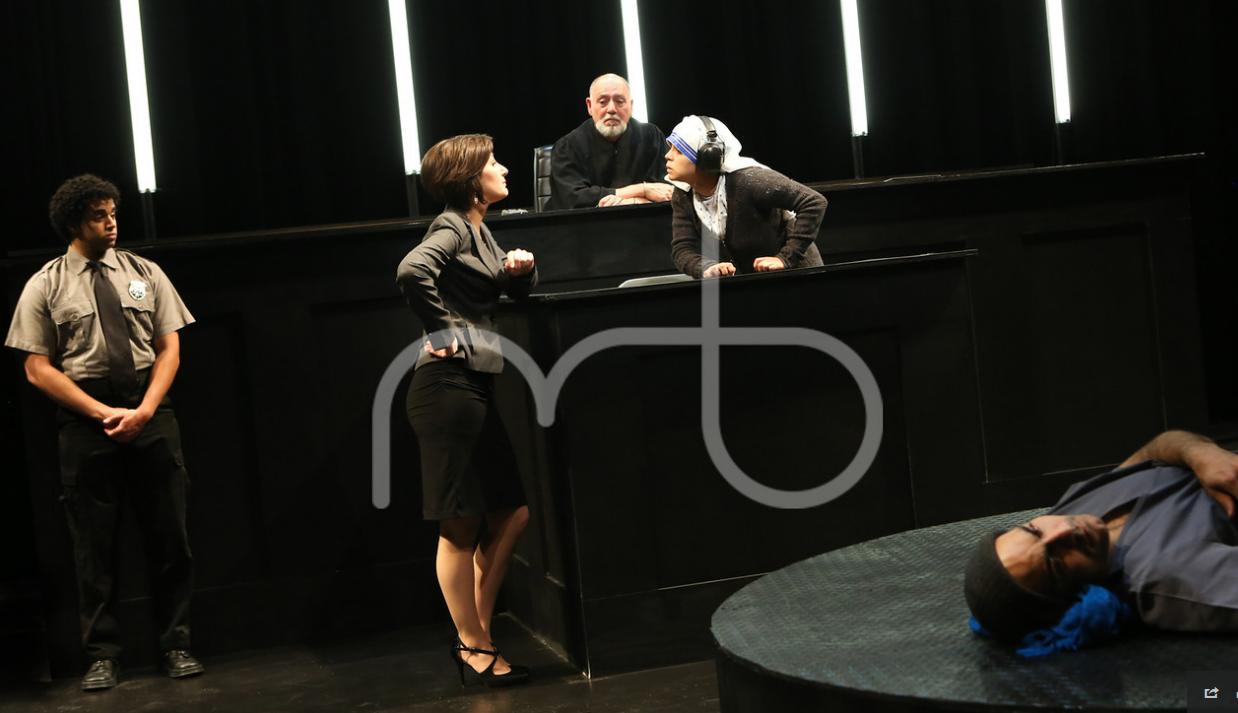 At the very top of the show we are introduced to Judas' mother, Henrietta Iscariot, played devotedly by Annie Houston, in which she desperately claims in a fierce monologue, "No parent should have to bury a child. When my son was born I was infused with love beyond all measure." Alina Collins Maldonado plays an exhilarating and charming Saint Monica who wildly proclaims that if it weren't for her son, the church would've been a "bastard church." Maldonado surprises us with a sweeter, more tender side to Saint Monica as she tries to break through to Judas by holding him for 4 days claiming how God has the biggest love for the lesser creatures, "And Judas, was the leastest creature I had ever seen… I've got a calling ya'll…" Judas is placed on trial into the mercy of his defense lawyer, Fabiana Aziza Cunningham, strongly played by Julie Garner. As the trial proceeds, we are introduced into a battle of the sexes and wits with the ground-kissing prosecutor, Yusef El-Fayoumy, delightfully played by Scott McCormick, all placed before the spiteful judge, cunningly acted by Brian Hemmingsen.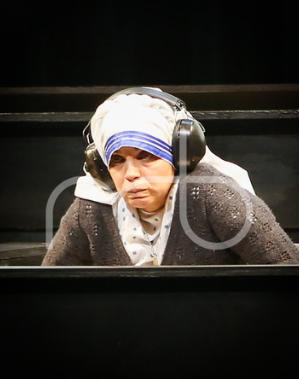 Maboud Ebrahimzadeh is a magnetic force to be reckoned with as Judas. From the moment Judas first truly reveals himself as a young 8-year-old who has an engaging exchange with his friend in sharing a spinning top, to every divergent transition, growing more and more into the deeply disturbed sinner, Ebrahimzadeh owns each moment he is given and passionately drives it with full force. As we further advance into the trial, we are introduced to a concoction of witnesses from Mother Teresa (Nora Achrati) to Sigmund Freud (Jesse Terrill), to Pontius Pilot (Frank Britton), to the enticing Casanova, and Devil himself, played by Jim Jorgensen.

Achrati's portrayal of Mother Teresa is breathtakingly flawless as she intently describes her painful encounter with despair, of God not wanting her. "In order to hear, one must be willing to listen," referring to Judas' defiance against God as an act of despair and egotism. Masterfully enough she adds hints of pristine comedic timing into the mix. Later on we see Achrati return as Mary Magdalene who wishes to clarify that she was not Jesus' wife, but friend of Jesus. She also claims to have never been a bawd, but a highly accomplished apostle working towards the common good.
Jorgensen demonstrates moments touched with intense chemistry between Satan and Judas in the bar when Satan slyly disguises himself as a character by the name of Clementine as he is able to persuade Judas into thinking that he truly is anyone but Satan. Judas is left in a vulnerable position to open up to him and spill his troubled soul, proclaiming he is afraid of going to hell and asking if it's okay to mention anything even "remotely controversial." "What if some idiot had a choice to betray the messiah?…hypothetically speaking…" Satan, still disguised, answers him with, "probably better if he never would've been born." Later on in the show, we see Satan fixedly exploring the faults of the two lawyers and how they would never be capable of being loved. Both Jorgensen and Garner exchange fiery moments, which lead into her ultimate meltdown.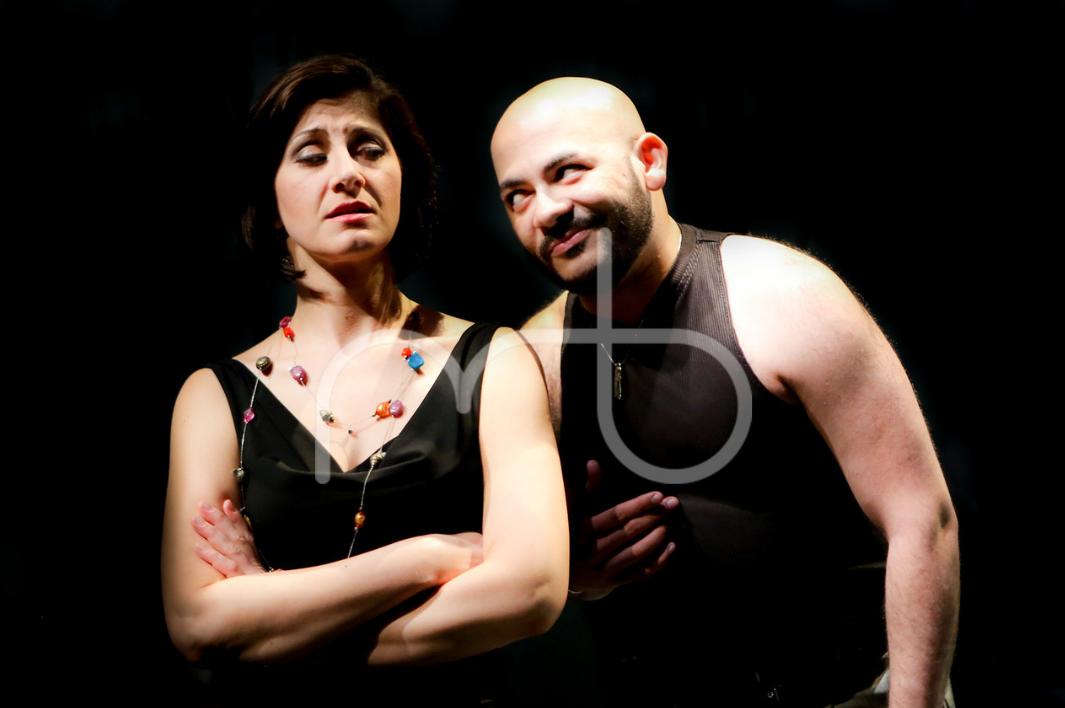 Frank Britton [photo on right] commands the stage with his presence as Pontius Pilot who claims to be a Christian and Martyr. Fervently justifying his high status in life, he ends up with the motive of seducing Cunningham. Britton's hilarious take on Pilot is a breath of fresh air.
I have to say Ebrahimzadeh's final encounter with Jesus (Patrick Bussink) is emotionally heart-rending. His desperate cries from a deep sense of loss and feelings of being betrayed are clearly evident. We move from one heart-breaking scene to the next with Mr. Butch Honeywell, played by Frank B. Moorman devotedly delivering a stunning monologue to Judas describing his wife as his poetry, "you cashed in silver, Mr. Iscariot, but I lost gold and that's a fact."
The Last Days of Judas Iscariot was first performed at Forum in 2007. Forum's Artistic Director Michael Dove says, "When we were thinking about how we wanted to mark our 10th season, we thought back to the moments that defined us. And the most common one was the production of Judas. It started our shift towards new plays and was the type of play that would become our aesthetic: highly affecting stories that ask big, big questions." Dove and his entire production team at Forum consistently produce avant-garde works that symbolize a deeply enriched, progressive way of thinking within the DC theatre community. "We thought 'what better way to celebrate how far we've come than to look at the play that started it all?'
Review by Tina Ghandchilar
MD Theatre Guide, 5/28/14
---
The sprawling, imaginative, hilarious, and piercingly sad play for 15 actors set in purgatory debates God's magnanimity
Review by Chris Klimek
City Paper, 5/29/14
The Last Days of Judas Iscariot, which premiered in 2005, is an exhausting but genuinely inquisitive and stirring specimen of ecclesiastical provocation. Forum Theatre's production, first staged in 2008 and now remounted with much of its original cast, spills over with at least a half-dozen world-beating performances.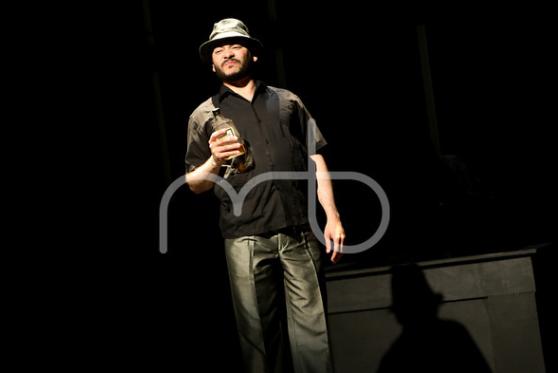 Make that netherworld-beating: In Judas, Stephen Adly Guirgis, the sin- and salvation-obsessed playwright who also gave us Jesus Hopped the 'A' Train and The Motherfucker With the Hat, takes us to purgatory to attend the appeal of the man who sold Jesus Christ to the Romans for 30 pieces of silver, then hung himself from an olive branch in shame.
The presiding judge (bearded, barrel-chested, boomy-voiced Brian Hemmingsen, never more authoritative), whose own transit papers to heaven have been pending since the Civil War, won't even hear the case until Judas' tenacious attorney, Fabiana Aziza Cunningham (Julie Garner, who'd be commanding enough without the five-inch heels, so: respect), returns with a writ signed by God himself. The witnesses include Mother Teresa; saints Matthew, Peter, and Thomas; Caiaphas the Elder; noted cigar aficionado Dr. Freud; noted germophobe Pontius Pilate; and noted produce advocate Satan. The devil is, like the song says, a man of wealth and taste or at least one of those, sporting a white Gucci suit. Jim Jorgensen gives him a yen for a blandishment and brutal insight that makes him as serpentine a, well, serpent as ever convinced man he doesn't exist. "I don't actively compete for souls," Jorgensen demurs, his thick eyebrows arched heavenward like palms pressed together in prayer.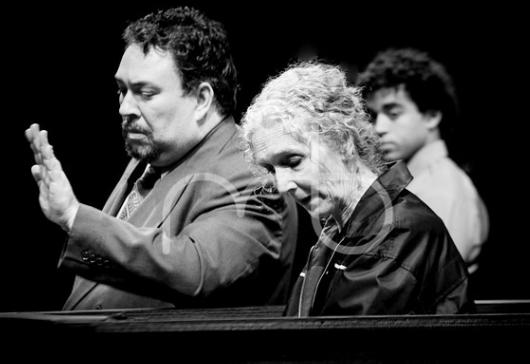 He doesn't have to. The question of free will, more than Judas's guilt or innocence, is what's on trial here. Guirgis, who grew up Catholic, explains in the play's introduction that he wrote it out of his disquiet from a young age over what we were meant to learn from Judas' story. The man is a pariah whose name is synonymous with "betrayal," and yet he was fulfilling the prophecy of Scripture when he committed his defining sin. Save for his lawyer, everyone here detests him.
Well, not everyone. Patrick Bussink, dressed in camo pants and a Red Cross T-shirt, has a couple of quietly tremor-inducing scenes as Jesus, whom we first see trying to comfort Judas' mother (Annie Houston, who gets the show's bravura opening monologue and then is silent for the remaining 170 minutes). Later, Jesus reminds us he remains the constant companion of Humanity's Most Reviled. "I'm helping Donald Rumsfeld get a good night's sleep," he tells us. "I was in that cave with Osama, and on that plane with Mohamed Atta."
Guirgis is a New York City native; 9/11 was fresh in his memory as he wrote. I wonder what it means that he gives both attorneys Arabic-sounding names. Representing God and the Kingdom of Heaven and Earth in these proceedings is Yusef Akbar Wahid Al-Nassar Gamel El-Fayoumy, a flattery-larding huckster played with comic excitability by Scott McCormick.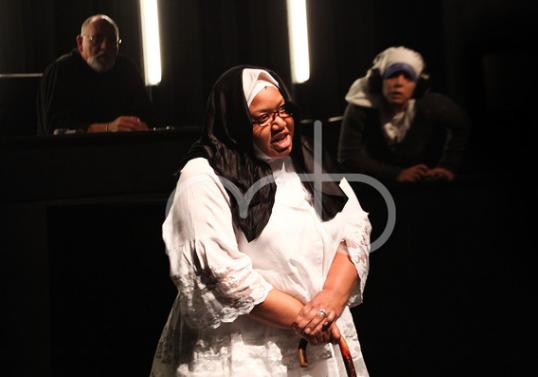 Though most actors have only a handful of scenes (and some just one), all stand in for the jury, keeping their seats on either side of Round House Silver Spring's black box for the entire show. Colin Bills has placed a half-dozen vertical fluorescent tubes behind the bench and a spherical dais in the center, where the accused (Maboud Ebrahimzadeh) sits or lays, seeming to writhe in a hell more private than the one to which he may soon be banished.
That commitment isn't limited to the actors. Including the 10-minute intermission, Judas Iscariot runs a full three hours, and transfixing though it is, you feel the length. One wishes Guirgis might've been persuaded to pare some of the good-but-inessential stuff from Act 1—such as the exposition-spouting Angel Gloria, whose role is mainly to explain how this conception of purgatory works—so we'd feel sharper for the seismic events of the second half, when Pontius Pilate takes the stand, as embodied by the versatile Frank Britton in full Samuel L. Jackson mode. His scene recalls Col. Jessup's climactic testimony from A Few Good Men. Both are figures of power and pragmatism, unapologetic when they resort to Code Reds or crucifixions to obtain the results expected of them. They've both got bosses, and the Roman Empire and the United States Marine Corps probably have a roughly equal tolerance for failure or dissent.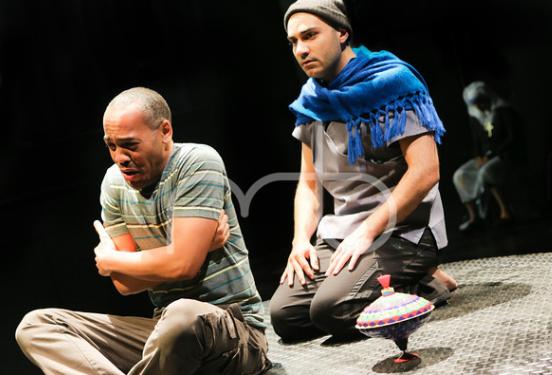 Britton fell prey to a brutal robbery in Silver Spring Monday night as he was walking toward a taxi after Judas' opening-night performance. The irony of an actor giving a performance as strong as any of the dozen-plus I've seen from him in a piece that explores the origins of evil becoming the victim of a crime mere hours after its official opening is not small.
Nora Achrati has several roles, including Mary Magdalene, but has the most fun as Mother Teresa, whom she plays as Yoda, basically, hunched and speaking in cherubic pieties salted with piercing candor. When she's given an assisted listening device in the form a giant pair of DJ cans, she's even got the green guy's ears—the better to absorb El-Fayoumy's compliments. "If prosecution is through flirting with the beatified iconic virgin, we could, perhaps, begin?" Garner sighs. Great stuff, but the tears that came at the end were not of laughter. This is the funniest play that will break your heart this year.
Review by Chris Klimek
City Paper, 5/29/14


---
---
---
---
---
---

Forgiveness and Forum's production of
The Last Days of Judas Iscariot
by Deryl Davis
DC Theatre Scene, 5/27/14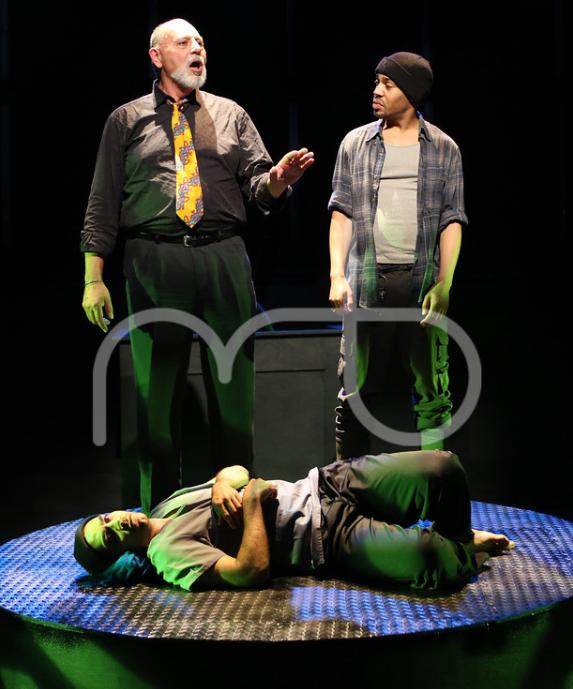 Jesus, Judas Iscariot and Mother Teresa walk into a bar . . . Actually, a courtroom, in Purgatory, where Judas is on trial to determine his eternal fate. Will he suffer everlasting damnation, or is there another option for history's most infamous traitor? Playwright Stephen Adly Guirgis imagines there is in his 2005 surrealist comic-drama The Last Days of Judas Iscariot, which asks provocative questions like these: Are there limits to forgiveness? Is anyone beyond the reach of love? Is redemption possible, even for the worst of us?
Such questions may sound purely theological, but according to Forum Theatre Artistic Director Michael Dove – and delighted audiences – they have universal application. Under Dove's leadership, Silver Spring-based Forum has reprised its 2007 hit production of Last Days (then performed at the H Street Playhouse) with about fifty percent of the original cast and John Vreeke returning to direct. The move is an unusual one for Forum, which decided some years back to focus on new works, but a return production of Last Days seemed the right choice for the young theatre's 10th anniversary celebration.
"It was the obvious move, because it [Last Days] started us on the track where we are today and really established our aesthetic," Dove says. "It's the show people most often come up to me and talk about, regardless of whether or not they have any religious connection. It generates conversation."


Sparking conversation is central to Forum's mission. The company takes its name from the ancient Roman Forum, the public gathering
place for news, discussion, and debate in that much older capital city. Company members choose plays based on merit and artistry, as well as their capacity to ignite discussion around contemporary issues in society, politics, culture, or religion. Few subjects today are as ripe or as divisive as the latter. Double that when the play centers on the actions of the man accused of betraying the Son of God. Is it getting too hot down there?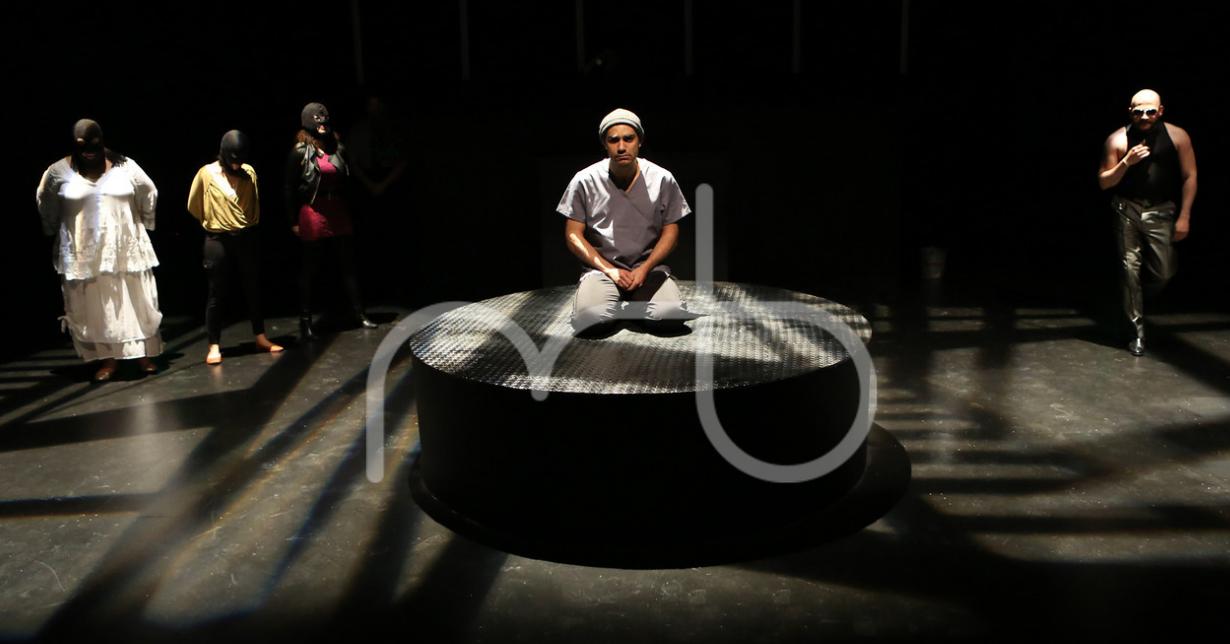 Jarrod Jabre thinks not. Theological a
dvisor on this production of Last Days, Jabre says "[t]here's really nothing in this play that would disturb audiences familiar with the biblical accounts. What it does is humanize these figures that are thought of as so remote, ethereal, and otherworldly."
Guirgis' cast of characters, which includes a dapper Satan, Pontius Pilate, Mother Teresa, Mary Magdalene, and Sigmund Freud, among others, talk and act like the streetwise New Yorkers Guirgis lives and works among. There's nary a plastic saint nor a simple villain among them, which makes the play more about relationships than theology per se, or stereotypes one might have of some of history's most famous personages.
"It's impossible to play a deity," says Patrick Bussink, who is from a Christian background and is reprising the role of Jesus from the 2007 production. "You have to look at the character's humanity. What makes him a real person?"
Maboud Ebrahimzadeh (Judas), who was not in the original production, thinks of the story in similarly relational terms. "Guirgis does a wonderful job of showing us the images we have of these characters, and then stripping that away and showing us the real people underneath, with their flaws, their mistakes, and their hopes," he says.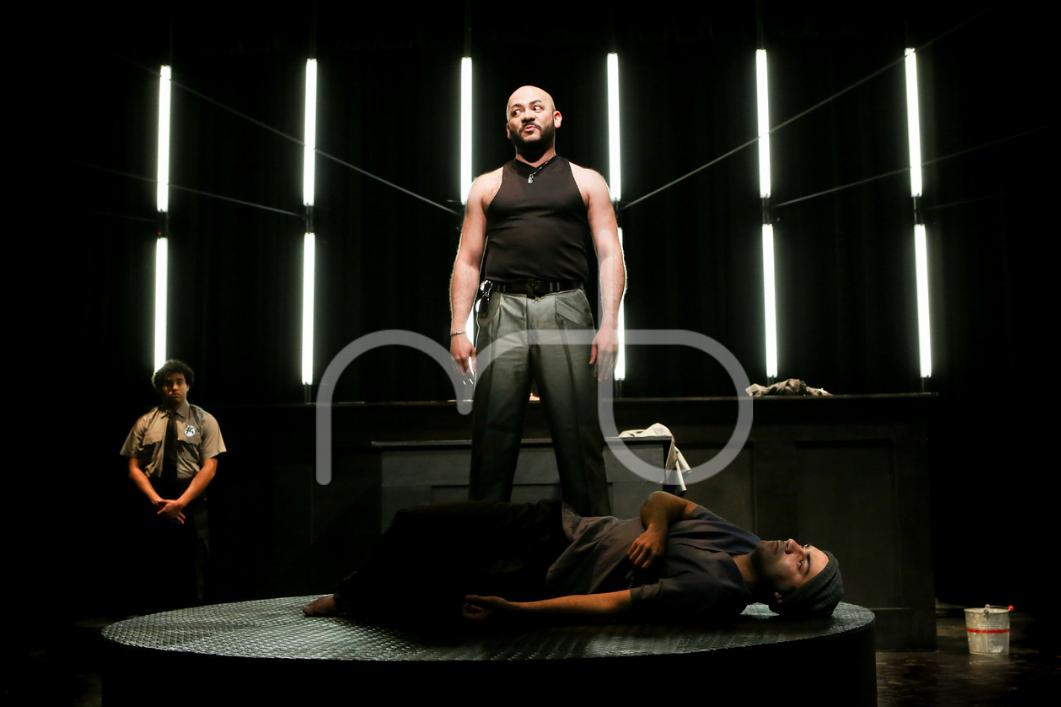 Born in Iran and raised in a largely secular household, Ebrahimzadeh says religion didn't much figure into his own examination of Judas. "I felt free from that, so that I could simply think about the personal relationship between Judas and Jesus. I could see [the whole play] in terms of relationships."
The Last Days of Judas Iscariot elicited a very personal response from Artistic Director Michael Dove, in large part because of its religious content. "I felt a very personal connection the first time I read it," he recalls, "thinking about my own upbringing from a spiritual standpoint and the questions I had about faith." Raised in a conservative Christian environment, Dove says he was not encouraged to critically examine his beliefs, so that the questions Guirgis raises about divine justice, salvation, and damnation have particular resonance for him.
"I was raised to see the world in a very black and white way, very set and pat in terms of how we should look at the world and at sin," Dove reflects. "That comes through in the play, not just in terms of spirituality and religion, but in how you see everything." He notes an increasing bifurcation and factionalism in American politics and society where, as in Guirgis' play, people are often quick to judge and to divide the world into good and bad. While history has made Judas the ultimate villain and betrayer, Dove thinks Guirgis may well be using the conflicted soul as "a metaphor for all of us."
"In some ways, [the play] is about everyone. All of the characters are failing, they all become surrogates for the audience," Dove reflects. "'What things have I done that [like Judas] I regret? How can I see these things in others and forgive them?"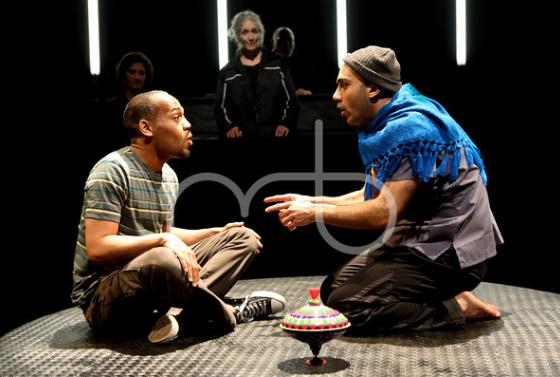 Director John Vreeke agrees that forgiveness is at the heart of the play. A self-described "church kid" who was groomed for the ministry but went into theatre instead, Vreeke believes Last Days presents the idea that "forgiveness . . . must come first from ourselves." That's a concept that resonates with Ebrahimzadeh in his work as Judas.
"It's very much an inner struggle for him," Ebrahimzadeh asserts. "It's about Judas not being able to forgive himself, to accept that he is his own worst enemy, and that the only thing standing between him and his own salvation is himself."
These sorts of moments are worth revisiting, as Forum is doing with the current production. Rather than simply "remounting" the original 2007 staging – a word Dove says the company has "banished" – the actors and creative team have approached this production as an opportunity to revisit a favorite, beloved theatrical experience in a different space before new audiences.
"It's been an amazing opportunity to ask ourselves, 'How are we hearing this story differently now?'" Dove asks. "'What has changed about each of us in six years [since the last production]? And how does this play sound now, in our current political and social climate?'"
"I never thought it would happen again," says veteran Washington actor Jim Jorgensen, who plays Satan. "It was a really special time. I'm flattered that someone would want to do it again and involve me in it."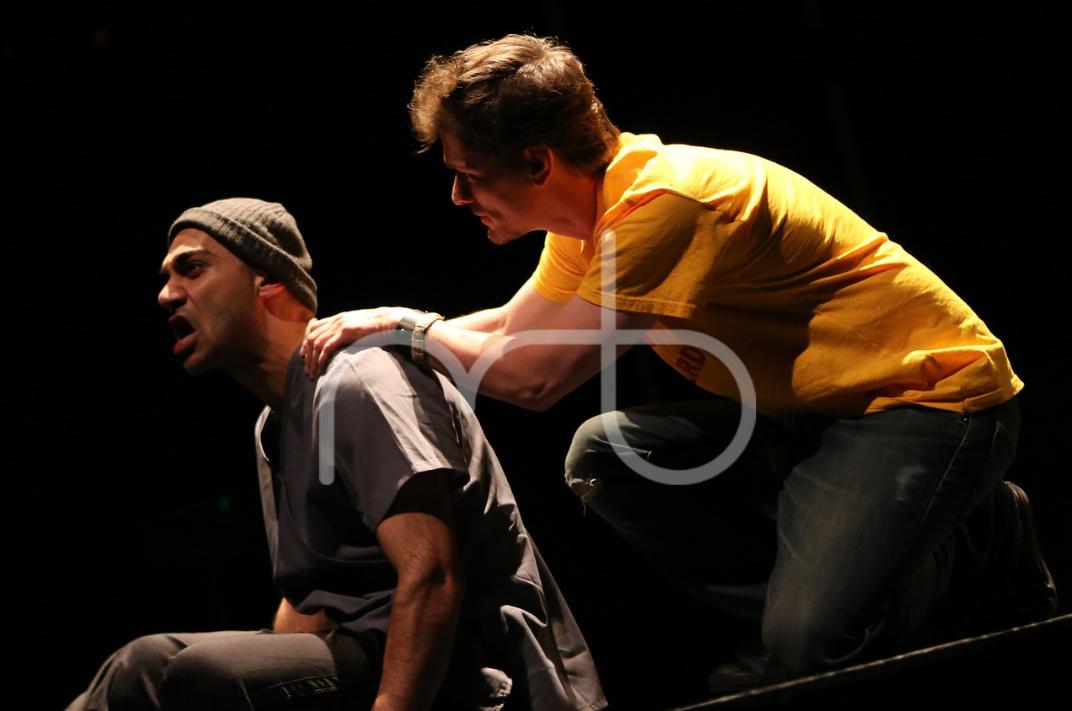 For his part, Patrick Bussink

[photo on left]

welcomes the opportunity to have another go at being Jesus. "He's not the kind of character you play, and then think, 'I nailed it,'" Bussink admits. "But I wouldn't want to do this again unless it were going to be different, even if the words and intentions are the same."


And what does it mean for Judas, facing the possibility of eternal flames for the very first time?
"Having a seven-year head start is definitely helpful," Ebrahimzadeh acknowledges, in regard to the returning cast members. "But just about everybody has a new scene partner, and that in itself disrupts the old rhythms. It's not the same performance. Everybody is approaching it like a fresh piece."
Michael Dove believes the reprise of The Last Days of Judas Iscariot is evidence of how far Forum has come in its first decade. "We know we as a company have evolved," he asserts, "and so has our audience. This is another chance to engage them around a show that really represents who we are and what we do."
No doubt, the conversation will be continued. . . .
by Deryl Davis
DC Theatre Scene, 5/27/14
The Last Days
of Judas Iscariot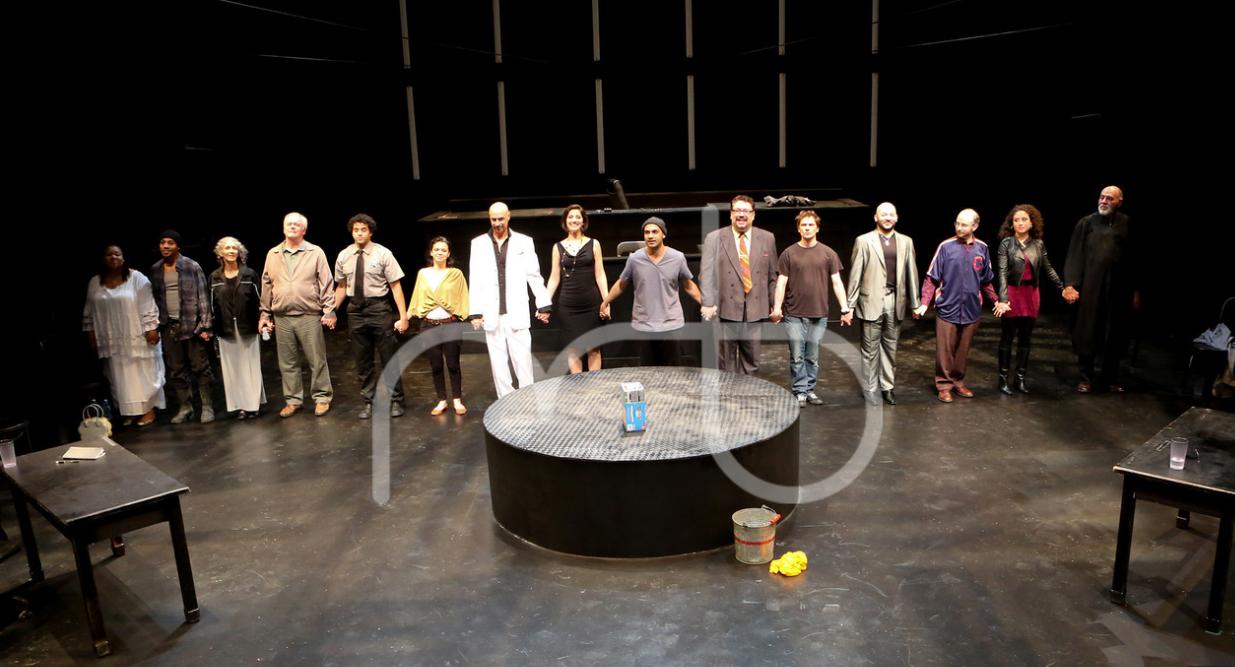 RETURN TO MAIN PAGE - JohnVreeke.com