"The Real Inspector Hound"
April 20 - May 29, 2011

By Tom Stoppard * Directed by John Vreeke
Two theatre critics, Moon and Birdboot, watch a ludicrous setup of a country house murder mystery. By chance, they become involved in the action causing a series of events that parallel the play they are watching. Featuring
our "heroes" Ralph Cosham, John Dow, Michael Tolaydo and MetroStage favorite Catherine Flye as Mrs. Drudge.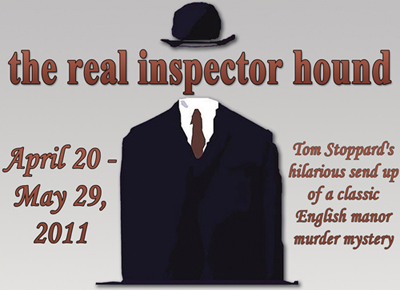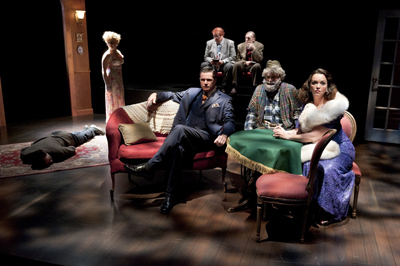 The Real Inspector Hound - Photos by Michael Bailey
---




Director John Vreeke's adroitly paced staging deftly brandishes the wit of this 1968 Tom Stoppard one-act


Review by Celia Wren, Published: April 25

Look at the bone-weary demeanor of the bow-tied scribbler Moon — slumped in a maroon chair, gripping a playbill, looking out with despairing resignation at a tidy drawing-room stage set. Surely no job on earth is as arduous, lonely and downright spiritually draining as that of theater critic.

Or so you might think, watching actor Ralph Cosham's consummate portrait of Moon, a play-reviewer character in the enjoyable version of "The Real Inspector Hound" now at MetroStage.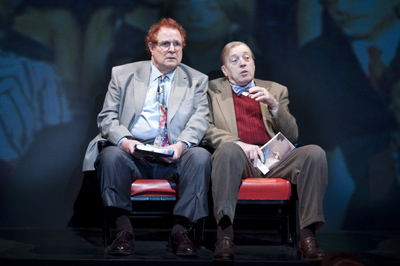 Director John Vreeke's adroitly paced staging deftly brandishes the wit of this 1968 Tom Stoppard one-act, a brilliant parody of country-house detective stories and the conflict-fraught, egoism-inflating business of theater criticism. Vreeke's production features a number of zesty performances, and most of the cast appears to be having a blast — but it's Cosham's brooding Moon who seems to live most fully in Stoppard's delectably language-drunk, hall-of-mirrors world.



A critic who's more than a little obsessed with his own second-string status, Moon sits next to a fellow reviewer, the philandering Birdboot (Michael Tolaydo), at a whodunit that's a schlocky knockoff of Agatha Christie's "The Mousetrap."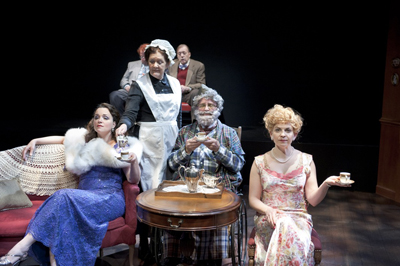 After delivering some egregiously overinflated pronouncements on this piece of tripe ("I think we are entitled to ask — and here one is irresistibly reminded of Voltaire's cry, 'Voila' — I think we are entitled to ask, Where is God?" Moon muses at one point), the critics find themselves tugged into the world of the fog-shrouded Muldoon Manor, where a madman is reportedly on the loose.

Looking aptly frumpy in a checked jacket, mismatched trousers and carnival-colored tie, Tolaydo's Birdboot oozes smarmy self-importance, and he brings the right solipsistic, suspicious, competitive air to his conversations with Moon. In the play-within-the-play, Catherine Flye displays superb comic timing and a wicked command of baleful expressions as the saturnine Muldoon Manor housekeeper, Mrs. Drudge.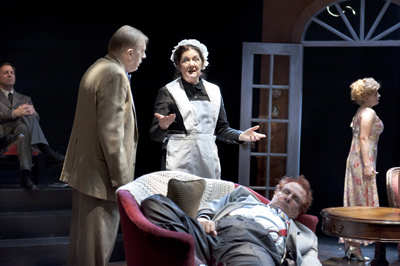 David Elias has a funny turn as Inspector Hound, clad, naturally enough, in Sherlock Holmes-style deerstalker and Inverness cape (Ivania Stack designed the costumes), while Kimberly Gilbert and Emily Townley ham it up as Manor denizens Felicity Cunningham and Lady Cynthia Muldoon. Manically racing a wheelchair around designer Daniel Pinha's succinct aristocratic-parlor set, a blanket-swaddled John Dow plays Major Magnus, who has turned up mysteriously at the Manor.



In a fun touch, whenever one of the characters utters one of the script's periodic ultra-ominous remarks (e.g., "I think I'll go and oil my gun"), lighting designer Brian S. Allard amps up a footlight or two, for a luridly melodramatic effect. Sound designer Steve Baena complements these moments with sinister cadences from screechy violins.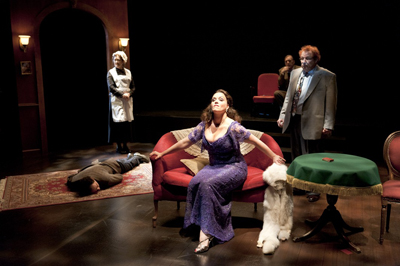 "The Real Inspector Hound" notably reunites director Vreeke with Cosham, Dow and Tolaydo, who appeared in Vreeke's splendid MetroStage production of French playwright Gerald Sibleyras' "Heroes" (translated and adapted by Stoppard) in 2009. Entertaining as it is, the current offering doesn't have the buoyancy and brio of that earlier staging — you get the sense that Cosham and Tolaydo, at least, are less excited by this Stoppard staple than they were when tackling "Heroes," a work that's less well known in the Anglophone world.


Fortunately, there is such a thing as professionalism, a force that seems to have produced Cosham's woebegone but dutiful Moon. When Sisyphus wearies of rolling his boulder up a Hadean hill, this Moon will sigh, uncap his pen and take notes on yet another play.


---

Humor lit by intelligence

Review by Barbara Mackay, April 25, 2011
Special to The Washington Examiner.

"Saying that Tom Stoppard wrote a witty play when he wrote "The Real Inspector Hound" is like saying that there are various colors in nature. It's an understatement of mammoth proportions. In fact, Stoppard's wit in "The Real Inspector Hound" comes on so quickly and completely, the farce immediately tumbles into nonstop, high-octane entertainment. And right under the chaos, a vibrant intelligence is at work.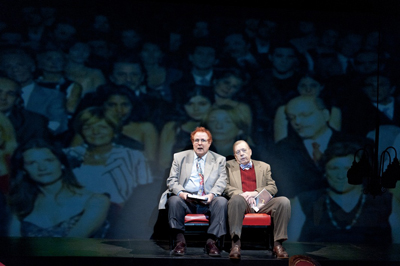 "The Real Inspector Hound," at MetroStage, is a play within a play. In its first scene, we meet two critics, Birdboot (Michael Tolaydo) and Moon (Ralph Cosham). They are watching a show, criticizing a particularly bad whodunit of the sort Agatha Christie might write, where all the guests at Muldoon Manor are trapped with no way out. The radio keeps announcing that a murderer is on the loose.

In addition to his hilarious send-up of such plays, Stoppard's creation of Moon and Birdboot is brilliant. He portrays both critics as pretentious in their own ways. The pompous Moon lapses into French and Latin and uses 25-cent words whenever he can. Birdboot is a womanizer and is smitten by one of the actresses in the cast but refuses to admit his marital infidelity.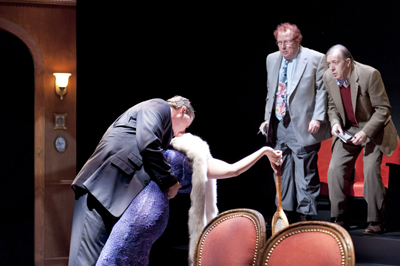 In the second act of "Hound," Stoppard gets more analytical about the difference between onstage and offstage reality and where the two collide. When the telephone onstage rings incessantly, Birdboot answers it only to find that it is his wife. He is then drawn into the play, taking the place of one of the characters. Moon also becomes part of the play, again destroying the illusion of the fourth wall between actors and audience.

MetroStage has assembled a talented cast to make this "Hound" successful. Cosham and Tolaydo are particularly good as Moon and Birdboot, respectively. Catherine Flye gives a delightfully dry interpretation of the humorless housekeeper, Mrs. Drudge. Emily Townley and Kimberly Gilbert are excellent as Cynthia and Felicity, both vying for the same man.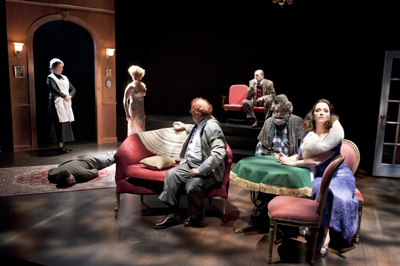 Daniel Pinha creates an effective set for the play within a play. Moon and Birdboot sit on red upholstered theater seats upstage on a raised platform. Behind them is a screen showing other theatergoers observing the play, which is performed downstage.

Everything in "The Real Inspector Hound" is exaggerated and director John Vreeke has capitalized on that. He plays up the silliness of the drama that Moon and Birdboot are reviewing by emphasizing its melodramatic nature, having the action stop when regular death threats are made. The actors freeze, classical music plays.


Lighting designer Brian Allard captures the actors in those moments, reinforcing the staccato nature of old-fashioned playwriting and helping demonstrate Stoppard's extraordinary ability to satirize human nature, society, theater and life itself.


---




The Real Inspector Hound: 'This one will have a special place in my heart'

Review by Patrick Pho, April 25th, 2011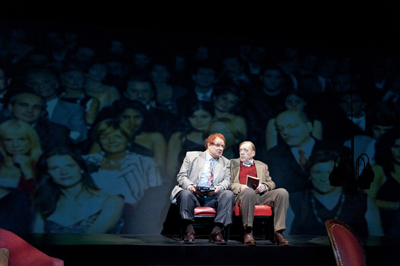 I am not a Theatre Critic. I don't have an MFA, my grades in English were that of the C+ variety, and I don't claim to have an extensive knowledge of theatre history.

That doesn't mean I am without credibility. I have been involved with theatre for over 10 years and in my latest reincarnation I am a stage manager. I am also a blogger that's been blogging before they called it blogging. I hope that my experience behind, on, and in front of the stage lends a unique perspective in my theatre posts for We Love DC.

It is also because I am not a critic (but kinda am) that I was able to laugh throughout MetroStage's production of The Real Inspector Hound. From the title you might assume that the show is a hokey whodunit- and in part it is. At its core however, the show is a farce that shamelessly pokes fun at the profession of theatre criticism and culminates into a collision of critics and actors that is very reminiscent of Durang's The Actor's Nightmare.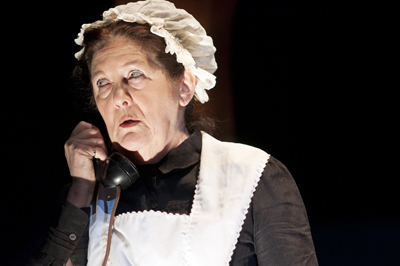 At the center of Tom Stoppard's one-act are two theatre critics: Birdboot (Michael Tolaydo) and Moon (Ralph Cosham). The two sit together as they watch and review a what is perhaps the worst mystery/thriller I have ever seen. During the show the two compare opinions and lament about their problems outside the theatre. Moon, the back-up critic, dreams of becoming the top banana while Birdboot uses his status as a reviewer to get closer to the talent than his wife might like. As the play-within-a-play trudges on, Stoppard decides to tell the critics, "you just got Inception'd!" The critics get pulled on stage and become a part of the show themselves.

The show seemingly offers the audience a view (albeit tongue-in-cheek) of the life of a critic, a role Stoppard himself had and drew upon for the show. While reviews that attempted to be more artistic and masterful than the plays they covered is something I believe is a bygone of the 60's (when the play was written), there are some elements of a critic's life that still ring true today. There is indeed a friendly relationship between fellow critics, I always enjoy hearing what TBD's Maura Judkis has to say about a show and I always say hi at the many press performances I see her at.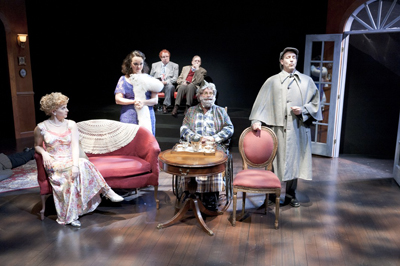 I also got a laugh at the idea of comparing theatre critics to quarterbacks on a football team. I wonder if WaPo's Gene Wang dreams of Michael Lee meeting an unfortunate demise so he can become the main beat reporter for the Washington Wizards. It only goes to show that competition can be found on every level of life.

The utter horridness of the murder/mystery play within-a-play adds to the hilarity when the Birdboot and Moon wax poetic about the show's finer qualities. It makes you wonder if the critics need to overcompensate for a lack of analysis- or perhaps they need to feel fancy in order to feed their growing egos. The mystery is so contrived with drawn-out ominous pauses, phone conversations that force feed you the premise, and acting that makes the actors look stiffer than the statue that is Derek Jeter.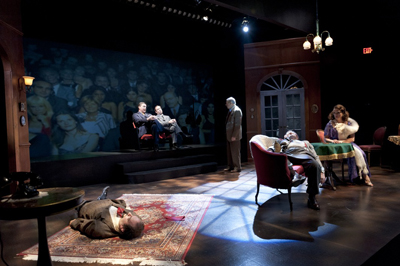 Birdboot wined and dined the actress in the role of Felicity (Kimberly Gilbert), and promises to make her a star through his review. Through her performance however, the audience knows she is less talented than Birdboot says. His interests shift during the show to the voluptuous actress playing Lady Muldoon (Emily Tonwley). The rest of the actors on display are stock characters: Simon (Doug Krehbel) is a handsome yet suspicious Dexter-like character, Inspector Hound (David Elias) dons a Sherlock Holmes-like outfit, and Mrs. Drudge (Catherine Flye), piles on the cockney as the maid and housekeeper.

Luckily with most farces, a deep analysis of the piece isn't needed to tell you that it is an entertaining romp that will make both critics and regular patrons laugh. The show is more about the dialog than slapstick but it has that "meta" quality that makes it work. This one will have a special place in my heart as a constant reminder to never compare any show to the human condition.

Well unless it really does.


---

The Real Inspector Hound is sheer entertainment




Review by Jayne Blanchard, 4/27/11



Ever had the hankering to stop being a seat warmer and jump up onstage to join the action? Careening out of your comfort zone and inadvertently breaking the fourth wall are two of the themes in Tom Stoppard's affable send-up of pat murder mysteries and theater critic pretensions, The Real Inspector Hound.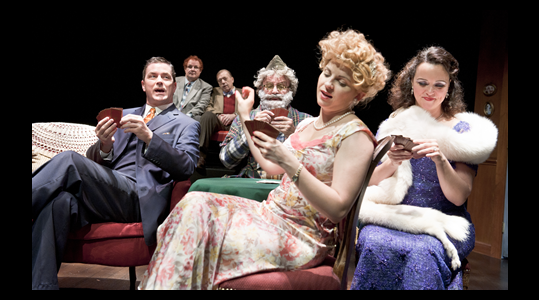 MetroStage has an affinity for Mr. Stoppard's plays, having produced a luminous production of the wistful Heroes in 2009 that was directed by John Vreeke, who dexterously handles the farcical trappings and energetic banter in Hound. The actors from Heroes return for this latest venture into Stoppardian territory—Ralph Cosham, John Dow and Michael Tolaydo—and they are joined by local stage favorites Catherine Flye, Kimberly Gilbert and Emily Townley.

Written in the 60s and affectionately recalling Mr. Stoppard's stint as a pseudonymous drama critic early in his career, The Real Inspector Hound is sheer entertainment and not emblematic of the playwright's many works that combine intellectual depth and dazzling wordplay.

Hound's play-within-a-play conceit takes place in a British theater, where a groaner of a whodunit in the mold of Agatha Christie's The Mousetrap lumbers along, a murder mystery set in the fog-shrouded environ of Muldoon Manor. The hilariously dour housekeeper Mrs. Drudge (Miss Flye) is called upon to rattle off miles of exposition, including answering the phone with "the drawing room of Lady Muldoon's country residence one morning in early spring" and also explains that roads lead to the manor but "mysteriously" do not go in the opposite direction.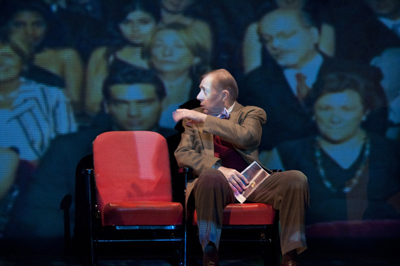 Beyond the footlights, two theater critics Moon (Mr. Cosham) and Birdboot (Mr. Tolaydo) sit in their velvet seats and comment on what's occurring onstage, as well as other topics that arise during the evening. Birdboot is a jovial cheerleader who speaks in sound bites and blurbs and cranks out his reviews on the spot–ever-mindful of how they would look on a marquee or in a newspaper ad.

With his shock of messy red hair and loud tie, Birdboot is an unabashed extrovert with a connoisseur's eye for female beauty. All the while painting himself as the pinnacle of integrity, he nonetheless enjoys the company of comely actresses, most recently Felicity (a comically wide-eyed Miss Gilbert), the play's ingénue, whom he describes as "a toiler in the vineyard of greasepaint."

Moon is like his name, a broody chap with a chip on his shoulder as big as his droopy bow-tie. Lamenting his lot as a second-string reviewer—a constant refrain in the play is the question "Where's Higgs?" a reference to the star critic—Moon sinks into glumness as the whodunit unfolds lumpily under his dolorous gaze. His morose mien is belied by increasingly pompous critiques of the play, at one point saying it possesses a certain "je suis ergo sum" and contains elements of "Kafka, Sartre, Shakespeare, Samuel Beckett, Dante, Dorothy L. Sayers and Van Gogh."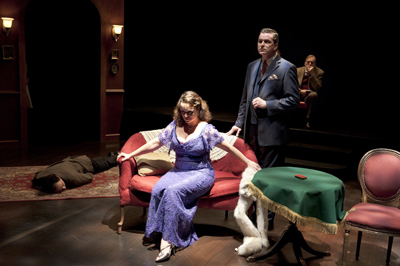 All journalistic impartiality goes out the window when Birdboot becomes smitten with the glamorous romantic lead Cynthia (a fabulously over-the-top Miss Townley) and, unable to restrain himself, joins the play and assumes the role of the two-timing playboy Simon Gascoyne. Not to be outdone, Moon leaps into the footlights, taking on the dream part of the analytical detective Inspector Hound. The real Simon (Doug Krehbel) and Inspector Hound (David Elias) slip into the critic's seats, offering pithy assessments of what is now a brazen farce.

Hound wittily lampoons the conventions of murder mysteries where not a whit of ambiguity remains after the final curtain. That Moon and Birdboot would lavish so much attention and verbiage on this theatrical piffle adds to the play's sense of absurdity. It also inadvertently makes you wonder why so much talent and care at MetroStage is involved in something equally slight. So Hound is a play-within-a-play that parodies insubstantial fare with 80 minutes of trifle. Got that?

You're probably not supposed to think that hard, instead get carried away by the pleasure of the performances, especially Miss Flye's deadpan double-takes and deliciously demented spins on the hackneyed dialogue. Mr. Cosham's hound-dog demeanor and high-falutin' expressions of inferiority perfectly embody Birdboot's splintered spirit and Mr. Dow has his moments as the speed-racing Magnus, a wheelchair-bound guest at Muldoon Manor.

You could never call Hound purebred Stoppard, but it is one of his mongrel bits of fun.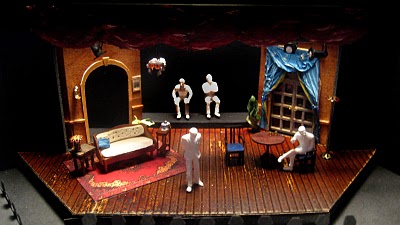 The Real Inspector Hound


A photo of the model that set designer Daniel Pinha created, depicting a "theater in the round" and the English manor house setting for the play within a play. It concentrates more on architectural elements and the furniture.




---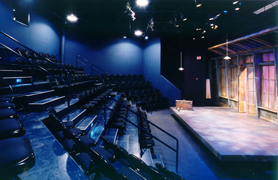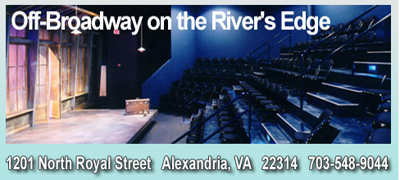 Directions by Auto:
From DC and MD (Montgomery Co.): From DC take 395 across 14th St. Bridge and take the second exit immediately after the bridge that says Mount Vernon and National Airport. This will put you on George Washington Parkway From MD take George Washington Parkway towards Reagan National Airport. Once you are on GW Parkway pass the airport and the marina and turn left on Madison St. Go 3 blocks and turn left on N. Royal St. Go 4 blocks and turn right on 3rd St. then immediately left into the parking lot. The theatre is the big glass entrance facing the parking lot.
MetroStage


1201 North Royal St.
Alexandria, Virginia 22314
Telephone: 703-548-9044
Fax: 703-548-9089
Email:
info@metrostage.org
For tickets, call
1-800-494-TIXS (1-800-494-8497)
or to order tickets online,
go to BoxOfficeTickets.com