Redacting history in 'The Letters'
The cat-and-mouse tension is splendid in John Vreeke's shadowy, airtight production
Melodramatic? You bet, and it is an angle Vreeke plays with understated flair
Review by Nelson Pressley
May 21, 2015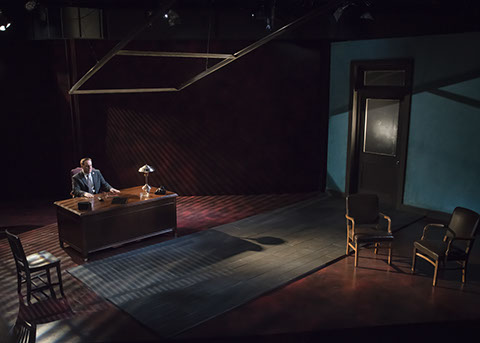 "The Letters" is a drama of thought control in Stalin's Soviet Union, and it's a good one — a slick 75 minutes with a Hitchcock-like grip. There are just two characters in John W. Lowell's play, the director of an unnamed institute and the whip-smart editor he has summoned for promotion. The offer of advancement chills her blood. No doubt the controlling director has something nefarious up his sleeve.
The cat-and-mouse tension is splendid in John Vreeke's shadowy, airtight production at ­MetroStage, driven by the cagey performances of Michael Russotto and Susan Lynskey. Russotto is blustery and gregarious as the director. Pacing through Giorgos Tsappas's nearly empty office set (which sits at a menacing angle on the stage), Russotto puts on an unnerving charm offensive that glints like sharpened steel. The director's questions are slightly peculiar, and Russotto gently lobs his sadistic jokes with grenadelike precision. You don't blame Anna, the editor, for looking alarmed.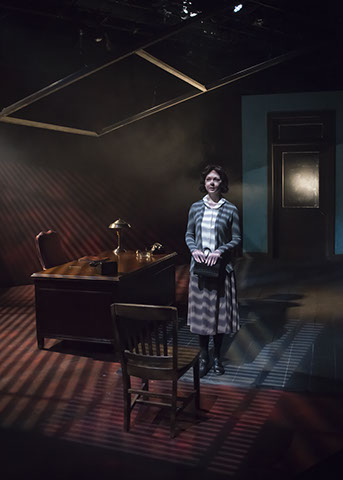 Anna is quick-witted, and Lynskey's performance is engagingly brisk. She talks fast and thinks swiftly as she tries to decipher what the director is up to. The situation is based loosely on letters written by the Russian composer Pyotr Ilyich Tchaikovsky (unnamed here), letters revealing he was gay.
"An aberration," the director murmurs in moral disapproval, labeling homosexuality "a shame to the state." Naturally, the letters of this musical genius must be purged of such references before they are released to the public. The play's early going is all about the director's machinations as he tries to loosen Anna up, get her to trust him.
Lowell has some juicy twists up his sleeve, and the dramatic stakes are raised as the action unfolds in real time as one unbroken scene. It is a cage match; only one of the combatants will get out.
Melodramatic? You bet, and it is an angle Vreeke plays with understated flair from the moment Lynskey's silhouette fills the frosted glass of the director's office door; it is an image pilfered from vintage Warner Bros. pictures. (Dashiell Hammett's "The Thin Man" and "The Maltese Falcon" come to mind during this show.) Alexander Keen's lights nimbly catch the two faces in harsh glare and mysterious darkness as the plot twists. For a show that's one long dialogue, it has a canny and ever-changing look.
The historical censorship plot taps into our own anxiety about surveillance states, with Lowell probing the psychological effects of being perpetually monitored in the name of security. The actors don't miss a nuance. Russotto, whose recent turn as the morbidly obese figure in "The Whale" at Rep Stage is already one of this year's most memorable performances, plays the director as a terrifying tactician. Lynskey's Anna hangs on his every word, her eyes darting as she tabulates options and coolly staring him down whenever she gets the upper hand. It all adds up to a nifty suspense.
Review by Nelson Pressley
Washington Post
---
"Two great actors under the leadership of highly experienced John Vreeke, bring the dramatic story to life with passion and force."

Watching the skillfully executed, challenging scenes made me think about the director's input into bringing the complex characters to life. Both actors "have much praise for director Vreeke's skill" writes Keith Loria in his article for DC Theatre Scene. Lynskey calls Vreeke an "extraordinary director," and Russotto calls him "a real actor's director, wonderfully flexible and open."
RATING:

Review by Eliza Anna Falk
May 18, 2015
MetroStage's Producing Artistic Director Carolyn Griffin, has found yet another extraordinary 'gem of play' – The Letters by John W. Lowell – and gave it a setting worthy of a diamond. Expertly directed by John Vreeke and brilliantly performed by Michael Russotto and Susan Lynskey, the play, which had its successful DC premiere last night, delivers everything a demanding theatre-goer may wish for.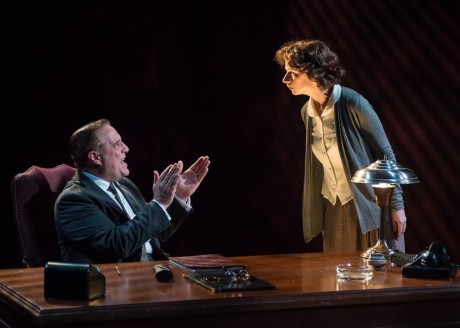 The play, set in 1930s during the Stalinist regime, is a thriller with as much mystery, drama and suspense as the story it tells. The action takes place in an office of a Director (Michael Russotto) in charge of literary censorship. Anna (Susan Lynskey), one of the editors, is called in for a chat, or so she thinks. A good 15 minutes after the Director's sly attempts to break down her composure she asks him again "Why am I here?" What ensues is an intense, dramatic exchange between the Oppressor and the Oppressed, which shocks and surprises with its twists and turns. In the center of it all are Tchaikovsky's letters exposing his love for men, and the Director's mission to hide it from the public at any price, including that of a human life.
Two great actors under the leadership of highly experienced John Vreeke, bring the dramatic story to life with passion and force. Russotto is perfectly cast as the abominable apparatchik, a street smart ex-military turned government official, solidly built, domineering and off-putting. The actor meets the challenges of his multifaceted character with ease, smoothly oscillating between playing a joker/ charmer and a manipulating, screaming monster, managing to deliver some funny moments in the process. The last gripping scene of the play avails Russotto of an opportunity to add to his vast array of skills and gives the performance an astounding finale.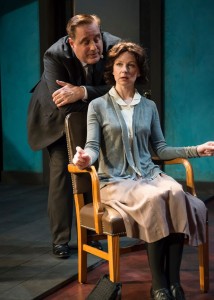 Lynskey is equally impressive in her role as Anna, a complex persona, forced to reveal her true self under a sinister threat. A mousy looking, work-focused editor doing everything in her power to remain unnoticed and left alone, switches into a survival mode once humiliated and abused, giving talented Lynskey plenty of opportunities to showcase her amazing skills. The actress playing Anna has to 'have it all' and 'give it her best' in order to present an endless range of emotions experienced by the character. Lynskey was a perfect choice for the role and shines brightly in her truly moving portrayal of Anna.
Watching the skillfully executed, challenging scenes made me think about the director's input into bringing the complex characters to life. Both actors "have much praise for director Vreeke's skill" writes Keith Loria in his article for DC Theatre Scene. Lynskey calls Vreeke an "extraordinary director," and Russotto calls him "a real actor's director, wonderfully flexible and open." The three artists worked together before, Russotto with both the director and Lynskey. The actors' on- stage chemistry is great and Vreeke's craftsmanship can be seen and felt throughout the performance. So is the contribution of the rest of the production team, including Giorgos Tsappas (Set Design), Alexander Keen (Lighting Design), Aaron Fensterheim (Sound Design) and Ivania Stack (Costume Design).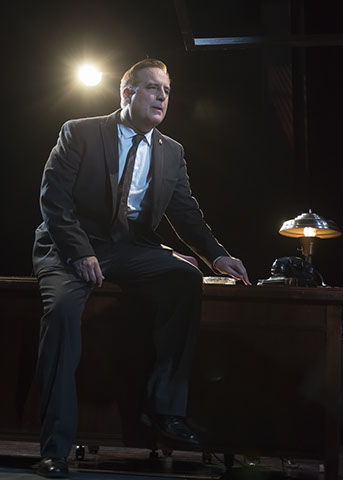 Giorgos Tsappas' set depicting a senior bureaucrat's office remains unchanged throughout the one-act play, yet carries every twist and turn of the plot masterfully with the help of lighting and sound effects. A solid desk with a phone and a big armchair – symbols of the Director's authority- and a simple chair facing it – signify the division of power and dictate the mood of the room. The occasional ominous ringtone of the phone heightens the tension, so is the light used strategically throughout the play. During one of the twists in the plot, Anna is seen sitting on the opulent desk and the Director perched on the visitors' chair, his disturbed, sweaty face under a bright spotlight.
The dark reddish color of the walls seems to have been chosen to emphasize and signify a number of important aspects of the play and its context and fully agrees with its themes of communism, terror and death. Combined with light and sound, the color scheme adds to the intensity of the action and provides a right backdrop for the extreme emotions expressed on stage. The shadows of shutters projected on the wall and ceiling resemble prison bars, a reminder of the oppressiveness of the Soviet regime and the fact that no one, even its senior officials were safe from suspicion and imprisonment.
John Vreeke has been quoted saying that "audiences in DC are smart and have a focus on politics" and as such welcome material which is socially and politically challenging. The Letters is a political play and in the words of Carolyn Griffin is highly relevant in a present "highly political, very intense time." It examines the psychology of
totalitarianism and reveals damages caused to human relationships by exp
osing people to hypocrisies and power games based on fear and blackmail, themes so very current in today's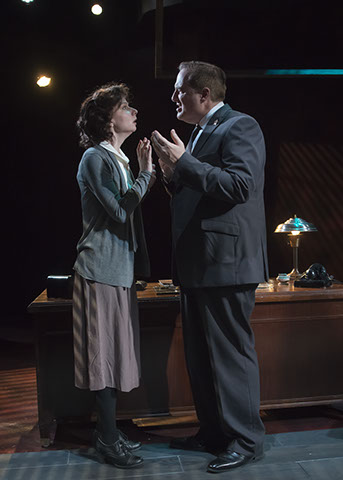 conflicted world.
Whilst the US governments of today and Stalin's regime have nothing in common in terms of ideology and beliefs one cannot help making a connection in the area of any super power's government interest in its citizens' personal information. Michael Russotto said to Keith Loria: "as our government invades our lives a little bit more every day, as privacy and personal liberties disappear (…) the play provides a window into what happens with official over-reach".
The play is an absolute 'must see' even for those not politically inclined. The opportunity to see great acting of two MetroStage favorites, to catch a glimpse of Stalin's reign of terror, and to be moved by this spine-chilling and smart and gripping thriller should not be missed!


Review by Eliza Anna Falk
DC Metro Theater Arts


---

The intricate dance is carefully orchestrated by director John Vreeke,
who lets the two sizzle and circle each other, while physically moving the action...


Review by Debbie Jackson
May 19, 2015


On the surface, The Letters refers to communications written by the beloved Russian composer Peter Ilyich Tchaikovsky to his male lover – letters so full of explicit "degenerate" material that the government gets involved to "purge" and clean them up.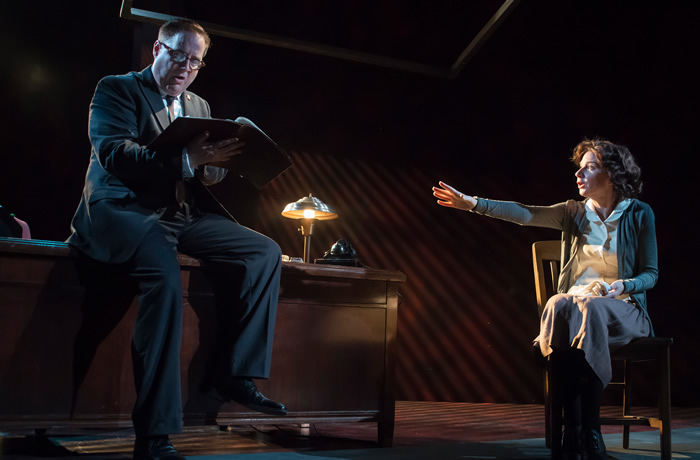 The originals were destroyed as directed, but not before illicit copies, we eventually learn, were made. Evidence of such perversion in a treasured national figure would damage reputations, discredit the regime and taint the country's sense of "decency," so the officials must get to work to hunt down the illegal copies.
The Soviet bureaucrat in charge, identified only as Director and played masterfully by Michael Russotto, sets out to do just that—only he doesn't realize that he's met his match in the timid and mousey Anna, played with aplomb by Susan Lynskey. The two set out on a psychological cat and mouse chase which must be seen to be believed, with twists and turns that will leave you on the edge of your seat–literally.
Anna's importance is emphasized even before her entrance when her shadow spookily appears though the office door's window. Lynskey's Anna has all the traits of a tightly wound, wounded little bird, ready to jump and flee when startled. What Lynskey does with such simple things as how she rests her hands and tiny shifts in her translucent gaze expressing emotional transitions is exquisite.
Michael Russotto's "Director" blusters with bravado, soothes her with chumminess, builds up her confidence, and even offers her a promotion, but then he starts to hurl accusations and knocks the wind out of her describing maleficent acts, only to delicately brush them aside as "unpleasantness" in the next moment.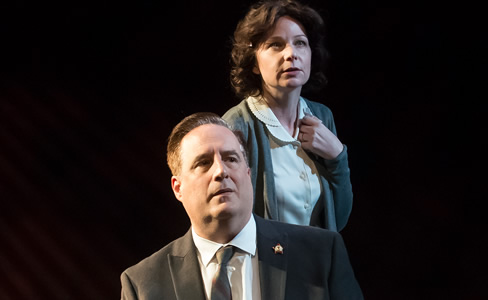 There is never an insincere moment between these two artists as they wrestle with the twisted possibilities which playwright John Lowell has laid out for them – unexpected possibilities that pop up at each twisty turn.
Lynskey and Russotto have worked together over the years building trust and it shows in how carefully and beautifully they keep up with and feed off each other. The intricate dance is carefully orchestrated by director John Vreeke, who lets the two sizzle and circle each other, while physically moving the action from the formidable desk to the leather chairs towards stage left where placement and height of one character over the other speaks volumes.
Menacing threats of treachery prevail as Anna's world unravels as the Director reveals his information. He incessantly brow-beats her until she admits an affair with a colleague implicated in the treachery. But just as she hits rock bottom, the tides turn as Anna suddenly begins to feed into his warped psychology and questions his own motives. Before you can figure out who's zooming who, it becomes clear that no one is safe or secure or sure of anything, especially of the truth. Lost is any sense of ethics. Or moral code of any kind.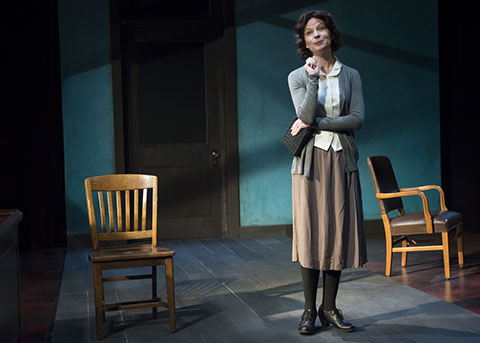 You might easily leave MetroStage rocked with such ambiguity about what just happened that the natural urge would be to see it again to look out for clues, hints and pieces of what's said—and just as important, what's not.
Set in Russia during the Stalin era of the 1930's, the tenets of the play work just as well when considering McCarthy's Committee on Un-American Activities, J. Edgar Hoover's outrageous reach, or the ongoing privacy breaches of today.
Set design by Giorgos Tsappas includes an oversized window frame slanted across the ceiling giving the impression of constant surveillance. Sound by Aaron Fensterheim includes the treasured composer's beautiful sonatas and piano concertos, a soothing counterpoint that belies the crescendo of threatening insinuations which his letters set loose. Alexander Keen's lighting design creates ominous shadows and light bulbs that flare intensely during the interrogation.
"Truth doesn't matter here," Anna tells The Director as she exits in the shattering finale. Maybe not in the context of this well -structured provocative piece, but The Letters will keep you thinking about truth, consequences…and more.
Review by Debbie Jackson
DC Theatre Scene

---

An emotional roller coaster makes for a
masterful psychological thriller

Review by: Brian Bochicchioon
May 20, 2015
Two actors in a relentless cat and mouse exchange, unexpected plot changes, and an emotional roller coaster makes for a masterful psychological thriller in The Letters at Alexandria's MetroStage.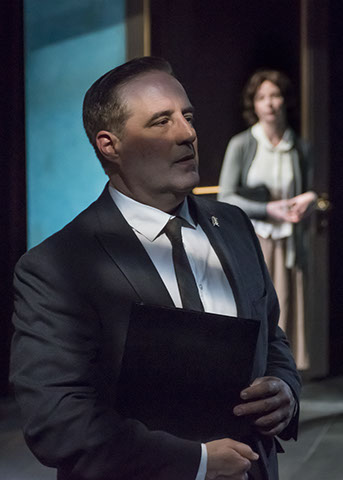 This taut, tense drama was created by John W. Lowell and first staged in Los Angeles in 2009. It is its ninth production, and though written more than 15 years from today, it inherently retains a timeless quality. It is brief 80 minute show, but one could not take much more in a single riveting sitting. Echoing the themes of an overbearing big brother type fascist state, it is set in the 1930s Soviet Union, in their generalized Ministry of Cultural Purity.
Anna, played by Susan Lynskey is a demure, mousy-haired bureaucrat underling who has been called into the office of her superior, known only as The Director, played by Michael Russotto. She is a bundle of nerves, wary and uncertain as she tries to figure out the reason for the meeting.
Lowell sets up a case study in psychological probing, the art of setting up a false premise to observe a person's reaction to it unprepared, without a standard answer. When asked why she never remarried, Anna states stoically "For awhile, solitude suited me. I was wrong." Later the probing centers on her work and colleagues.
The Director is not your usual drone apparatchik—he is energetic, even manic, reminiscent of a crazed clown, bouncing around the office chatting about anything that pops into his head. What is the hidden agenda? What started as an interview turns into an interrogation.
Gradually, the details begins to emerge. Anna's group is editing the writings of prominent artists, on orders of the state. The salacious letters of a famous composer (likely Tchaikovsky) are missing. A colleague has been arrested. Suspicions are being directed at Anna. What follows is a tense verbal and psychological joust between the two. Lowell's rapid-fire, sharp dialogue made the scenes dance. The Director fires back "I decide between the sound of desperate truth or the sound of desperate lies."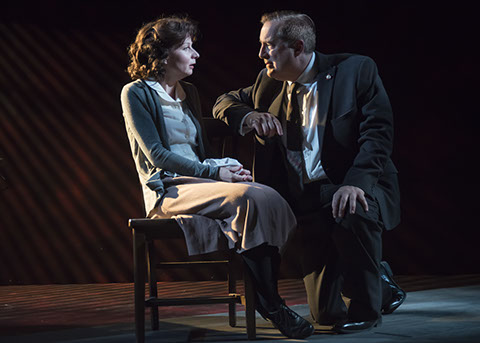 Anna, recovering from the verbal onslaught, stands
up to him and intones: 'You are right for all this if this is all you are.'
She later proves adept in the game of machinations. 'The most important thing is the success of the rumor, how it makes the scandal grow."
The set design by Giorgos Tsappas nicely enhances the action. The stage is composed of stark hues of melded red and brown. Harshly functional office furniture adorns the stage, finished off by a framed wood structure perched above the action. This obelisk could be a skylight, or an off kilter prism into the proceedings.
Director John Vreeke has worked numerous times with local talent Russotto and Lynskey and the familiarity shows. The pacing for the show is crucial, and the actors naturally played the rhythm of the show, while embracing the few moments of silence, which were powerful. From Russotto's energetic machinations to Lynskey's internal glances, wonderful work between both.
And because it was written and produced in an everyman point of view, it keeps a timeless quality, given our recent era of a loss of individual freedoms, coupled with insidious higher forces coming into one's life. A wonderful Kafkaesque situation where reality is being reshaped before our eyes. Could it happen here?
Review by: Brian Bochicchioon
MD Theatre Scene
---