.


An unsettled Israeli-Palestinian relationship in
'The Return'
Review by Nelson Pressley
Washington Post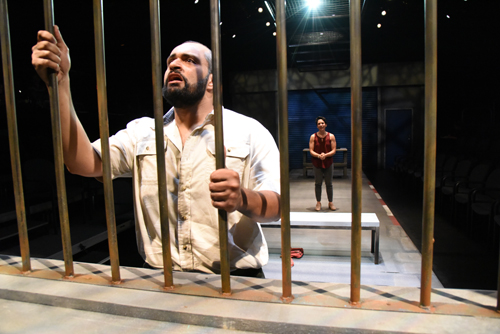 It took Mosaic Theater Company no time to forge a social justice identity beyond the Jewish lens of Theater J, where Mosaic Artistic Director Ari Roth had worked for nearly two decades until his firing at the end of 2014. But the Voices From a Changing Middle East Festival, begun in 2000 under Roth at Theater J, continues at Mosaic — an impressive company as it finishes its second season — as one of the most valuable streams in Washington theater.
Of course, the shows can be provocative, a fact of art that still surprises some folks in politics and business. The festival's body of work probes one of the most intractable conflicts in the modern world, the Israeli-Palestinian standoff characterized for many people by paralysis and futility, and with Israel now having occupied the West Bank and Gaza Strip for 50 years. Meantime, lives are lived and policies are debated, and the reality of what's dramatized in these plays is always palpable. The festival perpetually reminds Washington audiences of complexities on the ground and the real costs of the status quo.
The current play is the two-character "The Return" by Palestinian American actor-writer Hanna Eady and U.S. writer Edward Mast, and the taut 75-minute performance slowly teases out the fraught relationship between an Israeli woman and an Arab Palestinian auto mechanic in Israel. She thinks they have a shared history; he politely insists she's mistaken. John Vreeke's production captures how cautiously, even fearfully they speak together. Sentences are gingerly stated, as if any given word might land on a mine.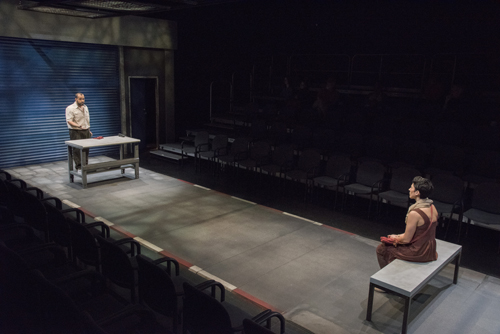 It finally happens, of course — and you can tell something will erupt by the way actor Ahmad Kamal flinches whenever the woman (Alyssa Wilmoth Keegan) uses the word "Palestinian." Gradually, we learn what his "crime" was, and how their paths intersected 13 years ago, before she spent eight years away in America.
Dramas featuring this kind of withheld information can be too coy, but Vreeke positions his two sharp actors on a narrow strip stage with the audience on opposite sides. That creates a sustained faceoff that never loses its tension, and a show with no wasted motion. Your eyes dart back and forth between Keegan's carefully probing woman and Kamal's patient, wary man. Their chess match is finely charted.
You feel the pressure of the security state that apparently watches them closely. That makes "The Return" a natural companion for "Ulysses on Bottles," the Gilad Evron drama about a teacher imprisoned by a controlling government that opened this spring's festival. Yet it also connects to Mosaic's recent South African rep of "The Blood Knot" and "A Human Being Died That Night," and to the race history in America that Mosaic has pointedly explored this year. The man's Arab identity is the sticking point, and a rant about what the word "Palestinian" really means is one of the most penetrating passages of the night.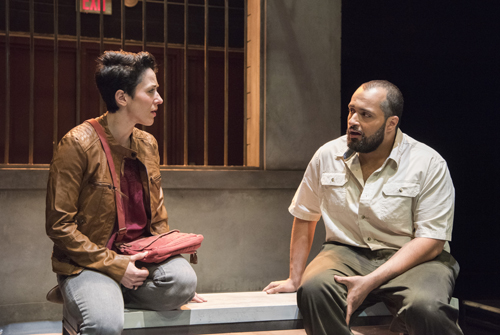 The title of "The Return" refers not only to the woman's appearance in the auto shop . It eventually gets to a deeper history, raising the kind of question that was ultimately too difficult to pose at Theater J in plays like Motti Lerner's "The Admission," which wound its way back to the establishment of Israel in 1948.
"The Return" is hardly a full portrait of the unsettled Israeli-Palestinian dilemma: it's a voice, one of many to be given a platform by the festival that has always insisted on deep exploration and informed conversation. The performance by Kamal and Keegan — full of listening, compassion and pain, marked by deep unhealed wounds — is as compelling as it could be, and it's in a well-worn groove of art about individuals pinned down by governmental superstructures and ingrained cultural patterns that become shamefully reductive and extraordinarily difficult to break.
It's a play that some will disagree with — par for the course with the festival, which is why 15 post-show discussions are scheduled with experts in a variety of fields. That's the great ongoing invitation of this program: Watch a show. Talk it out.
The Return, by Hanna Eady and Edward Mast. Directed by John Vreeke. Set and lights, Colin K. Bills; costumes, Jeannette Christensen; sound design, Sarah O'Halloran. About 75 minutes. Through July 2 at the Atlas Performing Arts Center, 1333 H St. NE. Tickets $15-$60. Call 202-399-7993 or visit mosaictheater.org.
Review by Nelson Pressley
Washington Post
---

'Her' and 'Him' uncover a mystery in a
Tel Aviv auto repair shop in 'The Return'
"Director John Vreeke allows both characters to discover and reveal deep hurts"

Review by Lisa Traiger
Billed as a mystery, Mosaic Theater's American premiere of "The Return" is more than a whodunit. In fact, even as it wrestles with guilt of its two nameless characters — Him and Her — there's far more going on than solving a crime. Scenic designer Colin Bill set up an us-versus-them or Her-versus-Him dynamic as the audience faces one another seated on two sides of a long driveway in a suburban Tel Aviv auto repair shop. The two protagonists face and face off against each other from two ends of the asphalt, on one side a corrugated metal door, on the other foreboding prison-like bars.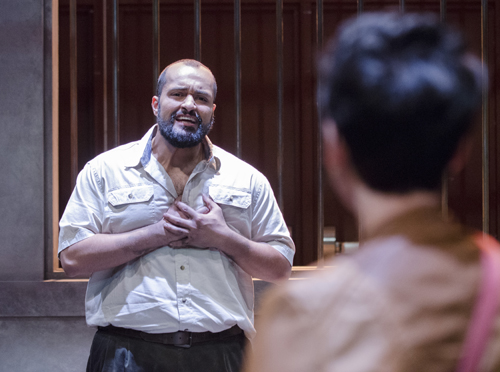 The 90-minute two-character play by Palestinian-American writer and actor Hanna Eady and Seattle-based Edward Mast is an installment in Mosaic Theater's Voices From a Changing Middle East Festival, intended to amplify often unheard voices amid the longstanding Israeli-Palestinian conflict.
Running through July 2, "The Return" wrestles with identity, individuality and the overriding powers of the state in a nuanced production that is both searing for its insurmountable problems, and provocative for its unvarnished look at how a society treats an "other."
Washington-area audiences may recall Eady from his performance in Jewish-Israeli playwright Motti Lerner's "The Admission," which dealt boldly and baldly with the disputed history of a 1948 massacre of Arabs by Jews during Israel's War of Independence.
The controversy became so heated that the full production at Theater J was scaled back to a workshop and the ongoing disputes about the play and its veracity ultimately led to then-Theater J director Ari Roth's firing.
Shortly after, in late 2014, he founded Mosaic Theater, a company that allows him more latitude to deal with incendiary issues, from the violent history in South Africa to Israel's occupation of Arab territories to violence on inner city streets.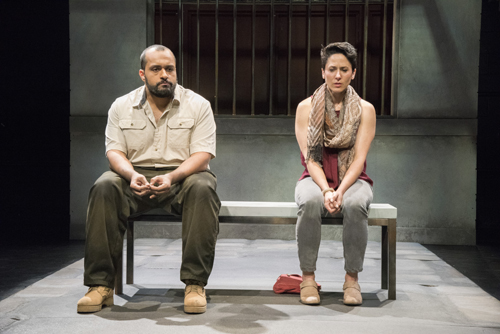 "The Return" begins as a woman enters the auto repair shops, says "Shalom," then proceeds to badger the technician. He remains polite, calling her ma'am, and suggesting that perhaps she should return after the Sabbath, when the owner and others would be available. But she persists. He's an "other", an Arab, and initially it appears as if she can run roughshod over him with insinuations, nosy questions and accusations. She insists that he must know her. Then she suggests that his Palestinian identity makes him suspect: "You mean they let you work on army jeeps?" If nothing else, it marks him.
The supposed mystery — who are these two people, did they ever meet, and why is she so implacable in her relentless questions? — like a Rubik's Cube, gets revealed in the play's turns, twists and reconfigurations as this Friday afternoon meeting continues on subsequent weeks.
The female protagonist, Her, is persistent and unrelenting in delving deeper into this supposed stranger's past.
Eventually, it becomes clear that a sexual assault occurred. Or, perhaps, it was consensual?
Each side has a different narrative to relate, a different way of viewing and re-telling their histories. And the question arises: Would it have been different if their national and personal narratives were different?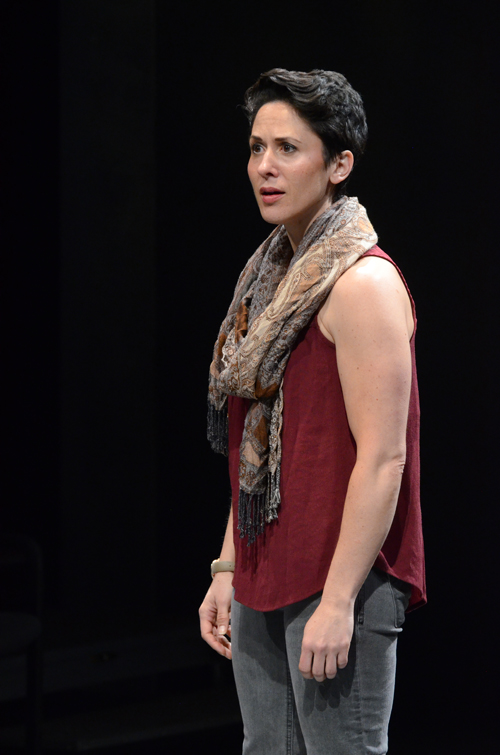 As Her, Alyssa Wilmoth Keegan enters like a gale force wind, all bluster, haranguing her victim, Him, Ahmad Kamal, who tries mightily to remain obsequious to his interrogator's accusations. They spar at each other from two sides of a landing-strip like driveway in the unflattering, utilitarian light, traffic sounds and noise from the auto workshop marking the gritty, working-class location.
Director John Vreeke allows both characters to discover and reveal deep hurts, and Her, especially, digs in like a child picking at a scab until it bleeds. Her opponent simmers at her incessant queries until he explodes. She's gone too far, there's no turning back.
Then she pushes further. "The Return" is a play about two individuals and two peoples — one of privilege and one oppressed. The Her character has taken upon herself the mantel of white guilt. She naively and erroneously believes she can make a difference. Her need to assuage privilege leads down a destructive path, one where there is no turning back.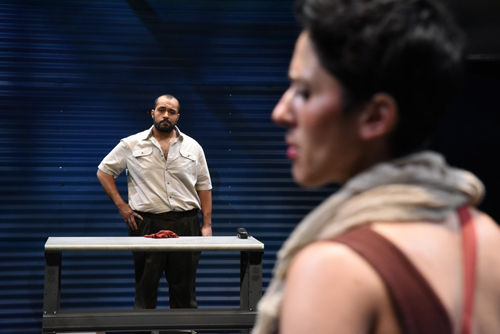 Playwrights Eady and Mast portray the larger Israeli establishment as an enemy of the Palestinian people, and from descriptions from the character Him, it sounds like it hews very closely to a totalitarian regime. They also choose to unsparingly show the inadequacy of good intentions in the face of the larger political conflict. Both points of view will leave many — particularly Israel supporting — audiences discomfited.
Yet for those who leave "The Return" stating that it could never happen in Israel, that it's a fiction, take note: Eady and Mast based the premise of the play on a 2010 case of an Arab Israeli who was charged and found guilty of rape for not disclosing his Palestinian identity to a Jewish woman.
Of course, "The Return" is fiction, the characters invented, but as the narrative that unspools, the "mystery" reveals itself: a man who has lost his identity and can't tell his story and a na´ve woman who seeks atonement for sins that are perhaps unforgivable, both her own and her nation's.
Review by Lisa Traiger
Washington Jewish Week
---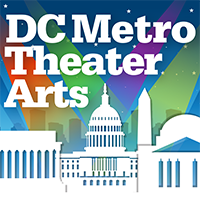 "The Return at Mosaic is more than a play to be touched and troubled by. It's a play to get in the gut."





Review by by John Stoltenberg



Inside this taut and provocative two-character play—which vividly evokes the political tension between the Israeli state and its Palestinian citizens—there is a startling sex scene, one that vividly evokes the sexual tension between a woman and a man. It is an explicit, erotic hookup with shocking consequences. To the best of my recollection, it is the first per se sex scene in a production at Mosaic Theater Company of DC. So you'd think it would make a ripple of news. Yet curiously this sex scene has received only glancing attention in press commentary about the play. Often as not, it's not even mentioned. At a post-show panel discussion I attended, nobody brought it up. I find this curious. I think that sex scene warrants a very close look.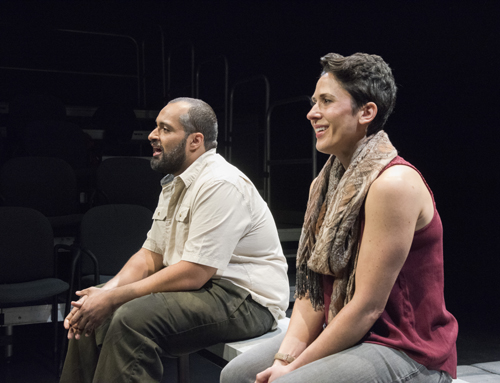 We don't actually see the sex scene on stage. We see it in our mind's eye, through the clarity of the writing and the extraordinary performances of two gifted actors. It happened thirteen years ago, between the man and woman who now appear before us onstage. They are named in the program only by generic gendered pronouns, Him and Her—as if to seem both anonymous and archetypal.

The Return by Hanna Eady and Edw
ard Mast, directed flawlessly by John Vreeke, is receiving its U.S. premiere as the culminating production of Mosaic's stellar second season. It continues the Voices from a Changing Middle East Festival, which Artistic Director Ari Roth inaugurated sixteen years ago at Theater J. Both playwrights are also actors, and their script is as playable as it is profound.

Eady is Palestinian-American; Mast, his collaborator, is American. Their jointly authored dramatic work The Return is distinguished by what Roth has called its unmediated Palestinian lens. Meaning: There is no doctrinaire deference to Israeli state interests in it. A 2014 production in Hebrew at an Arab theater in Haifa was shut down after eight performances. As Eady explains in an interview with my DCMetroTheaterArts colleague Ravelle Brickman:

"The government simply decided that Jews should not see or hear anything that expressed a Palestinian point of view, or that suggested an abrogation of human rights."

Besides the authors' pro-Palestinian sympathies, The Return is also distinguished by having as its inciting incident a sex scene. Meaning: Had the sex not happened, there would be no play.

The Return is set in Israel in a city about ten miles north of Tel Aviv, in the front office of an auto repair garage. A woman who is Jewish arrives (Alyssa Wilmoth Keegan), ostensibly because her car needs fixing. Though it is the Sabbath, she finds one mechanic on duty, a man who is Arab (Ahmad Kamal). As we will learn, the woman's motives are not automotive.

Thirteen years ago she and he had a brief romance that involved, on more than one occasion, passionate lovemaking that by both their accounts was mutually gratifying.
"It felt real," she recalls, and he concurs.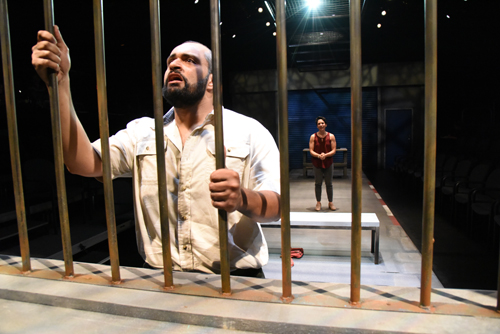 In no way did he physically coerce her; she has a speech making that clear (putting to rest any speculation that might arise from seeing Keegan's slight size next to Kamal's big and burly build). Their characters both wanted it and they wanted each other. There was just one catch. He's Arab, and he led her to believe he's Jewish. She was attracted to him with that understanding and would not have been otherwise. She makes clear she would have had nothing to do with him had she known he was Arab. (Her prejudice, a plot point, suffuses his world and the world of the play.) Thus with her uninformed consent, the sex she had with this man was in all other ways really good.

So-called rape by fraud, or rape by deception, is a crime in Israel (as it is in the U.S. and the UK). In 2010 a man was convicted of the crime in Israel for lying about being Jewish, which may have suggested The Return's inciting incident, though Eady and Mast have veered so far from that case its only relevance is to posit that such a plot point could plausibly happen.

In Eady and Mast's brilliantly constructed story line, the man is tried for committing rape by deception; and at trial, she testifies against him without disclosing her own volition, agency, and pleasure in their sexual encounters. Her testimony about his deception is thus itself a deception. The question Who violated whom? thus looms. She is haunted by guilt over what she did to him then and has come to atone and ask his forgiveness.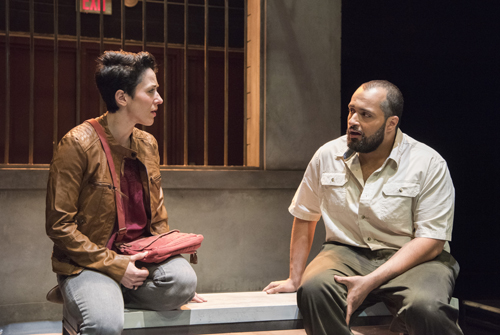 "I want us to just be people,
" she tells him at one point.

"They built this place where you and I can never be the same," he replies.

In the political context of Jewish-Arab relations, those two lines reverberate.

And in the gender-binary context, they throb.

Much of In Return tracks in chilling detail the dreadful consequences that befall the man after his conviction. We are left with no doubt had he not been Palestinian, Israeli law would not have charged him, nor would the state have crushed his soul so.

In the woman's character arc the authors have crafted a damning critique of the illusion of the efficacy of good intentions. We leave the theater judging not only her but also all who are complicitous, wittingly or not, in state-sanctioned hate and whose crimes cannot be cleansed.

The backstory of the man's and the woman's sex scene is by no means what The Return is "about." But that scene's particulars make what the play is about far more than a personal microcosm of a political macrocosm. The man's and woman's shared sexual history engages us where w
e live, as much in the abstract in our consciences as palpably in the bodies we inhabit. Tuning into this important function of the sex scene is to appreciate all the more this play's depth.

The Return at Mosaic is more than a play to be touched and troubled by. It's a play to get in the gut.



Review by by John Stoltenberg




DC Metro Theater Arts




---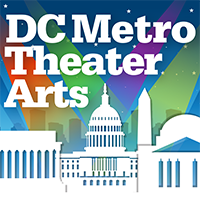 The Return delves deep into what people do
in the name of love, and security, and freedom
John Vreeke does a masterful job keeping the layers within this complex relationship clear and meaningful.
Review by Robert Michael Oliver
DC Metro Theater Arts
Mosaic Theatre Company of DC concluded their 2017 season with a riveting, deeply provocative examination of a State's National Security apparatus on dissident individuals living and loving beneath it.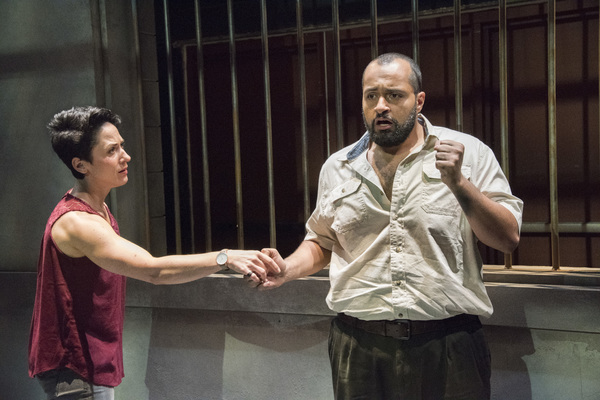 The Return by Hanna Eady and Edward Mast has Her (Alyssa Wilmoth Keegan) return to Israel after an eight-year absence in America. Her mission: to repair the damage done to Him (Ahmad Kamal) as a result of Her charging Him with false representation within a love affair.
You see, Her is Jewish and Him is Palestinian, and Him pretended to be Jewish in order to advance a romantic relationship with Her. Him went to jail. Now, eight years later, and after much soul-searching, Her returns to find Him and seek redemption.
The problem is that Him is now a changed man. After his release from incarceration on lifetime parole, Him is under constant surveillance by the State. All expressions of his Palestinian identity are forbidden. Him does his best to play a non-person.
The resulting tension between Her and Him is palpable, as Her presses Him to become the man she fell in love with years ago, while Him pleads with Her to leave him in peace and safety.
And indeed, the quest for love is a powerful force. Love leads to all sorts of discoveries about human nature, about human pain, and ultimately about human courage.
The Return offers all three to its audiences, as it delves deep into what people do in the name of love, and security, and freedom.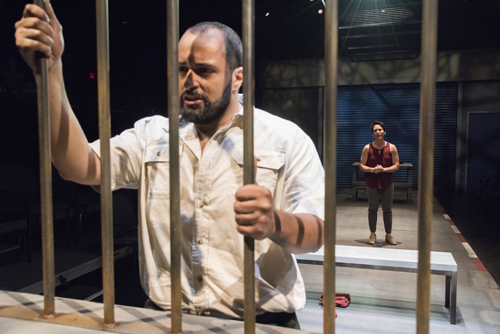 Mr. Kamal portrays Him with a fierce combination of subservience and passion, as the character modulates between who he knows he is and who he knows he must be to live free from harm.
Ms. Keegan, as the protagonist Her, delivers a brilliant performance as the recently enlightened liberal who, from her position of privilege, will do whatever it takes to affirm her love and fix the wrong she has committed. Unfortunately, her na´vetÚ also has no limits, as the play's train wreck roars to resolution.
John Vreeke does a masterful job keeping the layers within this complex relationship clear and meaningful.
His alley-staging is also right on point, as it allows the audience to engage the script's action forum-style. Though personal and fraught with intense emotion, the production highlights the intellectual elements: we watch the play while watching ourselves.
With set and lights by Colin K. Bills and costumes by Jeannette Christensen, sound by Sarah O'Halloran, and properties by Michelle Elwyn, each element of the scenography adds to the rising pathos.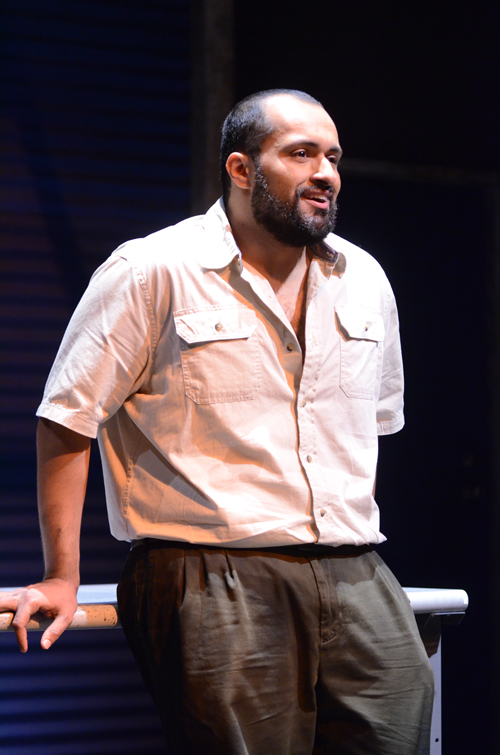 Not since Athol Fugard's Statements after an Arrest under the Immorality Act has a play so closely examined the dehumanizing effects of totalitarianism on love and identity.
Whereas Fugard's play deals with two knowing lovers, white and black, choosing to love within apartheid's racist regime, The Return puts two unknowing subjects, Israeli and Palestinian, Jewish and Muslim, caught within forces beyond their control.
The most any of us can do in such a world is make a stand, make a stand somewhere, somehow, and at whatever cost.
According to Artistic Director Ari Roth, The Return also marks the first time that the Voices from a Changing Middle East Festival has presented a production through an unmediated Palestinian lens. With Palestinian voices rarely heard in the U.S. public sphere in recent memory, everyone should commend Mosaic for this courageous choice.
I highly recommend that everyone see The Return.


Review by Robert Michael Oliver
DC Metro Theater Arts
---

Tense, Engrossing - THE RETURN
Review by Roger Catlin
The Mosaic Theatre Company closes its second season with a perfectly realized and humane play about real life in the Middle East precisely 50 years after the Israeli occupation of the West Bank.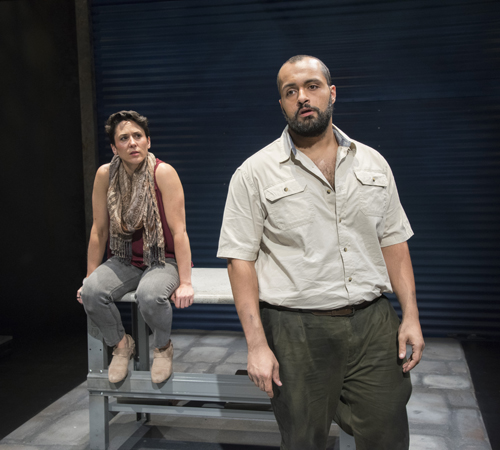 "The Return" by Hana Eady and Edward Mast works well because it is rooted in one basic human interaction, between an Israeli woman and a Palestinian man who works as a mechanic. The woman, back to the area after several years abroad, is surprised that a Palestinian would be allowed to work on the Israeli tanks there, and says so a number of times. The man, resigned to a competent skill, has become a trusted worker and doesn't want to over-emphasize any apparent contradiction in being allowed to work there.


But there is more to this interaction; she has searched and specifically tracked him down. Was he the man she had an encounter with more than a dozen years earlier? An encounter that led to the man going to jail - something by now she is very sorry for? But if it is, what happened to him? What changed? What happened to the prominent tattoo he once had?
Eventually the picture becomes more clear of what transpired between them and what conspires to keep their connection apart again. If the play works because it's placed at a human level, its impact comes from the impassioned performances of its cast. Alyssa Wilmoth Keegan, with her halting, perfected accent, goes to the edge of her compassion (and curiosity) to even make the contact. Ahmad Kamal does a superior job maintaining his trusted worker facade until her incessant questioning breaks him down. Director John Vreeke keeps their interaction full of tension and passion.
Like the acting and the words, the set by Colin K. Bills is a fine representation of the situation at large, with the audience split on both sides of the performance space on risers - which side are you on? - and the repair shop entrance with its overhead fencing, bars on windows emblematic of the brutal intractable barriers that been erected all around the region. His lights and Sarah O'Halloran's sound emphasize the sirens that can go off at any time.
Can it ever change? It seems discouraging, even as the smallest well intentioned action can result in a life changing betrayal.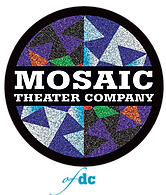 Though it was presented previously in Hebrew to an audience in Haifa, Mosaic founding artistic director Ari Roth says "The Return" represents the first time the work has been presented without mediation from Israel. That there's a company who was founded to address and present different sides of these issues in an annual Voices from a Changing Middle East Festival (that got Roth famously fired from the Jewish Community Center's Theater J) shows that there's a glimmer of hope.
Just about every performance of "The Return" comes with post-show discussions titled "Bridging the Divide," "Working With and Alongside the 'Other,'" and "Questioning Good Intentions." While they will all likely be worthy talks, none are likely be as eloquent or powerful as the play that precedes it.
Review by Roger Catlin
Broadway World, Washington DC

---

The Return: a Palestinian pays the price for peace
"Director John Vreeke deserves his renown for getting good performances out of his actors"
Review by Tim Treanor
Among all the fraught issues which torment the tortured search for peace in the Middle East, none spark a greater intransigence on the part of the State of Israel than the Right of Return — which is to say, the right of Palestinians chased from their homes in the revolution which established Israel in 1948 to return to those homes and recover their property.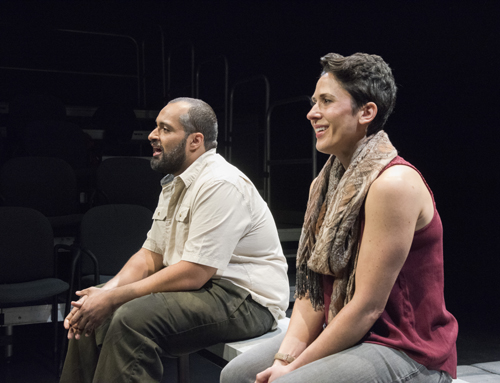 No matter which side of the question you come down on, you can easily see the stakes on both sides. For the Palestinians it is a matter of justice and human rights to recover that which was taken from them by violence and threat of violence. For Israel, it is a question of national identity: if the millions of expelled Palestinians, and their descendents, return to their homeland from Jordan and Egypt, the idea that the Jewish identity of the state — as important to them as that it be democratic — will be at risk.
But the commitment to protect the Jewish identity of the State has led to extraordinary, even barbaric, measures. One such measure is the extreme discouragement of Jewish intermarriage, particularly with Arabs. (Not statutorily prohibited, as this interesting article describes, but impossible to do within Israel, where the Orthodox Chief Rabbi controls all weddings and does not allow it.) If we permit a Jew to marry an Arab, the reasoning goes, their children will not be of pure blood, and eventually the Jewish identity will become extinct. Thus, for example, even the mention of such a relationship becomes an issue: the Israeli Education Ministry has banned Borderlife, a Jewish-Arab love story, from being taught in Israeli schools.


Well. It is
difficult to distinguish this argument from other
racial-purity stances, and when we get down to cases — as we do in Hannah Eady and Edward Mast's The Return — it can become downright horrifying. A Palestinian man (Ahmad Kamal) once loved a Jewish woman (Alyssa Wilmoth Keegan), and she loved him — until she did not. They were in bliss, until they were not. It was an affair of the heart, free from race and politics, until it was not.
And so they meet thirteen years later, the man having had time in an Israeli correctional facility to meditate on his actions; the woman having escaped to America for the last eight years to reconsider what she has done. She is full of remorse — and an American-style belief in her rights — and wants to undo her past. He has made his fragile peace with the State, and wants nothing that would undo it.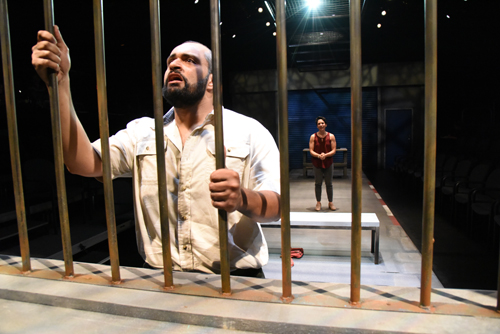 This is a mystery play, so to tell more about the plot
would be to undo it, to your disadvantage. It is also a political play, which means that it
gives voice to grievance and argument, and not always in places where they might occur normally in conversation, (and also in reviews that start with three paragraphs of history and politics).
Eady and Mast's point of view is no secret: they mean to illuminate how much the State of Israel's establishment cost the people of Palestine, in personal and specific terms. They use Talia, the Jewish woman, to make their broader points, and Keegan's struggle not to let her slip into caricature is generally successful.
Kamal is given the meatier task of portraying a man who has given up his identity and who struggles, almost against his will, to recover it over the course of the play, and he does a first-rate job. Impeccably cool at the outset, he allows his character to crumble by degrees, giving way to frustration, anger, fear, remorse, regret, recovering himself and then, at the end, becoming the sort of person you suspect he was before all of this misery came down upon his head. Director John Vreeke deserves his renown for getting good performances out of his actors; he gets an excellent one from Kamal.
Mosaic has elected to use a light touch on its production values, to good effect. We are in an auto shop in the seaside town of Herzliya, but we could be in any city in a high-security state. Colin K. Bills' minimalist set does the job, and Bills (lighting) and Sarah O'Halloran (sound) keep us in mind of the threat and tension surrounding us.
The Return is occasionally didactic, and the fact that the most important actions all took place thirteen years in the past makes it a little more remote than optimal. Nonetheless, it's not one-sided or unfair; the antagonists — never seen — are not monsters, but frightened people, like our characters, and like us. And there are electrifying moments, made more electrifying by excellent performances. And if you leave in a more reflective move than when you entered — well, there's that, too.


Review by Tim Treanor
DC Theatre Scene


---