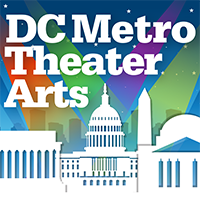 "MetroStage's The Thousandth Night is a Five Star Perfect Night at the Theater"
Review by Diane Jackson Schnoor on April 7, 2014


How do you define the perfect night at the theater? Does it make you laugh? Does it make you cry? Do you witness a tour de force performance? Does it give you food for thought on the car ride home? Does it change your mind or heart in some deep way?
The answer is all of the above. The Thousandth Night, currently playing in rep at MetroStage, is that rare night at the theater that both celebrates and shatters the human spirit. A brilliant script by Carol Wolf, a tour de force performance by Marcus Kyd, and sensitive and insightful direction by John Vreeke all contribute to a theatrical experience that will linger in the consciousness long after the lights go down.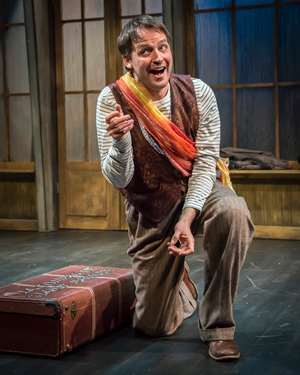 There are so many layers of complexity to The Thousandth Night. Guy de Bonheur is an actor with a traveling company of players who are stuck in Paris during the occupation of France. As Guy says wryly, "How were we to know Herr Hitler was opening here the same week?" One by one, members of his acting company have fled, disappeared, or been deported. Guy is arrested for "propagating subversive material" and is being deported. When his train is sabotaged by members of the French resistance, he escapes from the platform and seeks refuge in the train station. His one chance for freedom before the train starts moving again is to win the support of a group of French gendarmes (the audience) by entertaining them with "amusements" that are not subversive. Guy becomes a male Scheherazade as he relates and acts all the parts in some of the most famous of the Tales of the Arabian Nights, spinning out stories in a chance to win his freedom.
As an actor, Marcus Kyd faces a challenge of immense proportions. Throughout the play, he is the self-effacing Guy de Bonheur, an actor who is fighting not just for his life, but for his soul. The stakes are high and Kyd keeps that current of tension just beneath the surface. It is through the stories and plays he re-enacts, as well as his the interactions with the gendarmes that we learn Guy's backstory, the actions and inactions that have brought him to this train station outside of Paris in 1943. Kyd's portrayal of Guy de Bonheur is poignant, moving, courageous, and appropriately desperate.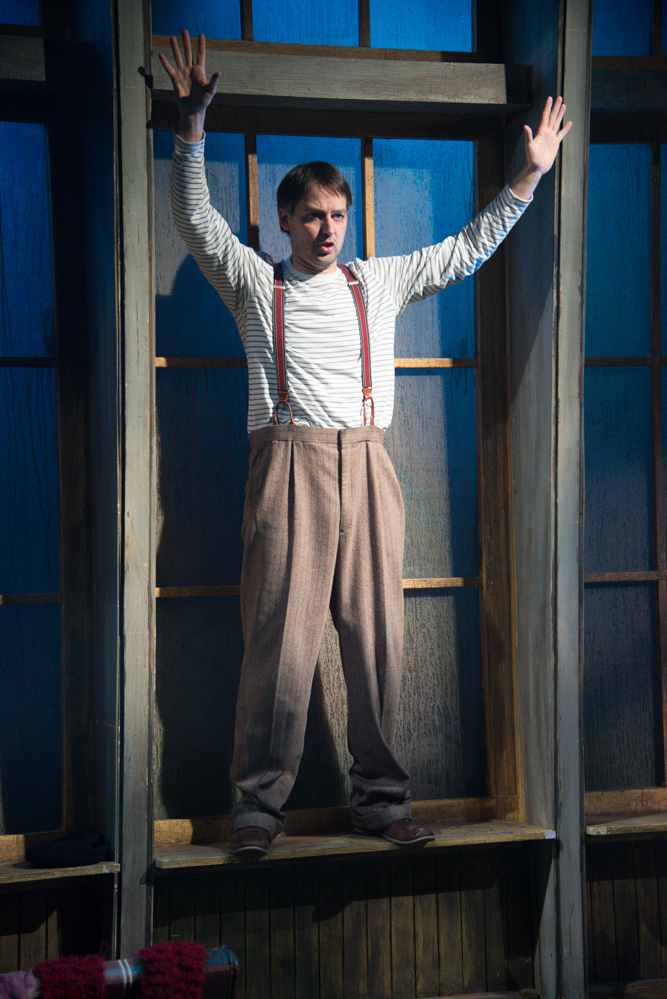 Yet, Guy is also an actor and a storyteller. To win the favor of the gendarmes, he performs stories from his company's productions, including Ali Baba and the Forty Thieves, the Fisherman and the Genie, and the story of Scheherazade. Not only does he fully embody each character in the plays he performs, giving them individual and memorable voices and characteristics, he also does so as actors from his company playing individual characters. He transitions seemingly effortlessly from hunchback to nagging tailor's wife to a ham actor portraying the captain of the thieves to a powerful genie with traces of Hitler and the Nazis in his demeanor. To do so requires so many levels of complex emotion, as well as innate comic timing, and Kyd is masterfully up to the demands of the script.
James Kronzer effectively captures the essence of a cramped waiting room at a train station outside Paris, creating a set that can be a blank slate for the magic that Kyd weaves as Guy de Bonheur. Alexander Keen, and Robert Garner beautifully blend their skills as lighting and sound designers to recreate the sounds of a train station during war time. It truly felt as though a train crashed at the opening of the show, and their combined efforts heightened the sense of danger throughout The Thousandth Night. Ivania Stack's costumes and props struck the right notes for the time period. Stack made ingenious use of the costume pieces in Guy's suitcase, providing enough elements for him to creatively transform himself into 38 different characters.
John Vreeke's direction of The Thousandth Night is insightful and sensitive. He helps Marcus Kyd find the right balance between the physical and verbal comedy of the stories, the real and growing fears associated with deportation, and Guy's own increased sense of his own morality, culpability, and ultimately courage. Vreeke's direction lands the audience square in the uncomfortable position of being the gendarmes, forced into an uncomfortable place of having someone's life in their hands but being unwilling to break the conventions to help him escape. It is a masterful stroke, and one that should cause audience members to reflect on what it means to sit by and do nothing in the face of terror.
MetroStage's The Thousandth Night is an evocative, emotional, and thought-provoking piece of theater at its finest. Marcus Kyd's tour de force performance as he carries the audience from the soaring heights of comic storytelling to the heartbreaking depths of human frailty, is one that should not be missed.
Review by Diane Jackson Schnoor
DC Metro Theatre Arts

---

A simple tale about how tales are often more than simple, Carol Wolf's The Thousandth Night at MetroStage is an enjoyable little punch to the gut.
Review by Brett Steven Abelman
April 8, 2014
The story has a number of characters, but only one actually onstage: Guy de Bonheur (Marcus Kyd), one of the last, if not the last, remaining members of an acting troupe in France under Nazi occupation. We, the audience, take on the role of a room full of gendarmes, Bonheur's fellow Frenchman who are taking a backseat role to the Nazi gestapo. Bonheur's been charged with performing subversive material, but his train to the prison camp was sabotaged, and he's taking advantage of the brief time to beg us, the French collaborators, to quietly look the other way and let him run off. Why? Because, surely, there was some mistake in putting a simple actor on a train with political enemies of the Nazis.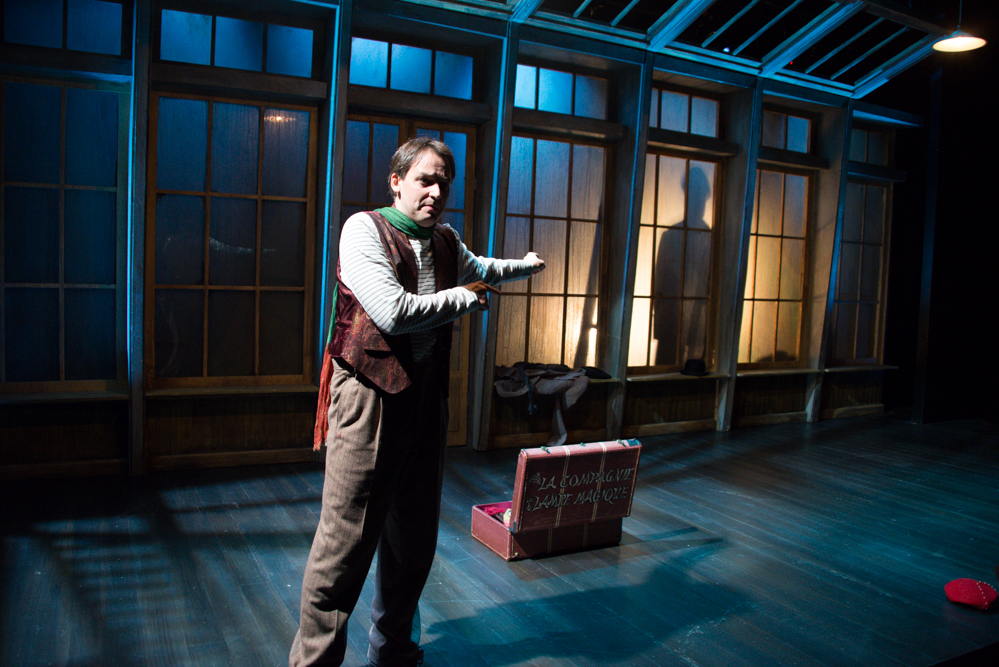 To prove his innocence, Bonheur spends some time with us performing selections from his company's signature adaptation of the Arabian Nights stories, and the bulk of the play consists of a cycle: Bonheur begins one of the stories, interrupts himself a few times to explain how it would have been performed if he'd had his whole company with him, is led into a tangent about how life has been under occupation, resumes the story until he is interrupted by the Nazis' search for the saboteurs or a new train, and then wraps the story up. Along the way, however, we may or may not realize that he's slowly letting us onto something more than what we think we're getting.
In a play like this – with a nearly-bare stage, a few simple, evocative lights (designed by Alexander Keen) to indicate approaching trains and Bonheur's shifting attentions, one lone actor and a plain structure – every little detail looms large, from the expressions on Kyd's face to the slightest deviations from the Arabian Nights fables. Kyd, under John Vreeke's direction, wisely and softly underplays every moment, knowing he doesn't need to weep and wail for us to see that he misses his departed fellow actors, for instance. His performance is engaging and completely unforced – almost a master class in making what is actually quite difficult "look easy."
As well, when Bonheur switches from portraying a baker to a soldier to a sultan, the change is marked by a plain and clear adjustment of a scarf and an accent. The overall effect of the repeating cycle and the uncluttered approach is something like that of a musical theme with variations. And it is those variations that add up to Bonheur's, and Wolf's, ultimate, troubling lesson.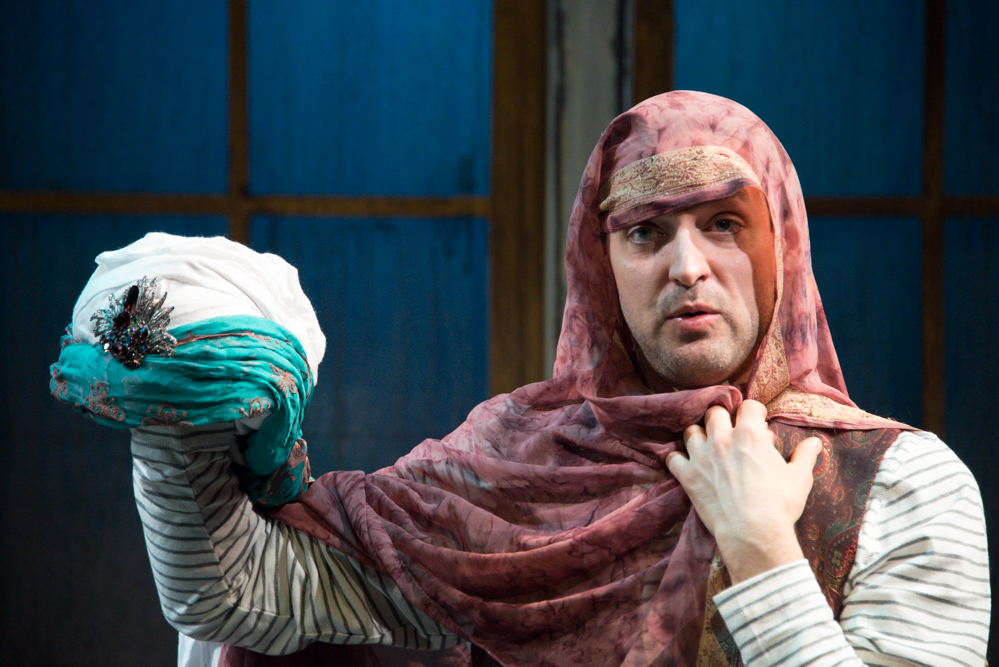 That lesson, while a familiar one, can be seen coming, but its power comes not from its novelty or insight, but from our emotional involvement in it, spending the play's 70 minutes so intimately with Bonheur, in the role of his gendarmes. The journey is pleasant, with plenty of great, light humor in the antics of the Arabian Nights tales, but despite the weighty theme, the play, in its brief runtime, can't help but feel a little bit more like a perfectly prepared hors d'oeuvre than a full meal.
MetroStage is performing The Thousandth Night in repertory with Underneath the Lintel, a similarly simple-but-deep one-man play. The two short works show together on most (but not all) Saturdays and Sundays during the run, one in the afternoon and one in the evening, so for those who might have to travel a long way to get to MetroStage in Alexandria, VA, seeing both in a day is recommended. That said, anyone who does make the journey for The Thousandth Night alone will be rewarded with everything poor, kind Guy de Bonheur can give you in the brief time he has been allotted.
Review by Brett Steven Abelman
DC Metro Theatre Scene



---

The Thousandth Night is a unique approach to contemplating the unthinkable of history and the real world. It is poignant, gripping and well-accomplished.
Review by David Siegel



From beginning to end, the talented actor Marcus Kyd as Guy de Bonheur, makes us care. In a taut, one actor, one-act The Thousandth Night by Carol Wolf the poised Kyd takes on about three dozen roles beyond just de Bonheur to draw us into a world of ever-increasing fear and suspense that permeates MetroStage's production.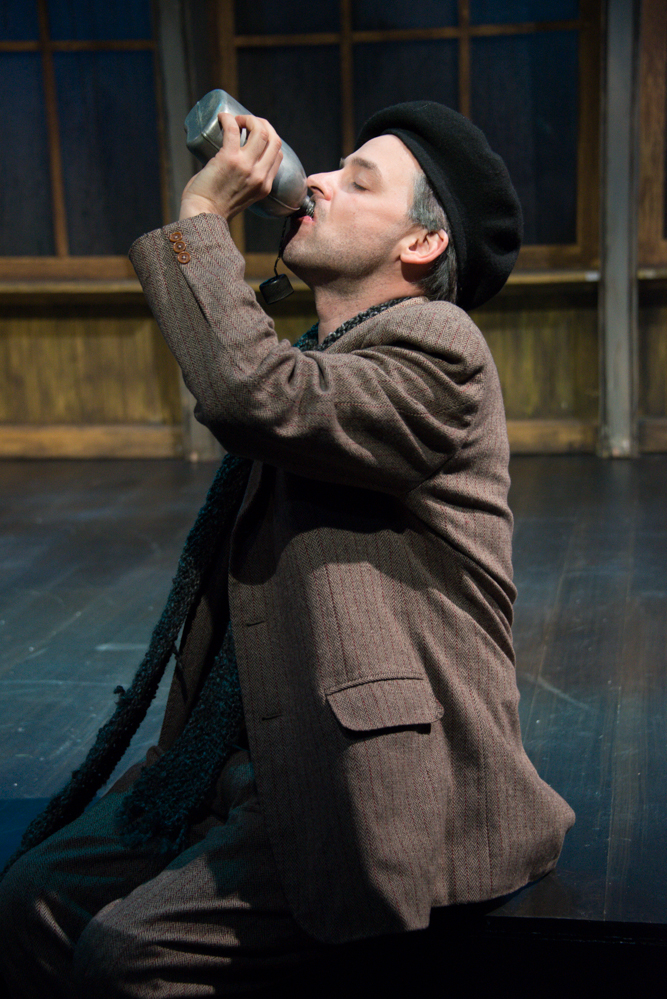 The Thousandth Night is accomplished with Wolf's theatrical conceit; the re-telling of the tales of Queen Scheherazade and her "Arabian Nights." Why that? Remember Scheherazade used her 1001 nights of storytelling to save her own life. In Wolf's The Thousandth Night there is a different life at stake; and the time and location are far from ancient Baghdad. But a life and a way of life are at stake.

It is 1943. We are outside a small train station in occupied Paris. Regularly, beams of light from an on-coming locomotive headlight cuts through the darkness behind the large windows of the station. The beams of light and clacking train wheels leave ominous sensations.

Soon enough the MetroStage audience finds itself not merely an observing group of strangers witnessing a theater production. Under Kyd's well-done skills as a story-teller, the audience becomes active, anxious participants as Kyd becomes de Bonheur who becomes a full cast of other characters. All to plead for survival. All de Bonheur asks as he looks directly out into the audience, is for them to "just" let him flee rather than consign him to a box car ride to oblivion. Why has he asked the audience? Well, in this production the audience has morphed to become French gendarme.

Over the course of the 85-minute evening the audience is tangled on its own rope as the performance moves from florid story telling with small moments of alarm to the reverse. The fright of de Bonheur becomes the focus and Scheherazade's 1001 stories reside to the background. More and more is learned of de Bonheur. He is the very last alive of a band of actors; him and articles of clothing in an old theatrical suitcase.

By the time de Bonheur turns to walk away into his fate, the audience has watched perhaps three dozen different characters that range from wide; a hunchback to a tailor, a doctor, a baker, the baker's wife, a soldier, a daughter, a vizar, a genie and the list goes on. A key character is a narrator named Jaafar. Characterizations are accomplished by Kyd as de Bonheur with small changes in his voice's pitch and cadence and mannerisms along with assorted scarves and hats.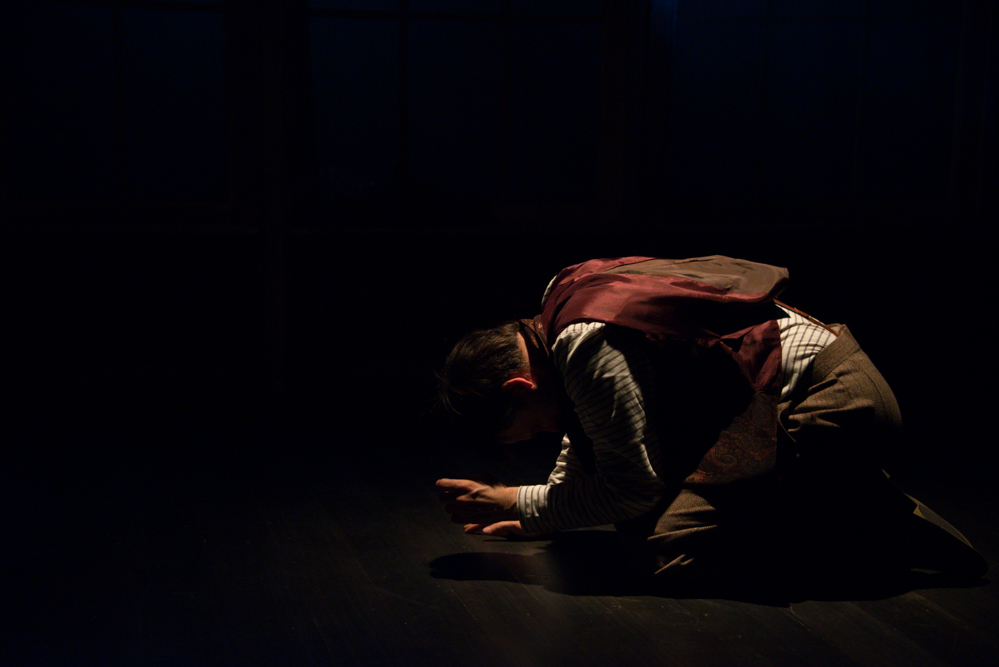 The unrushed, assured direction by multiple Helen Hayes nominee John Vreeke is understated; that is a virtuous choice. Vreeke doesn't overpower or overwhelm which w
ould cause someone to look away or mentally leave the production. His unfussy, non-melodramatic direction provides the opportunity for an audience to come under the spell of Kyd's story-telling abilities. The lighting by Alexander Keen and Robert Garner's sound design are masterful in their simplicity, artfullness and overall effect of dread. Over the course of the production terror grows as train whistles grow louder and louder, then stop. One wonders, "what next?"

In program notes, Carolyn Griffin, MetroStage artistic director wrote, "Storytelling is at its best with underlying themes of the power of the individual against all odds and the universal search for the meaning of life." That is The Thousandth Night.

The Thousandth Night is a unique approach to contemplating the unthinkable of history and the real world. It is poignant, gripping and well-accomplished.
Review by David Siegel
---

Marcus Kyd, brilliantly brings to life the story of Guy de Bonheur

Review by Elliot Lanes


Many plays and movies deal with one of the most horrific events in modern history – the Holocaust and anyone that's seen the movie Schindler's List or C.P. Taylor's play Good knows how terrifying and senseless it was.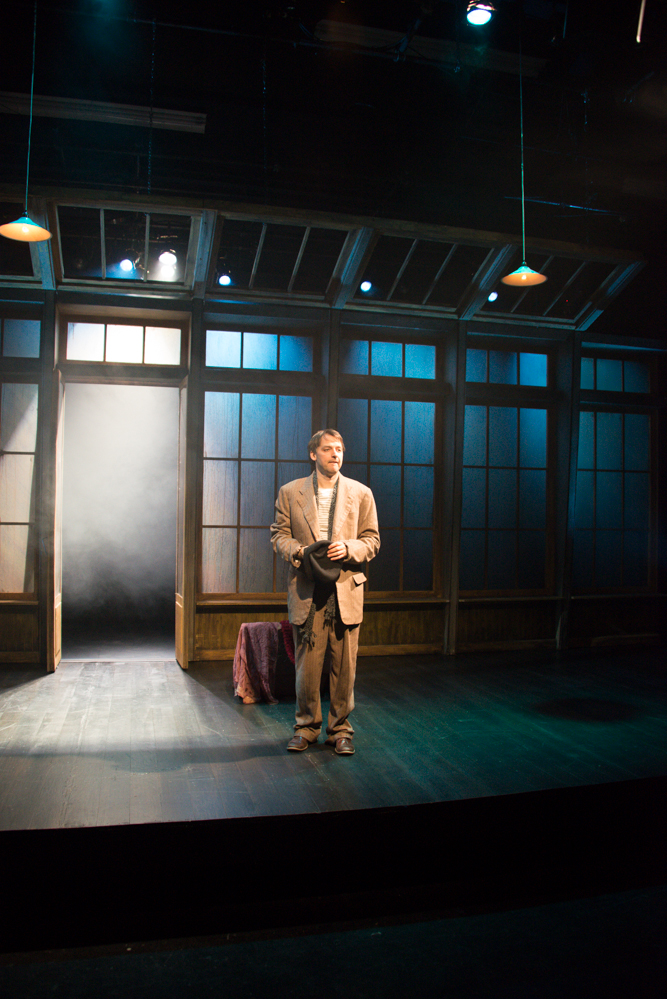 Carol Wolf's play The Thousandth Night currently playing at MetroStage, is a chance for a solo performer to shine. Taffety Punkmeister and local performer, Marcus Kyd, brilliantly brings to life the story of Guy de Bonheur, a French actor arrested in Paris on questionable charges.
As the play opens, Hitler has deemed the work of de Bonheur's acting company subversive and de Bonheur has been ordered to a work camp. En route, his train is delayed by an explosion on the tracks. While waiting for the tracks to be repaired, de Bonheur enters a railroad station occupied by gendarmes. He swears that his arrest is a mistake. With the aid of costume pieces from his suitcase, de Bonheur tries to convince his audience that the plays his company presents, including Scheherazade and Ali Baba, are not subversive. This all takes place against the backdrop of searchlights and a menacing Gestapo that appear as a striking lighting effect by Alexander Keen. Designed by Robert Garner, the sound of piercing death trains passing by heightens the escalating tension.
Marcus Kyd's performance is one of a man literally fighting for his life through his art. His character never gives up as he presents story after story. Kyd's stage presence is fantastic and falls into the tour de force category. Solo artists might be some of the hardest working performers because they must carry the piece alone. Add to this the severity of the situation in this play, and it makes Kyd's performance all that more revelatory.
Director John Vreeke has chosen not to over stage the show and lets the talent of Marcus Kyd be the focal point, which is a very wise choice indeed. Carol Wolff's script shows us the horrors that millions of people had to endure, but it does not hide the fact that as with so many of these kinds of plays, from the moment the character steps on stage and explains his situation, you know what the unfortunate outcome is going to be.
Despite the predictability of the script, Marcus Kyd's acting talents and the solid production support behind him make The Thousandth Night worth seeing.
Review by Elliot Lanes
---

The skillful, dignified and brisk evening is nicely fleshed out...

Review by Nelson Pressley, Wednesday, April 9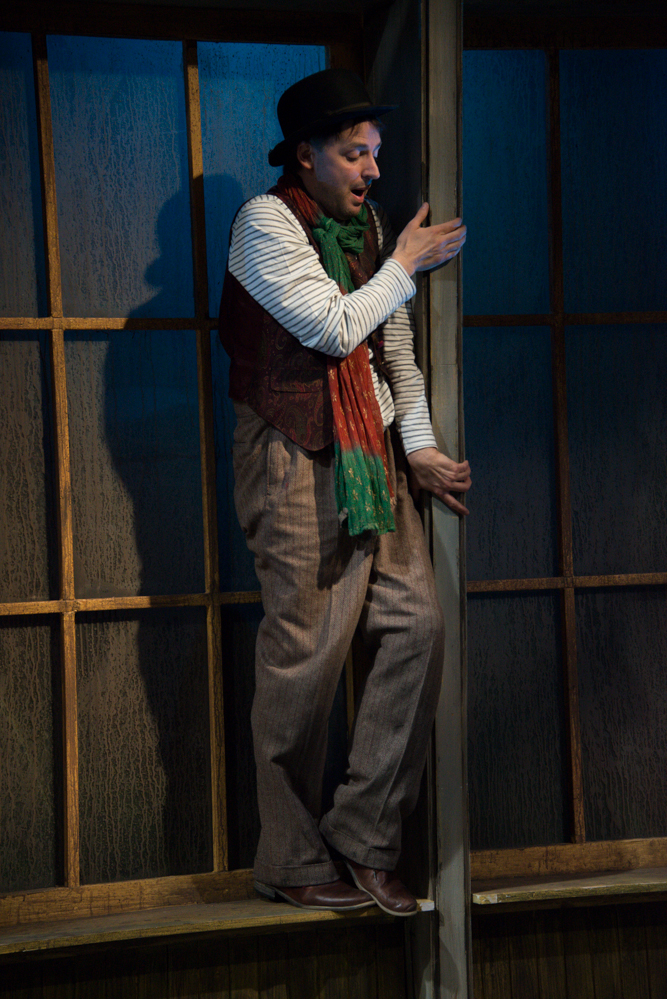 Acting isn't subversive, right? That's the case a nervous Parisian performer makes to a roomful of 1943 French gendarmes in Carol Wolf's "The Thousandth Night," a solo drama that Alexandria's Metro­Stage is reviving from its attic of past shows.
"These plays are nothing," insists Guy de Bonheur, the actor who stands in mortal fear of being put on the next train bound for a German concentration camp. (The setting, ominously rendered by James Kronzer, is a railway station.) "Entertainments for a cold night — that is all."
You don't expect a playwright to believe that, of course, and Wolf's play adds up to a string of puckish protests. Guy's perilous parables are often lifted from "The Arabian Nights": Interrogation, intimidation and execution come up a lot.
The setup is that we, the audience, are the gendarmes deciding Guy's fate. You could forgive a poor thespian for acting to the hilt as he tries to charm his jury, flashing jazz hands and a clownish grin to remind us it's all for laughs.
Director John Vreeke casts a martini-dry eye on Wolf's script, though, and Marcus Kyd, who plays Guy, goes through his character's motions extremely warily. He's careful not to overplay his hand; he skips through his routines, moving fast, glancing at us to make sure we're keeping up with the rapid-fire impersonations.
He's a doctor, then a baker; he's Scheherazade and the bloodthirsty sultan, plus the colleagues that Guy shared stages with before the war splintered the ensemble. Accents are adopted and dropped as lightly as the hats and scarves Kyd plays with to indicate his characters.
So despite the script's open invitation, Vreeke and Kyd's show never devolves into a cheesy acting tour de force. Their healthy respect for the grim historical situation keeps the inevitable sentimentality (not to say self-congratulation) of Wolf's play in check. The skillful, dignified and brisk 75-minute evening is nicely fleshed out by persuasive railway sound effects and the occasional sweep of a military searchlight.
"The Thousandth Night," which MetroStage produced in 2001 with this same atmospheric set and a different actor, is the first part of a tag-team repertory. Another one-man show, "Underneath the Lintel" (featuring Paul Morella), alternates at MetroStage starting April 17.
Review by Nelson Pressley
The Washington Post
---


Under the sure-handed direction of John Vreeke, Kyd holds the stage with a vividly human portrayal.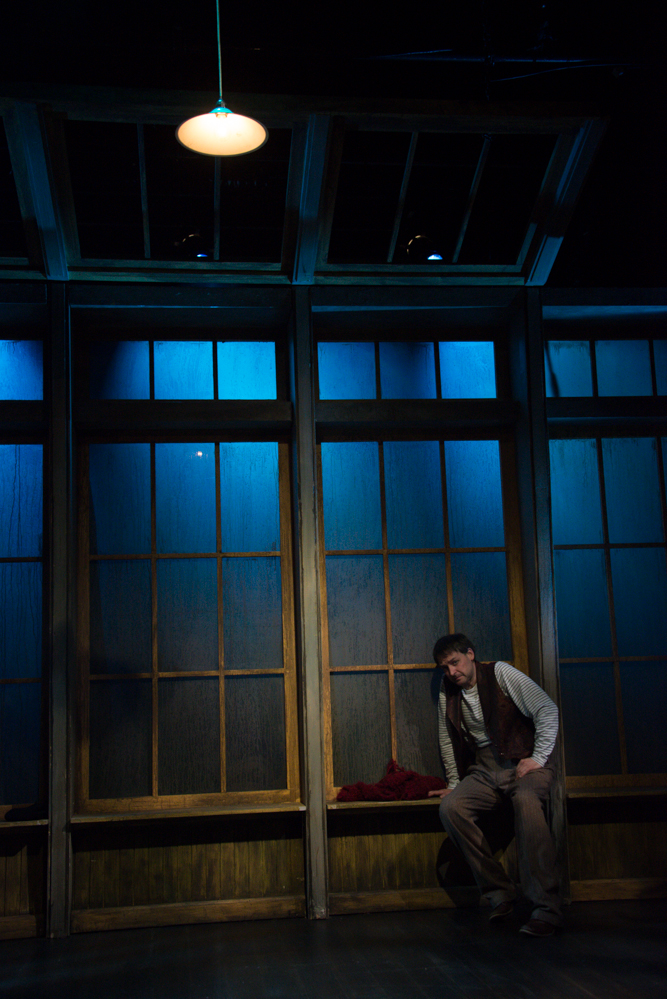 Storytelling is at the root of theater—assuming that both the story and the teller are sufficiently engaging to captivate an audience. Marcus Kyd's character in The Thousandth Night, Guy de Bonheur, is an actor forced to tell stories to save his life, and both Kyd and his creation rise admirably to the challenge.
MetroStage in Alexandria, Virginia, originally presented Carol Wolf's play in 2001 (with a different actor). In honor of the theater's 30th anniversary season, the work returns as part of a repertory with another one-actor play, Underneath the Lintel, which opens later this month.
In Nazi-occupied Paris, Guy de Bonheur is a member of an acting troupe that performs tales from the Arabian Nights in a café. He has been arrested, charged with "propagating subversive materials," and put on a train to a concentration camp. However, saboteurs have bombed the railroad track just past a station, giving Guy an opportunity to flee—only to come face to face with both French gendarmes and agents of the Gestapo.
Guy uses all his performing skills to prove that he is no political threat, simply an entertainer, and that he should be released to resume his career. In a frenzy, he acts out the comic and fantastic stories from his repertoire, playing a range of characters with rapidly shifting facial expressions, changes in vocal timbre, and one or two small costume pieces. In his actions and his goals, he becomes like Scheherazade, narrator of the Arabian Nights, who forestalls her husband's intention to kill her by enchanting him with stories within stories.
Under the sure-handed direction of John Vreeke, Kyd holds the stage with a vividly human portrayal. As Guy scrambles to save his life, under all the exaggerations and sly asides, he comes to understand human dignity and the need to stand up to tyranny instead of becoming the prisoner of one's own fears.
Review by Susan Berlin
---

One Man and a Production Takes on THE THOUSANDTH NIGHT at Metrostage
Review by G. Blaise Hoeler
For the first time in their 30 year history, MetroStage is producing two one-man show pieces in repertory: Underneath the Lintel by Glen Berger, starring Paul Morella, and The Thousandth Night by Carol Wolf, starring Marcus Kyd.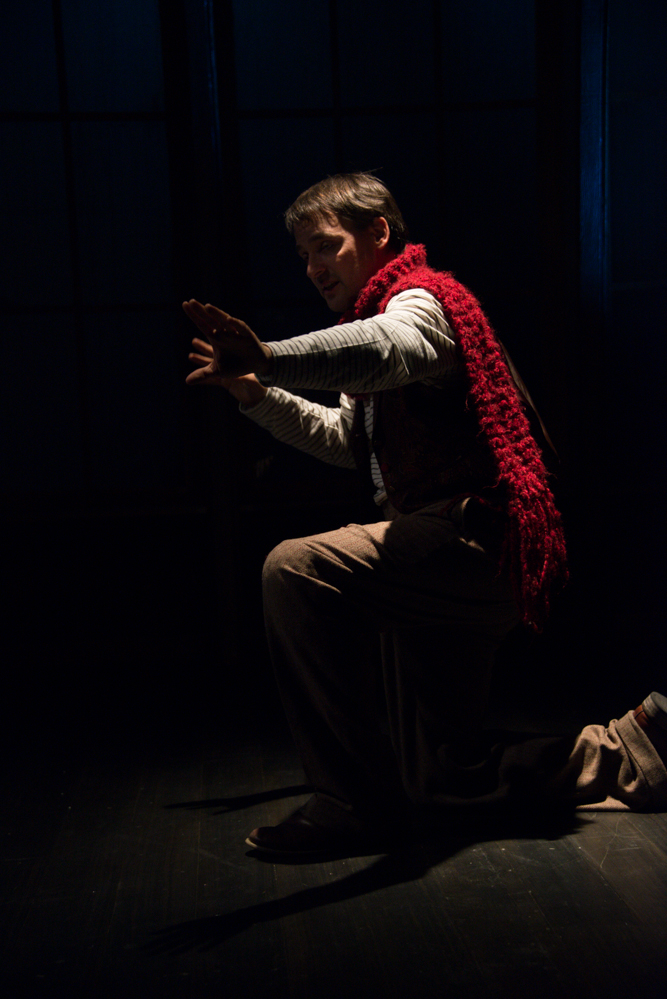 The Thousandth Night, which opened April 3, takes place in Nazi occupied France in 1943. It is about a French actor-Guy de Bonheur-who is arrested in Paris and sent off to get on a train to a work camp.
De Bonheur spends the entirety of the play attempting to convince the audience, who represents the troop French soldiers overseeing the transport of him and other rebels to the camp. In his attempts to convince the soldiers to let him go, he tells stories from the Arabian Nights.
But The Thousandth Night is more than just a play about trying to bypass the Nazi regime and their cruelty-this play is about loss. Not just one loss, but continual and mounting loss. De Bonheur first loses his country, then his family of actors and finally, to his most abiding love, his art.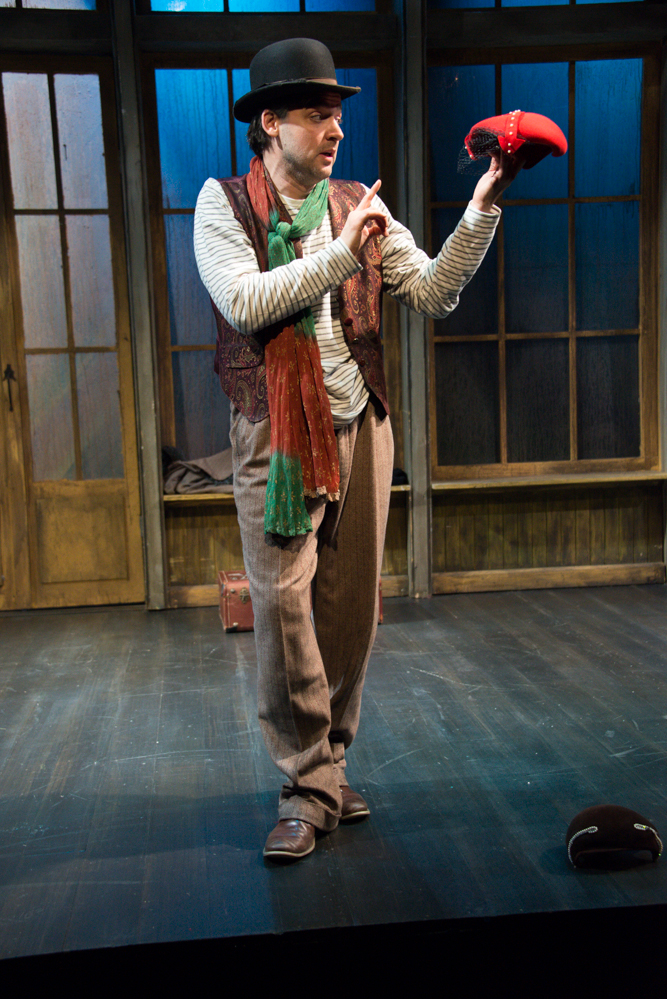 But the Nazis are not the only ones to blame for his loss, which i
s the most heart wrenching part about Wolf's piece. De Bonheur is funny and clever, but he is also cowardly and frightened. He abandons his friends to protect himself, and quickly discovers that following the rules does not necessarily mean safety. Wolf's writing, as well as Marcus Kyd's outstanding performance, draws in the audience's laughter and panging sympathy to prove, in part, the flawed nature of human preservation.

The design for The Thousandth Night was as gripping as Kyd's performance. The set, designed by James Kronzer, set a playable backdrop for both the actor and the lights.
The lighting was particularly stunning. Designed by Alexander Keen, the lights of the passing trains and the searching beams of light both before and during the show both gripped the audience to the story and grounded them in the 1943 French train station. It helped raise the already painful stakes De Bonheur faced while trying to convince the soldiers to let him go home.
John Vreeke, the director of The Thousandth Night, laced all of these pieces together to be a seamless work of both sorrow and rebellion. It proved that art, whether in Nazi occupied France or in a theater in Alexandria, always has the potential ability to strike the hearts and stir the fears of an audience better than a politician or dictator can.
---