"I saw you in that play last week; you made me cry."
That's a line, a not particularly consequential bit of dialogue from a sweetly melancholy story told by an otherwise quiet character late in Stephen Adly Guirgis' The Last Days of Judas Iscariot, and I mention it only because I can't think of a better response to the Forum Theatre's dazzling production. So I offer it up, amended a bit, to John Vreeke's superb ensemble: I saw you in that thrillingly written, urgently performed, crassly funny, somehow heartbreaking play last week, and damn if you didn't actually make a critic cry.
If you, reader, must know more before you buy your tickets, know that they're right, those people who describe Judas as a meditation on the eternal tension between divine mercy and human free will. But don't let that put you off: It's a smart, funny, passionate meditation on what it takes to forgive—whether you're human or divine—and how it can sting to be forgiven, whether you're one of the faithful or an anxious doubter or a confirmed agnostic.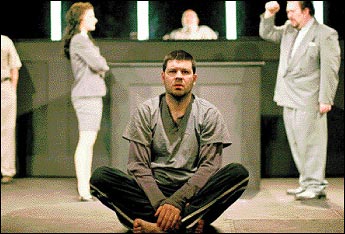 And it's a lively, cynical contemporary comedy, too, a Boston Legal episode set in purgatory, an unrepentant entertainment and an outrageous bit of seminary-disputation showoffery at the same time. It's a circus, a show trial presided over by a Southern-fried cracker of a judge, with everybody from Mother Teresa to Mary Magdalene, from Sigmund Freud to the Father of Lies himself called as witnesses for the defense.
And oh, Lord, the writing: Lurid and loopy, elegant and coarse, angrily angular and achingly lyrical by turns, it's intoxicating, infuriating, electrifying—poetry and profanity at once in the mouths of saints and sinners both. Why are you still sitting there? Go, for Jesus' sake!
Or if not for his, then for the sake of Patrick Bussink, who plays him with a moving, mournful intensity. And for Jason McCool, whose oft-catatonic Judas inspires sympathy and impatience in equal measures, and whose discipline during those long silent stretches is downright astonishing. For Jesse Terrill's Freud, all sniff and dignity, and Veronica del Cerro's Saint Monica, all snap and attitude until a sudden, eye-widening shift into something like street-corner grandeur.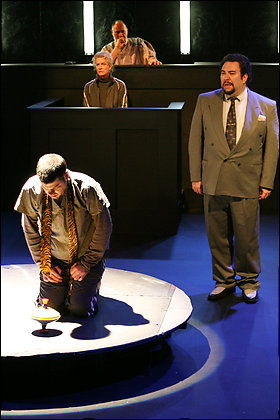 Go for Julie Garner's all-but-broken defense attorney, for Scott McCormick's cheerfully smarmy prosecutor; go for Brian Hemmingsen's bellowing dead Confederate of a judge (trapped in purgatory since he hanged himself on the day of Lee's surrender) and for his simmering, righteous Caiaphas, called to account for suborning Judas' treason and for sending Jesus off to crucifixion.

Go for Frank Britton's eye-opening Pilate, a hard case with something unmistakably honorable at his core, and for Maggie Glauber's mildly peevish Mother Teresa, quoting Thomas Merton on what turns out to be the crucial subject of despair. Go for St. Thomas, for the hapless bailiff, for the exquisite lighting and the insinuating sound. And go—go on, go now—for the fabulously seductive Satan of Jim Jorgensen, who's at his smartest and subtlest in that slick white suit, and for the quiet, unassuming depth in Frank B. Moorman's juror.

He's the otherwise unimportant character I mentioned at the outset, the guy telling the story that seems like nothing and turns out to be all about the oft-unconsidered cost of betrayal—the excruciating pain of the betrayer who knows himself, who sees how far he's fallen, and who despises himself too much to reach for the hand offered in forgiveness. Despair, tied up with pride, before and after the fall—it's at the intensely human heart of Guirgis' divine comedy, and you needn't count yourself among the faithful to be rocked by the scope of the tragedy the playwright immures his Judas inescapably in: If you've ever lived to regret disappointing someone, you'll know it chapter and verse.

Review by Trey Graham