Chekhov's 'Vanya' rides again...
Review by Nelson Pressley
Washington Post, 4/14/15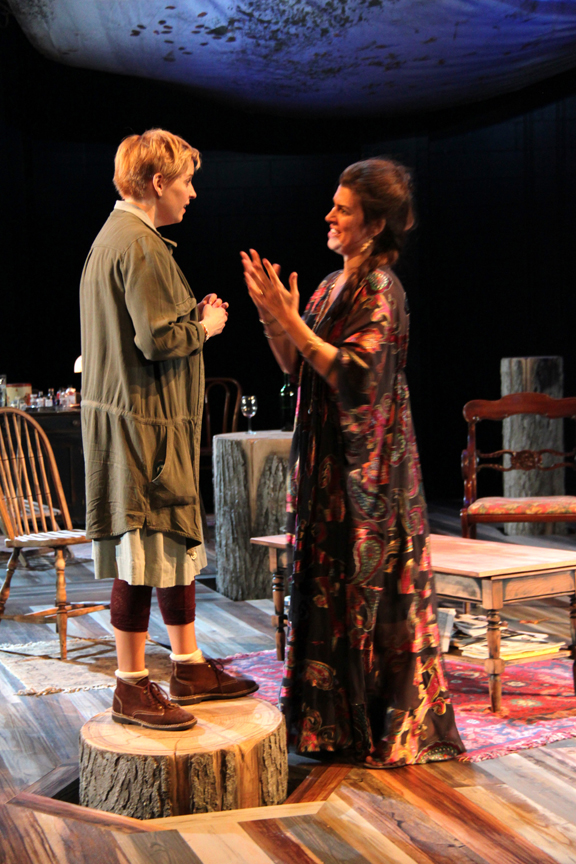 What's the "right" way to play Anton Chekhov? With your heart on your sleeve? Morose and weepy, cued by all the fruitless yearning and bitter regret rippling through the plays? Or, because of the good doctor Chekhov's clinical eye, distanced and funny?
But careful, now. How funny? Detached and dry? Or farcically lunging and absurd? Perhaps in the great "Uncle Vanya," subtitled "Scenes From Country Life," something tragical-comical-pastoral?
The head spins with options, because Chekhov's sly and subtle plays are awhirl with all these human contradictions, and beautifully so, when they work. Adapters sometimes simplify things, taking one angle and running hard in that direction. But the comparatively "straight" approach of the "Uncle Vanya" at the Round House Theatre come across as confused and unconvincing. Its earnestness makes the characters' ringing, eternally unsettling laments sound like ordinary gripes.
That's despite the epic scale of director John Vreeke's production, which does its best to fill every possible inch of the spacious theater. Misha Kachman's inventive indoor-outdoor design features a gorgeous hardwood floor streaked with forest tones, and there are even grand tree stumps inside the country house where the unsettled "Vanya" characters idle and flirt and fight. There are no edges to this set: The huge back wall is bare and black. Characters wander in and out at the far corners of the wide stage and even through the audience.
Evocative as the design is, this environment may be too much for the performance to fill, despite one of the most intriguing casts of the season. It's not that the acting is flat. On the contrary, it's abuzz with snippy insults and terse outbursts, punctuated by sniffles and a few good comic digs. But the emotional showdowns and introspective reckonings rarely resonate all the way up to this big show's expectations.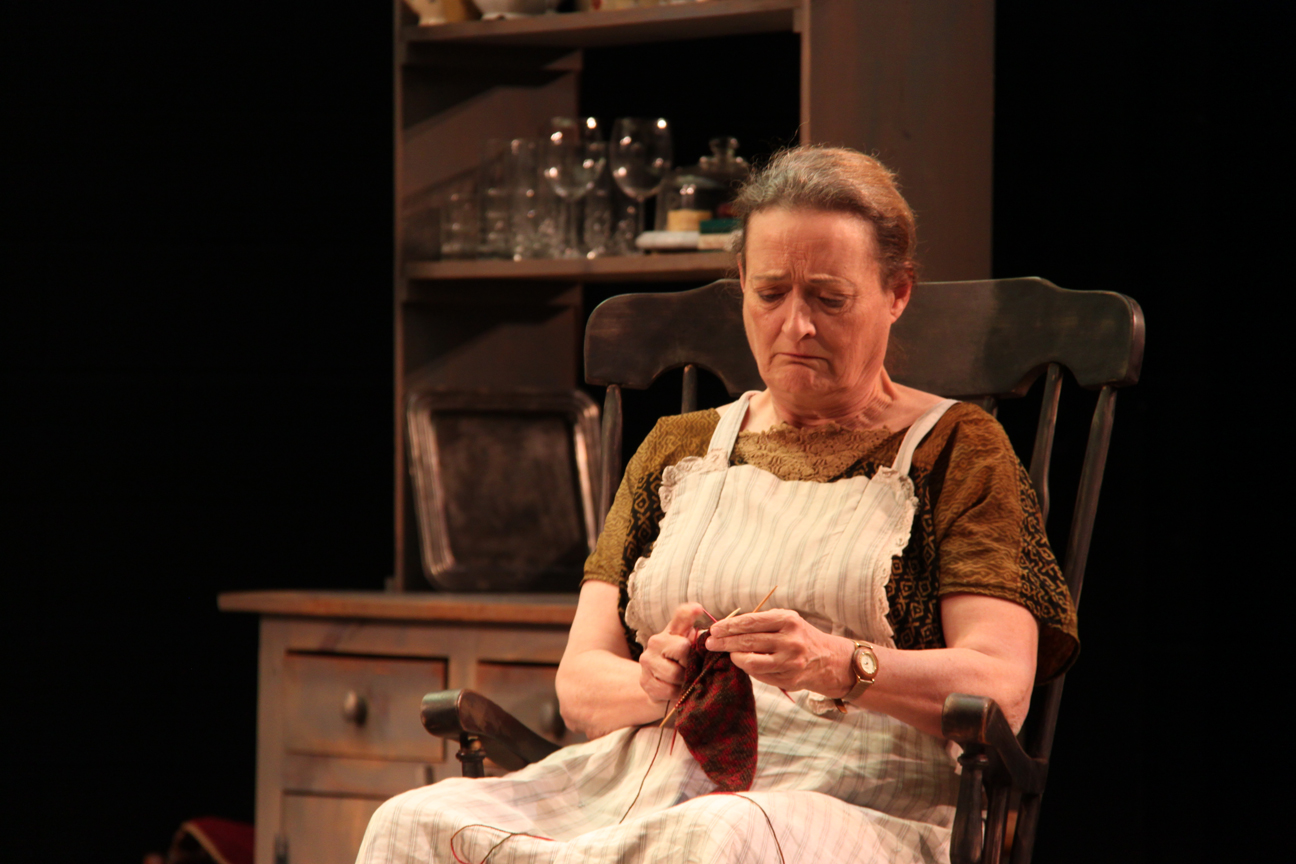 Even so, the characters get their wires and desires crossed in ways that are often interesting, starting with the moment Gabriela Fernandez-Coffey strolls across the stage as Yelena. This Yelena moves with a slow, sexy gait that paralyzes Astrov (Ryan Rilette) and Vanya (Mitchell Hébert), men who can only despair because this tantalizing woman is married to the older, ailing scholar — and Vanya's bête noire — Serebryakov (Jerry Whiddon).
Love and lust flow the other way, too, as Yelena develops an eye for Astrov. But so does Sonia (Kimberly Gilbert), Serebryakov's plain, hard-working daughter. The wondrous Gilbert is like a raw nerve: She acts with an uncanny ability to toggle between comic and heartbreaking, and her Sonia is fascinatingly alive with unspoken possibilities as Ryan's Astrov drunkenly, obliviously speechifies around her.
Fernandez-Coffey also rivets attention as Yelena, a showcase role that Cate Blanchett tore through in the intensely touchy "Vanya" at the Kennedy Center a few seasons ago. She and Gilbert bond comically in the late-night reconciliation between Yelena and Sonia, and Fernandez-Coffey's acute but indolent and smashingly dressed Yelena — costumed at one point by Ivania Stack in strappy heels and a slinky, off-the-shoulder pantsuit — is fully attuned to the wrecking-ball effect she has on men.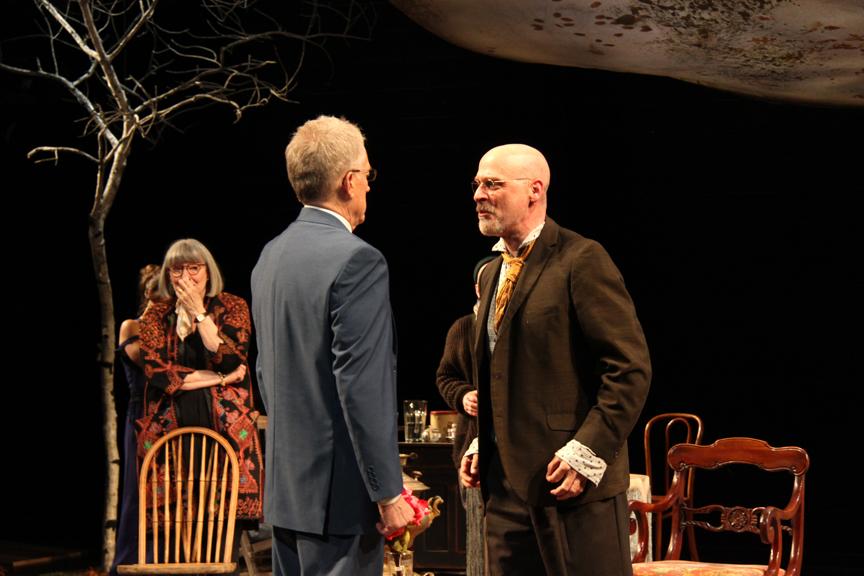 Hébert seems as if he has a more plausible chance with this dish than other Vanyas because he retains a debonair quality where many Vanyas have gone nearly totally to seed. He is appealingly deep-voiced and quick-witted (which could be gangbusters for Astrov), even as Vanya keeps falling into the trap of bitterly rehashing how life has passed him by. On the down side, there is a nearly unbreakable quality to this fierce Vanya that doesn't entirely square with how the character snaps.
Rilette's Astrov goes against the familiar grain, too. This doctor moonlights as an environmentalist with a brooding philosophical streak that makes him appealing to women. But where many actors choose cynical detachment, Rilette's Astrov displays Vanya-like intensity with his midlife crisis — he's a man who wants converts. You're not sure the emotionally raw Rilette and mentally exacting Hebert are in the right roles.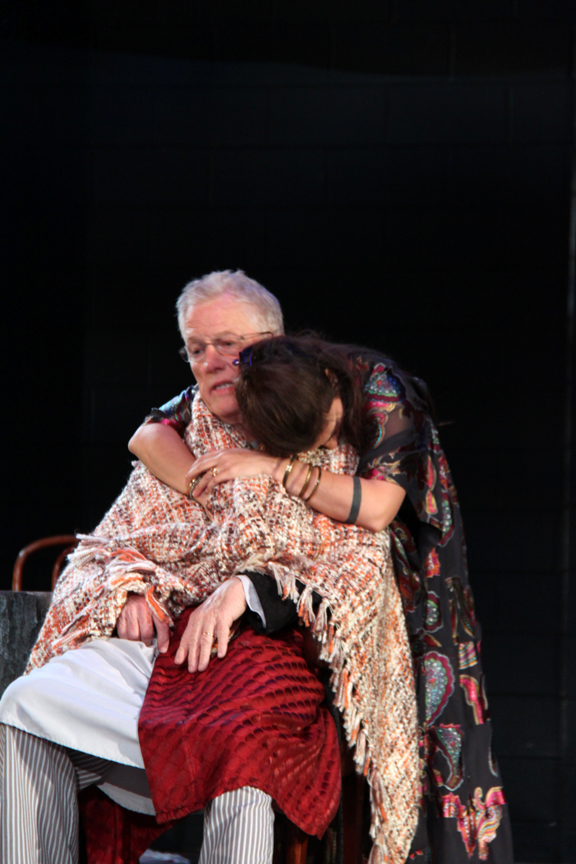 The show uses the recent adaptation by last year's Pulitzer-winning dramatist Annie Baker ("The Flick"), and although there are some linguistic eccentricities that include conspicuous use of the modern-sounding word "creep," it feels like "Vanya" as American audiences know it. Whiddon's Serebryakov is not a buffoon but is still a pill, and Joy Zinoman is unguarded as Vanya's intellectual and emotional — but emotionally clueless — mother. (This is the show with all the artistic directors onstage: Rilette heads Round House, a job Whiddon retired from in 2005; Zinoman founded Studio Theatre and ran it until 2010.) Deluxe additions: the splendid Nancy Robinette in the small role of the family housekeeper, Marina, plus Mark Jaster — co-artistic director of Happenstance Theater — as a tart and put-upon Waffles, a figure in the household's outer orbit.
Jaster's Waffles plays a little harmonica, and Eric Shimelonis adds piano and accordion as Yefim. (Jaster and Shimelonis are credited with the original music.) But the atmosphere doesn't quite spring the play free, and despite a lot of high emotion, the show's straightforward passions often sail past the mark. This "Vanya" reaches high, but it looks hard.